If you have started reading this review, it means that you have already decided on the brand and just want to find your best Yamaha receiver. In this case, it is not necessary to tell about the unique sound of Yamaha, fans of which recognize it from the first "notes", whether it is surround sound in movies or stereo. I have specially chosen several models from different price categories so that you can find a variant without being limited by budget. After all, after reading my Yamaha receiver reviews, you will see that each of them is worthy of attention and will become a worthy companion of your leisure time. I will also tell you about some unique technologies that set the brand's products apart from other AVRs. If you've been reading my reviews, you probably know that I love describing quality gear, and you'll love it, I promise.
Our pick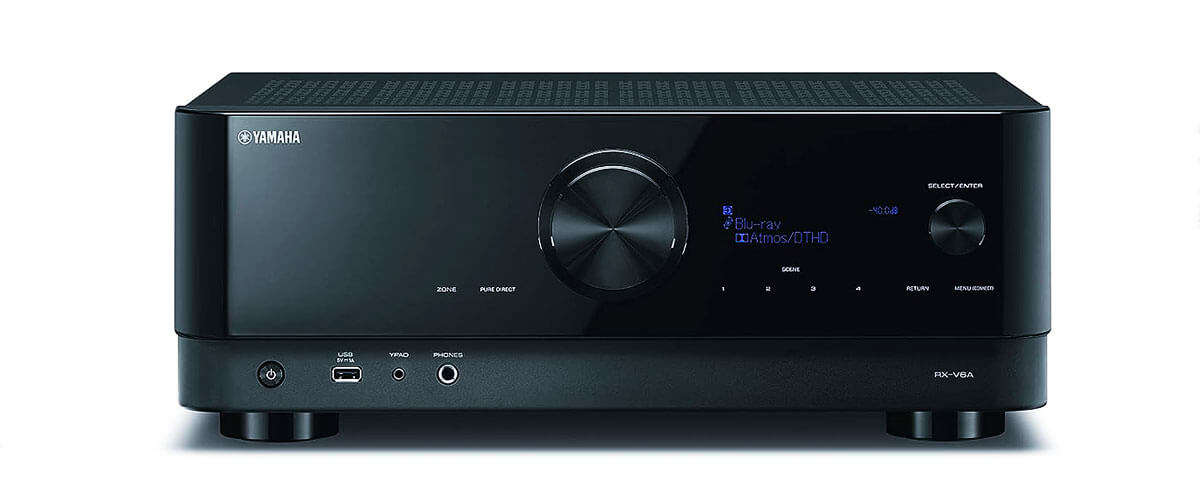 Yamaha RX-V6A
Best Yamaha receiver
This 7.2-channel, 100 Watt AV receiver boldly explores entertainment possibilities for an advanced home theater with the latest in video and audio.
Read the full review
.
Yamaha receiver comparison table
Name
Channels
Power output
HDMI in/out
Bluetooth/Wi-Fi
Review
Yamaha RX-V6A

best overall

7.2
100W/8 Ohm
7/1
yes/yes
Review
Yamaha RX-A6A

premium

9.2
150W/8 Ohm
7/3
yes/yes
Review
Yamaha RX-V385

budget

5.1
100W/8 Ohm, 145W/6 Ohm
4/1
yes/no
Review
Yamaha R-S202

stereo

2.0
125W/8 Ohm
0/0
no/no
Review
Best Yamaha receiver reviews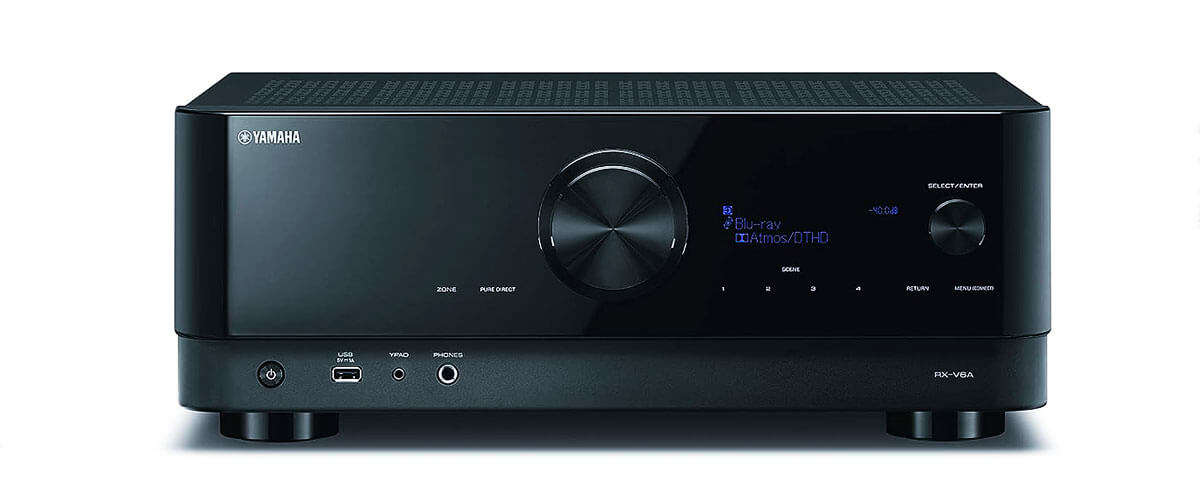 The priority of my selection usually belongs to the receiver that offers you the optimal price/quality combination. It doesn't have to be the newest or the most tricked out. Still, it presents a set of important features, is current when writing the review (it's 2023), and offers sound quality and reliability that will satisfy the user in the near future. So, meet the Yamaha RX-V6A, a 2020 model with 7 channels of amplification and 100 watts of power (8 ohms, 20 Hz – 20 kHz, 0.06% THD, 2 ch).
From the first glance at the technical data, you can realize that this surround sound receiver is worth your attention. At the maximum power for a 7.2-channel receiver, you have the lowest THD of any AVR for home use at 0.06%. That means your room will be filled with loud, clear sound with no extraneous noise, even if you don't spare your eardrums. The receiver will rumble with ample force in a room up to 400 square feet. Not many 9-channel systems can do that.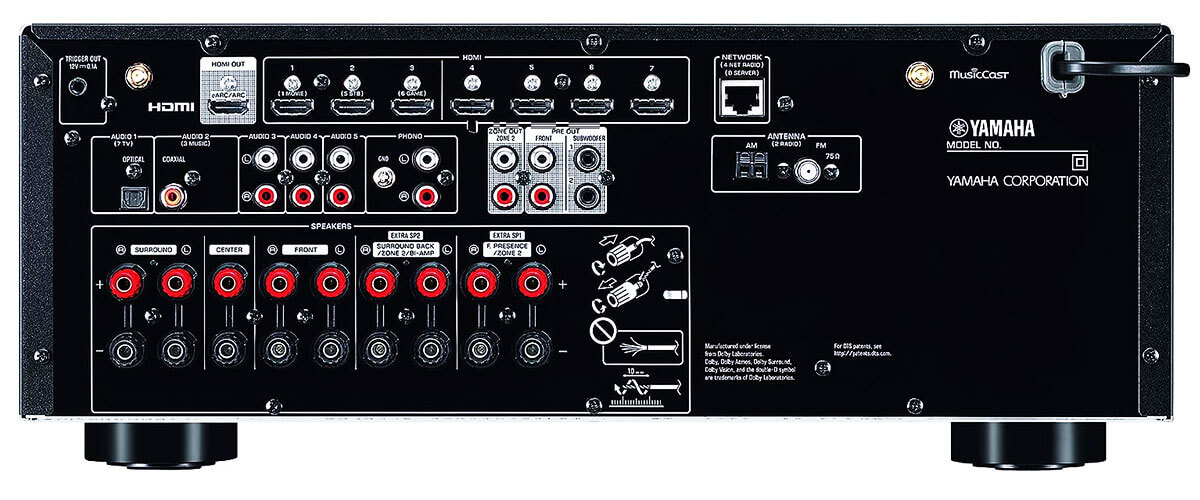 The RX-V6A decodes Dolby Atmos and DTS:X surround sound formats (and some additional versions). And I'm personally impressed with the Virtual Cinema DSP feature, which allows you to avoid using ceiling speakers and, in a small system, perfectly simulates the Atmos effect even without them. I would also include the Adaptive DRC (Dynamic Range Control) feature, which automatically adjusts the dynamic range of the sound depending on the volume level. A more detailed acquaintance with it will explain to you why, with this receiver model, dialogs (and vocals) are heard clearer and brighter than with other variants, and when there are ads in the content, you don't have to turn down the sound on it. Cool, right? What is NOT cool is the terminals are so close together that connecting the speakers made me sweat. Good thing plugging in speakers is something you don't usually plan on doing for the next few years.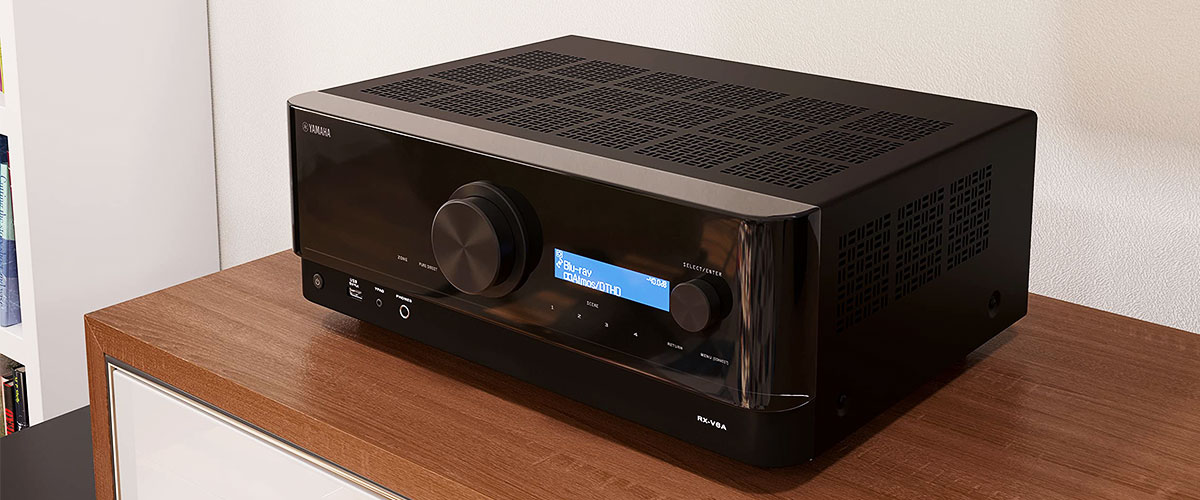 The receiver has 7/1 HDMI ports version 2.1, all designed for viewing 8K resolution video. There's even upscaling to 4K, greatly improving the picture from my old disks. I also liked how coherently the CEC option worked for such an inexpensive device; I didn't notice any glitches.
Wireless connectivity options are not limited (meaning they are available). There's Wi-Fi, Bluetooth, AirPlay2 and MusicCast multi-room. But the performance of Alexa's voice assistant and MusicCast didn't wow me. I reassured myself that the RX-V6A is a fairly inexpensive AVR and took that as a given. Because otherwise, the receiver is very good, and you must remember that, in this case, you can't do without compromises.
Yamaha RX-V6A is an excellent audio video receiver in the category up to 1000$, and the leader of my selection. With it, you will get optimal video resolution, wireless music streaming capabilities, and advanced technologies that bring surround sound to new heights, literally and figuratively. "The Golden Mean" is the choice of intelligent people.
Key specs
Channels: 7.2.
Power output: 100W/8 Ohm.
HDMI inputs/outputs: 7/1.
Video functions: 8K/60Hz, 4K/60Hz, 4K/120Hz, 24GBPS HDMI1-3.
Bluetooth/Wi-Fi: yes/yes.
Streaming services: Pandora®, Spotify, Amazon Music, SiriusXM, TIDAL, Deezer, Napster.
Supports: HDMI eARC, HDMI Audio Return Channel, HDMI Pass-through, HDMI Upscaling, HDR 10+, VRR & ALLM, Dolby Vision.
Surround sound: DTS:X, DTS-HD Master Audio, Dolby Surround, Dolby Digital Plus, Dolby TrueHD, Dolby Atmos, Dolby Atmos Height Virtualization, SILENT Cinema / Virtual Cinema DSP, Dialogue Lift, Virtual Surround Back Speaker, Virtual Presence Speaker, Dialog Level Adjustment, Cinema DSP.
Pros
Optimal price/quality ratio.
Really powerful quality sound for a small system.
Virtual Cinema DSP function simulates the Atmos effect well.
The Adaptive DRC function allows you not to adjust the volume level of dialogs and advertisements.
All HDMI connectors have version 2.1.
CEC function works smoothly.
Cons
Speaker terminals are too close to each other, which is inconvenient.
MusicCast and Alexa do not work very well.
Yamaha RX-A6A – premium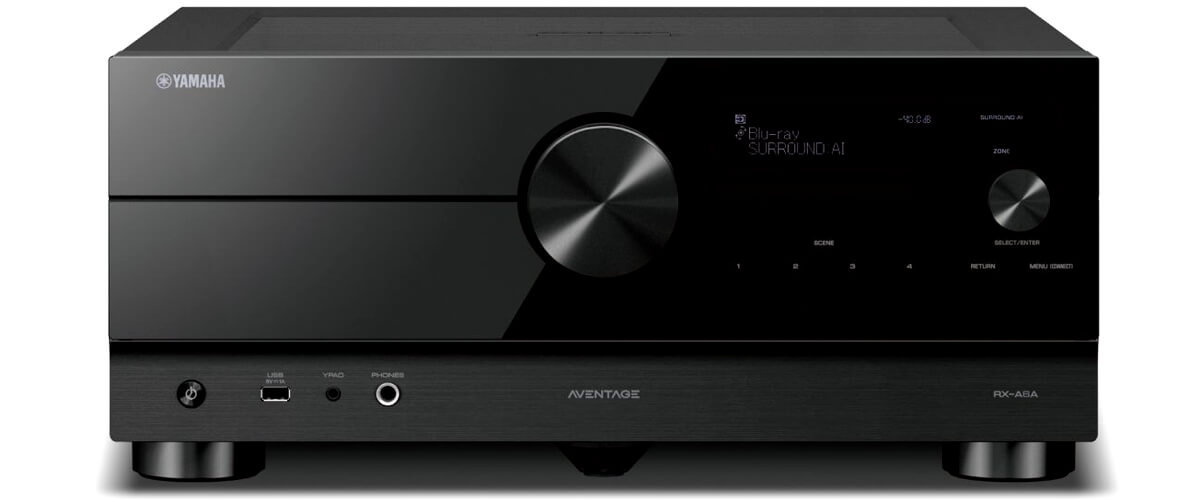 The second place in my rating belongs to Yamaha AVR from the Aventage line, which has gained popularity with many users. Model RX-A6A, released in 2021, is a model of premium class, has 9 channels of amplification with the ability to expand the system to 11 channels, and has an incredible 150 watts per channel (8 ohms, 20 Hz – 20 kHz, 2ch) at the same 0.06% THD. But get ready to open your pocket wide; this baby costs 3 times more than the leader of my selection. Let me try to explain you why.
When a manufacturer creates something really high-class (this applies not only to the Yamaha brand), many things are hidden from our eye inside the cabinet. You should know that if a receiver weighs a lot – it a priori speaks about the quality of components used in its construction. So, the weight of the Yamaha RX-A6A is as much as 41.2 pounds. So you're not just paying for features; you're literally paying for quality parts and components used in it (once again, let me remind you of its weight). Given its capabilities, chances are you won't want to replace it, um… ever!
Continuing to talk about the AVR's sound and its advantages in this area, it's worth mentioning the surround sound formats it supports. And these are almost all available today (considering the varieties): Dolby Atmos, Auro-3D, and DTS:X. I was surprised that there's no IMAX Enhanced, but Yamaha made up for it with the availability of CINEMA DSP HD3 concert sound technology. Listening to concert or sports recordings, I didn't just hear surround sound; the acoustics and echo effects had to be authentic to the point of goosebumps. Artificial intelligence Surround:AI, right during the broadcast, analyzes the soundtrack and independently adapts it for the viewer with the maximum effect of immersion in reality. It should also be noted that the Yamaha RX-A6A is a multi-zone receiver that can broadcast audio to 4 zones. It will even work for a large family when you want privacy and watch something other than Nickelodeon.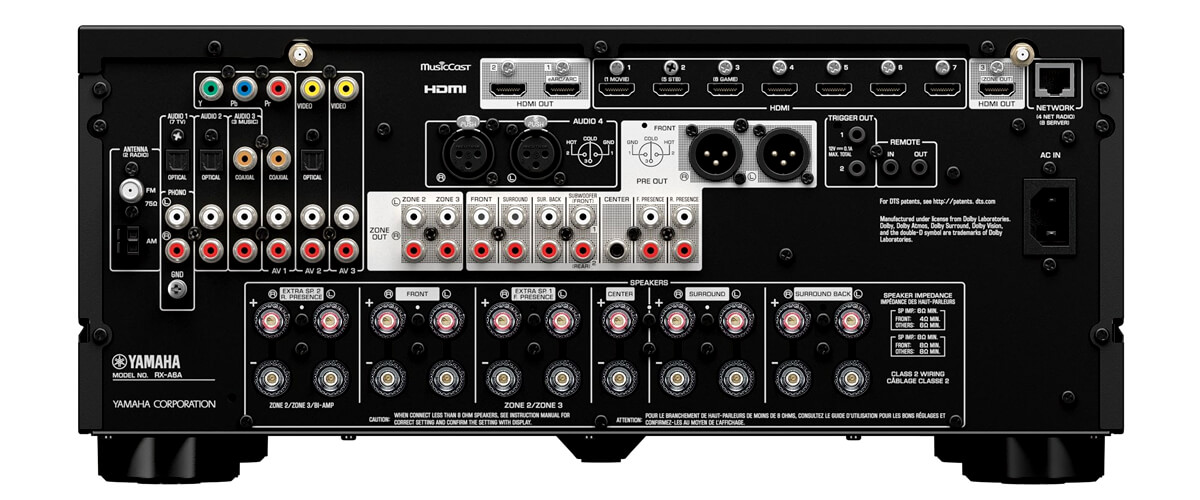 What I find a little disappointing about this model is the ability to connect only 2 subwoofers. I'm a bass fan who always pays attention to details like that. But I should note that with Yamaha, the bass is not the main thing, as it is quite crystalline in sound delivery, and with it, any blockbuster sounds chiseled metallically powerful. That's neither good nor bad; it's just that you're either a fan of that sound or not. Well, and I'll add that the LCD screen on the case is unbearably dim and shallow. Yes, it does not spoil the beautiful appearance of the receiver, but if you are an old-timer like me, who prefers to see letters and numbers on the display of his equipment – a minus in the piggy bank. But you know, these "disadvantages" are "when there is nothing else to cling to" category.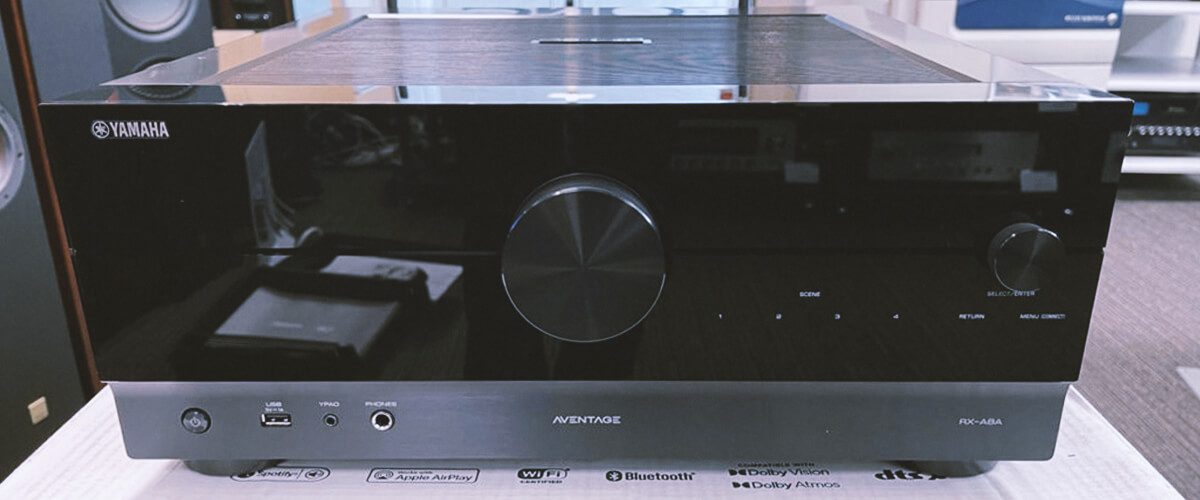 Yamaha RX-A6A has all HDMI ports equipped to transmit video with 8K resolution, 8K upscaling, HDCP 2.3, and eARC functions and for fans of game consoles – ALLM, VRR, QFT. It works with all HDR video formats available today. So, let's skip this section. Everything here is perfect to the point of boring.
Quite naturally, the receiver has no problems with the wireless connection either. It works with all voice assistants (Amazon Alexa, Google Assistant, Apple Siri) and streaming services and has a built-in MusicCast system. Its Wi-Fi supports AirPlay 2, and its Bluetooth supports SBC and AAC codecs. And digital music sounds amazing with it.
RX-A6A is the top AV receiver from Yamaha in my selection for those not used to saving money. My father used to say, "I'm not rich enough to buy cheap things", and I agree. If you want to avoid thinking about upgrading your all-in-one home theater for years to come while quietly raising kids with different movie and music preferences, this is your option.
Key specs
Channels: 9.2.
Power output: 150W/8 Ohm.
HDMI inputs/outputs: 7/3.
Video functions: 8K/60Hz, 4K/120Hz, 4K/60Hz pass-through, upscaling to 8K.
Bluetooth/Wi-Fi: yes/yes.
Streaming services: AirPlay2, Deezer, Tidal, Pandora, SiriusXM, Napster, SoundCloud, Amazon Music, Amazon Music HD, Mood mix.
Supports: HDMI ARC, HDMI eARC, HDMI CEC, HDCP2.3, HDR10, HDR10+, Dolby Vision.
Surround sound: DTS HD Master, DTS Neural:X, Dolby TrueHD, Dolby Surround, Dolby Digital Plus, Dolby Atmos Height Virtualization, Dolby Atmos, Auro-3D.
Pros
The 9-channel RX-A6A can expand the system to 11 channels (with an external amplifier).
The highest power output compared to other models is 150 watts.
Weighted design implies the use of high-quality components.
Supports almost all modern surround sound formats.
CINEMA DSP HD3 technology creates a concert or stadium-like acoustic effect.
Surround:AI analyzes and adapts the soundstage directly during the broadcast continuously.
Broadcast audio to 4 zones.
Cons
Only 2 subs can be connected.
Very small and uncomfortable LCD.
Yamaha RX-V385 – budget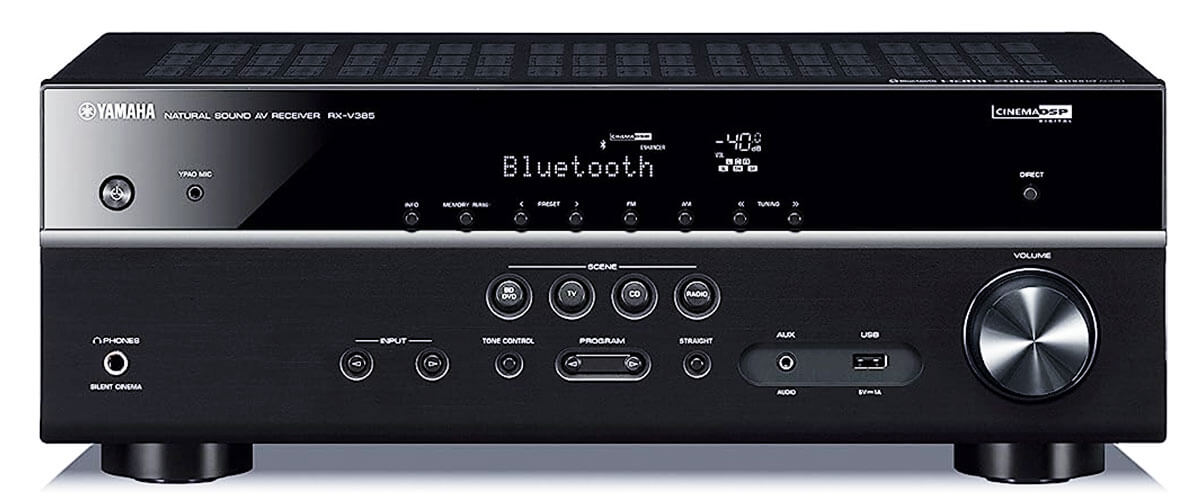 The Yamaha home theater receiver trophy in the budget option category goes to the 2018 RX-V385. Its maximum capability is a 5.1 system, and this option will suit those not fazed by the upper channels of surround sound but simply dream of having an improved version of a movie at hand for their small apartment. It also costs so little while being a worthy brand representative regarding sound quality and construction. Remember that models released over 5 years ago are so cheap because more new products are on the market, not because of poor quality.
So, you're looking at a 70W AVR (8 ohms, 20Hz-20kHz, 0.09%, 2ch), and that's not bad at all, considering you're likely to place it in a room of about 200 square feet.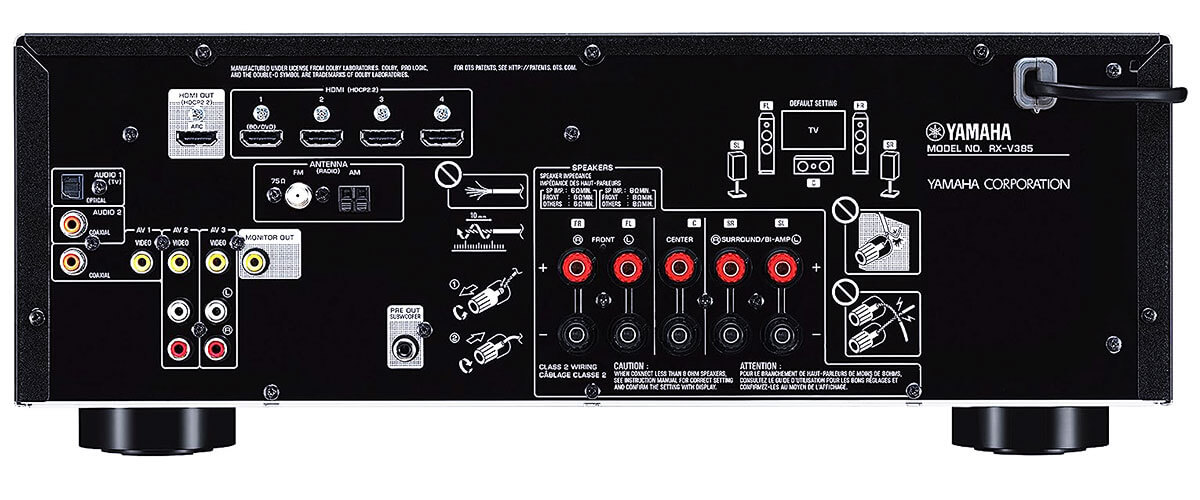 A smattering of HDMI ports (4/1) will get you 4K video, upsampling to the same resolution, and support for HDR10 and Dolby Vision video formats (including end-to-end 3D). But I don't recommend you use a long HDMI cable, as the video is noticeably worse streamed to the screen (with delays). Also, the receiver will not suit gamers, as it does not support the necessary functions.
RX-V385 processes Dolby TrueHD and DTS-HD Master Audio. These basic features will suffice for viewing most content from sources or streaming services. And you have CINEMA DSP (like the RX-A6A, only in a simpler version) and Adaptive DRC function (like the RX-V6A). The sound of movies (and dialog in them) beats similar AVRs of other brands. But I was more impressed with Virtual CINEMA FRONT, which generally allows you to place all your speakers directly in front of the viewer and get a simulated surround sound. Yamaha has really taken care of those who live in small apartments!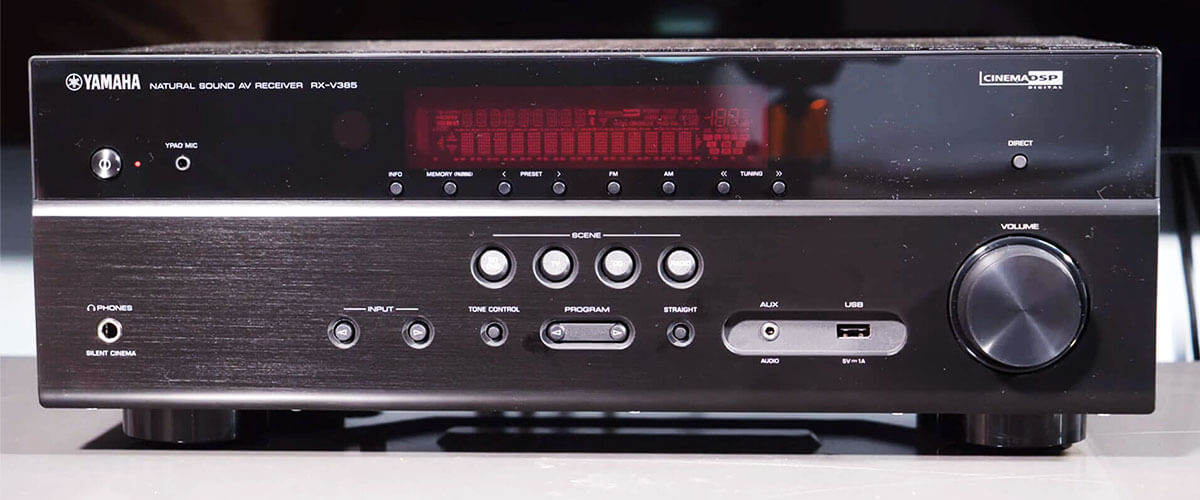 Compromise is the motto of budget receivers. And in the case of the RX-V385, it's the missing Wi-Fi. Although, this is very common for aging low-cost AVRs. But Bluetooth pleased me with the level of signal transmission. It is two-way wireless (in and out) with SBC codec support, but I didn't notice any interference or sags.
The Yamaha RX-V385 is a basic option for a small apartment with a limited budget. All its features showed good performance, and the compromises are quite acceptable for its category. You should consider buying this AVR if you want to improve your TV's sound and you are satisfied with listening to music via Bluetooth.
Key specs
Channels: 5.1.
Power output: 100W/8 Ohm, 145W/6 Ohm.
HDMI inputs/outputs: 4/1.
Video functions: 4K/60Hz Ultra HD pass-through and upscaling.
Bluetooth/Wi-Fi: yes/no.
Streaming services: has not.
Supports: HDMI eARC, HDMI CEC, HDCP2.3, HDR10, Dolby Vision.
Surround sound: DTS HD Master, Cinema DSP, Dialog Level Adjustment, SILENT Cinema, Virtual Cinema DSP, Dolby TrueHD, Dolby Digital Plus.
Pros
The sound of dialogs is better than other receivers of other brands of similar rank.
Virtual CINEMA FRONT technology allows you to place all the speakers in front of the viewer and simulate surround sound.
Bluetooth works better than some other models in the review.
Cons
Only supports 4K video.
No features to work with game consoles.
No Wi-Fi.
Video lags a few seconds when using a long HDMI cable.
Yamaha R-S202 – stereo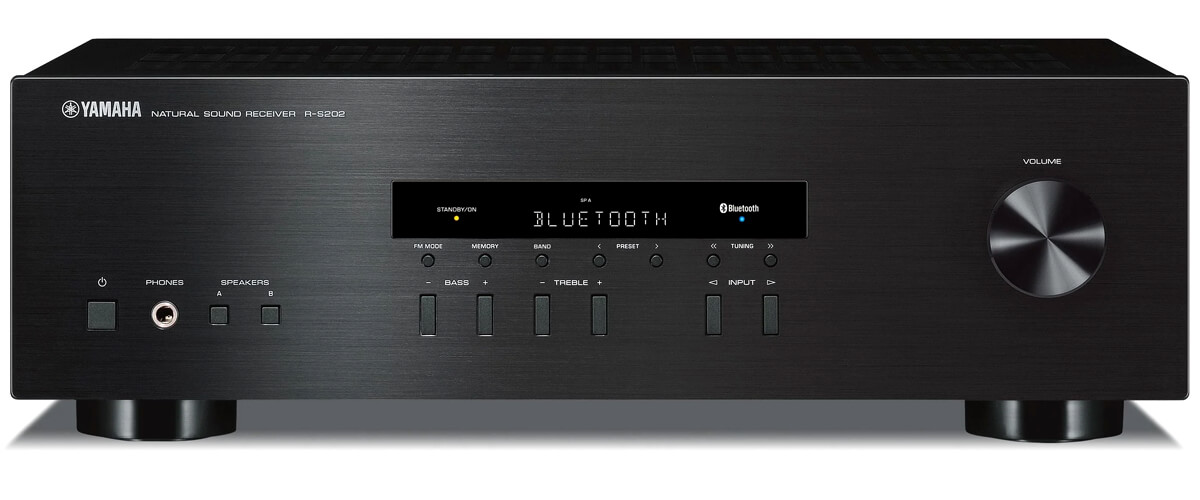 The Yamaha R-S202 will interest those who generally do not consider surround sound. Music lovers here? Literally, for a ridiculous price, you can buy a great stereo receiver from a brand with more than 100 years of history of development in the field of sound.
The small (17 "x 5.5 "x 12.5" and weighing 14.8 lbs) 2-channel receiver delivers 100W of power (8 ohms, 40Hz – 20kHz, 0.2% THD). As you read more about the specifics of the unit's design (on the manufacturer's website), you'll learn that Yamaha has avoided interference from extraneous signals as much as possible while using the R-S202. I am really pleasantly impressed with the performance of this "old guy", which still stands out from its competitors and keeps the tone. Clear, dynamic music reproduction with any speakers and good sound detail. With it, you can use two sets of speakers (A or B) using them separately or simultaneously.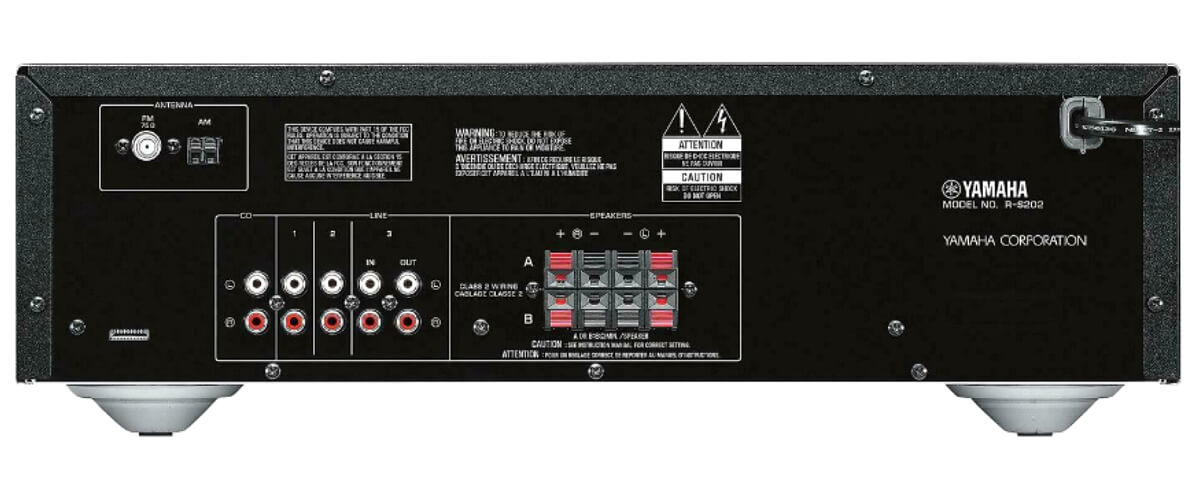 Of the features in the R-S202, you'll only find Bluetooth, which easily pairs with different devices regardless of their OS, age, or category, and AM/FM for 40 stations with automatic tuning. It also didn't cause me any problems or glitches. It was quick and easy. So what else does someone who wants to listen to music at home without having to worry about forever searching and selecting content need?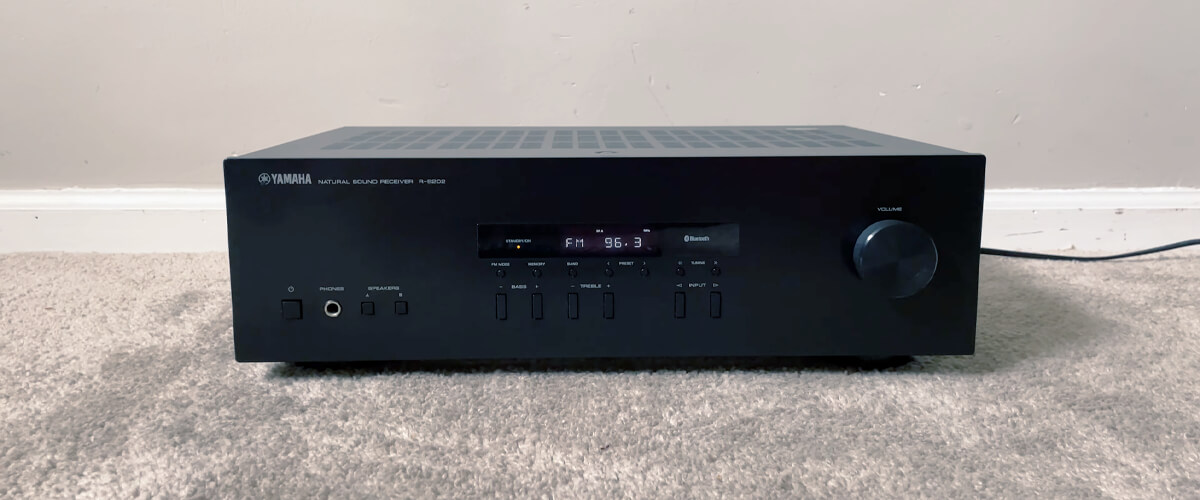 With this stereo receiver, you don't have to worry about energy saving because its automatic shutdown can be postponed for 2 to 12 hours. At the same time, it consumes only 0.5 watts in standby mode. And the only thing you may not like about it is the incredibly small control buttons (thank goodness there is a remote control).
The Yamaha R-S202 is like an old friend. Simple, straightforward, with no nasty surprises, it will be a soulful addition to your musical evenings, offering a pure, gentle sonic embrace.
Key specs
Channels: 2.0.
Power output: 125W/8 Ohm.
HDMI inputs/outputs: 0/0.
Video functions: has not.
Bluetooth/Wi-Fi: yes/no.
Streaming services: has not.
Supports: has not.
Surround sound: has not.
Pros
Clear, dynamic music reproduction with any speakers.
Good sound detail.
In testing, it is easily paired via Bluetooth with all devices offered.
The 40-station FM tuner made quick adjustments and worked well.
There is a power-saving mode.
Cons
There are very small control buttons on the panel.
Yamaha's innovative technologies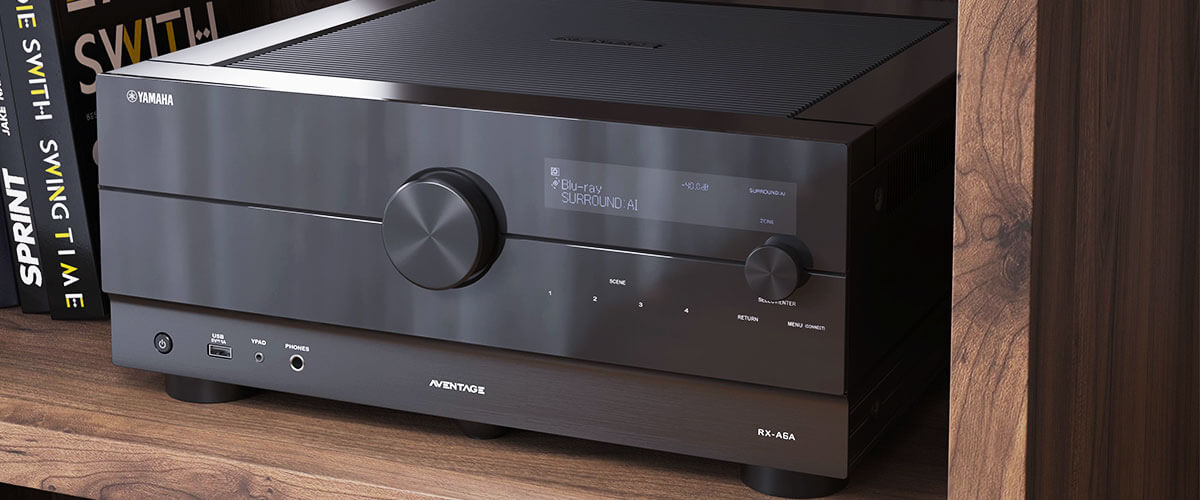 As promised at the beginning of this review, I'll tell you about a few of the brand's proprietary technologies that are proof of Yamaha's commitment to creating cutting-edge audio solutions.
MusicCast. One of Yamaha's distinctive technologies is MusicCast, a wireless multi-room audio system that turns your home into a one-stop entertainment center. With MusicCast, Yamaha receivers can easily connect to speakers, soundbars, and amplifiers throughout your home, thus creating a musical backdrop in all rooms simultaneously or creating separate audio zones. With it, you can connect to music streaming services and your local music library through the app. Although not unique, MusicCast is highly regarded by digital music lovers for its broadcast quality.
YPAO (Yamaha Parametric Acoustic Optimizer Room). Also, it is not unique because all receivers are equipped with calibration systems; YPAO technology is one of the easiest for the user to control. It eliminates problems such as uneven sound distribution and resonance, provides clearer and more immersive sound, and requires no manual intervention.
Pure Direct. Yamaha's Pure Direct mode is a feature that audiophiles especially appreciate. It bypasses "unnecessary" digital circuitry and, therefore, provides a cleaner audio signal path. When Pure Direct is enabled, display and video circuitry elements that can create interference or noise are disabled, resulting in a cleaner and more faithful reproduction of audio sources. This is one of those options that makes Yamaha sound so crystal clear. Depending on your preference, it may or may not appeal to you, but it will surely make you exclaim, "What pure sound!".
FAQ
Are Yamaha receivers suitable for both music?
Yes, Yamaha receiver users praise them for delivering the same surround sound and music quality. The use of unique technologies, detailed automatic tuning, and built-in brand-developed wireless system MusicCast, as well as many other technologies of the famous Japanese brand, will allow you to build a universal system without additional devices.
Are Yamaha receivers compatible with vinyl turntables and analog audio sources?
Yes, most Yamaha receivers are compatible with vinyl turntables and analog audio sources because many models have a phono input. And that means they have a built-in preamplifier. So, yes, you can plug in and listen to vinyl turntables. However, avid audiophiles believe that Yamaha has a rather specific neutral, even cold, sound better suited for digital music. But this is more a matter of taste.