Many of you home theater users don't want to spend your last savings on it, and that's why I often hear, "Is it possible to build a decent system for a modest amount of money?". Answering this question, I prepared an article about the most budget segment, in which I will help you choose the best AV receiver under $500. Thankfully, modern technologies and great competition do their job, and here you can really find devices worth your attention, which will improve your experience of watching movies in the evenings at home. And first, let's find out what exactly you can expect from receivers of this rank.
Our pick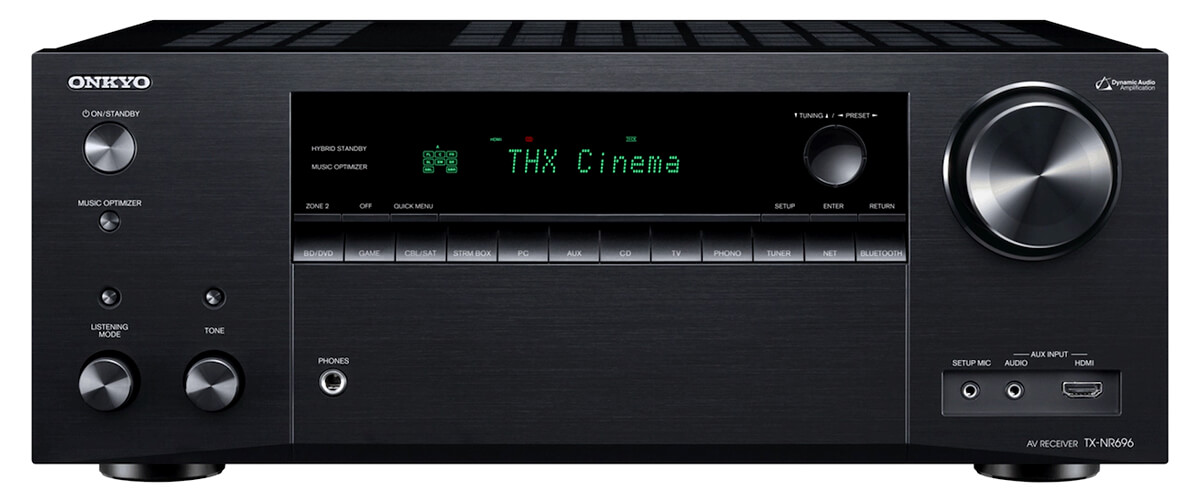 Onkyo TX-NR696
Best AV receiver under $500
A harmonious mix of tech and tradition, the TX-NR696 adapts to entertainment life and finds the emotion in every sound source, from 3D film scores to vinyl records.
Read the full review
.
AV receiver under $500 comparison table
Name
Channels
Power output
HDMI in/out
Bluetooth/Wi-Fi
Review
Onkyo TX-NR696

best overall

7.2
100W/8 Ohm, 210W/6 Ohm
7/2
yes/yes
Review
Sony STR-DH790

also great

7.2
90W/6 Ohm
4/1
yes/no
Review
Pioneer VSX935
7.2
80W/8 Ohm, 170W/6 Ohm
6/2
yes/yes
Review
Denon AVR-S570BT
5.2
70W/8 Ohm, 90W/6 Ohm
4/1
yes/no
Review
What to expect from a receiver under 500 dollars?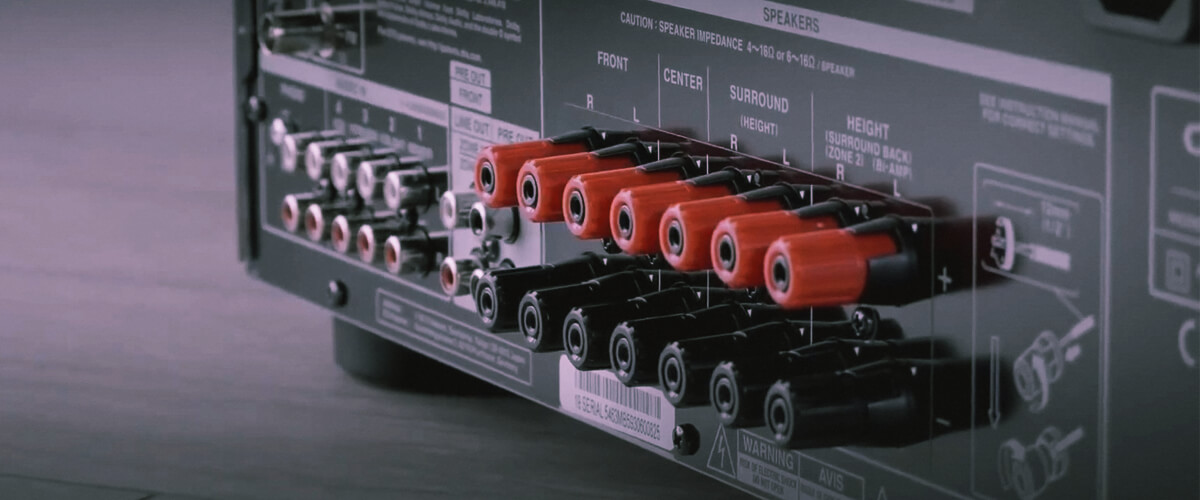 Budget receivers up to $500 can offer you not so little. Although, of course, their functionality is significantly limited compared to more expensive models. Nevertheless, each brand tries to equip its products with the most important. And in the case of receivers, it is surround sound and video.
So, in this segment, you can expect:
5 or 7 channels of sound amplification with power in the range of 50-100W, which is absolutely compatible with the size of rooms in which such systems can be placed (up to 300, sometimes 400 square feet).
Surround sound capabilities of standard Dolby Digital and DTS-HD Master Audio for 5 channels, and Dolby Atmos and DTS:X only starting with 7 channels.
Support for 4K video operation, although modern (released later than 2021) devices can handle 8K video as well, as you'll see in my AVR reviews.
Primitive audio calibration system for indoor adaptation (older models have only a calibration microphone).
Wi-Fi, streaming services, or built-in ecosystems often lack support. But all of them have Bluetooth.
As you can see, it's not dense, but it's at its core. If you are interested in pure surround sound and a good picture to spend evenings with, feel free to study my article further.
Best AV receiver under $500 reviews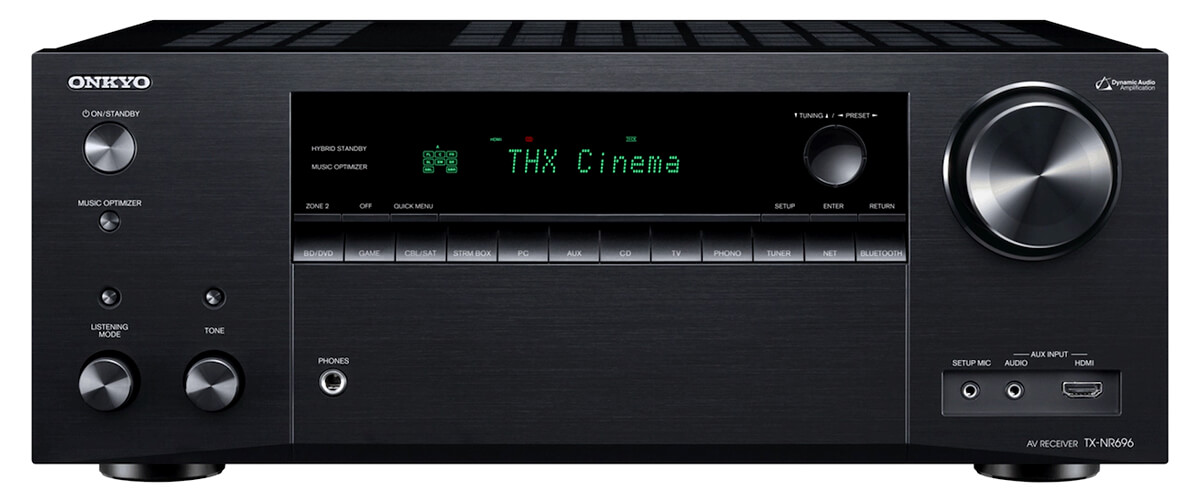 The most powerful Onkyo TX-NR696 receiver of the selection takes the top spot on my list. It provides 100 watts (8 Ohms, 20-20 kHz, 0.08%, 2 ch) with clear sound even at maximum volume (well, let's be frank, this is a budget option after all, and everything I'll write about the models I've chosen read through the prism of "for this segment"). The 7.2-channel AVR with Dolby Atmos (in 5.2.2 configuration) and DTS: X support was released in 2019, and it has qualities that are inferior to other models, but in terms of overall surround sound impression, cost, and features, it's the chart leader for me.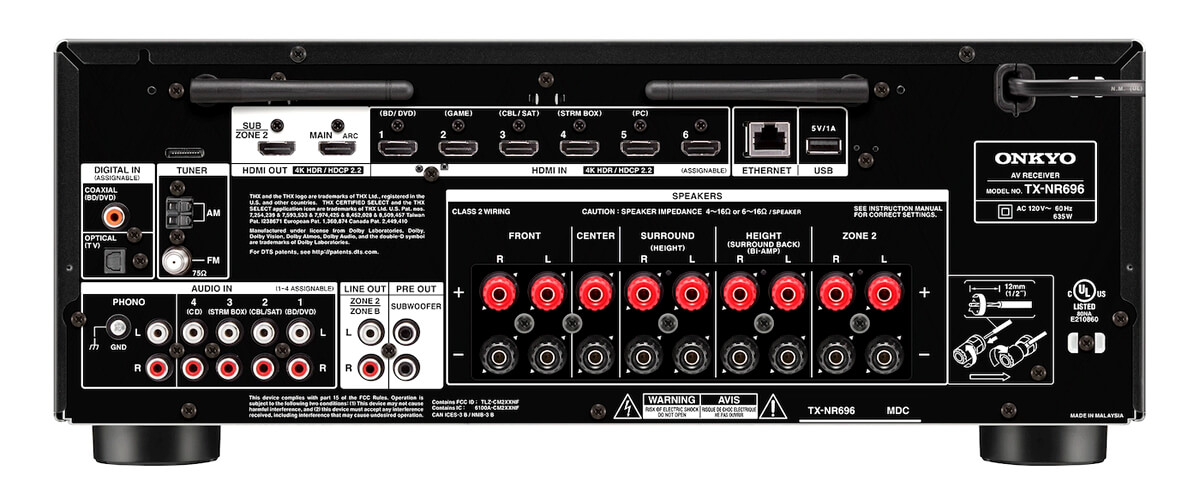 The TX-NR696, unlike some models in my selection, only supports 4K video, which is due to its year of release. But it has 7/2 HDMI ports, which is more than the other receivers in my ranking. So, somewhere you lose and somewhere you find, as they say. For me, 8K is not so important because this resolution still has insufficient content today. HDMI Arc is a little "sags"; in some movies, I noticed a slight lag of sound from the video. But this is an acceptable disadvantage for this segment. In addition, a rarity in the category under consideration, the Onkyo TX-NR696 is a multi-zone receiver, which allows you to send an HDMI signal to Zone 2. You can also connect an optional 2-channel amplifier for a second room.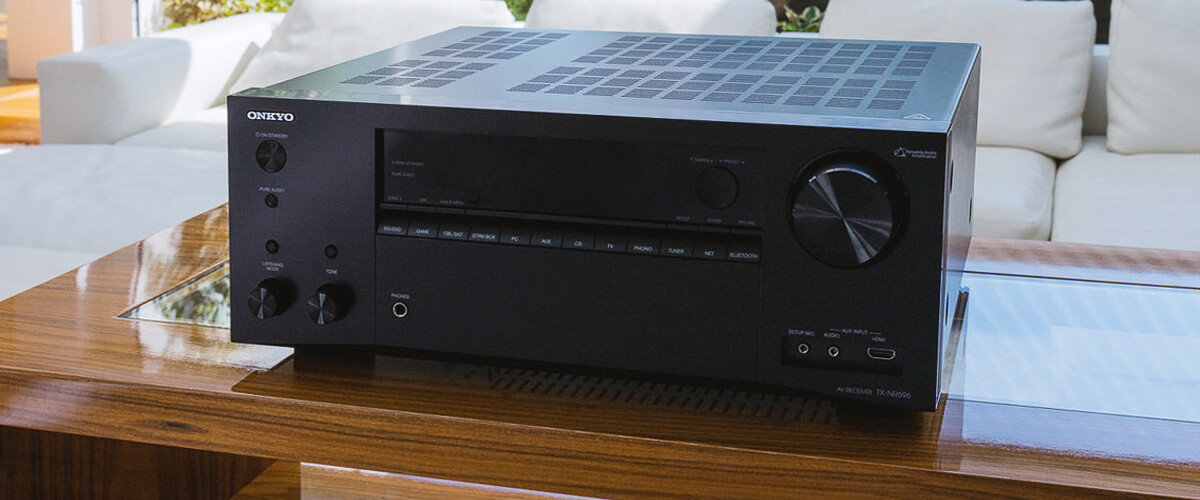 The TX-NR696 is one of the few receivers with rich wireless capabilities. And DTS Play-Fi and AirPlay2 work just fine, and you can safely throw parties with music all over the dwelling. Bluetooth is a bit lame here; the signal sags or works with a delay. But who needs it when you have Wi-Fi?
Our receiver has a high THX Certified rating, which more expensive Onkyo models usually have. And its DSP amplifier handles 384kHz/32-bit audio. So, for both music and movies, you'll get a mid-range experience. It's even good with vinyl, as the sound is dynamic and authentic, without outright ringing or oversaturated lows.
Onkyo TX-NR696 is the best receiver under $500 on my chart. It combines the qualities of more expensive models and provides a pleasant audio experience, and its flaws are minor. I'd say simple but tasteful.
Key specs
Channels: 7.2.
Power output: 100W/8 Ohm, 210W/6 Ohm.
HDMI inputs/outputs: 7/2.
Video functions: 4K/60Hz pass-through, video upconversion (up to 1080p and 4K) for HDMI sources.
Bluetooth/Wi-Fi: yes/yes.
Streaming services: AirPlay2, Deezer, Tidal, Pandora, SiriusXM, Napster, SoundCloud, Amazon Music, Amazon Music HD, Mood mix.
Supports: HDMI ARC, HDMI eARC, HDMI CEC, HDCP2.3, HDR10, Dolby Vision.
Surround sound: DTS HD Master, DTS:X, DTS Virtual:X, Dolby TrueHD, Dolby Surround, Dolby Atmos Height Virtualization, Dolby Atmos.
Pros
The most powerful receiver in the selection is 100W.
Optimal combination of price/quality/functionality/general sound impression.
The largest number of HDMI ports from the list.
Provides HDMI streaming for two zones (two displays).
Extensive Wi-Fi wireless capabilities for its segment with good broadcast signal.
THX Certified and DSP amplifier with 384kHz/32-bit processing make it versatile and enjoyable for listening to music and watching movies.
Cons
When using HDMI ARC, the sound sometimes lags slightly behind the video.
Bluetooth performance is not very good.
Sony STR-DH790 – also great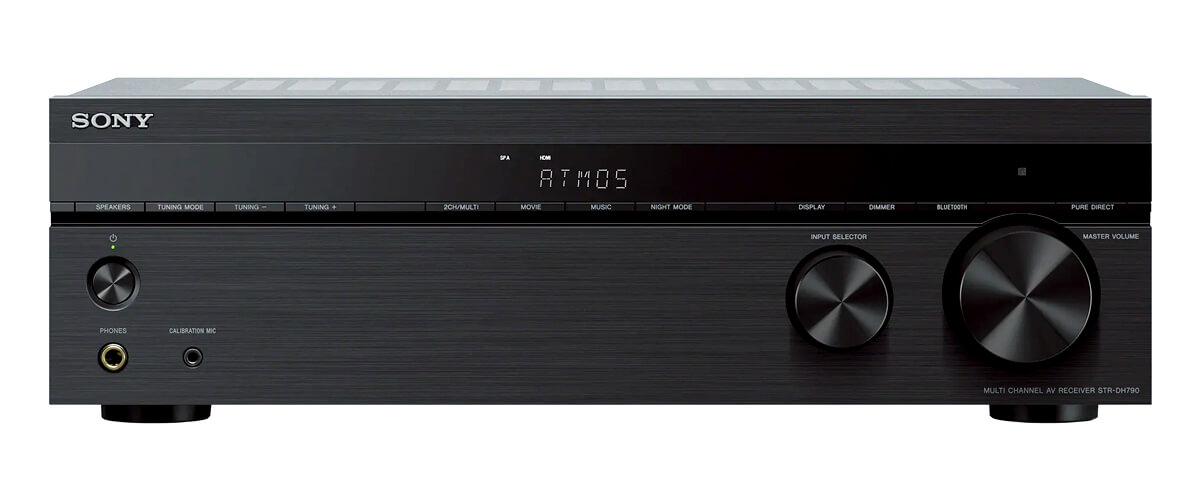 I understand if you decide to build your home theater with Sony STR-DH790. It's slightly inferior in features to the chart leader Onkyo TX-NR696 but also noticeably cheaper. You will get a 7.2-system to which you can connect any speakers with impedance from 6 to 16 Ohm, which makes it the most compatible receiver of all described. The manufacturer declares the power of 90W (6 Ohms, 20Hz – 20kHz, THD 0.9%, 1ch), but as you can see, the distortion index is much higher than that of Onkyo, which means it's better not to crank the maximum volume. It gasps, buzzes, and spews some other wheezing, clacking sounds you don't need. In addition, the AVR overheats when used for a long time at high power, but this is an obligatory "disease" of old-cut receivers (model year 2018). The sound is clear and pleasant but without frills at medium volume (normal for most people and small living rooms).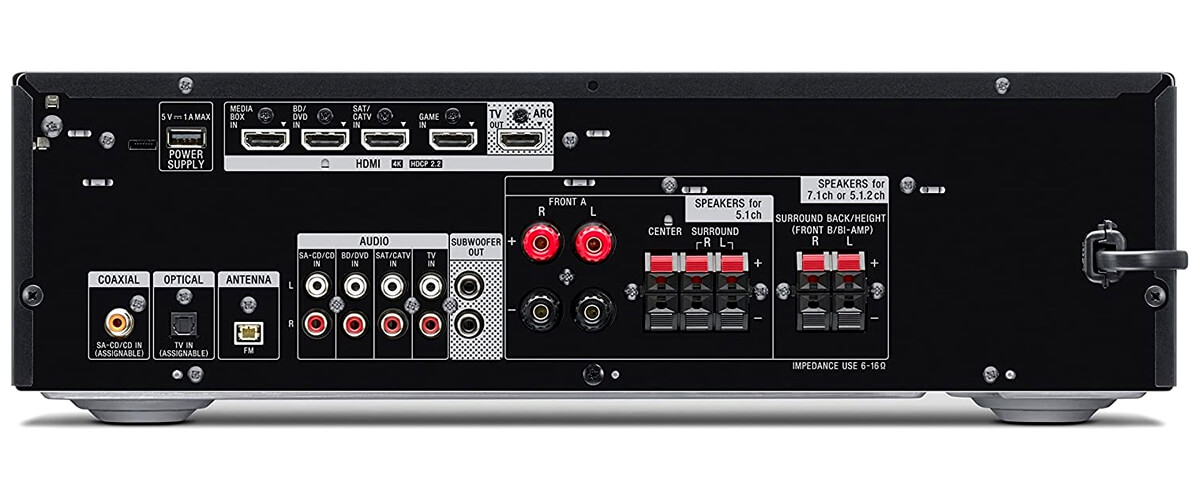 The receiver has the minimum number of HDMI ports on my list (4/1) and supports 4k/60Hz video, which is also the minimum for today (of the most advanced resolutions). But given its price and "age," I don't classify this as a disadvantage; you'll be quite capable of enjoying HDR10, HLG, and Dolby Vision video.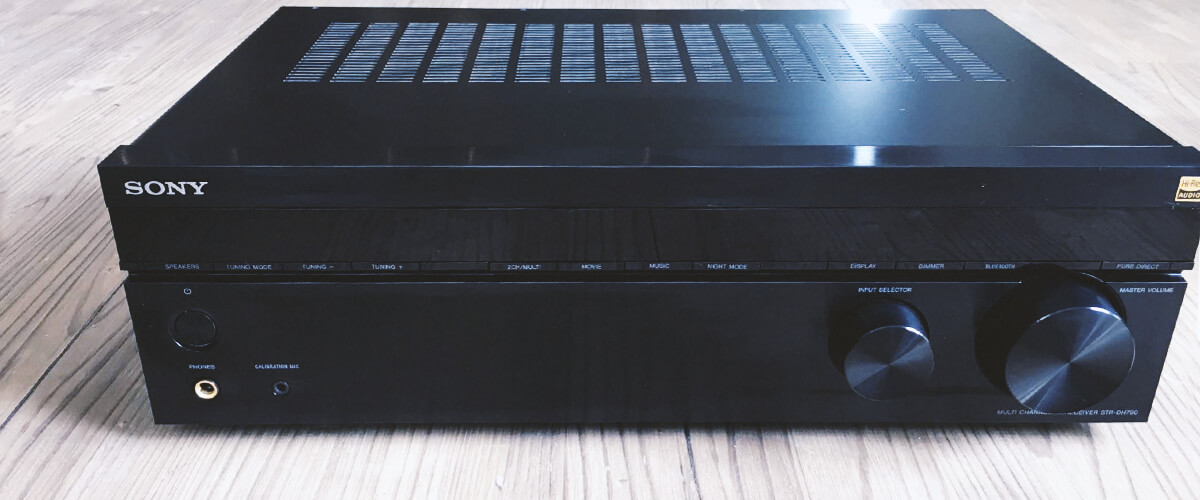 Along with the stunningly primitive and skimpy user menu, it's still worth noting that Sony tried their maximum in the audio area. There's bi-amping and Pure Direct for the two front speakers. Dolby Atmos and DTS:X sound convincing, not mixed or flat. Setup with the microphone was easy and didn't take long. There's only Bluetooth for stereo lovers, but it supports the AAC codec, so it works fine with Apple devices.
The Sony STR-DH790 is a good receiver for home theater. For its low price, the receiver provides a nice Dolby Atmos movie experience, a good picture, and can even serve as a music repeater from your smartphone. Treat it with heart. The model is aging, but it may become your cute companion for a long time.
Key specs
Channels: 7.2
Power output: 90W/6 Ohm.
HDMI inputs/outputs: 4/1.
Video functions: 4K/60Hz.
Bluetooth/Wi-Fi: yes/no.
Streaming services: has not.
Supports: HDMI ARC, HDMI eARC, HDMI CEC, HLG, HDCP 2.2, HDR10, Dolby Vision.
Surround sound: DSD, Dolby Digital, Dolby Atmos, DTS HD Master, Dolby TrueHD.
Pros
Wide compatibility with speakers with impedance from 6 to 16ohm.
Sounds convincing with Dolby Atmos.
Bluetooth supports the AAC codec for quality pairing with Apple tech.
Bi-amping and Pure Direct enhance the sound of the front channels.
Cons
Minimum number of HDMI ports among 7-channel rating models (4/1).
You should not use the maximum volume; the sound is distorted.
Overheats when running for long periods.
Parsimonious and primitive user menu.
Limited wireless connectivity.
Pioneer VSX935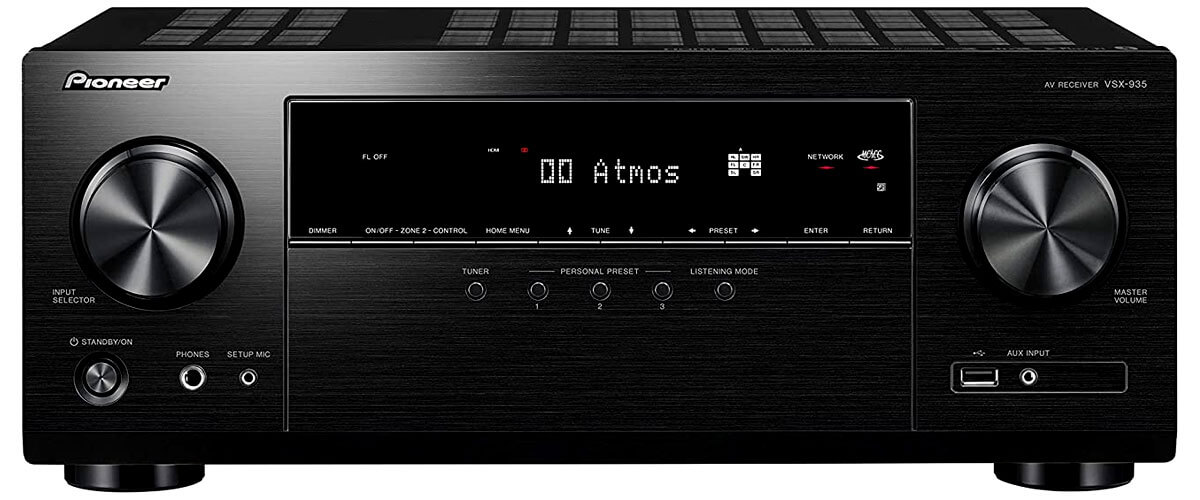 The next representative of mid-range AV receivers is also a 7-channel device, but since the Pioneer VSX-935 was released in 2021, it offers slightly more advanced video capabilities than its predecessors. It strongly resembles the Onkyo TX-NR696 but is inferior in some respects. For example, the VSX-935 is slightly less powerful and delivers 80 watts (8 Ohms, 20Hz-20kHz, THD 0.08%, 2ch).
But the 3/1 HDMI ports with version 2.1 (out of 6/2) will provide 8K video resolution content. Lower-quality video scaling is also available up to 8K, and you can stream 4K video to the second zone. Gamers will appreciate the presence of ALLM, VRR, and QFT features, something the other models didn't have. The rest of the connectivity features are pretty similar, but I was extremely disappointed with the preamp for the turntable. I wish they hadn't placed the phono input at all, honestly. The sound is disgusting.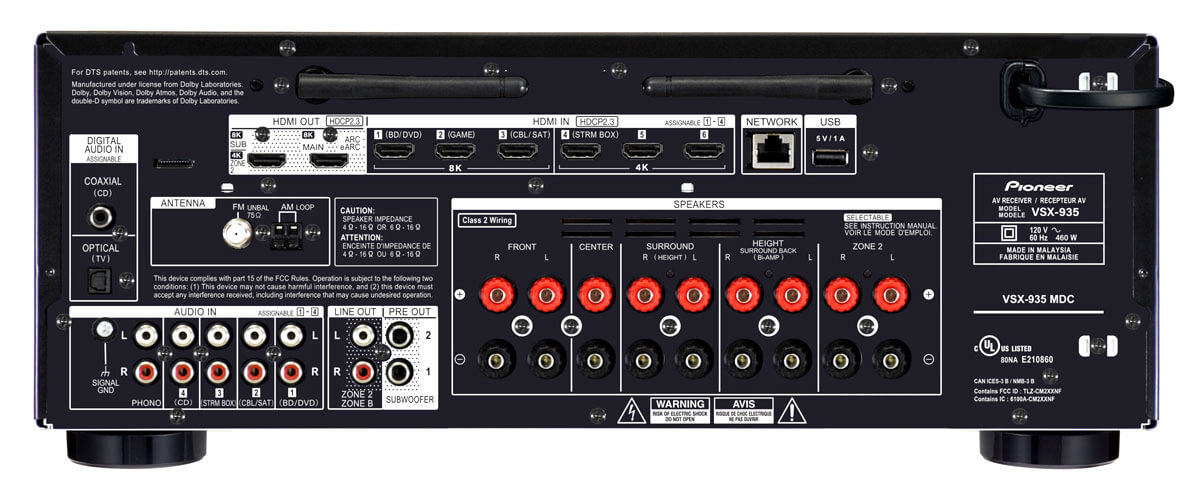 Pioneer VSX-935 is also adapted for music lovers and has wireless functionality: Wi-Fi, Bluetooth, built-in Chromecast, DTS Play-Fi, and works with Sonos, AirPlay 2, Spotify, and Amazon Music. All in all, it has a wide range of features and very good signal transfer. I would even compare it in terms of level with more expensive receivers.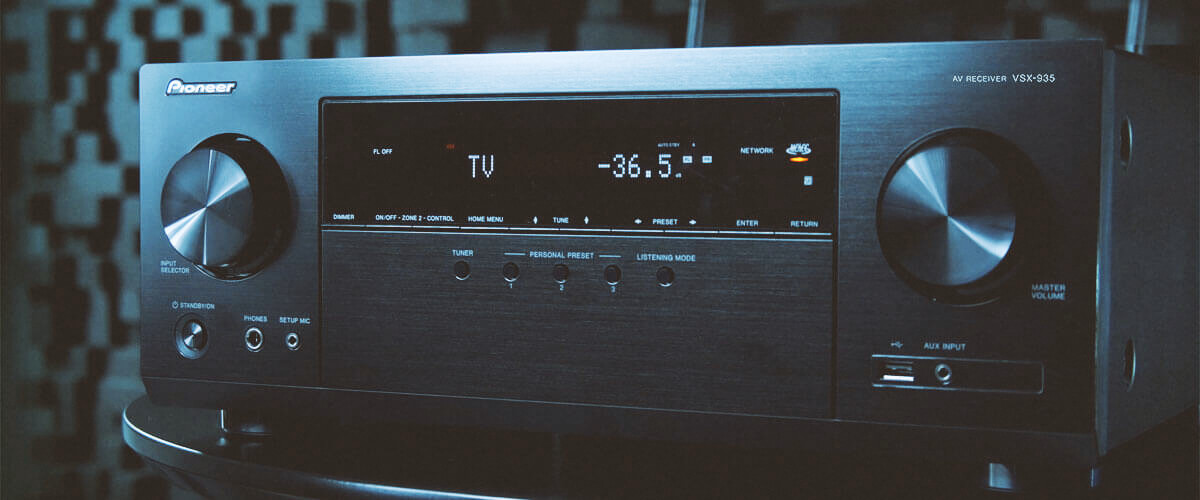 The AVR keeps a great balance of sound while watching movies. Dolby Atmos, DTS:X: no matter what surround sound format I used, the sound stayed good throughout the movie, with no drops when you want to significantly turn the volume up or down. The unique Reflex Optimizer function provides a fairly accurate reflection of sound from the ceiling (with Dolby Atmos), as the manufacturer claims. But the user interface is overwrought and confusing, so it took me a while to figure it out. I also don't like the MCACC auto-calibration; it's the most primitive.
The Pioneer VSX-935 is the best home theater receiver under 500 with modern video and gamer features. It will suit those who, besides surround sound, want something extra.
Key specs
Channels: 7.2.
Power output: 80W/8 Ohm, 170W/6 Ohm.
HDMI inputs/outputs: 6/2.
Video functions: 4K/120, 8K/60Hz pass-through, upscales HD video signals to 8K.
Bluetooth/Wi-Fi: yes/yes.
Streaming services: AirPlay2, Spotify, Pandora, Deezer, Tidal.
Supports HDMI ARC, HDMI eARC, HDCP2.3, HDR10, 3D Ready, Dolby Vision, HDMI x.v. Color.
Surround sound: DTS-HD Master, DTS:X, DTS Neural:X, DTS Virtual: X, Dolby TrueHD, Dolby Digital Plus, Dolby Atmos.
Pros
Unlike Onkyo TX-NR696, the receiver broadcasts and scales 8K video.
There are all the necessary functions for gamers.
High level of wireless signal broadcasting.
Reflex Optimizer complements Dolby Atmos well.
Cons
The abysmal performance of the built-in phono corrector.
Complicated user interface.
MCACC autocalibration copes with the task worse than other similar systems.
Denon AVR-S570BT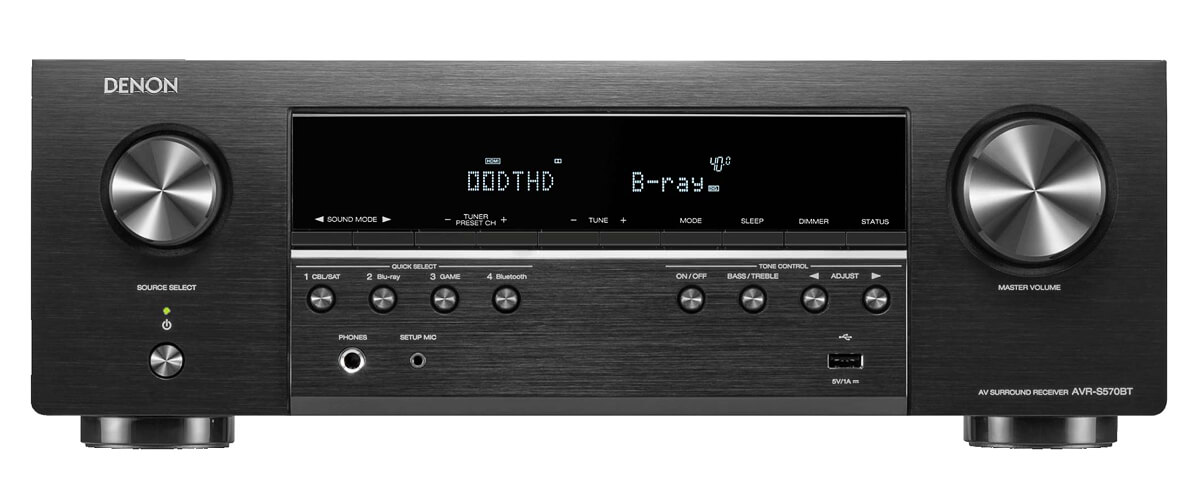 The best AVR under 500 with 5 channels of amplification, which I put on par with its 7-channel predecessors, is the Denon AVR-S570BT. The level of its sound in movies (albeit without Dolby Atmos), modern functionality, and the level of function (albeit rather limited) are amazing. It is cheaper than all the described models and, therefore, will be interesting to those who may be satisfied with the standard Dolby Dolby TrueHD and DTS-HD Master Audio surround sound formats.
So, the receiver's power is only slightly inferior to Pioneer VSX-935 and is 70W (8 Ohms, 20Hz – 20kHz, 0.08%, 2ch). Taking into account the special dynamism and warmth peculiar to Denon equipment, AVR-S570BT sounds brighter and more saturated than some models of my rating with bigger indicators. However, I noticed some overheating of the case when working at high volume for a long time.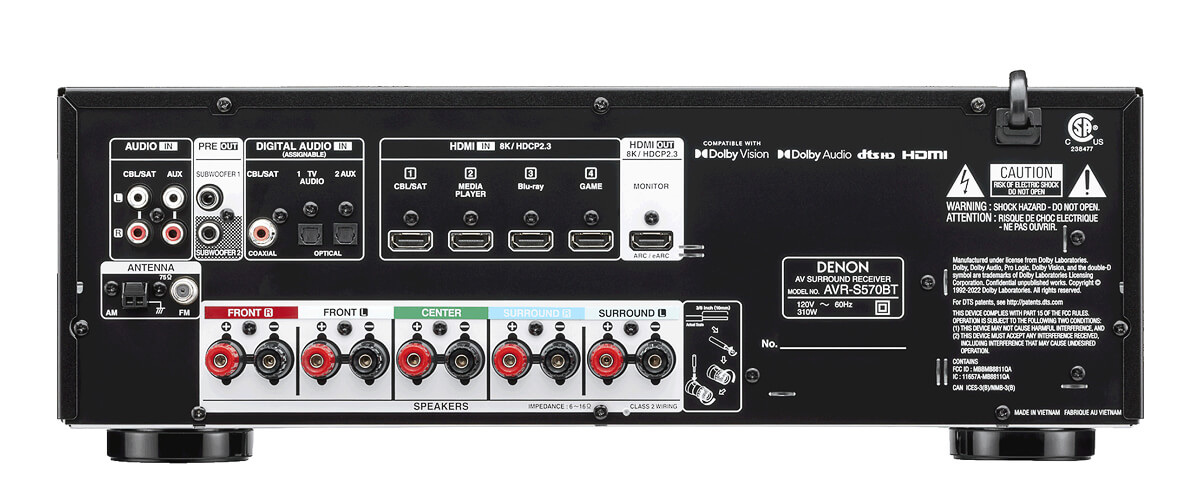 Since this receiver is the "youngest" on my list (it was released in 2022), all of its 4/1 HDMI ports support 8K (and 4K/120Hz) video transmission, 8K video upscaling, and end-to-end 3D, with all HDR, HLG, Dolby Vision, HDR10+, and Dynamic HDR formats. And just like the VSX-935, it is equipped with gamer features.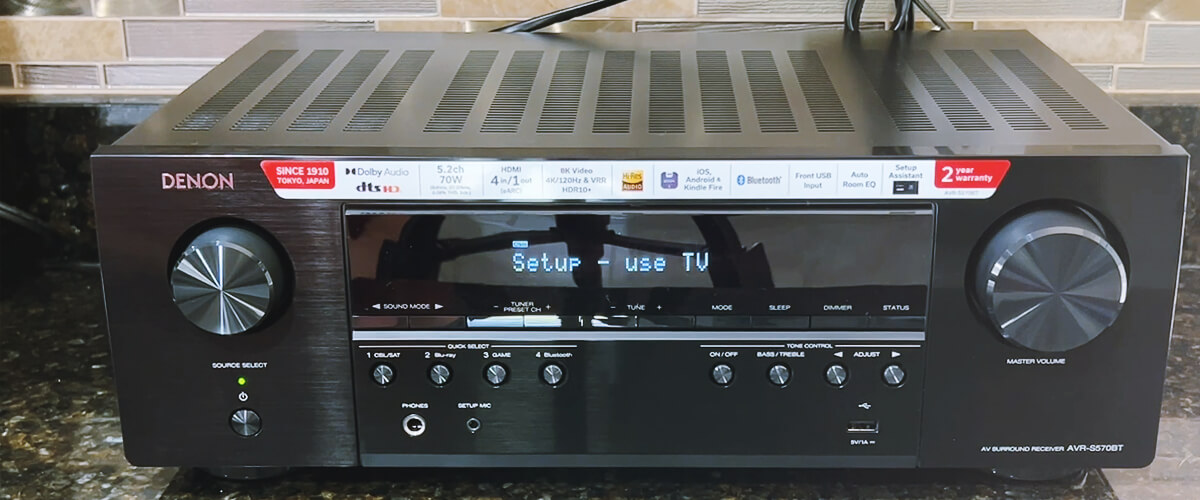 Yes, already, from the name, you can understand that the manufacturer emphasized Bluetooth (the receiver has no Wi-Fi). But its version – 4.2 perfectly copes with the broadcast of any streaming service, media library, or YouTube. Of course, if you are a stereo fan, it is not enough, but for those who are moderately interested in music – quiet.
Denon AVR-S570BT is a great alternative to more expensive models that will provide you with high-quality surround sound movies, high-end video, or an exciting gaming experience on your console. It's a smart choice for those who aren't looking for complexity.
Key specs
Channels: 5.2.
Power output: 70W/8 Ohm, 90W/6 Ohm.
HDMI inputs/outputs: 4/1.
Video functions: 8K/60Hz, 4K/60Hz, 4K/120Hz, upscaling to 8K.
Bluetooth/Wi-Fi: yes/no.
Streaming services: has not.
Supports: HDMI ARC, HDMI eARC, HDMI CEC, HDCP2.3, HDR10+, Dolby Vision.
Surround sound: DTS HD Master, Dolby TrueHD.
Pros
Bright, dynamic, rich surround sound distinguishes Denon AVR-S570BT from other models in the rating.
It supports the highest video resolution and gamer features like the Pioneer VSX-935.
Excellent pairing and Bluetooth 4.2 operation.
Cons
Noticed overheating of the case at high volume.
No Wi-Fi.
Don't miss!
Budget AV receivers
In this article, we've scoured the market to find the most cost-effective solutions without compromising audio excellence. Whether setting up a home theater, revamping your gaming zone, or just wanting to elevate your music experience, we've got you covered.
Read the full review of the best budget AV receivers
.