In this Denon AVR-S570BT review, I want to talk about the features and functions of this device. This model is quite good for its price and will be an excellent option for those looking for a device to create a surround sound system and not pretend to be excessive bells and whistles. Let's take a closer look at the Denon AVR-S570BT.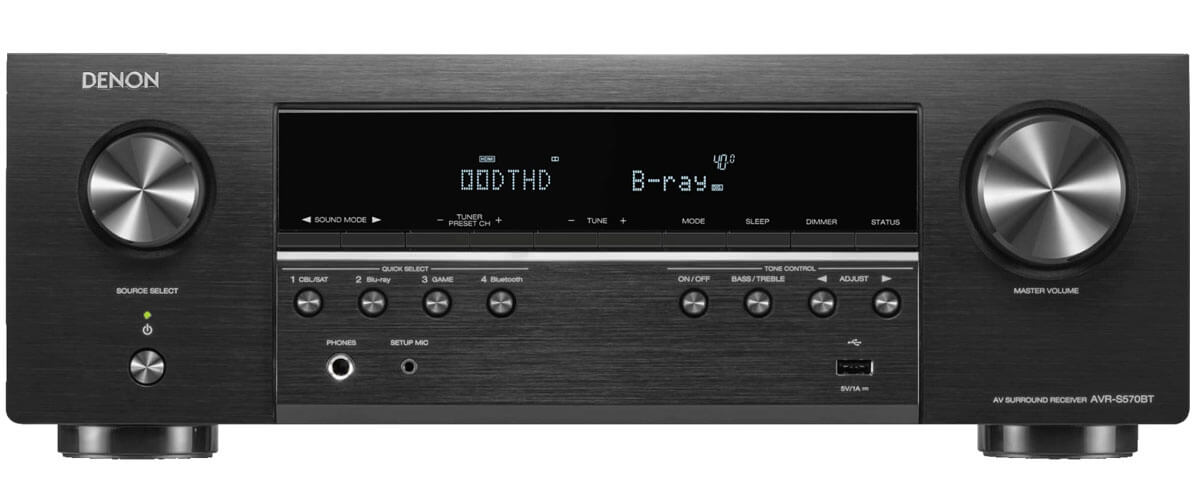 The Denon AVR-S570BT measures 17.1 x 13 x 6 inches. It has a small height because it does not have antennas on the back of the case and does not have Wi-Fi. Therefore, I am confident that the Denon AVR-S570BT will easily fit into any space. The receiver's weight is 16.8 lbs. In fact, the S-series receivers don't have too many differences between them. They may differ only in the size of the chassis.
The device has a large display, which displays the functions using two large round knobs on the sides. The knob on the right helps to adjust the volume, and the knob on the left – to select the sound source, under which, by the way, we can immediately notice the power button.
Under the central display are ten buttons for controlling the sound mode, tuner, sleep function, dimmer, and status. Also, looking at the Denon AVR-S570BT, we can see buttons with quick selection and tone adjustment features. Under them are connectors for headphones, microphones, and USB ports.
Please note that there is no HDMI port on the front. But given that it is not even in more expensive devices, this cannot be called a big drawback. In general, the buttons have a convenient location, and it should not be difficult to figure out their purpose.
The receiver can be controlled using a standard remote control. The buttons on it are quite typical – the navigation buttons are in the middle, and the buttons for playback, quick select, and sound mode can be found at the bottom.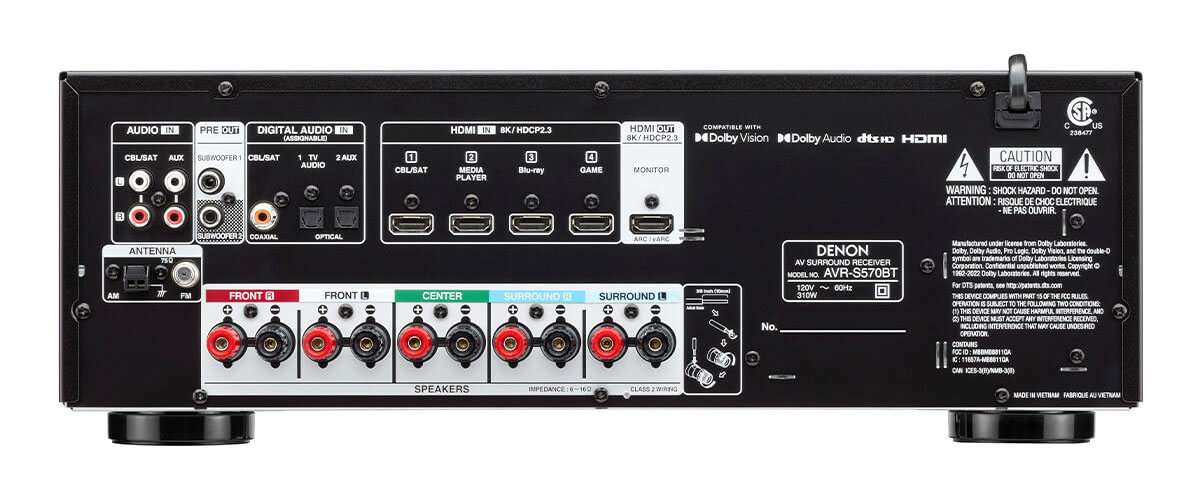 Now let's take a look at the Denon AVR-S570BT specifications. The AVR-S570BT is a 5.2-channel AV receiver with 70 watts per channel (8 ohms, 20 Hz – 20 kHz, 0.08%, 2 channels). The device has four inputs and one output HDMI 2.1 on the back of the case with a bandwidth of 40 Gb / s. Also, there is HDCP 2.3 and support for ARC/eARC and HDMI-CEC.
The receiver has Bluetooth version 4.2, but it is worth considering that its capabilities are rather limited, as this device does not allow you to use external speakers and some Bluetooth headphones simultaneously, like other Denon models. Bluetooth on this model can only be used to stream music from the device to the AV receiver itself. Another bad news for you may be the lack of Wi-Fi. But let's continue to focus on other features.
The AVR-S570BT features four fully working HDMI 2.1 ports to support exciting technologies, old and new, such as 8K/60Hz and 4K/120Hz video pass-through up to 40Gbps, Deep Color, and Dolby Vision.
Alas, this model does not support Dolby Atmos or DTS:X. Instead, we get the old Dolby TrueHD and DTS-HD Master Audio formats.
Unfortunately, this model lacks the possibility of multi-zones due to the lack of Zone-2 outputs. However, if you weren't planning to connect speakers to another room, this shouldn't be a big deal.
In addition to remote control, Denon offers you a mobile app to control this receiver via your mobile device. But since it must connect via Bluetooth, the manufacturer decided to use a new variation of the Denon 500 Series Remote app. You should be able to easily connect it to your AV receiver and have plenty of control options via your smartphone or tablet.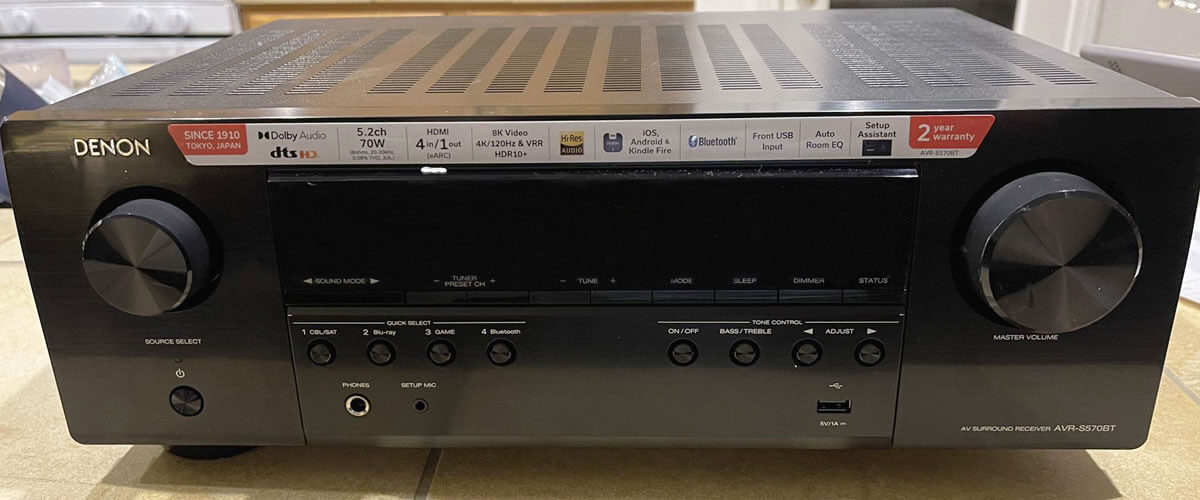 Now let's move on to the most important thing. We should consider how this receiver actually sounds.
Having tested the receivers while watching the movie "Warcraft", I can note that the device processed all its five channels well with excellent panning effects, high accuracy, and directivity.
The center channel provided a crystal-clear sound. I was impressed by the volumetric activity, well-transmitted echo, as well as the sound's attention to detail. In general, the sound quality was perfect, and I was pleasantly pleased with the correct tonality and energy. Even without Dolby Atmos processing, I could enjoy the movie's sound. I was pleasantly surprised by the sound quality of the Denon AVR-S570BT receiver while listening to music.
Key specs
Channels: 5.2.
Power output: W/8 Ohm, W/6 Ohm.
HDMI inputs/outputs: 4/1.
Video functions: 8K/60Hz, 4K/60Hz, 4K/120Hz, upscaling to 8K.
Bluetooth/Wi-Fi: yes/no.
Streaming services: has not.
Supports: HDMI ARC, HDMI eARC, HDMI CEC, HDCP2.3, HDR10+, Dolby Vision.
Surround sound: DTS HD Master, Dolby TrueHD.