On the way to choosing a multichannel receiver for your home theater, you may encounter difficulties of various kinds. How many channels do I need, and what can my choice depend on? What features should it support? Which brand is the finest? If you have limited your choice to the most elite brand, then I will help you choose your best Marantz receiver.
My testing experience has allowed me to select several AVRs of different price segments, choosing models that optimally combine cost, functionality, and reliability, and each of them, regardless of category, can provide you with many years of amazing, unforgettable evenings right in your home. After reading these small Marantz receiver reviews, you will know exactly which one to choose. Let's get started.
Our pick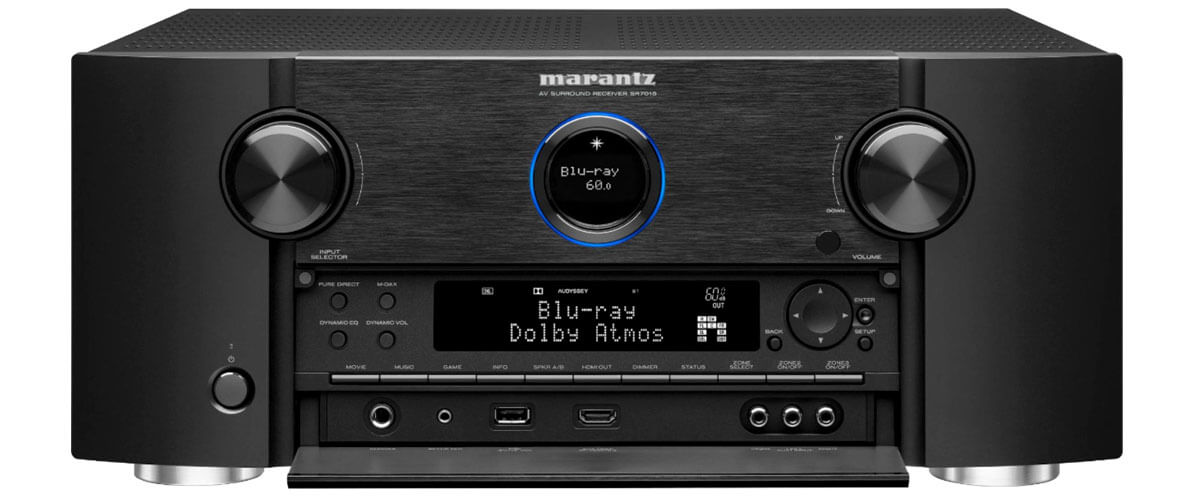 Marantz SR7015
Best Marantz receiver
Featuring discrete high-current power amplifiers on all channels, the Marantz SR7015 delivers 125W of power per channel featuring Dolby Atmos, DTS:X, and IMAX Enhanced for balanced, quality sound.
Read the full review
.
Marantz receiver comparison table
Name
Channels
Power output
HDMI in/out
Bluetooth/Wi-Fi
Review
Marantz SR7015

best overall

9.2
125W/8 Ohm, 165W/6 Ohm
8/3
yes/yes
Review
Marantz Cinema 60

also great

7.2
100W/8 Ohm, 140W/6 Ohm
6/2
yes/yes
Review
Marantz NR1711

slim

7.1
50W/8 Ohm, 70W/6 Ohm
6/1
yes/yes
Review
Marantz NR1510

starter choice

5.2
50W/8 Ohm, 60W/6 Ohm
6/1
yes/yes
Review
Best Marantz receiver reviews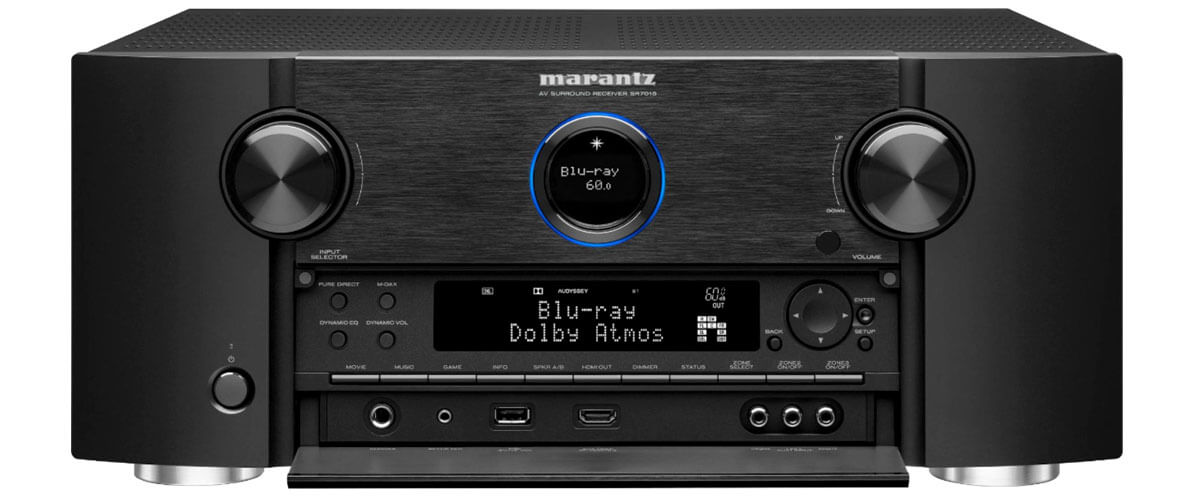 This isn't the first time the Marantz SR7015 has been a winner in my ratings. Even though the company has officially discontinued this model, it is still relevant and can be purchased now at a lower price than when it was released in 2020. Along with some compromises given the year of release, the receiver combines the optimal value for money so far, offering us 9.2 channels of amplification expandable to 11 channels, 125V power (8 ohms, 20Hz – 20kHz, 2ch) with an excellent THD of 0.05%, and many other features, it's about time to tell you about.
The SR7015 is still the premium Marantz AV receiver and owns the unique HDAM technology. This HDAM (hyper-dynamic amplifier module) is far superior to conventional DUT ICs. With the ability to build 5.2.4 and 7.2.2 configurations (and 7.2.4 using an external amplifier), all of the Dolby Atmos, DTS:X, IMAX Enhanced, and Auro-3D surround sound formats available to this AVR can be experienced literally by the skin. Literally, while watching movies, I felt vibrations in the floor in the chair I was sitting in; I even felt like the flowers in the vase on the table were bouncing in time with the bass (I may be exaggerating, but it's hard to describe how loud, clear and magical it is without using hyperbole). I mentioned the distortion factor for a reason: you can really crank the volume up to full without fear of wheezing, as is often the case with cheaper models.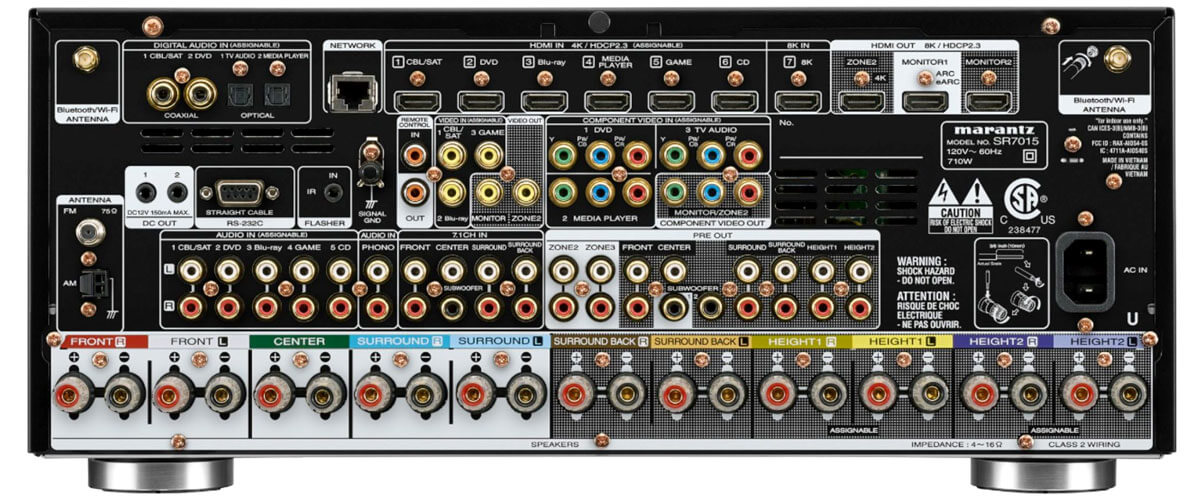 The compromises I mentioned earlier concern the connectivity area. You will, of course, ask, "How is this possible? Have you ever seen its back panel? There is no room for at least one more connector!". That's right, my friends. But only 1 input (8 in total) and 2 (out of 3) HDMI outputs are version 2.1. This means you are limited in connecting sources with 8K video resolution relative to newer models. But don't be too quick to get frustrated; this number is quite enough for most of us, especially if you're a fan of older equipment that doesn't need HDMI. But, being fair, it was worth noting this "loss" compared with other models of even my rating.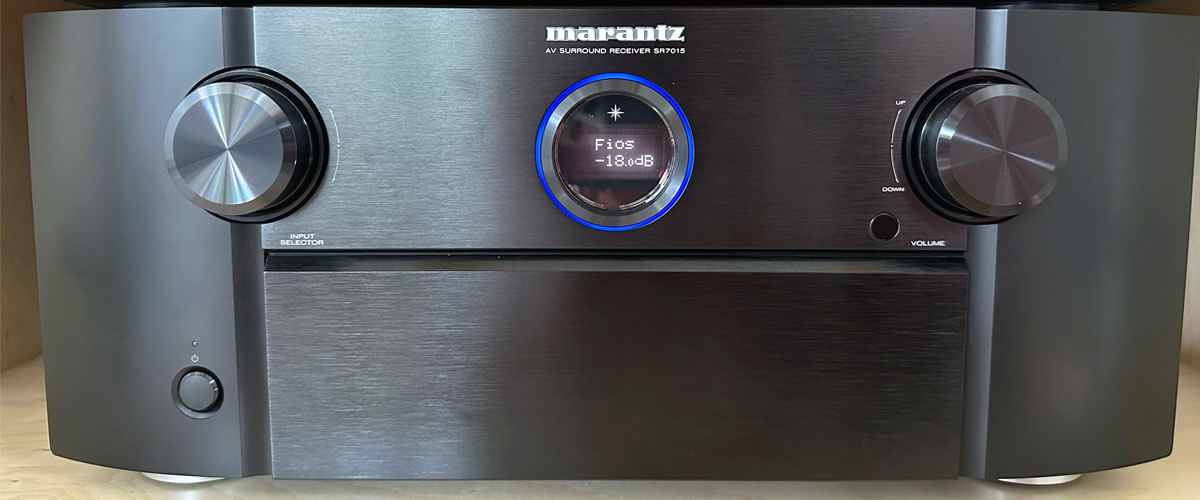 There isn't enough space to list the SR7015's compatibility with streaming services and voice assistants. I'll note the main ones: Dual-band Wi-Fi, AirPlay 2, Bluetooth, and HEOS, and say I didn't notice a single bug while listening to digital music. Although they are now releasing models with more advanced Wi-Fi and Bluetooth versions, I don't get hung up on them. Still, I should mention the "multi-channel stereo" option, where music is played from every speaker, creating the effect of being completely surrounded by sound. But I'm more interested in vinyl, and there's a phono input here. Although connoisseurs know that it is always better to use an external preamplifier, I still note that Marantz is not for nothing considered the most suitable for authentic analog music without additional equipment.
Marantz SR7015 is the best-sounding receiver you can get today for quite reasonable money. This model will suit those living in a large house, and the Multiroom function for 3 zones will also suit those with a large family. The AVR is great for watching movies with surround sound, listening to streaming music, and with vinyl, and it won't need upgrading for a long time. The optimal choice for those who prefer high-end stuff.
Key specs
Channels: 9.2.
Power output: 125W/8 Ohm, 165W/6 Ohm.
HDMI inputs/outputs: 8/3.
Video functions: 8K/60Hz, 4K/60Hz, 4K/120Hz, upscaling to 8K.
Bluetooth/Wi-Fi: yes/yes.
Streaming services: AirPlay 2, Spotify, TuneIn, Deezer, Tidal, Netflix, Amazon Prime.
Supports: HDMI ARC, HDMI eARC, HDMI CEC, HDCP2.3, HDR10+, Dolby Vision.
Surround sound: DTS HD Master, DTS:X, DTS Virtual:X, DTS Neural:X, Dolby TrueHD, Dolby Atmos, Dolby Atmos Height Virtualization, Dolby Surround, IMAX Enhanced, Auro-3D.
Pros
Low THD allows you to listen to content at maximum volume without interference.
HDAM used in the design is better than conventional DUT ICs.
Abundant wired and wireless connectivity.
Most surround sound formats are available.
Sounds great with vinyl.
"Multi-channel stereo" allows music from every speaker, creating a surround sound experience.
Cons
Only 1 HDMI input and 2 HDMI outputs support 8K video.
Marantz Cinema 60 – also great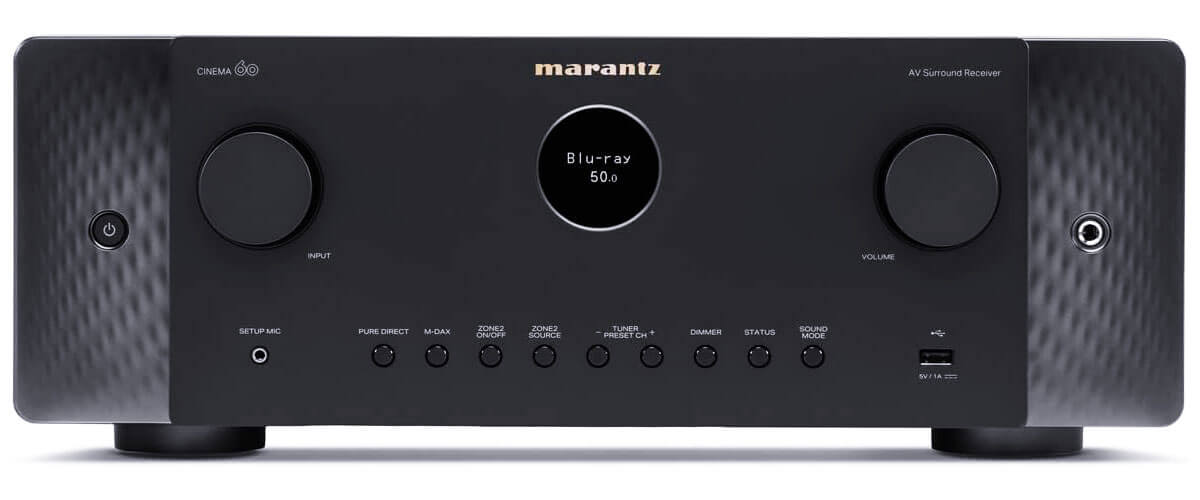 When ranking Marantz receiver models, one cannot ignore the extremely popular CINEMA 60, released in 2022. This 7.2-channel AVR is a modern device that meets all standards, although it can provide the minimum configuration for Dolby Atmos. I certainly don't think its importance in today's world of content consumption is exaggerated, and yet this surround sound format is far from the only thing I look at when choosing a home theater.
So, the CINEMA 60's 100 watts (8 ohms, 20Hz-20kHz, 0.08% THD, 2ch) is the maximum achievable for a system of this rank. The beautifully clear sound, warm and mellow (as always with Marantz), will easily and evenly fill a room of about 400 square feet, reaching every corner. In addition to Dolby Atmos, the receiver also decodes more complex DTS:X soundtracks, and for small systems, that's what I prefer. After all, you still can't enjoy the full benefits of Atmos in a minimal 5.2.2 configuration. But it is there! And it is a definite plus.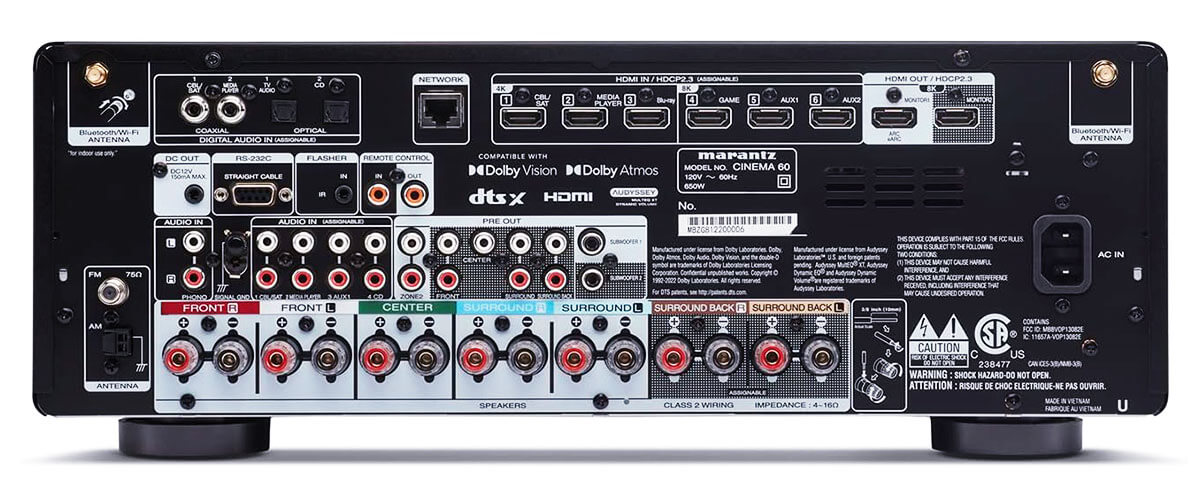 For surround sound to be truly enjoyable, the picture is also important, don't you agree? The Marantz CINEMA 60 has fewer connections than the previous SR7015, but more HDMIs support 8K video (3/2 of 6/3). Dolby Vision, HDR10+, Dynamic HDR video, as well as ARC/eARC, HDCP 2.3, and the more familiar ALLM, VRR, and QFT features for gamers are also present. This receiver is built for movies, as even its name suggests. I didn't notice a single lag while watching; the synchronization with the sound was amazing.
The set of wireless features in Marantz receivers usually differs only in the number of built-in streaming services, but the standard set is always present and works perfectly. For this model, I would also note that those who prefer movies and music in one system will be fully satisfied. Beautiful clear sound, worthy of refined ears (let's ignore those who tread on every little detail that, for ordinary people, just doesn't matter). Just take my word: the CINEMA 60 will enhance your intimate or party nights.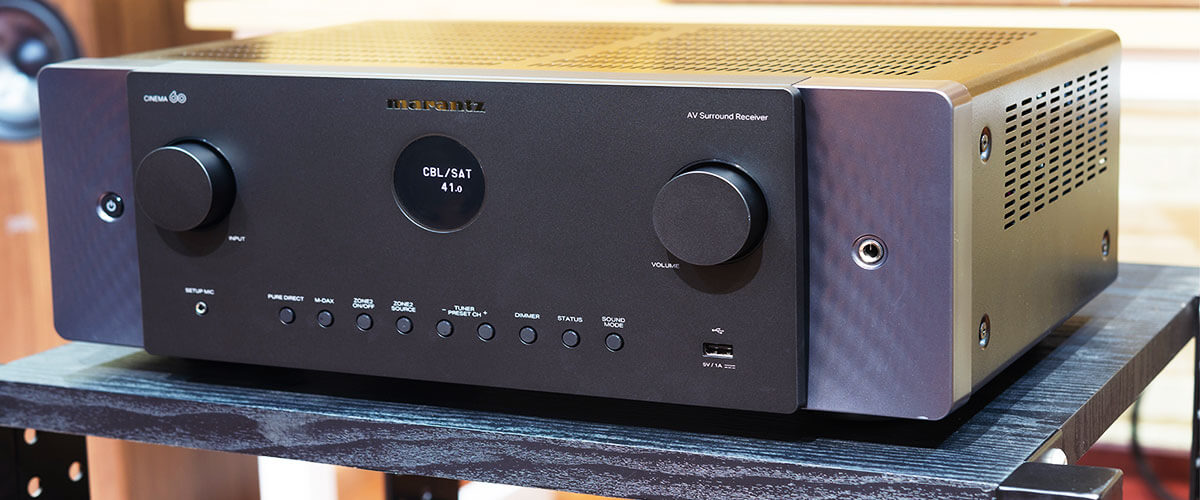 I didn't mention this in the SR7015 review because there was so much to write about, but here I'll tell you a bit about the Audyssey MultEQ XT calibration system. It's a marvel for those who can't tune the sound manually. BUT! You will have to pay to get this magic version. The thing is, the app is paid. Alright, though, you pay dearly for expensive stuff, which pays off a hundredfold.
Another thing I don't like (not only in this model, though) is the small, unreadable LCD screen. It seems to be placed on the front panel for beauty. Thankfully, the on-screen menu is very simple and easy to understand.
The Marantz CINEMA 60 is an excellent AV surround receiver with many modern features and options. Versatile for movies and music, powerful, with a clear, warm sound, and a reasonable price, it can provide you with a minimum configuration for Dolby Atmos and a full configuration for other surround formats.
Key specs
Channels: 7.2.
Power output: 100W/8 Ohm, 140W/6 Ohm.
HDMI inputs/outputs: 6/2.
Video functions: 8K/60Hz, 4K/120Hz, upscaling to 8K.
Bluetooth/Wi-Fi: yes/yes.
Streaming services: AirPlay 2, Spotify Connect, TuneIn, Pandora, SiriusXM, Amazon Music HD, Amazon Music, TIDAL, Deezer, iHeart Radio, Napster, SoundCloud, Mood Mix.
Supports: HDMI ARC, HDMI eARC, HDR, HLG, Dolby Vision, HDR10+, Dynamic HDR.
Surround sound: DTS HD Master, DTS:X, DTS Neural:X, DTS Virtual:X, Dolby TrueHD, Dolby Atmos, Dolby Atmos Height Virtualization, Dolby Atmos Music, Dolby Surround.
Pros
Optimal power and clear sound for a small room.
More HDMI 2.1 than the Marantz SR7015 supports 8K video.
Also, like the Marantz SR7015, it has equally good sound for movies and music.
The on-screen menus are simple and easy to understand.
Cons
The LCD screen is very small and unreadable.
Audyssey calibration works optimally only with a paid application.
Marantz NR1711 – slim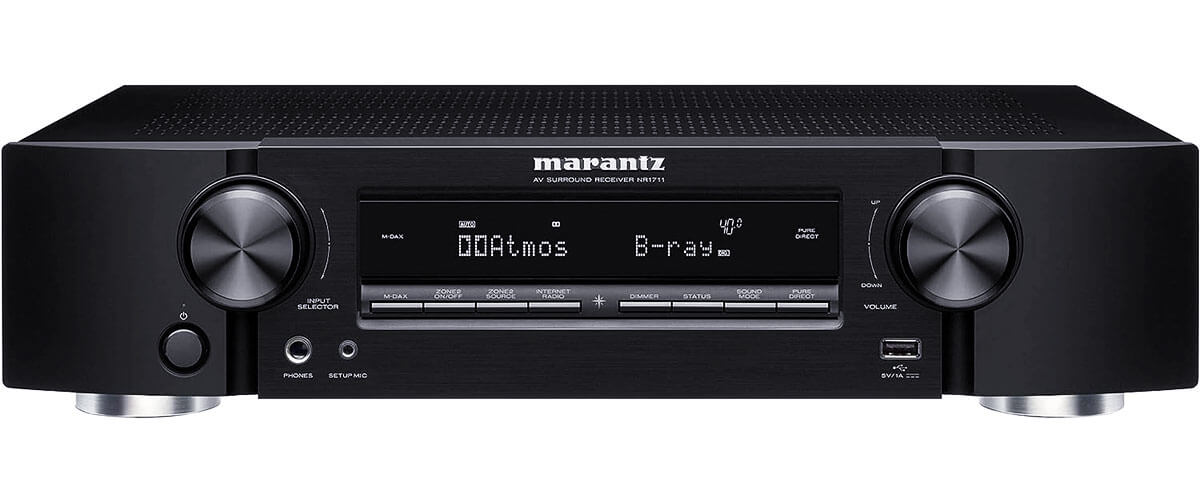 Want a 7.1-channel Marantz receiver at a lower price than the CINEMA 60? Easy! Meet the Marantz NR1711 audio video receiver. Anyone who sees the price on the manufacturer's website will be surprised by the difference and will rightly wonder, "What's the big deal?". I'm here to explain it to you.
First, the NR1711 has a narrow design (17.3 x 14.8 x 4.1 inches and weighs 18.2 kg). This means that its components inside are much closer together than a standard receiver. So, yes, you save space, and that's a plus for compact systems. However, the sound quality of such a receiver cannot be identical to a full-size one due to electromechanical interference within the design. This fact becomes obvious when you see the power specifications of 50 watts (8 ohms, 20 Hz – 20 kHz, 0.08% 2ch Drive). With the same low THD, you get half as much power as the CINEMA 60. However, you can't say that the sound of this Marantz model is worse, no. It's just quieter and not as rich, although it's still quite detailed and clear. And that's the main thing, especially for content with DTS:X and Dolby Atmos soundtracks, which it decodes. You can even stream audio to 2 zones.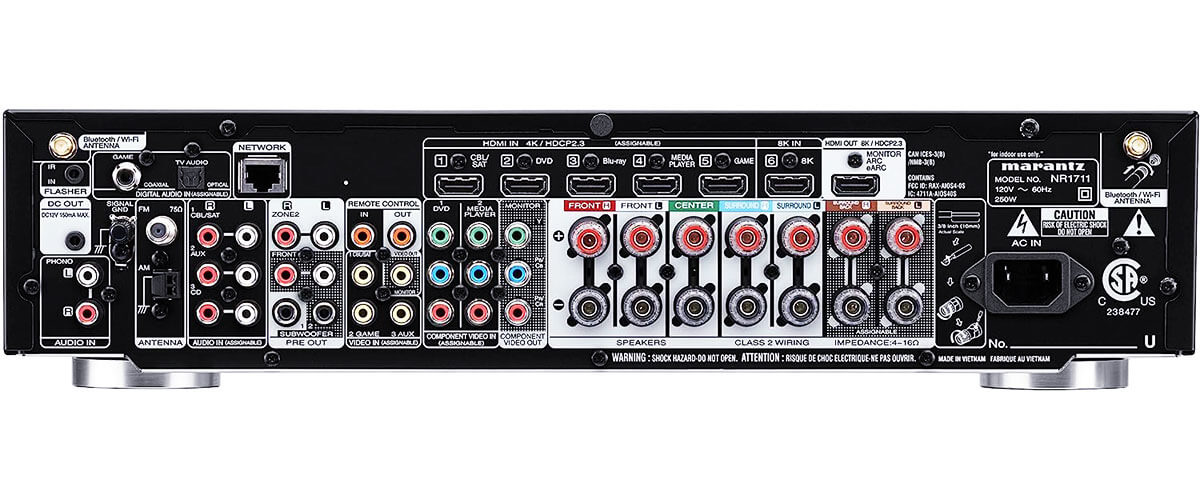 In the video realm, the Marantz NR1711 is absolutely on par with its predecessors in terms of functionality, but only 1 of its inputs (out of 6) supports 8K video. Not surprisingly, models released before 2021 (and this receiver saw the light of day in 2020) rarely support this resolution. You need to remember that when you buy a receiver with 8K, you need a TV with 8K support. So why save on the "main character" of home theater to buy an expensive TV when, in fact, there is still not much content in this format today? Believe me, if you're not obsessed with pixels, you won't even notice much difference. You'd better buy cool speakers for this money and the second sub because you can connect it here, creating a 5.2.2 or 7.2 system.
Having standard Wi-Fi and Bluetooth, you, as well as with more advanced models, have access to content streaming services, but NR1711 is perfectly compatible with Apple equipment. You'll also be able to control your voice with Siri and Amazon Alexa.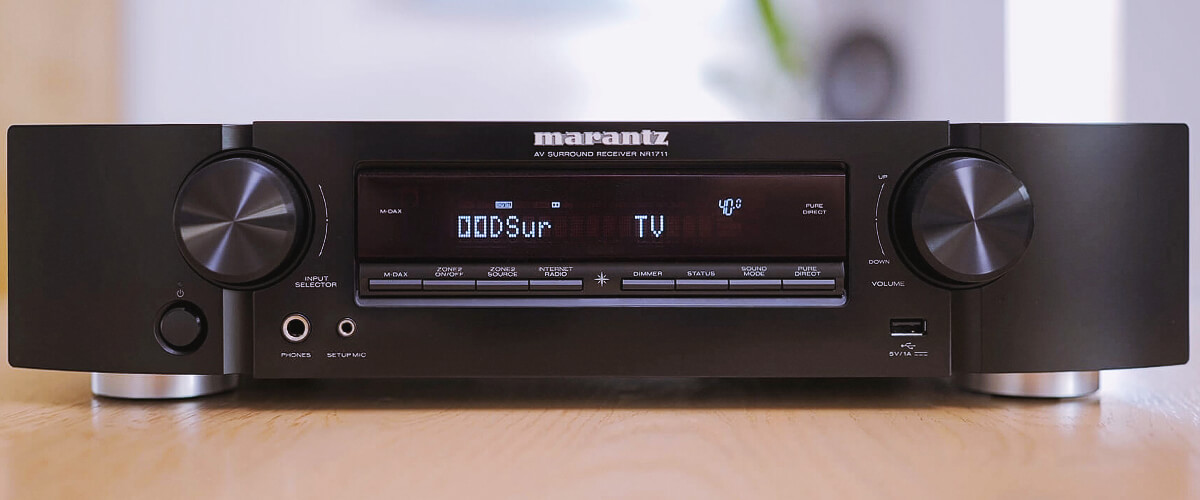 There's a little surprise in the form of MDAX2 technology when it comes to music. With it, you won't have to worry if you come across a file in MP3, Windows Media, Audio, or AAC format because you can improve its quality by re-reading the range of output frequencies. I won't say you'll hear MP3s in lossless quality, but definitely much better than the source. The Audyssey sound correction system is simpler than in previous CINEMA 60 and SR7015 models. You'll set up the system quickly, but it won't give you high-end results. I would recommend refining the calibration manually.
In the variety of Marantz home theater receivers, it's easy to get confused as you come across similar options at completely different price points. You need to be sure that the slim NR1711 is a simple but high-end receiver with basic but modern and excellent features. It is a sensible choice for those who like compact appliances.
Key specs
Channels: 7.1.
Power output: 50W/8 Ohm, 70W/6 Ohm.
HDMI inputs/outputs: 6/1.
Video functions: 8K/60Hz, 4K/120Hz.
Bluetooth/Wi-Fi: yes/yes.
Streaming services: AirPlay 2, Spotify, TuneIn, Deezer, Tidal, Netflix, Amazon Prime.
Supports: HDMI ARC, HDMI eARC, HDCP2.3 support, HDCP2.3, Dolby Vision, HDR 10+, Dynamic HDR, ALLM, QMS, QFT, VRR, HLG, Dolby Vision.
Surround sound: DTS HD Master, DTS:X, DTS Neural:X, DTS Virtual:X, Dolby TrueHD, Dolby Atmos, Dolby Surround, Dolby Height Virtualization, Audyssey.
Pros
Compact size and weight are suitable for small spaces.
There is no loss of clarity and detail quality for a small design.
MDAX2 technology enhances the quality of compressed files.
Cons
Twice the lower power of the 7-channel CINEMA 60.
Audyssey's sound correction system is more primitive than previous CINEMA 60 and SR7015 models.
Marantz NR1510 – starter choice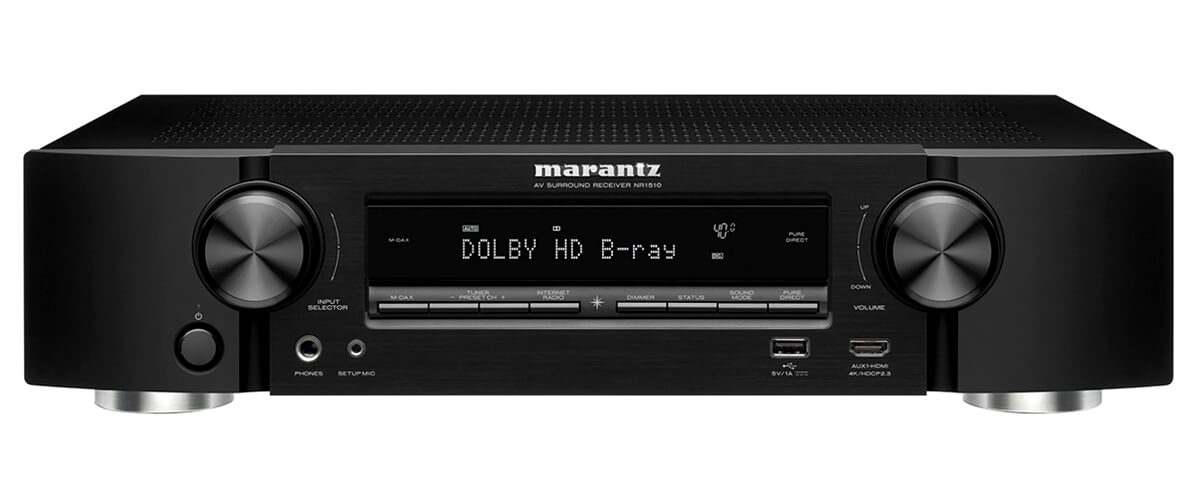 Finally, for those just starting their journey into the world of surround sound, I would suggest the Marantz NR1510. This 5-channel receiver with a rating of 50 W (8 ohms, 20 Hz – 20 kHz, 0.08% 2ch Drive) is not inferior in power to NR1711, has just a great price, and will provide you with a pleasant introduction to the world of cinema at home. It is hardly possible to find something supernatural in this model, but it will be a great option for beginners.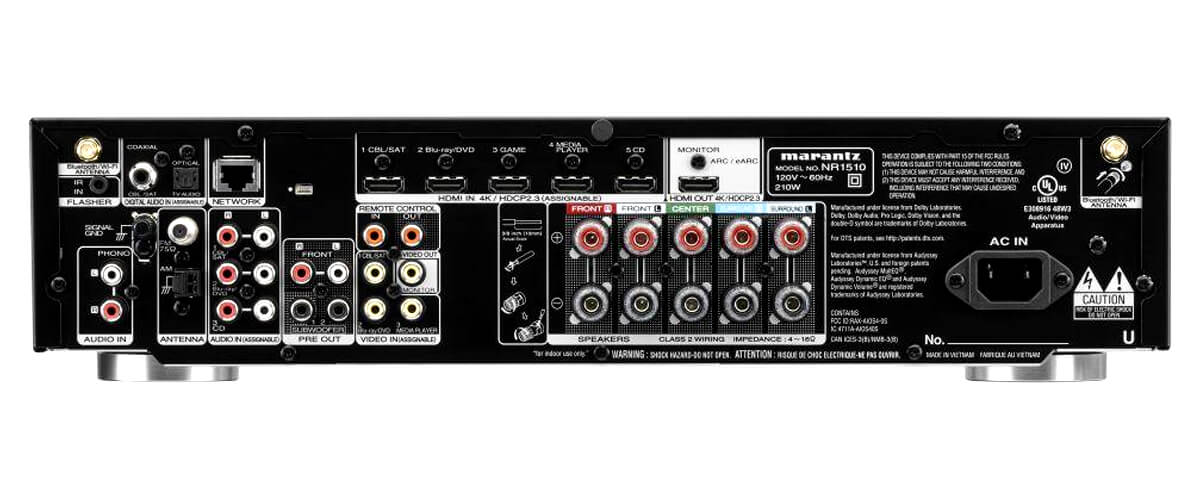 The receiver was released in 2019, so it does not know about the existence of 8K video resolution. So what? It has enough (for its class) HDMI connectors (6/1, almost like the 7-channel ones on my list), and they all work very well. I switched sources quietly and didn't notice any problems like with many AVRs of the same rank in other brands. All video is available to you in 4K quality in HDR and Dolby Vision (there's even 3D Pass-Through). You just turn on Blu-ray or Netflix, and you can watch whatever you want with surround sound in DTS HD Master formats. There are no Dolby formats, but any connoisseur will tell you that DTS is better because it supports more audio tracks. And Marantz knows this. That's why it has equipped the NR1510 with a single but optimal decoder. I also appreciated the clearly highlighted dialogs. For such a simple receiver, this is, to put it bluntly, an achievement.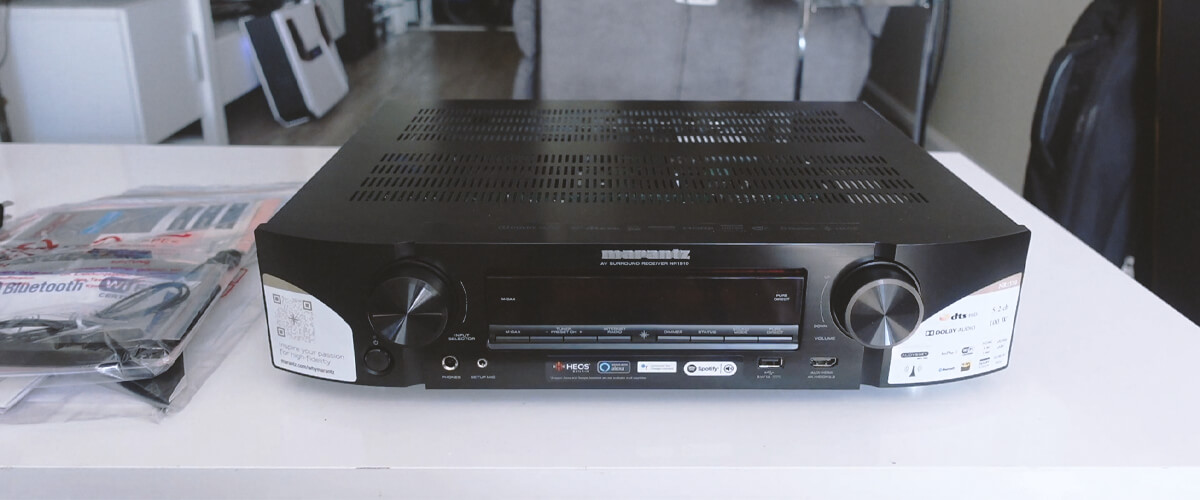 The model is also not inferior to its predecessors in the stereo area. It has Wi-Fi/AirPlay 2, as well as TuneIn. And, of course, it didn't do without the HEOS system, which worked well with Spotify, Deezer, Pandora, and other streaming services. And while I didn't really like the Bluetooth performance, it's not the main thing I'd pay attention to with the above options at hand. There's also an M-DAX feature here, but even without it, my old speakers (I purposely sometimes test receivers with different equipment) sound better than with other receivers in this class.
The entry-level model NR1510 sounds an order of magnitude better than competitors from other brands' lines, but it may cost a bit more. Although its functionality is quite standard, the manufacturer has equipped its AVR with the most necessary and important of everything you need today and will need in the coming years. This is the case when you can feel the premium class even in a budget model and create a really worthy home theater system.
Key specs
Channels: 5.2.
Power output: 50W/8 Ohm, 60W/6 Ohm.
HDMI inputs/outputs: 6/1.
Video functions: 4K/60Hz.
Bluetooth/Wi-Fi: yes/yes.
Streaming services: AirPlay 2, Spotify, TuneIn, Deezer, Tidal, Netflix, Amazon Prime.
Supports: HDMI ARC, HDMI eARC, HDMI CEC, HDCP2.3, HDR10, Dolby Vision.
Surround sound: DTS HD Master, Audyssey.
Pros
The ultimate option for those new to surround sound.
Clearly highlighted dialog was audible in any movie during testing.
Improves the sound of older speakers.
Cons
The HDMI port supports only 4K video.
Did not like the work of Bluetooth.
Marantz's signature technologies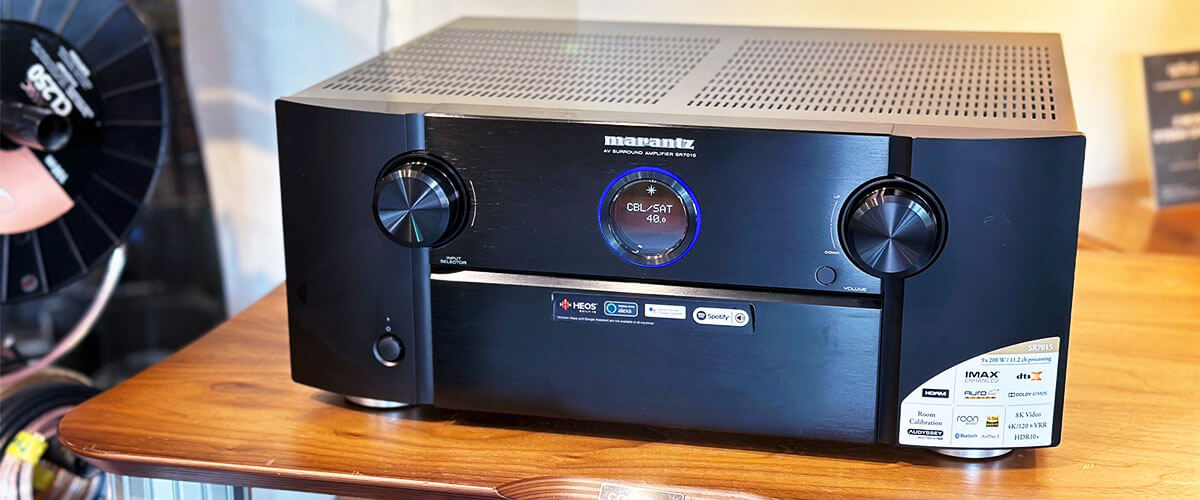 Marantz is a legendary name in the audio world, known for their unwavering commitment to delivering the highest quality sound and innovative technology. Several proprietary technologies in their receivers set them apart from the competition, including:
HDAM (Hyper Dynamic Amplifier Module): Marantz's patented HDAM modules are small, high-speed amplifier modules designed to replace traditional op-amp-based integrated circuits. These discrete components offer superior performance, faster slew rates, and wider frequency response, resulting in a more detailed and dynamic sound. HDAMs are carefully tuned and individually selected to ensure accurate and faithful sound reproduction.
Current Feedback: Marantz receivers utilize a current feedback topology in their amplification stages. This technology provides exceptionally fast and accurate signal processing, allowing for better driver control and improved transient response. As a result, you can expect cleaner and more accurate sound reproduction, especially in complex music or tense movie scenes.
Audiophile-grade components: Marantz's commitment to audio excellence extends to using audiophile-grade components in all receivers. These include high-quality capacitors, resistors, and transformers chosen for their exceptional performance. These premium components ensure accurate sound reproduction with minimal distortion and coloration, creating a pure and flawless listening experience.
These unique technologies and components have a single goal – exceptional sound quality. Home theater enthusiasts and even discerning audiophiles appreciate Marantz products' amazing clarity, fidelity, and musicality, allowing the company to produce expensive yet popular receivers for many years to come.
FAQ
Are Marantz receivers suitable for both music and home theater setups?
Yes, Marantz receivers are suitable for both music and home theater setups. The brand is considered elite and produces the most expensive models due to the use of expensive components of high quality. Fans note warm, powerful, dense, rich sound in movies, and the receivers sound especially good with vinyl, which makes them most desirable for audiophiles who want a single universal system. Marantz also does well with digital music, equipping its units with advanced versions of wireless technology, including the HEOS ecosystem (from Denon), which ensures optimal lossless audio streaming.
Are Marantz receivers user-friendly for those who are new to audio equipment setup?
It is difficult to answer whether Marantz receivers are user-friendly for those new to audio equipment setup, as it depends on the user's personal preferences. Objectively, yes, the user-friendliness of the functions and interfaces is quite understandable, even for a beginner. You can also reliably say that receivers of this brand are equipped with advanced tuning and calibration technologies (for example, Dirac Live), which can improve the sound of your system to perfection. But you'll have to put in the time and effort.