Choosing system components is always complicated, as the market offers various models of different ranks and functionalities. Choosing an affordable AV receiver for home theater is even more difficult, as you must balance your finances and quality. After all, even in this case, you want to buy a thing that will serve you for years, not months. That is, from all the variety, to pick the best budget receiver possible, isn't it?
I decided to write this review and offer you my preferences in different categories (7-, 5-channel, and stereo receiver up to $500), which, in my opinion, can meet the user's basic needs, giving an improved experience of watching movies and listening to music, without disturbing your economic balance. If you are a fan of simplicity and quality – let's go!
Our pick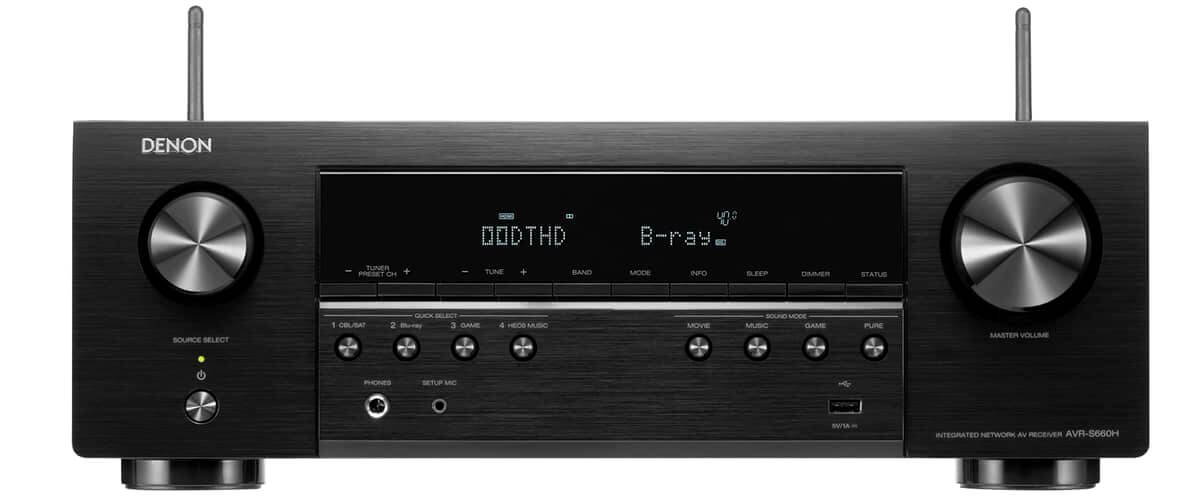 Denon AVR-S660H
Best budget AV receiver
Designed for 4K or 8K setups, the AVR-S660H has 5.2 channels with 75W amplification, delivers superior 3D audio home theater/gaming experiences, and supports the latest HDMI specifications.
Read the full review
.
Budget AV receivers comparison table
Name
Channels
Power output
HDMI in/out
Bluetooth/Wi-Fi
Review
Denon AVR-S660H

best overall

5.2
75W/8 Ohm, 100W/6 Ohm
6/1
yes/yes
Review
Yamaha RX-V385

also a great choice

5.1
100W/8 Ohm, 145W/6 Ohm
4/1
yes/no
Review
Onkyo TX-SR494

7 channels

7.2
80W/8 Ohm, 160W/6 Ohm
4/1
yes/no
Review
Sony STR-DH190

stereo receiver

2.0
100W/8 Ohm
0/0
yes/no
Review
What a budget receiver can offer?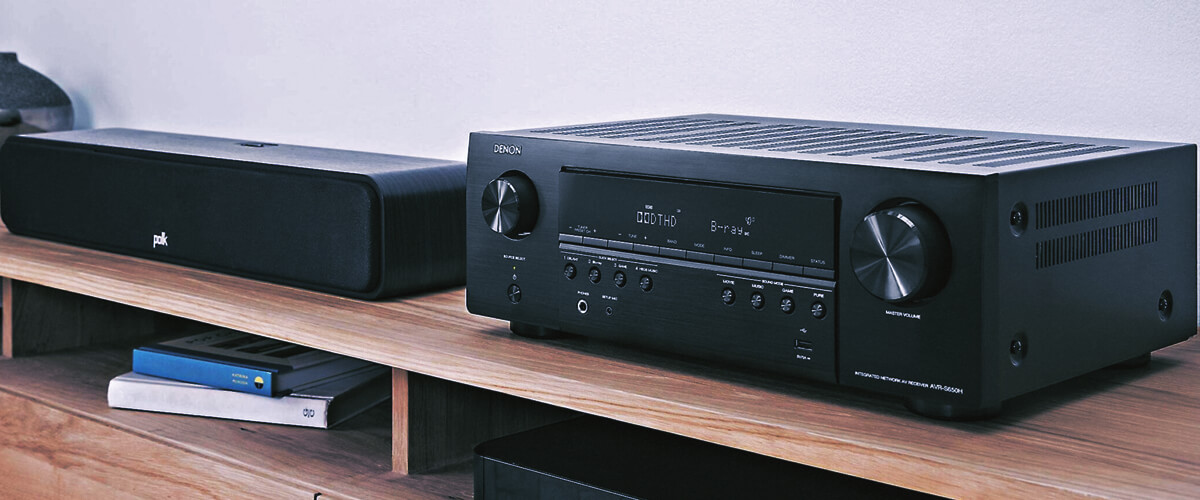 In this segment, you can expect the simplest basic options in surround sound, video, audio decoding, and wireless connectivity from receiver models. The same goes for the additional features of devices of this class. Let me give you the main factors of budget AVRs so that you have a clear understanding of their capabilities:
They are mostly 5-channel models, but newer receivers released in recent years can have 7 channels of amplification (I have one in my review).
Accordingly, processing of surround sound formats involves decoding Dolby Digital and DTS-HD Master Audio, but for 7 channels, Dolby Atmos or DTS:X are also available.
These models are characterized by power in the range of 50-80W, sufficient for rooms of 150-300 square feet.
Fewer connections, including simpler versions of the HDMI port with support for 4K (rather than 8K) video. But more content is being released of that quality today.
Most receivers don't have built-in Wi-Fi or an ecosystem. But they often have pretty good Bluetooth for wireless music streaming.
Based on the above, we can safely conclude that these receivers are designed to build small systems in small living rooms. They perfectly fill the space with balanced sound and are well suited for apartments but not private houses with many rooms.
Best budget AV receiver reviews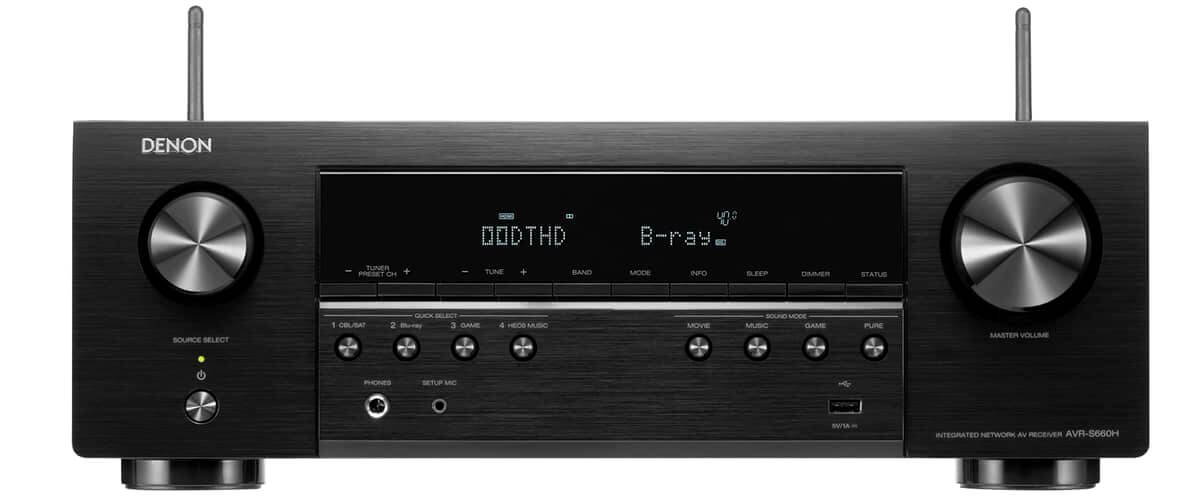 In 2021, the Denon brand released a wonderful 5.2-channel AVR-S660H receiver, rightfully at the top of my ranking. And that's because, against the rest, this budget surround sound receiver is in the optimal price/feature position in this selection, offering you state-of-the-art features and great sound.
The 75W (8 Ohms, 20Hz-20kHz, 2ch) and 0.08% THD deliver warm, balanced, dynamic, vibrant sound, although the receiver can only handle the basic Dolby TrueHD and DTS HD Master surround formats. That said, I often favor Denon, as their units sound better than many higher-order models from other brands. And that's always more important to me. In addition, the receiver has a phono input, and despite the simplicity of the preamplifier, it sounds very convincing with vinyl. I'm a fan of analog sound, and I know what I'm talking about. With a simple turntable with no frills, the Denon enhances its sound, creating, if not an audiophile aura (of course not), then an atmospheric authentic one for sure.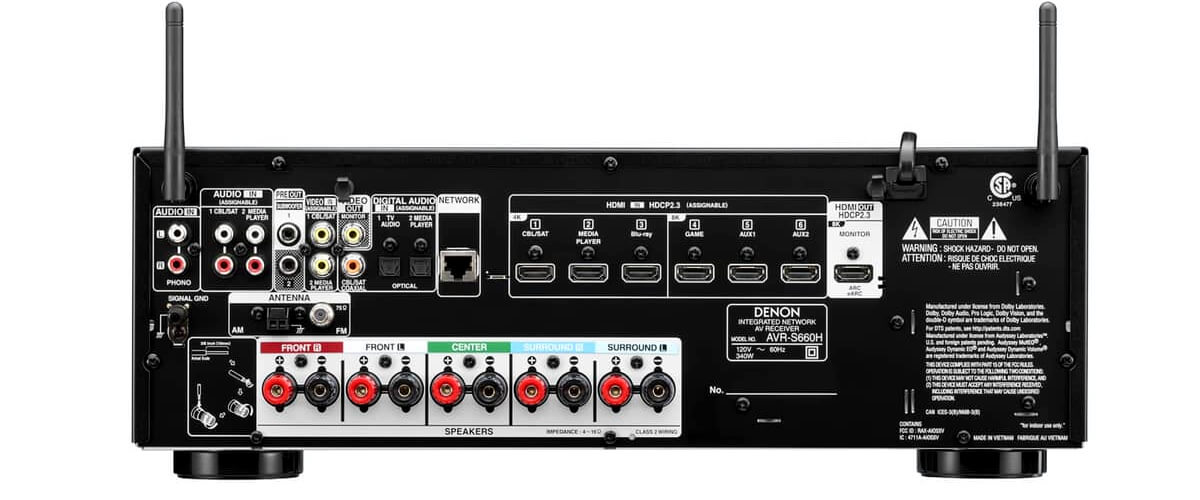 As a device released with the latest version of HDMI 2.1 (3/1) ports, the AVR-S660H is capable of 8K video, upscaling to 8K resolution, HDCP 2.3, eArc, and ALLM, VRR, and QFT features. Video transfers well, although there are occasional delays. But, my darlings, for its price – it does just fine! The other 3 HDMI inputs are for 4K video. This is the only multi-channel receiver of my selection with processing of the maximum video resolution with Dolby Vision, HDR 10+, and Dynamic HDR formats. So let's look for the advantages, not the disadvantages.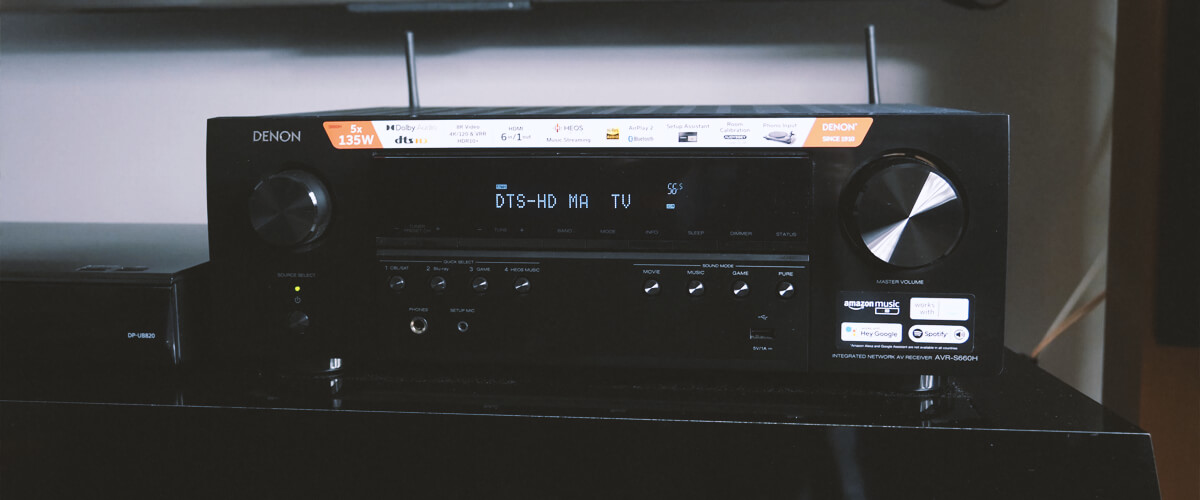 It's also the only multi-channel AVR with built-in Wi-Fi, AirPlay 2 support, and HEOS multi-room audio. It also has Bluetooth but no frills. Still, I like to have it on hand if I just want to listen quickly to something from my phone's media library. Of course, there are tradeoffs here, too. For example, sharing the Denon and HEOS apps together has pissed me off with its slowness. It's a disaster, to be honest, but I found a solution by not touching them too often (ha-ha!).
Denon AVR-S660H is the best budget AV receiver with great (for its segment) movie and music sound, versatile in terms of functionality, and at a price that won't make you think too much. Minimal compromises and maximum quality in basic functions will satisfy the user who dreams of a universal device. Add a good speaker to this, and enjoy!
Key specs
Channels: 5.2.
Power output: 75W/8 Ohm, 100W/6 Ohm.
HDMI inputs/outputs: 6/1.
Video functions: 8K/60Hz, 4K/60Hz, 4K/120Hz, upscaling to 8K.
Bluetooth/Wi-Fi: yes/yes.
Streaming services: AirPlay 2, Spotify, TuneIn, Deezer, Tidal, Netflix, Amazon Prime.
Supports: HDMI ARC, HDMI eARC, HDMI CEC, HDCP2.3, HDR10, HDR10+, HLG, Dolby Vision.
Surround sound: DTS HD Master, Dolby TrueHD, Dolby ProLogic II, Multichannel Stereo, Dialog Enhancer.
Pros
The optimal price/functionality ratio from my rating.
The only model of the selection with 8K video processing.
The only selection model with Wi-Fi and multi-room audio.
Great warm, bright, dynamic sound in surround sound and stereo.
Cons
Video streaming may have slight delays in places.
Denon and HEOS combined are unbearably slow.
Yamaha RX-V385 – also a great choice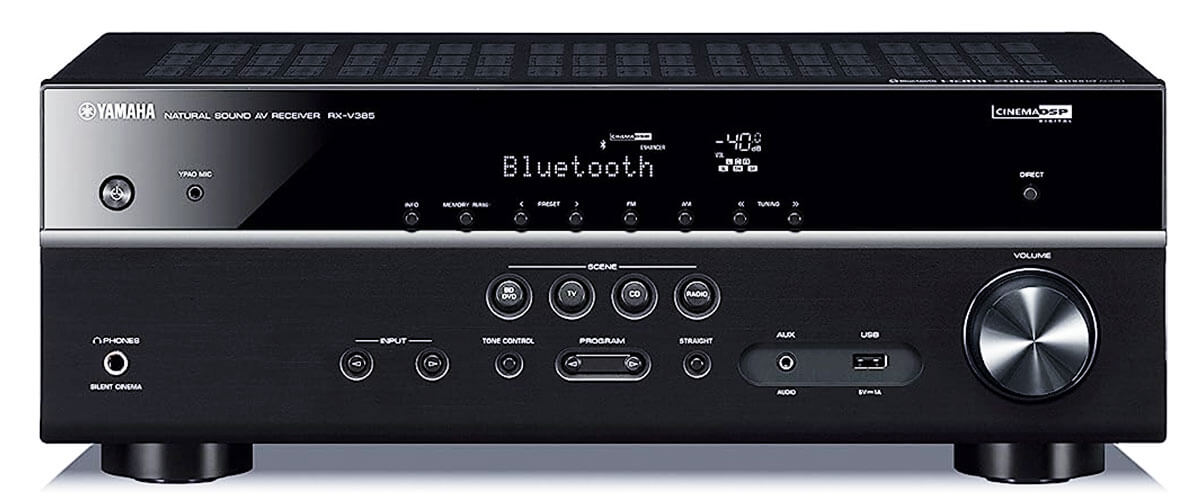 Next, I suggest you consider the Yamaha RX-V385. If you prefer clean, crystalline, neutral sound, this 5.1-channel receiver is perfect for your ears. But in terms of functionality, it is somewhat inferior to the leader of the selection AVR-S660H.
Well, for example, with it, you can use only 1 subwoofer, not 2, as with Denon. It has less power; it is 70W (8 Ohms, 20Hz-20kHz, 0.09%, 2ch). As I mentioned above, the receiver has an inherent cold metallic tone to its sound. That's fine for stereo, but not everyone prefers that sound for movies. Nevertheless, the brand has many fans, and you may be among them. But for those unfamiliar with this distinctive feature – I recommend listening to it.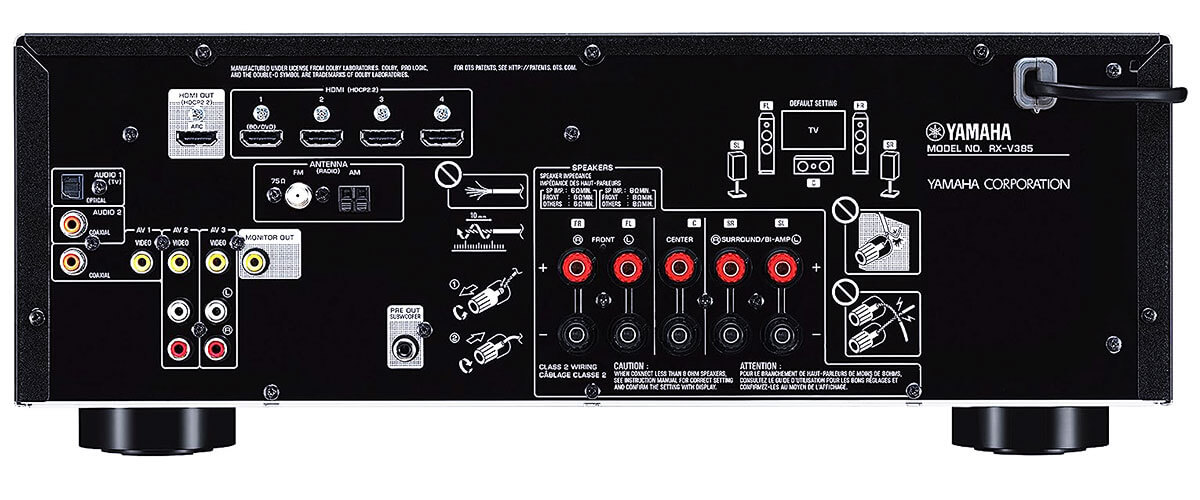 Continuing to talk about the sound, it is worth mentioning Yamaha's unique technologies, which are implemented in this seemingly simple model. Despite the support of basic surround sound formats Dolby TrueHD and DTS-HD Master Audio (like AVR-S660H), the receiver can reproduce the effect of echo or concert hall acoustics in CINEMA DSP mode. I've watched concert recordings on purpose, and it's just an amazing feeling of being somewhere in the middle rows, whether it's Metallica or a symphony orchestra. I really enjoyed it. Another technology of the home theater amplifier called Virtual CINEMA FRONT may appeal to those who don't want to put speakers around the room because you can put them all in front of you and still get the impression of surround sound. I won't say it fully replaces the rear speakers, but the effect is definitely there.
The Yamaha RX-V385 is a rather "older" model. It was released in 2018, and therefore, video (only 4/1 HDMI ports, which is less than Denon) broadcast 4K video in UHD HDR10 and Dolby Vision formats.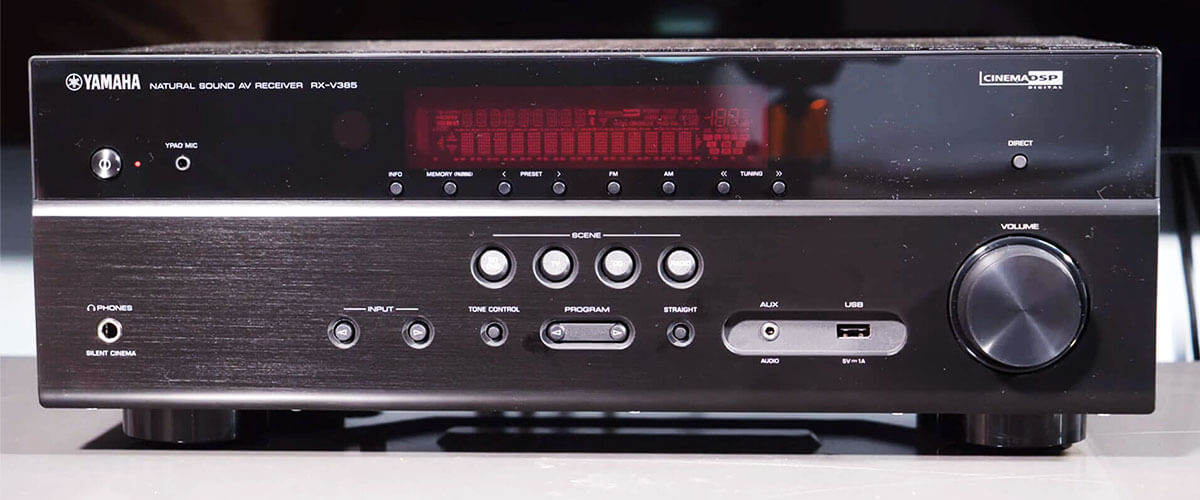 The receiver has no Wi-Fi. But the available two-way Bluetooth (including an enhancer for it) works just great. I didn't expect such a level of signal transmission from an inexpensive receiver, I'll be honest. Plus, the RX-V385's DAC handles 384 kHz/32-bit audio, so you'll hear your music as you should. Or even better, since there's also a Compressed Music Enhancer feature. All in all, stereo lovers, you won't be short-changed in this area.
The Yamaha RX-V385 is the best budget 5.1 receiver of my rating. Along with the compromises of the low-cost segment, you get advantages where they help improve your surround or stereo sound experience. Already "old", this AVR will keep you happy for years.
Key specs
Channels: 5.1.
Power output: 100W/8 Ohm, 145W/6 Ohm.
HDMI inputs/outputs: 4/1.
Video functions: 4K/60Hz Ultra HD pass-through and upscaling.
Bluetooth/Wi-Fi: yes/no.
Streaming services: has not.
Supports: HDMI eARC, HDMI CEC, HDCP2.3, HDR10, Dolby Vision.
Surround sound: DTS HD Master, Cinema DSP, Dialog Level Adjustment, SILENT Cinema, Virtual Cinema DSP, Dolby TrueHD, Dolby Digital Plus.
Pros
CINEMA DSP mode gives the viewer some feeling of being in a concert hall.
With Virtual CINEMA FRONT technology, you can put all speakers in front of the audience and still hear surround sound.
Two-way Bluetooth operation impresses with high-quality signal broadcasting.
Excellent in stereo as it handles high-quality audio and can enhance compressed formats.
Cons
Only 1 subwoofer can be connected, not 2 like the other receivers in the selection.
The cold crystal sound may not appeal to everyone.
Fewer HDMI ports than the leader of the selection (4/1).
Only supports 4K video.
No Wi-Fi.
Onkyo TX-SR494 – 7 channels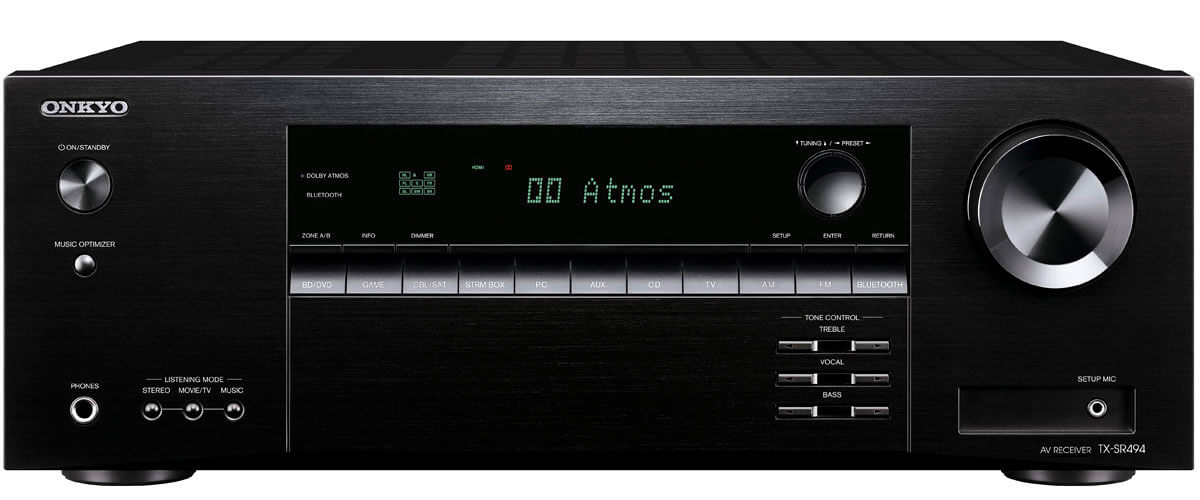 Although Denon and Yamaha are considered more premium brands, Onkyo can offer richer functionality for the same price. And in the case of TX-SR494, you get a big 80W power (8 Ohms, 20-20 kHz, 0.08%, 2ch) and as many as 7 channels of amplification. And that means that the only Atmos receiver in the selection is in front of you.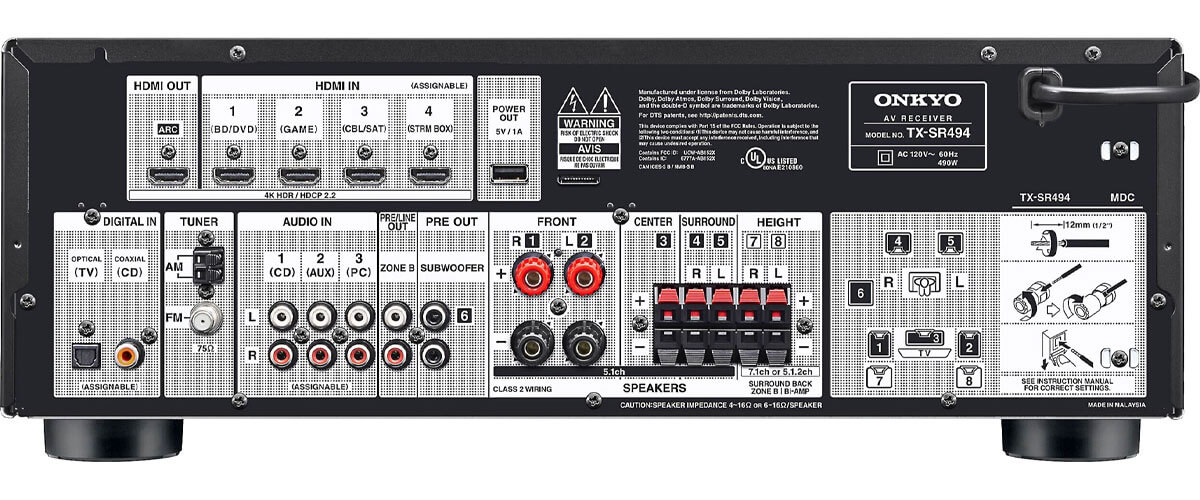 The model was released in 2019, which indicates that it is somewhat behind the current trends in the field of home theaters. But that's what accounts for the price, after all! For example, the HDMI ports are only 4/1 (like the Yamaha RX-V385), which is insufficient for a 7-channel AVR. After all, the leader of my selection, Denon AVR-S660H, with 5 channels, has more of them. Besides, they support only 4K videos. This is not a tragedy, but probably a worthy compromise for advanced surround sound. Do you agree? Besides, user reviews say HDMI cables must be picked up (it doesn't work with all of them), as TX-SR494 is quite picky. But this is the only receiver of the selection to provide sound broadcasting to 2 zones.
This model also does not have Wi-Fi. Bluetooth is ordinary and works with some bugs, but it supports the AAC codec and perfectly interfaces with Apple devices.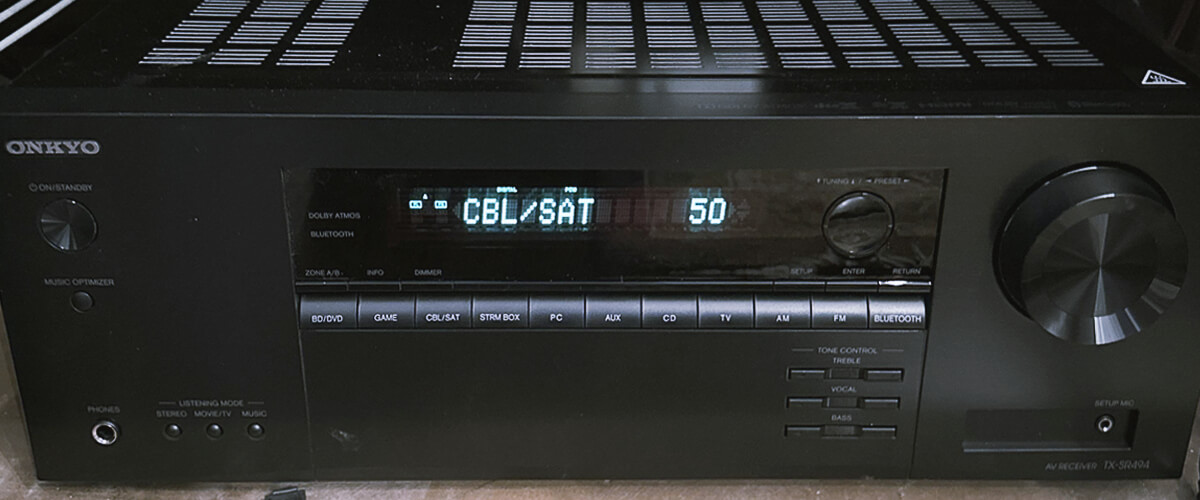 You can build a 5.2.2 configuration by drilling holes in your ceiling for built-in speakers. And you may not do it because immersive Dolby Atmos Height Virtualizer and DTS Virtual:X formats for such a system may well replace a full-fledged speaker system. The receiver sounds decent in any supported 3D format, even without any frank advantages or disadvantages. But the AccuEQ calibration system with the microphone is rather primitive, in my opinion, but simple. Sometimes, and with the help of manual manipulations, I brought the sound to the level desired by most of the audience. There is no need to be wary of it. And with the voice tuning feature, you can achieve a good level of dialog sound.
The Onkyo TX-SR494 is the best budget home theater receiver with 7.2 channels of amplification. It will provide you with surround sound content in the most popular formats, and the rest of its features will suit the average viewer and listener. It is a good choice for those who dream of Atmos home theater with minimal costs.
Key specs
Channels: 7.2.
Power output: 80W/8 Ohm, 160W/6 Ohm.
HDMI inputs/outputs: 4/1.
Video functions: 4K/60Hz pass-through.
Bluetooth/Wi-Fi: yes/no.
Streaming services: no.
Suppots: HDMI ARC, HDMI CEC, HDCP2.3, HDR10.
Surround sound: DTS HD Master, DTS:X, DTS Neural:X, DTS Virtual:X, Dolby TrueHD, Dolby Atmos, Dolby Digital Plus, Dolby Atmos Height Virtualization, Dolby Surround.
Pros
The only receiver with 7 channels of amplification in the rating.
The only model with support for Dolby Atmos.
Transmits sound to 2 zones.
Supports Dolby Atmos Height Virtualizer and DTS Virtual:X surround sound formats, so building in-ceiling speakers is unnecessary.
The voice tuning feature greatly improved the result of listening to dialog.
Cons
There are few HDMI ports for a 7-channel receiver (the selection leader with 5 channels has more).
Does not work with all HDMI cables.
Bluetooth may have minor interruptions in signal transmission.
Autocalibration is primitive but easy to set up.
Sony STR-DH190 – stereo receiver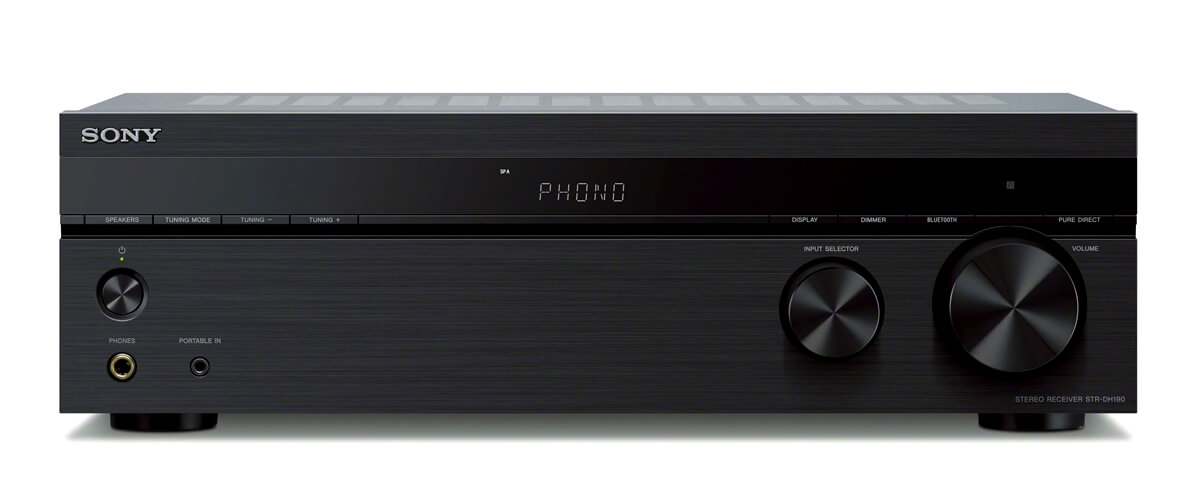 Well, in this review, only the best budget stereo receiver is left to talk about. And my choice is the 2018 Sony STR-DH190 at an unthinkably low price! Yes, often the most inexpensive models are time-tested, with many fans and reviews (Don't believe me? See for yourself) receivers. Actually, these numerous high ratings, tested by me in practice, give me reasons to form ratings and describe receivers as they are with all the pros and cons inherent in the chosen category.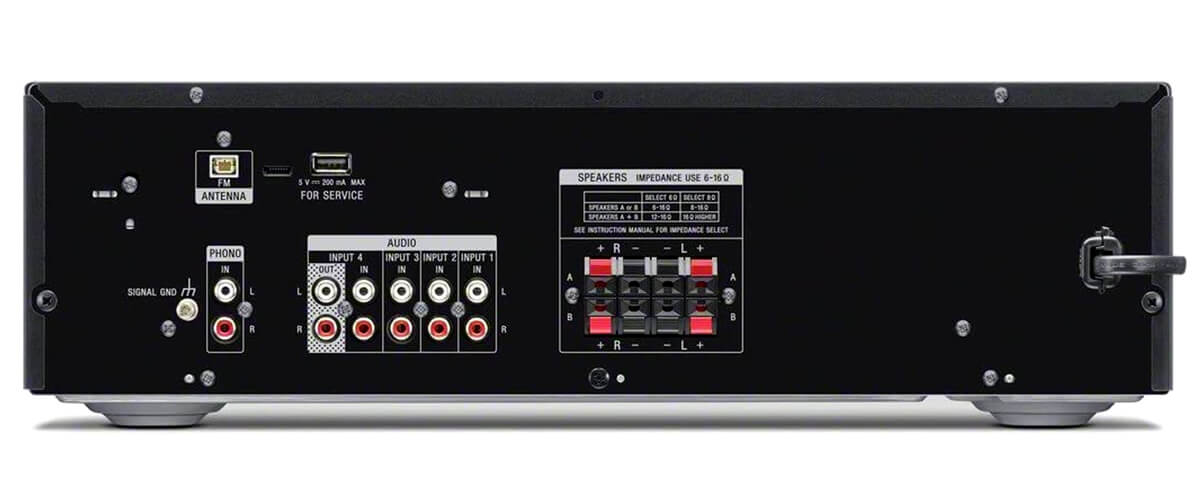 Like other Sony receivers, the STR-DH190 works with speakers of varying impedance from 6 to 16 Ohm and delivers 100W of power (8 Ohms, 1kHz, THD 1%). It's not so much that you'll be impressed with these stats, but I remind you of the price. All the puzzles immediately fall into place. These are perfectly normal parameters for such a device. You can also connect 2 sets of speakers and a sub to it. But the receiver overheats if you don't let it rest for a long time.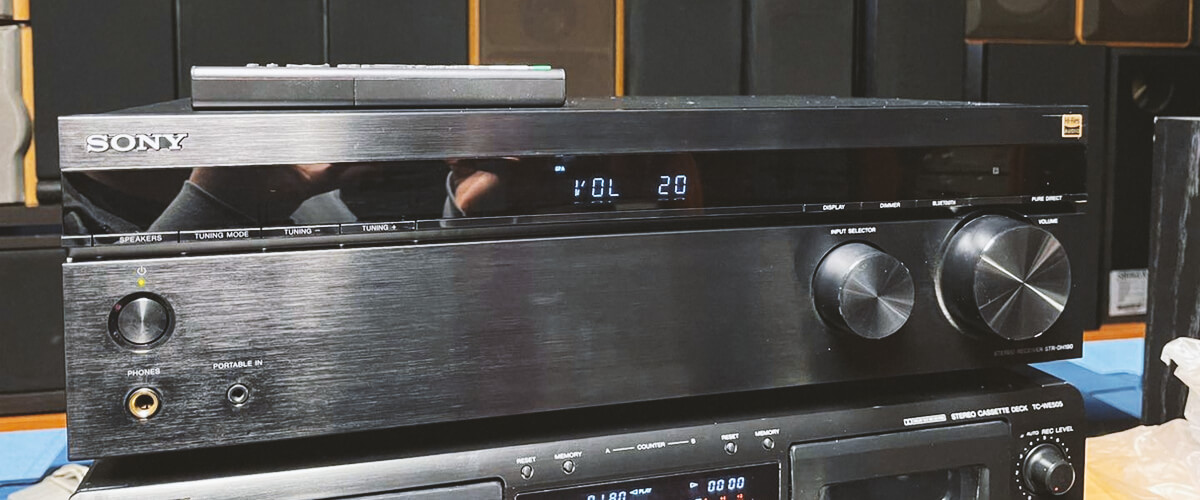 There is a phono input, USB port, and headphone output. You can listen to the radio with it (the FM antenna is built in) or use an Ethernet cable for streaming audio or Bluetooth wireless. But there's no Wi-Fi.
The STR-DH190 sounds great in a small room and has basic but well-performing features. You can even connect a vinyl player to it; the analog sound is quite nice. By spending literally pennies, you'll gain a good friend for evenings filled with an atmosphere of coziness and romance (unless you prefer heavy rock, of course).
Key specs
Channels: 2.0.
Power output: 100W/8 Ohm.
HDMI inputs/outputs: 0/0.
Video functions: has not.
Bluetooth/Wi-Fi: yes/no.
Streaming services: has not.
Surround sound: has not.
Pros
Compatible with speakers of wide impedance range from 6-16 Ohm.
Availability of wired and wireless connections, which can be used for stereo listening.
Good deep bass.
Cons
Overheats during prolonged use.
No Wi-Fi.