I have long wanted to test this receiver, so meet my Sony STR-AN1000 review. It is a relatively new model from a well-known brand that will delight you not only with good sound but also with a fairly wide range of different functions. I think I have already intrigued you, so let's look at it in more detail.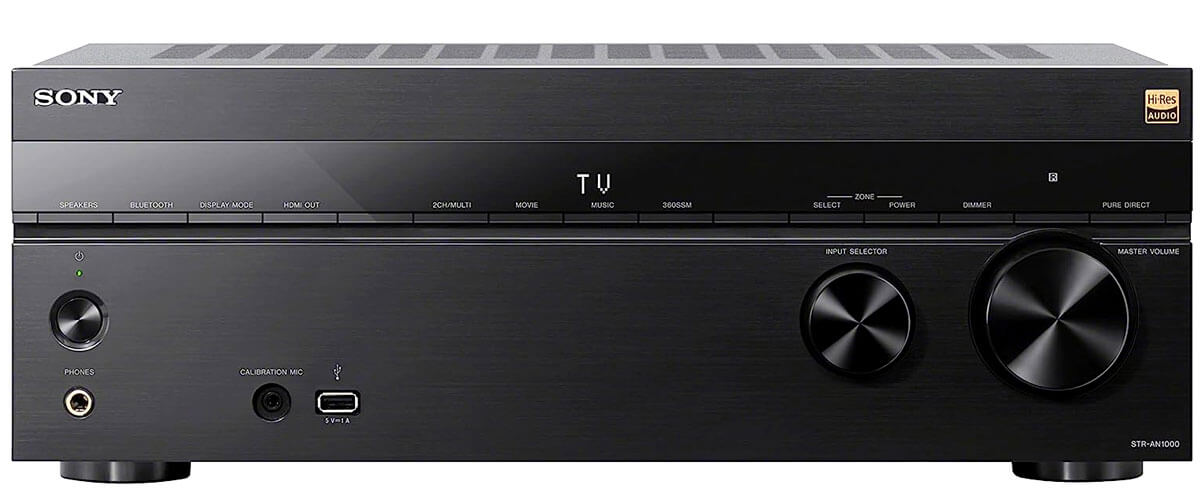 Let's start with the dimensions of this device. The Sony STR-AN1000 is approximately 17 inches wide, 6.3 inches high, and 13.4 inches deep. In terms of weight, it's roughly 20.1 pounds (9.1 kg). These compact dimensions make it suitable for a variety of installations and installation locations.
If you look at the receiver from the front, you will see the usual display for switching functions, as well as built-in control functions. Looking at this receiver, we can say that Sony continues to follow its traditions, so the design is not too different from previous models. The layout of the buttons on this receiver is quite typical. There are two round knobs on the right side of the case. It is worth noting that the volume button is still larger than the input selector. On the left side of the case, we see a headphone jack and a calibration microphone port, to the right of which, there's a USB port for external storage.
I want to point out that the clear labeling and responsive nature of the buttons make it easy to navigate menus, adjust settings, and switch between input sources.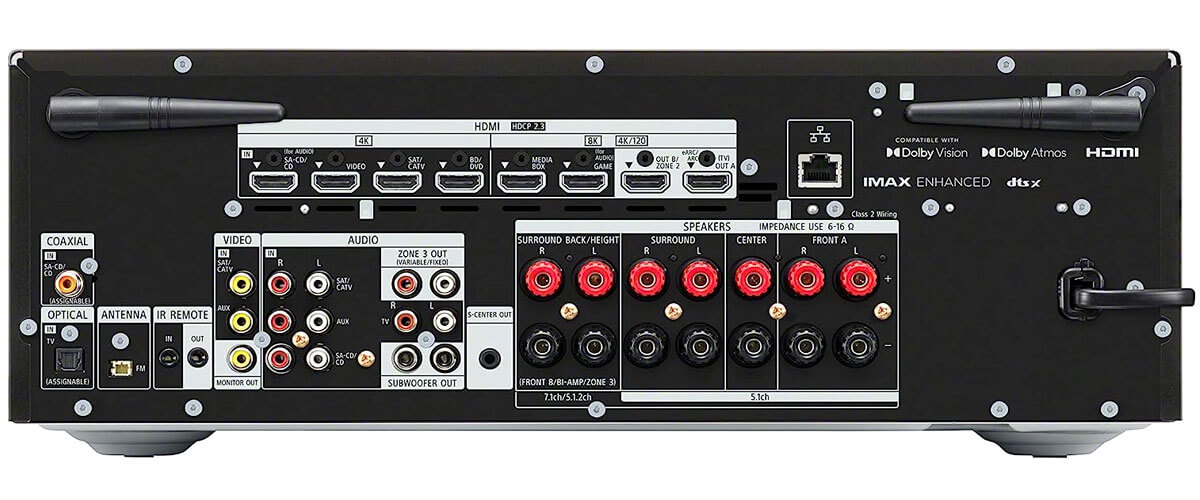 The STR-AN1000 is a 7.2-channel receiver delivering up to 165 watts per channel into 8 Ohms. The receiver includes a high-quality amplifier and DAC (digital-to-analog converter) for accurate and detailed sound reproduction.
In terms of connectivity, the receiver offers 6 HDMI inputs and two outputs. In more detail, the receiver has four HDMI 2.0 inputs with a bandwidth of up to 28 Gb / s. The other two inputs and outputs are HDMI 2.1, which supports 8K video pass-through at 40 Gbps, Deep Color, HDR10, Dolby Vision, and other technologies.
The device has built-in Wi-Fi, as well as Bluetooth version 5.0. In addition, using the STR-AN1000, you can find features such as Airplay and voice control.
Regarding surround sound, the STR-AN1000 supports formats such as Dolby Atmos and DTS:X, delivering immersive and realistic surround sound. It is designed to work with 4K/8K content, ensuring compatibility with high-definition video formats. Support for HDR and Dolby Vision enhances the visual quality of your content, while zoom/video zoom capabilities further optimize the viewing experience.
The Sony STR-AN1000 supports many advanced features, including bi-amping and multi-room zones, allowing you to customize audio settings and distribute audio to different home areas.
The receiver also offers support for popular streaming services such as Apple Music and Spotify, making it easy to enjoy your favorite music. In addition, the presence of a phono stage allows you to directly connect and play vinyl records.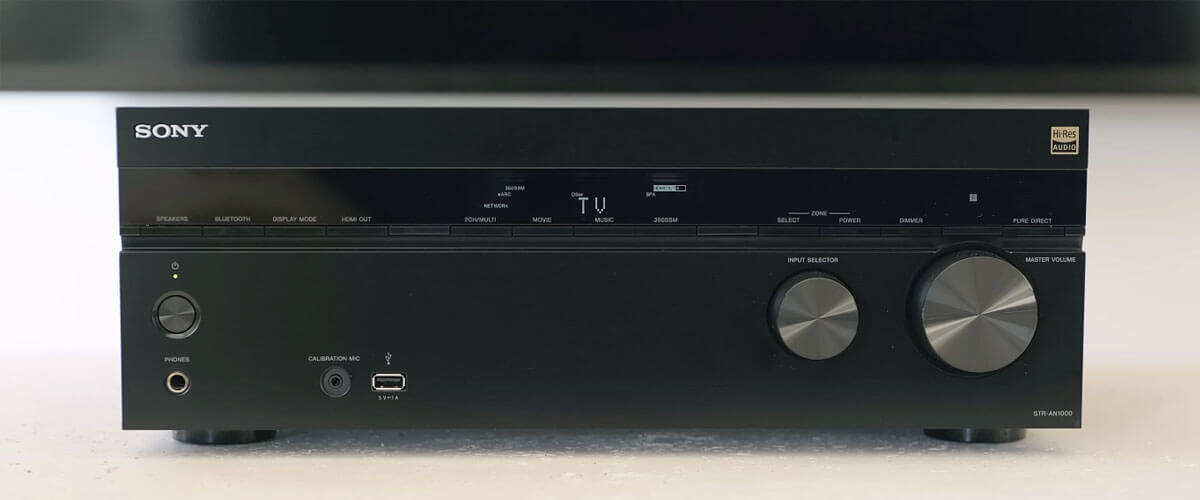 The remote that goes specifically to this receiver model differs from remotes to other versions in its simplicity. It is made of plastic and contains a series of rubber buttons to control all of the receiver's functions. In addition, you can also use the mobile application from Sony. It has a fairly simple interface, so it will not be more difficult for you to manage your device than conventional remote control.
To test this model, I chose the series "The Mandalorian". I liked the sound, the dialogues were clear, and the STR-AN1000 revealed itself in all its glory during the space battles!
The STR-AN1000 provided a dynamic and detailed soundstage for music, allowing me to appreciate the nuances of my favorite songs. Listening to music with this receiver is a real pleasure! The sound image and transparency are very pleasing.
Key specs
Channels: 7.2.
Power output: 120W/6 Ohm.
HDMI inputs/outputs: 6/2.
Video functions: 8K/60Hz, 4K/60Hz, 4K/120Hz, upscaling to 8K.
Bluetooth/Wi-Fi: yes/yes.
Streaming services: AirPlay 2, Spotify, TuneIn, Deezer, Tidal, Netflix, Amazon Prime.
Supports: HDMI ARC, HDMI eARC, HDMI CEC, HDCP2.3, HDR10+, Dolby Vision.
Surround sound: DTS:X, DTS HD Master, Dolby Atmos, Dolby TrueHD, Digital Plus, IMAX Enhanced.