I've been impressed with the Marantz brand for quite a long time, so I try not to miss their most interesting models. My AVR SR7015 review is dedicated to one of them. I believe it is one of the superior receivers Marantz has released recently. In general, this AVR is aimed at people who love good, loud sound, love modern blockbusters and have a large room. If this is you, then stay with me and move on!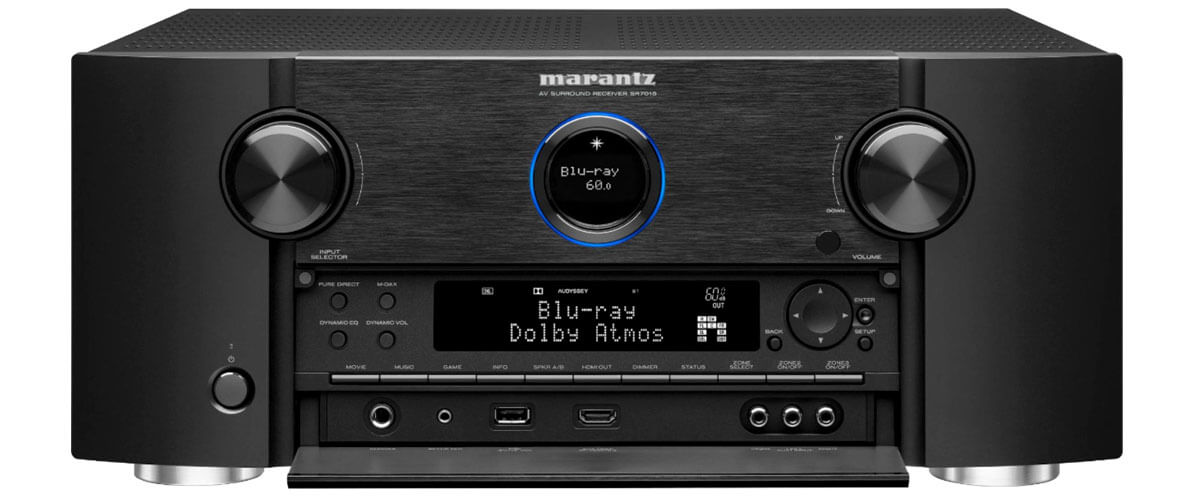 Let's start with the fact that the design of the AVR Marantz R7015 is not too different from other receivers of this brand. And it is not only about its appearance but also about its size. The R7015 receiver measures 17.3″ x 16.2″ x 9.7″ and weighs 31.3 lbs. You can make the receiver smaller by tilting the antennas to a horizontal position. This will give you a difference of 7.3 inches. Yes, the device is rather big, and you should make sure it fits your furniture, but also that it has enough space for cooling.
The front of the AVR has a two-tone effect with curved front corners with a matte texture. The central part has acquired the appearance of brushed metal. By the way, Marantz brand receivers, unlike devices from other brands, have an unusual round display with a blue backlight on the outside, which certainly looks stylish.
I did not like the fact that this AVR does not have the most practical display. The amount of information it can display is rather limited. However, not everything is so bad. The SR7015 comes with a second hidden full-function display located under the front cover.
In terms of layout, I see the usual two-handle configuration. The right knob controls the volume, and the left knob controls the input. Under the right handle is an IR sensor. In the lower-left corner, there is a single round button to turn on the device. Everything else is behind the front hatch. If we open this hatch, we will see a row of control buttons and a second screen with more detailed information. For example, on the left is a group of four buttons for Pure Direct, the MDAX2 sound amplifier, and the Audyssey Dynamic EQ and Dynamic Volume functions. On the right side of the screen are the usual menu navigation buttons.
Under the screen is a thin strip with 11 buttons for various functions. These include sound modes, zone 2 control, status, HDMI, and others. Beneath these Marantz AVR SR7015 features are front ports, including a headphone jack, a microphone input for audio calibration, a USB port for connecting external storage, and a composite video input along with one analog stereo input.
As for the remote control, I can say that this is not the most convenient remote control. It has a large size and a huge number of buttons. Since there are really a lot of buttons, they are made too small and not very convenient to press.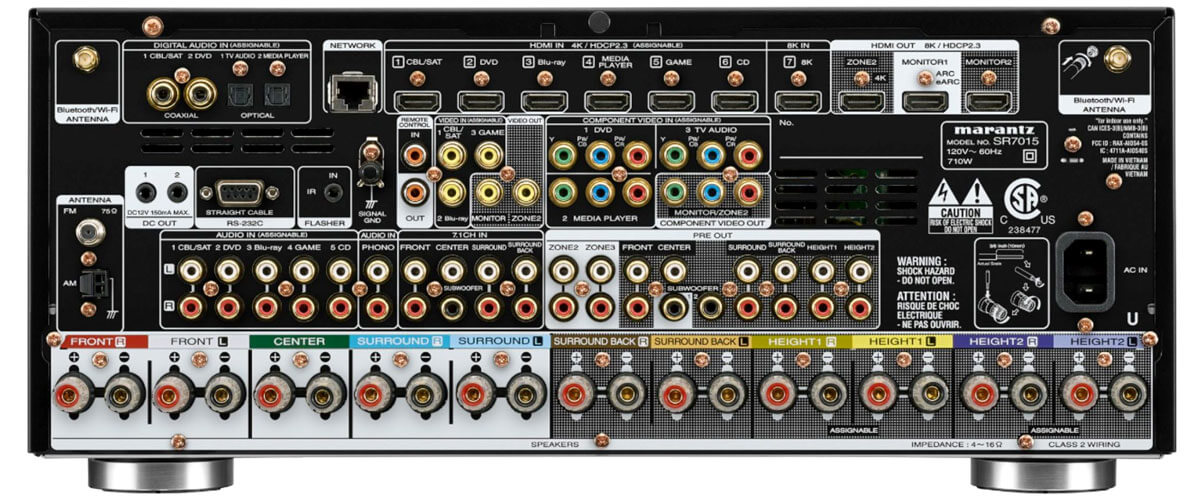 AVR Marantz SR7015 specifications include 125W per channel (8 ohms, 20Hz – 20kHz, 0.08%, 2ch). Also, I note that the device comes with 9.2-channel amplification built-in, which can be expanded to 11 channels using an external amplifier.
This AVR has 8 HDMI inputs (1 front, seven rear) and three outputs (on the back of the case). All outputs and inputs support HDCP 2.3. However, the not-so-good news is that of the 7 HDMI inputs, only one is HDMI 2.1 with ARC/eARC support, 8K/60 Hz, and 4K/120 Hz pass-through. The device has built-in Wi-Fi that supports both 2.4 and 5 GHz, as well as Bluetooth version 4.2 for audio streaming.
This receiver supports Dolby Atmos, DTS:X, IMAX Enhanced, and Auro-3D. In addition, DTS Neural:X, DTS Virtual:X, and Dolby Atmos Height. So as you can see for yourself in terms of surround sound, everything is fine!
Apart from the audio, the visual aspect was also impressive. The SR7015 receiver supports advanced video standards such as 4K Ultra HD, HDR10, Dolby Vision, and HLG, which ensures excellent picture quality.
When it comes to multi-room environments, the SR7015 also supports Zone 2 and Zone 3. By the way, I can say that this model is the first device in the line that supports three zones. Also worth noting is the presence of Airplay 2, voice control, and custom integration.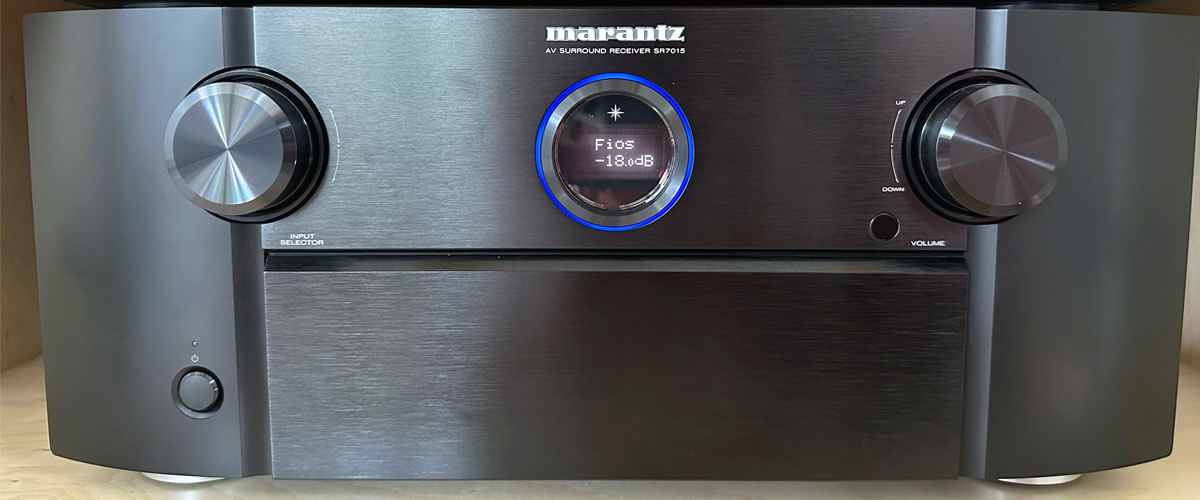 Now let's move on to the most important thing, namely sound testing using the Marantz SR7015 receiver.
To test the receiver while watching a movie, I chose Divergent. Sound effects such as loud explosions, battle scenes, and music were crisp and clear. In general, everything is fine, as it should be for a model of this level. I was satisfied.
When listening to music with the help of the SR7015, the sound picture with all its details and depth really opened up in front of me. The receiver has great power and excellent dynamics, which allows you to transmit a wide range of sound nuances. I felt every note, nuance, and emotion the music conveyed. Very, very good!
Key specs
Channels: 9.2.
Power output: 125W/8 Ohm, 165W/6 Ohm.
HDMI inputs/outputs: 8/3.
Video functions: 8K/60Hz, 4K/60Hz, 4K/120Hz, upscaling to 8K.
Bluetooth/Wi-Fi: yes/yes.
Streaming services: AirPlay 2, Spotify, TuneIn, Deezer, Tidal, Netflix, Amazon Prime.
Supports: HDMI ARC, HDMI eARC, HDMI CEC, HDCP2.3, HDR10+, Dolby Vision.
Surround sound: DTS HD Master, DTS:X, DTS Virtual:X, DTS Neural:X, Dolby TrueHD, Dolby Atmos, Dolby Atmos Height Virtualization, Dolby Surround, IMAX Enhanced, Auro-3D.