Onkyo receivers have gained their position as one of the most popular for one simple reason – they have occupied the niche of the middle segment, combining affordability and wide functionality. Among AVRs of this brand, you will always find models with good sound and wider capabilities at a lower price than receivers of the same rank in the lines of so-called elite brands. That's why I decided it's time to help you search for the best Onkyo receiver because you're a reasonable user who realizes that technology is getting old. Premium and expensive in this matter is not always the right choice. In my Onkyo receiver reviews, presented in this article, several popular models have already won a worthy place in the home theater enthusiasts living rooms. And I guarantee that they will be able to meet your needs.
Our pick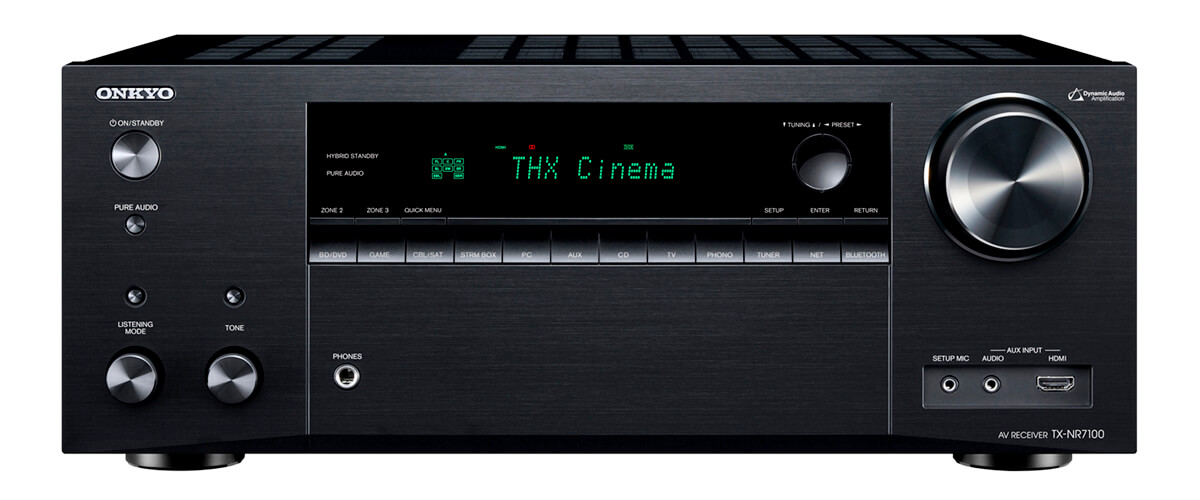 Onkyo TX-NR7100
Best Onkyo receiver
The Onkyo TX-NR7100 is a 9.2-channel THX-certified AV receiver featuring built-in, ready-to-use Dirac Live room correction.
Read the full review
.
Onkyo receivers comparison table
Name
Channels
Power output
HDMI in/out
Bluetooth/Wi-Fi
Review
Onkyo TX-NR7100

best overall

9.2
100W/8 Ohm
7/2
yes/yes
Review
Onkyo TX-NR696

budget AVR

7.2
100W/8 Ohm, 210W/6 Ohm
7/2
yes/yes
Review
Onkyo TX-SR494
7.2
80W/6 Ohm, 160W/6 Ohm
4/1
yes/no
Review
Onkyo TX-8260

stereo

2.1
80W/8 Ohms, 160W/6 Ohms
0/0
yes/yes
Review
Best Onkyo receiver reviews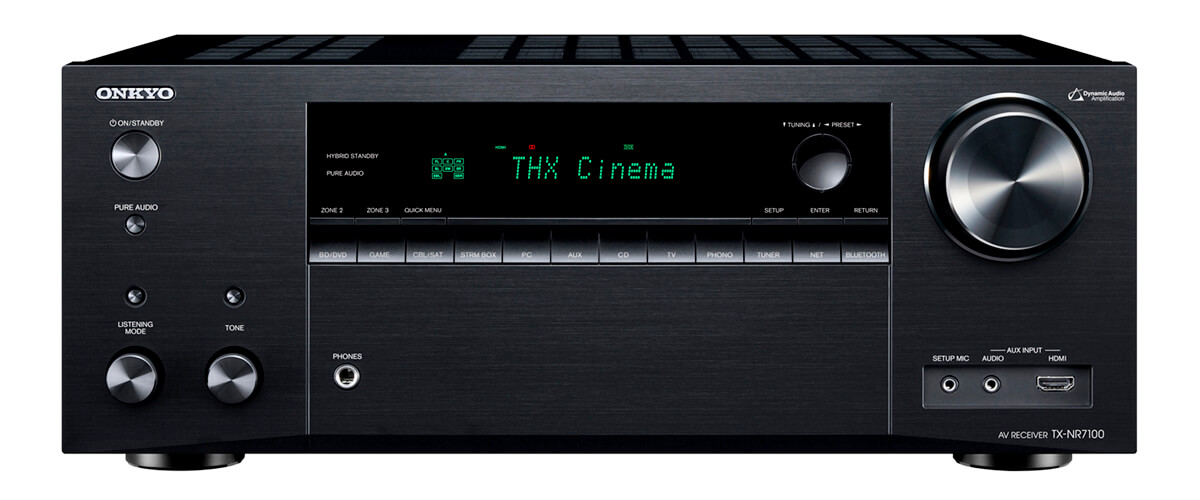 And the first in my selection, I present the Onkyo TX-NR7100 review. The only 9.2-channel audio video receiver in the rating has a lower price than similar models from other brands. At the same time, AVR of 2021 is not inferior to its more expensive competitors in terms of functionality. Shall we look "under the hood"?
The power of 100 W per channel (8 Ohm, 20 Hz – 20 kHz, 0.08%, 2 ch) will satisfy your ears quite well because, with the specified THD distortion indicator, you can safely turn the volume to the maximum without fear of noise and interference. Given the ability to build 5.2.2, 5.2.4, and 7.2.2 configurations, with the TX-NR7100, you can easily broadcast audio to 3 zones with an additional amplifier or to 2 zones without one (including 4K video streaming). In my rating, this is also a unique feature of the model in question. But Onkyo is a frequent compromise, and I noticed that to use only the main zone, you have to turn off Zone 2. It's a little oddity like that.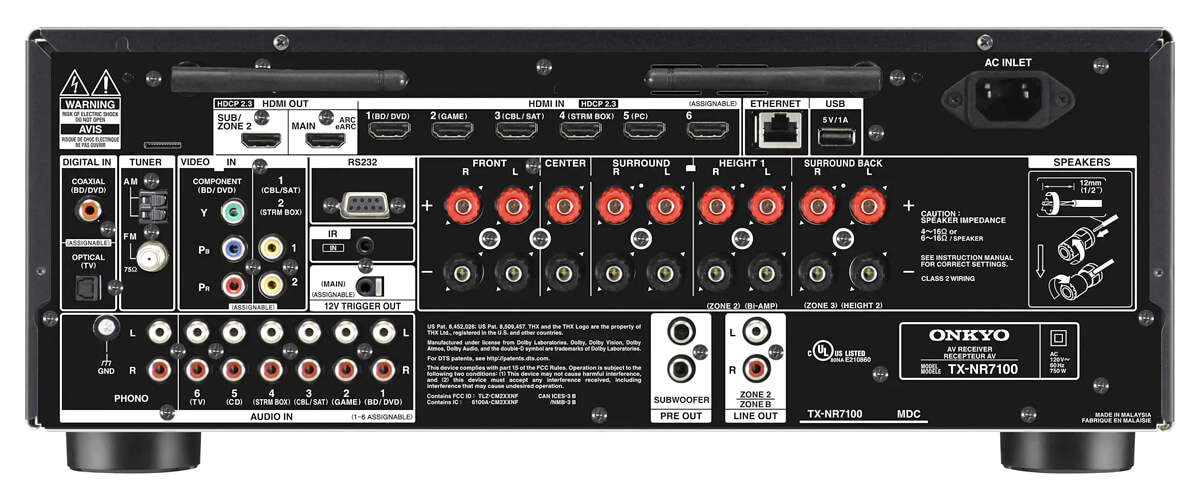 The receiver doesn't have a huge but sufficient number of connectors for various purposes, including 7/2 HDMI ports version 2.1. All inputs support 8K video resolution in HDR10, HDR10+, Dolby Vision and Hybrid Log-Gamma formats, 8K upscaling, gamer functions QMS, ALLM, and VRR and HDCP 2.3 protection. The TX-NR7100 is the only receiver in the selection capable of this level of video transmission. However, I encountered a couple of times a slight switching delay when changing the HDMI source.
Wireless connectivity is also state-of-the-art, offering you Wi-Fi (DT Play-Fi and AirPlay2) and Bluetooth with support for SBC, AAC, aptX, and aptX HD codecs. With these optimal features today, you can listen to streaming audio and use voice assistants and the devices you pair with the receiver. The signal is clear, and I never once lost connection during testing.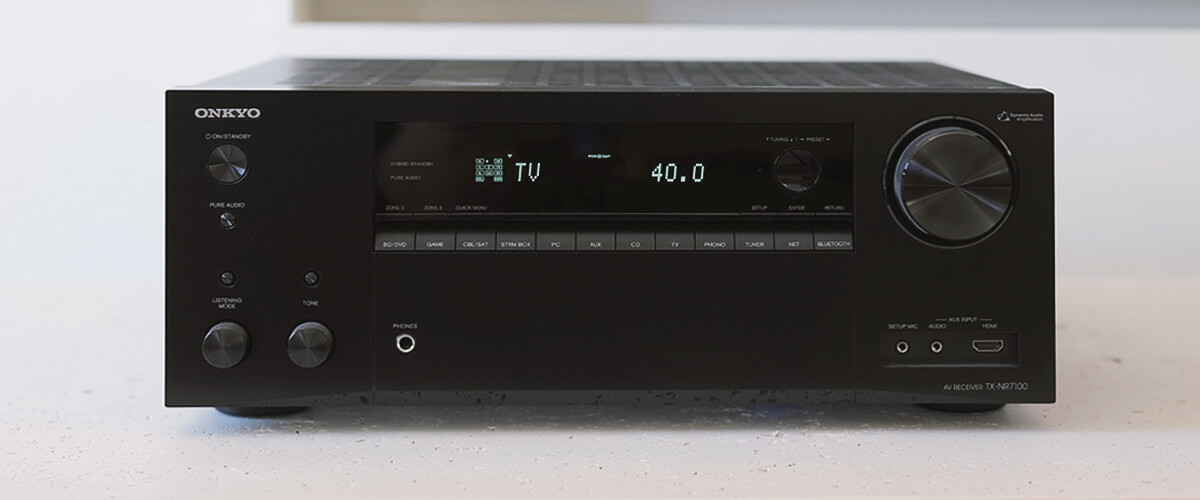 With the TX-NR7100, I tested various movies in Dolby Atmos and DTS:X surround sound formats. The receiver is THX Certified and IMAX Enhanced, which is a very high rating. And while this Onkyo model features the Dirac Live calibration system, which is considered optimal today, I still appreciate AccuReflex more. It is simpler, clearer, and, for the average person, will be the perfect assistant in the system setup because it copes with its task perfectly. Also worth mentioning is another unique Onkyo technology – Dynamic Audio Amplification, which helps to process complex sound scenes without losing quality. I appreciate the sound of this inexpensive receiver.
The Onkyo TX-NR7100 is the best Onkyo surround sound system in my rating. The receiver is equipped with technologies that make it sound as good as more expensive high-end models of other brands. It's functional, and you won't have to worry about upgrading it for long.
Key specs
Channels: 9.2.
Output power: 100W/8 Ohms.
HDMI inputs/outputs: 7/2.
Video functions: 4K/120Hz, 8K/60Hz pass-through, upscaling to 8K.
Bluetooth/Wi-Fi: yes/yes.
Streaming service: AirPlay2, Spotify, Deezer, Tidal, Pandora, SiriusXM, Napster, SoundCloud, Amazon Music HD, TuneIn.
Support: HDMI ARC, HDMI eARC, HDCP2.3, HLG, HDR10, HDR10+, Dolby Vision.
Surround sound: Dolby TrueHD, Dolby Atmos Height Virtualizer, Dolby Atmos, Dolby Surround, DTS HD Master, DTS:X, DTS Neural:X, IMAX Enhanced.
Pros
The only 9.2-channel receiver of the rating.
With Onkyo TX-NR7100, you can broadcast video to 2 zones and audio to 3 (with an external stereo amplifier).
The only one in the rating supports 8K resolution and upscaling.
Advanced state-of-the-art wireless connectivity options.
AccuReflex calibration system is more convenient and easier than Dirac Live.
The receiver utilizes Onkyo's unique THX Certified and Dynamic Audio Amplification technologies.
Cons
It is necessary to turn off zone 2 in the settings when not in use to view content in the main zone.
There are minor, infrequent delays when changing the HDMI source.
Onkyo TX-NR696 – also great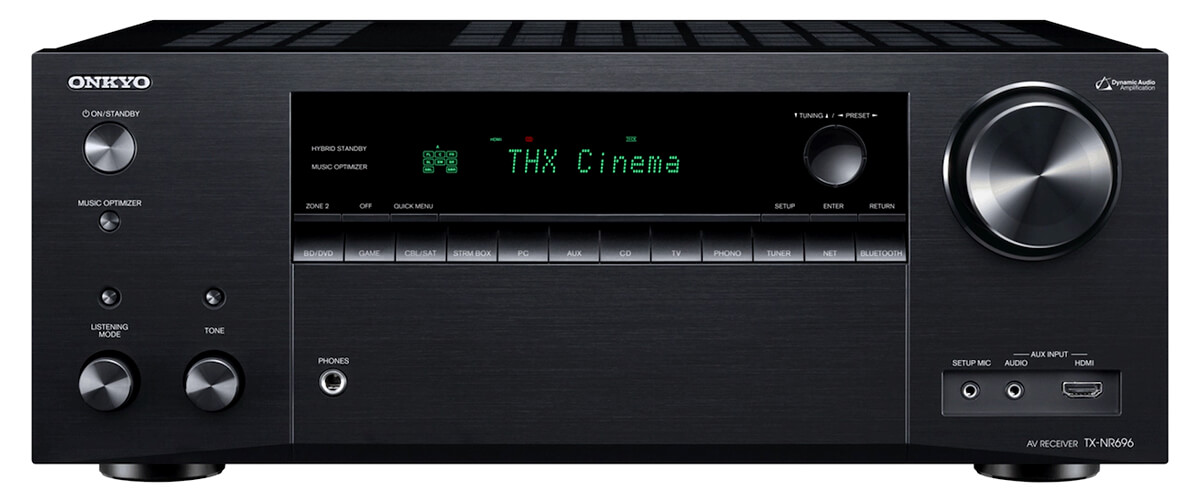 A worthy alternative to the leader of the selection can be the Onkyo 7.1 receiver, with slightly less advanced capabilities but more suitable for the user because of the budget and limited space for the placement of the home theater system. 7 channels of amplification means the use of such coveted surround sound formats as Dolby Atmos in 5.2.2 configuration and DTS: X, and the receiver's 100W (8 Ohms, 20-20kHz, 0.08%, 2 ch) power is not inferior to the leader of my chart.
So, in this Onkyo TX-NR696 review, I present the winner in the "optimal value for money" category, as it offers enough features for today at an extremely low price. And in my opinion – this is the golden mean of my list.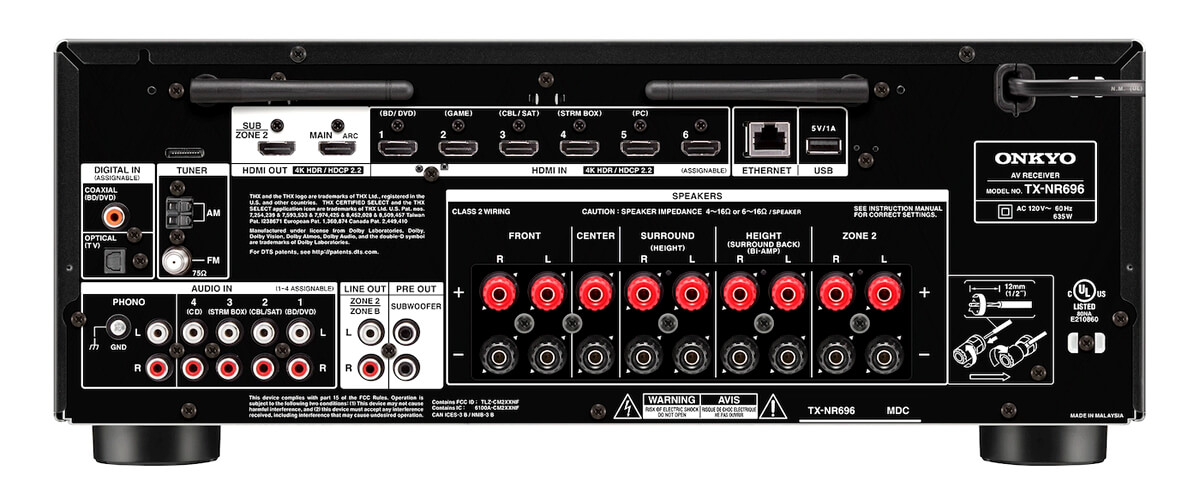 TX-NR696 belongs to 4K receivers. This means that, released in 2019, the model is equipped with 7/2 HDMI ports capable of processing, transmitting, and enhancing 4K resolution signals (for HDR10, Dolby Vision, and HLG formats). First, note that there are the same number of connectors as the 9-channel TX-NR7100. Second, there's not a lot of content with 8K video today, and you don't necessarily have to spend the extra money if you're incapable of pixel counting. However, I noticed that the audio and video synchronization drops slightly when using HDMI ARC. This is an acceptable "joint" in this case. I didn't notice any problems with streaming video.
TX-NR696 is as good as TX-NR7100 (Wi-Fi, DT Play-Fi, and AirPlay2) in the wireless connection, except for the Bluetooth version. And here, there are problems with latency signal spikes. But this is quite an acceptable compromise for such a receiver category, especially considering its advantages.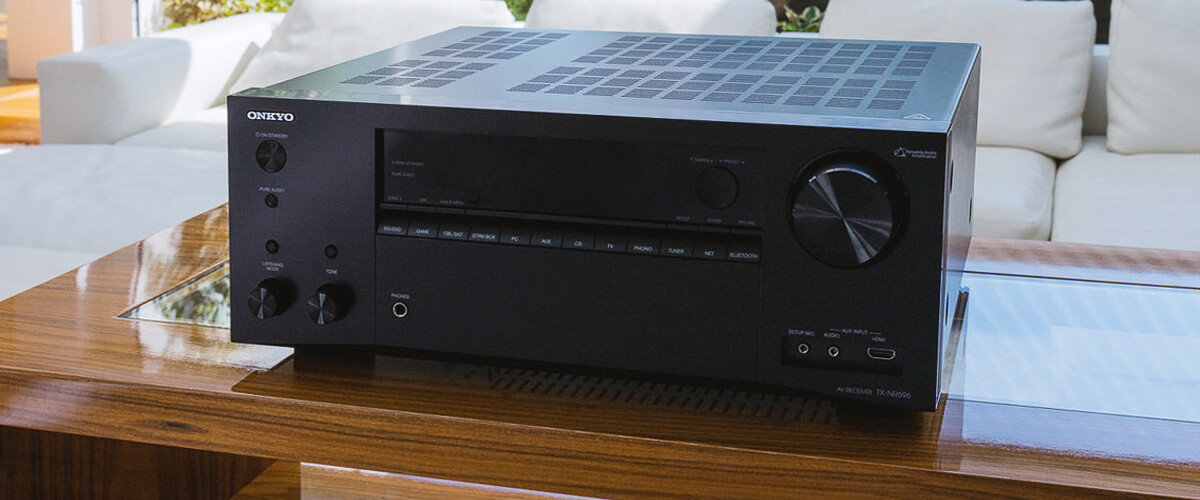 For the processing of surround sound in the model under consideration, THX-certified technology is also implemented. In addition, the DSP amplifier processes very high-quality 384 kHz/32-bit audio. Therefore, I can confidently inform you that the TX-NR696 sounds equally great in movies and music. You can also not bother using special ceiling speakers for Dolby Atmos, but use Dolby Atmos Height Virtualization mode, which is almost as good as the original (still, 7.2 is the minimum system for such an immersive format). The sound is dynamic, balanced, and detailed enough not to miss a single scene.
Onkyo TX-NR696 will suit those interested in watching movies with surround sound and listening to high-quality stereo. It is a workhorse that combines sufficient functionality for today and a pleasant price to provide you with great leisure time.
Key specs
Channels: 7.2.
Power output: 100W/8 Ohm, 210W/6 Ohm.
HDMI inputs/outputs: 7/2.
Video functions: 4K/60Hz pass-through, video upconversion (up to 1080p and 4K) for HDMI sources.
Bluetooth/Wi-Fi: yes/yes.
Streaming services: AirPlay2, Deezer, Tidal, Pandora, SiriusXM, Napster, SoundCloud, Amazon Music, Amazon Music HD, Mood mix.
Supports: HDMI ARC, HDMI eARC, HDMI CEC, HDCP2.3, HDR10, Dolby Vision.
Surround sound: DTS HD Master, DTS:X, DTS Virtual:X, Dolby TrueHD, Dolby Surround, Dolby Atmos Height Virtualization, Dolby Atmos.
Pros
The optimal price/quality ratio.
The power and number of HDMI ports are the same as the 9-channel TX-NR7100.
The TX-NR696 is THX-certified, like the more expensive Onkyo models.
The DSP amplifier handles very high-quality 384 kHz/32-bit audio.
Versatile for movies and music.
Cons
When streaming over Bluetooth, there are delays and signal spikes.
When using HDMI ARC, audio and video may be out of sync.
Onkyo TX-SR494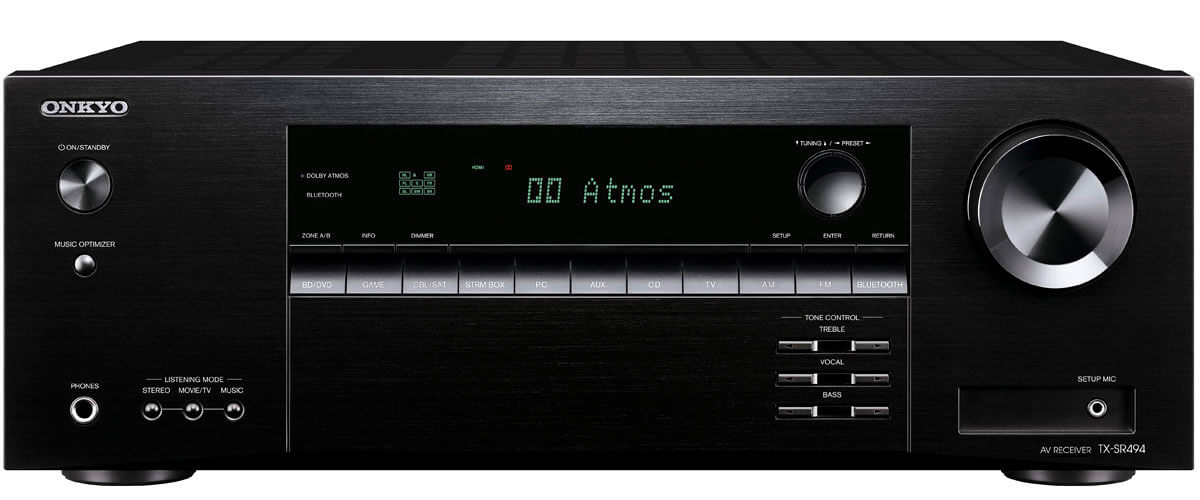 In my selection, the budget Onkyo AV receiver model is inferior to the previous TX-NR696 in some options, which I'll cover in this Onkyo TX-SR494 review. Still, it also offers 7 channels of amplification and was released in 2019, meaning that for a ridiculous amount of money, you can own an AVR capable of handling Dolby Atmos soundtracks. Isn't that great?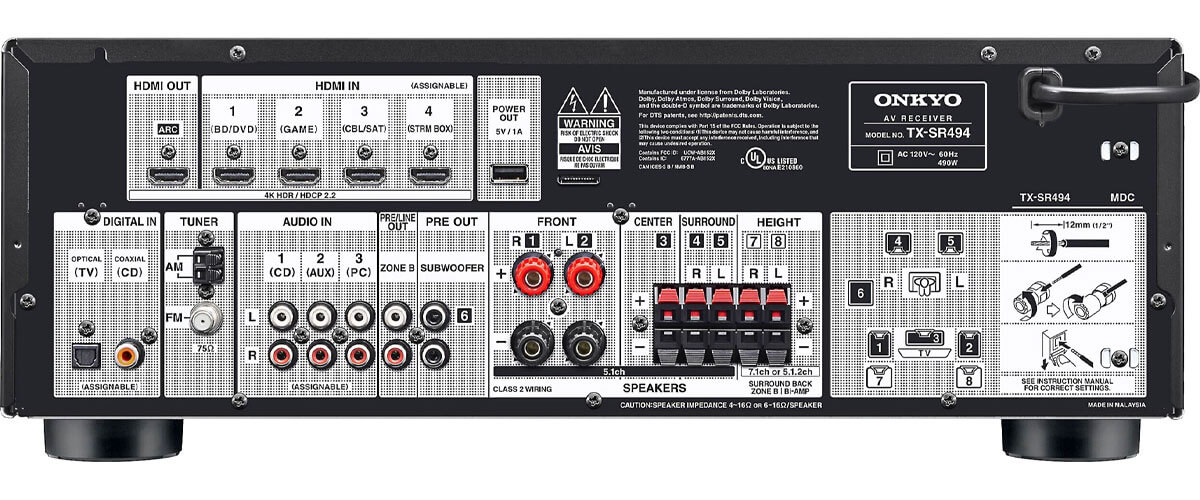 Less power: 80 watts (8 ohms, 20-20 kHz, 0.08%, 2ch). The THD figure is also good, though, and in my experience, the receiver sounds great with the Dolby Atmos and DTS:X surround sound formats. There are also virtual versions of these soundtracks, just like the previous model. Trust me, it's loud and clear enough for a room up to 300 square feet.
Fewer HDMI ports: Just 4/1 connectors of the older version, but with identical features to the TX-NR696 (4K/60Hz, 4K upscaling, HDCP 2.3, and so on).
No Wi-Fi: Yes, from wireless capabilities, you have only good old friend Bluetooth at your fingertips. Also, its operation depends on the device you're pairing (it works better with Apple since it has an AAC codec) and the streaming service you're streaming from. So, music lovers – oops, use external wired sources.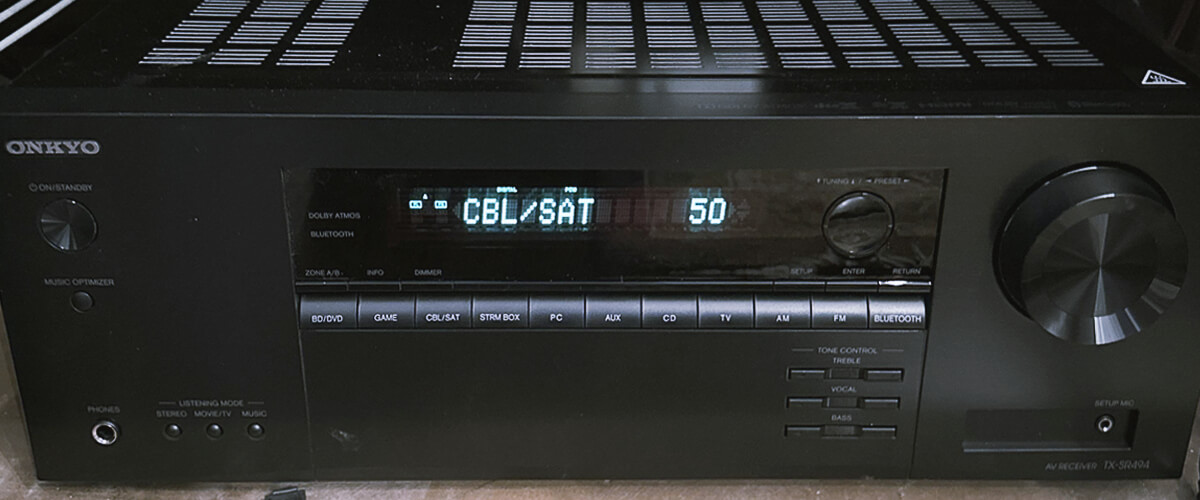 The AccurEQ calibration is also simpler than the TX-NR696 (which has AccuReflex), but it does its job okay, though I'll be honest: I like it less than other brands' default settings. However, the voice tuning feature improved my experience, and watching movies was not negative, given that I understood what rank receiver I was using. The sound, in general, is pretty good, clear, and strong; no gorgeous coloration, but no outright failures either.
TX-SR494 is an amazing Onkyo 5.1.2 receiver. It won't become a universal center of your home theater, but with all its shortcomings, it will give you the most important thing – surround sound in the most popular surround sound formats today. What else do you need if you want to spend your evenings in a cozy chair watching movies? And you won't even notice the amount you spent on it.
Key specs
Channels: 7.2.
Power output: 80W/8 Ohm, 160W/6 Ohm.
HDMI inputs/outputs: 4/1.
Video functions: 4K/60Hz pass-through.
Bluetooth/Wi-Fi: yes/no.
Streaming services: no.
Suppots: HDMI ARC, HDMI CEC, HDCP2.3, HDR10.
Surround sound: DTS HD Master, DTS:X, DTS Neural:X, DTS Virtual:X, Dolby TrueHD, Dolby Atmos, Dolby Digital Plus, Dolby Atmos Height Virtualization, Dolby Surround.
Pros
The receiver handles Dolby Atmos and DTS:X sound well.
The voice tuning feature greatly improved the sound calibration result.
Cons
Less power than the Onkyo TX-NR696.
Fewer HDMI ports than the Onkyo TX-NR696.
No Wi-Fi.
Bluetooth does not work well with all devices.
Onkyo TX-8260 – stereo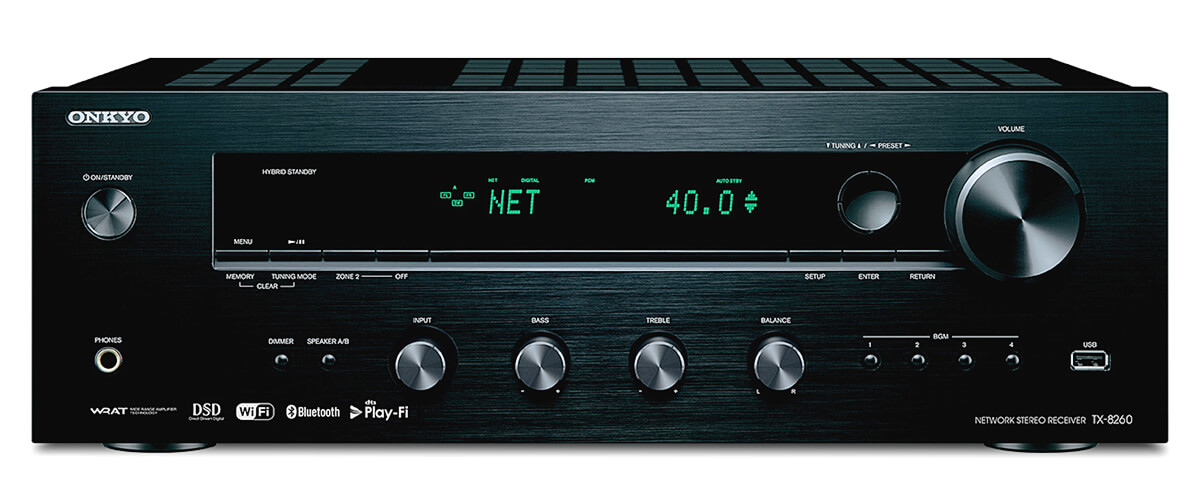 Unlike the TX-SR494, the next model is designed for those who prefer music and plan to watch movies with surround sound. Yes, this is the only stereo amplifier of my selection that remains popular and relevant today, although it was released in 2017. Since there's no need to compare it with other receivers in my rating, I'll limit myself to a brief Onkyo TX-8260 review, trying to explain why I appreciate it so much.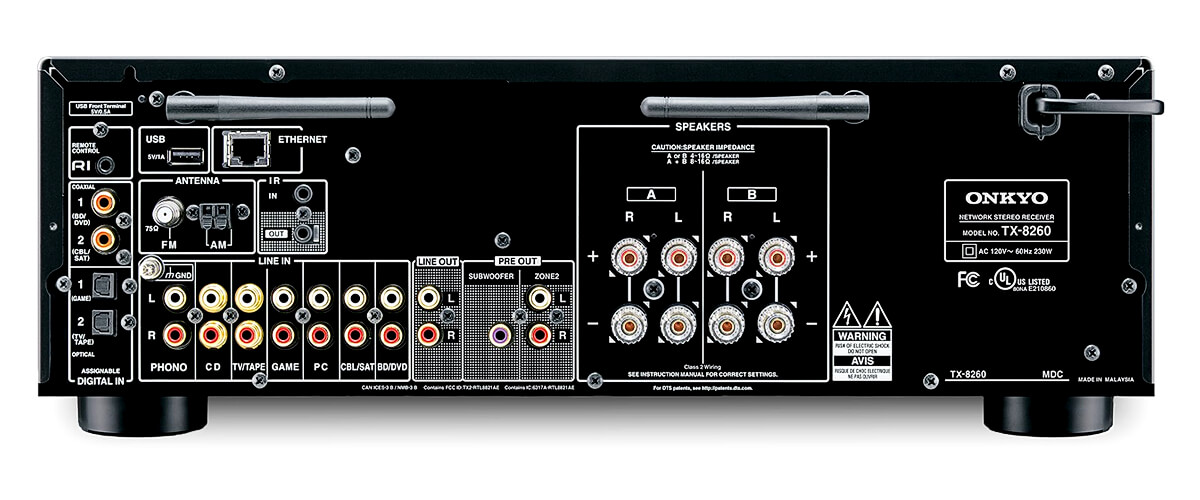 The 2-channel receiver has a power output of 80 watts (8 ohms, 20Hz – 20kHz, 0.1%, 2 Ch). Models released today have better THD figures, but Onkyo didn't skimp back in the day on equipping the (now quite inexpensive) with high-end technology, and the TX-8260 sounds great. For example, we have WRAT (Wide Range Amplifier Technology), H.C.P.S. (High Current Power Supply), and 384K/32 Bit DACs. There is also an option to work with 4 and 6 Ohm speakers, which is convenient if you have a small apartment and no space to place floorstanding huge speakers. And it's a pity for your neighbors, don't you agree? The sound is dynamic, clear, quite rich, and quite good with any genre, whether classical, where high frequencies are important, jazz and blues with their rich middle, or heavy rock with its bass.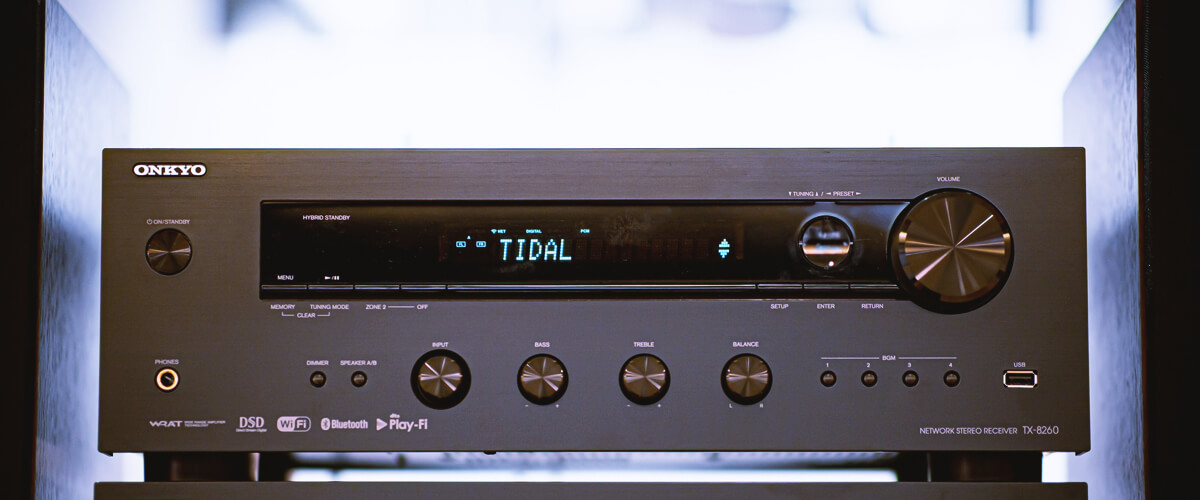 Onkyo TX-8260 has dual-band Wi-Fi 5 GHz/2.4 GHz. It feels like the manufacturer really created its stereo receiver for residents of apartment buildings in the heart of a city because, in this case, you will not be interfered with by neighboring access points. The receiver also has Chromecast built-in, DTS Play-Fi, and FlareConnect. Use AirPlay or Bluetooth, and listen to any Spotify, TIDAL, Deezer, or TuneIn internet radio streaming service from your smartphone (Apple, Android) or PC (Mac, Windows). It is also compatible with Sonos. The absolute thrill of connecting literally everything to everything complemented the app's control. The receiver even has a phono input.
The Onkyo TX-8260 is like an old friend you've waited long for and know all his "cracks". He will not disappoint you, support you in any endeavor, and agree to all your conditions. It is wonderful in any music genre and does not shine on stage in the spotlight but cozily warms your evenings by the fireplace.
Specifications of Onkyo TX-8260
Channels: 2.1.
Output power: 80W/8 Ohms, 160W/6 Ohms.
HDMI inputs/outputs: 0/0.
Video function: has not.
Bluetooth/Wi-Fi: yes/yes.
Streaming service: AirPlay2, Spotify, Deezer, Tidal, Pandora, SiriusXM, Napster, SoundCloud, Amazon Music HD, TuneIn.
Surround sound: has not.
Pros
WRAT, H.C.P.S., and 384K/32 Bit DACs create a pure, dynamic soundscape.
Compatible with any PC and smartphone.
It has dual-band Wi-Fi.
Control from the app is extremely easy and convenient.
Cons
It is not very powerful with high THD relative to more modern models.
You can also check!
Denon receivers review
Don't miss this opportunity to transform your entertainment setup and elevate your audio experience.
Join us in exploring the best Denon receivers
, and get ready to hear your favorite content like never before!
Read the full review
.
Onkyo's innovative technologies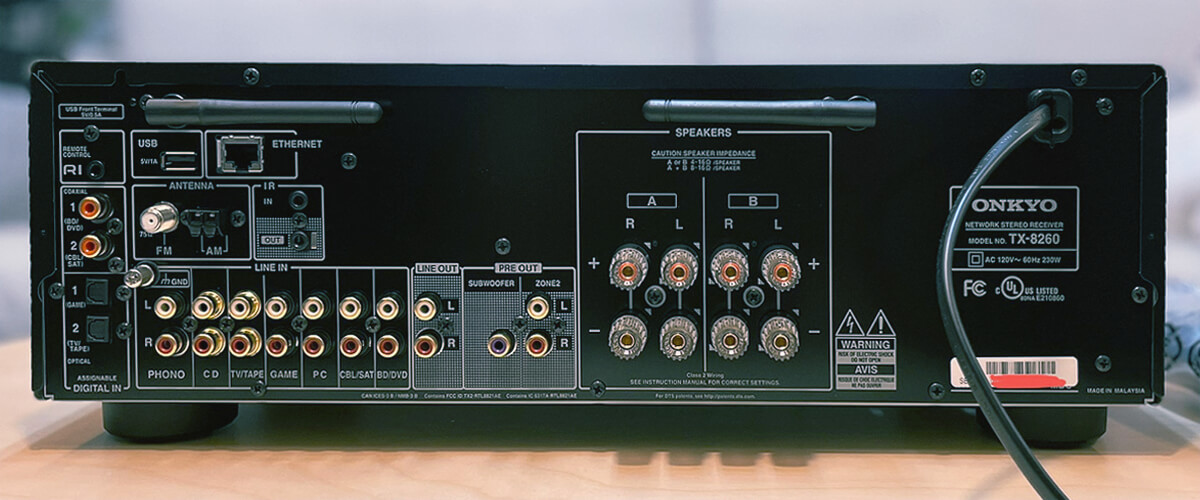 Every company that produces AVRs has unique secrets that make it unique and, of course, affect the level of signal transmission. Onkyo has kept up with the more premium brands and has outfitted their devices with such innovations:
AccuEQ room calibration (AccuEQ Advance and AccuReflex):
The room calibration system is not unique; every company equips its multichannel receivers with this feature. And AccuEQ is standard Onkyo technology that doesn't stand out from the crowd of other brands.
But its more advanced versions, AccuEQ Advance and AccuReflex are worth a look. These technologies are more advanced versions, consider more nuances, and are adapted for higher-ranked surround sound formats. For example, AccuEQ Advance helps eliminate standing waves that linger between surfaces and cause uneven bass reproduction. And AccuReflex excels at solving phase-alignment problems that can occur with Dolby Atmos-enabled speakers.
THX-certified:
Many of Onkyo's higher-ranking home theater receivers are THX-certified, signifying their commitment to high audio and video quality standards. It ensures that AVRs will blend in beautifully with lower-performance devices. THX listening modes allow you to customize your receiver to play movies, music, and games through a single speaker, testing for power output, bass management, and signal-to-noise ratio (THX Loudness Plus, Boundary Gain Compensation, Timbre Matching, and RE-EQ features). As a result, you hear the soundtrack exactly as the sound engineer intended.
Dynamic audio amplification:
This innovation is designed to provide the highest level of audio fidelity. These amplifiers have a high instantaneous current output, allowing the speakers to respond dynamically to the most complex soundstages. The result is clean, powerful sound reproduction with minimal distortion in music and movies.
Is Onkyo a good brand?
Yes. In a fairly low (budget and middle price segment, mostly) financial range, you can buy a receiver equipped with modern technologies, supporting some of the latest surround sound and video formats, without being afraid of compromises on the sound side. The manufacturer saves money on the design but doesn't sacrifice your experience. And with good handling, even the not-so-reliable equipment can last a long time.