In the world of home theater, receivers take a leading position, and Denon is one of the recognized favorites of the modern market, which offers quite a wide model range. For this reason, I decided to make Denon receiver reviews, selecting the most efficient options in different price segments and explaining their functionality. I'm sure that each of you will be able to find your best Denon receiver here, as the brand has a history of over 100 years, and I trust the sound quality of their products and the build quality. That recognizable, warm, bright, dynamic sound can now be part of your home entertainment.
Our pick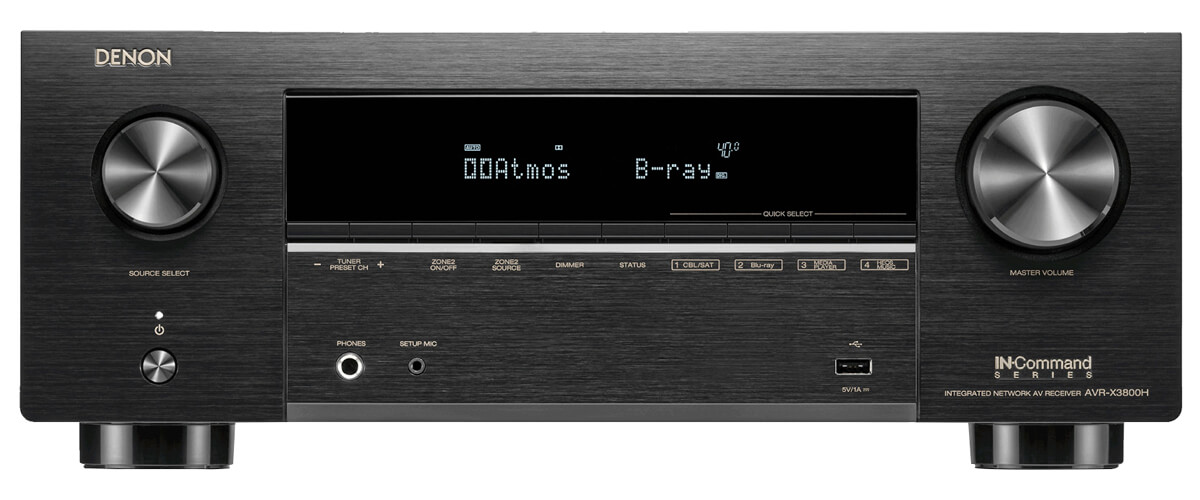 Denon AVR-X3800H
Best Denon receiver
With nine channels of amplification, up to four independent subwoofers, Dolby Atmos and DTS:X, plus IMAX Enhanced and Auro 3D, the AVR-X3800H envelops larger living spaces in theater-quality sound.
Read the full review
.
Denon receiver comparison table
Name
Channels
Power output
HDMI in/out
Bluetooth/Wi-Fi
Review
Denon AVR-X3800H

best overall

9.4
105W/8 Ohm, 135W/6 Ohm
6/3
yes/yes
Review
Denon AVR-X2800H

also great

7.2
95W/8 Ohm, 125W/6 Ohm
6/2
yes/yes
Review
Denon AVR-X6700H

premium

11.2
140W/8 Ohm, 175W/6 Ohm
8/3
yes/yes
Review
Denon AVR-S570BT

budget

5.2
70W/8 Ohm, 90W/6 Ohm
4/1
yes/no
Review
Best Denon receiver reviews
Denon AVR-X3800H – best overall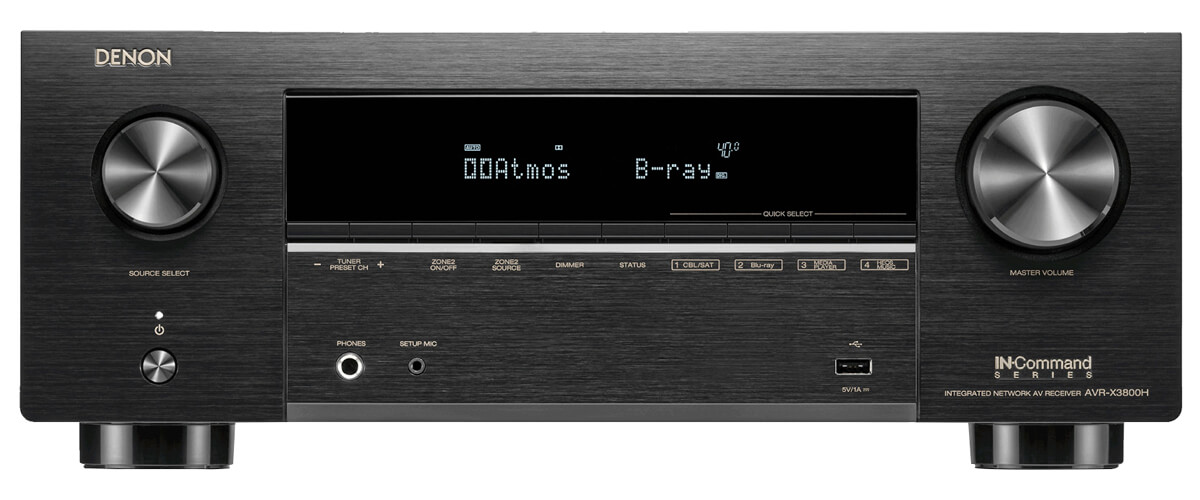 This rating has no winner, as the receivers I present to you are quite different, starting from price and ending with functionality. But there is a leader. Denon AVR-X3800H – is an optimal price/quality ratio, being quite an affordable device with quite extensive features that can compete with more expensive models. But let's talk about it a bit more.
We have a 9-channel AVR in front of us, but you can add a 2-channel amplifier and two subs and get 11.4 channels in total! You can do this immediately or over time, saving you money on your initial purchase. Its 105 watts of power (8 ohms, 20Hz – 20kHz, 2ch) with an excellent THD of 0.08% will be enough to provide a balanced sound distribution.
Since the model was released in 2022, all its 6/3 HDMI ports are version 2.1, providing access to 4K/120Hz and 8K/60Hz content with end-to-end 3D viewing and upscaling to 8K. You also can stream Dolby Vision, HDR10+, and Dynamic HDR (today's optimal video formats). These HDMIs also feature eARC and HDCP 2.3, and for console video game enthusiasts, the cherry on the cake is ALLM, VRR, and QFT. And most importantly, the quality of the transmitted picture is really very high; I see this more often in more expensive models. The 8K scaling is almost identical to the original. And you can also broadcast 4K video to 2 zones. Although to be honest, there should have been more of them, such a number of ports is more typical for budget models.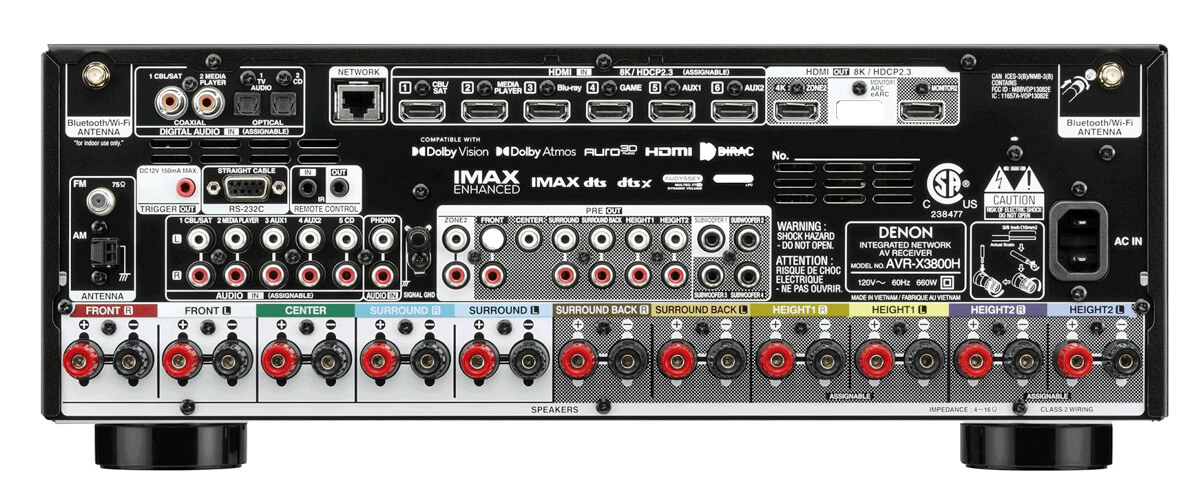 Basically, that's pretty much all you need in the video realm. Other connection types are also present, so you're limited but can connect different equipment to your system to your liking (including a turntable with an MM cartridge).
Surely, when putting together a home theater system, you want to listen to music as well. Makes sense. Why buy additional stereo equipment when you already have everything at your fingertips? Streaming services and internet radio (TuneIn, Pandora, Spotify Connect, Roon Tested), Apple Music, voice assistants Google Assistant, Amazon Alexa, and Apple Siri are available to you via Wi-Fi (including AirPlay 2), Bluetooth, and the built-in HEOS ecosystem. The broadcast signal is good and doesn't sag, though the technology is pretty standard.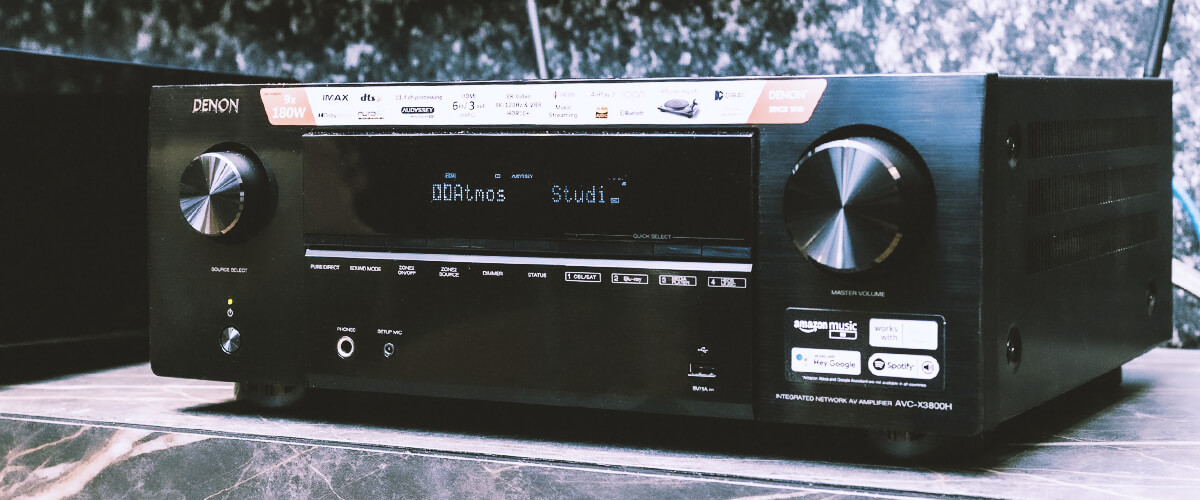 If you don't have a full-fledged speaker system yet, you can easily watch movies with Dolby Atmos and DTS:X soundtracks (including Neural:X) even without installing ceiling speakers! After all, the receiver supports Dolby Atmos Height Virtualization and DTS Virtual:X surround sound formats. Also available are the less popular but high-quality IMAX Enhanced, 360 Reality Audio, and Auro 3D. However, the multi-room function is designed only for 2 zones, which, of course, distinguishes AVR-X3800H from more expensive models but may not be critical when choosing a receiver.
As I look at the surround sound area, options like Pure Direct and Bass Sync are worth mentioning, as they greatly enhance your experience. Also, the Denon Audyssey MultiEQ XT32 calibration system is a more advanced version of the standard one. But for even more demanding users, Denon has equipped its AVR with an additional Dirac Live. It's quite sophisticated but worth your time (although it's not a unique technology for the brand).
The Denon AVR-X3800H is the best Denon AV receiver of my selection because, for affordable money, you get a feature-rich, modern device that supports most surround sound and video formats. You can watch movies and listen to music with equal success without expecting signal sag.
Key specs
Channels: 9.4.
Power output: 105W/8 Ohm, 135W/6 Ohm.
HDMI inputs/outputs: 6/3.
Video functions: 8K/60Hz, 4K/60Hz, 4K/120Hz, upscaling to 8K.
Bluetooth/Wi-Fi: yes/yes.
Streaming services: AirPlay 2, Spotify, TuneIn, Deezer, Tidal, Netflix, Amazon Prime.
Supports: HDMI ARC, HDMI eARC, HDMI CEC, HDCP2.3, HDR10+, Dolby Vision, 3D Signal Pass-through.
Surround sound: DTS:X, DTS Neural:X, DTS Virtual:X, Dolby Atmos, DTS HD Master, Dolby TrueHD, Dolby Atmos Height Virtualization, IMAX Enhanced.
Pros
Optimal combination of price/quality in the selection.
Expandable up to 11.4 channels.
Scaled video in 8K format looks identical to the original.
Extensive wireless connectivity with high broadcast quality.
Support for most modern surround sound formats, including virtual versions.
Cons
There should be more HDMI ports for a system like this.
The multi-room function is available for 2 zones only.
Denon AVR-X2800H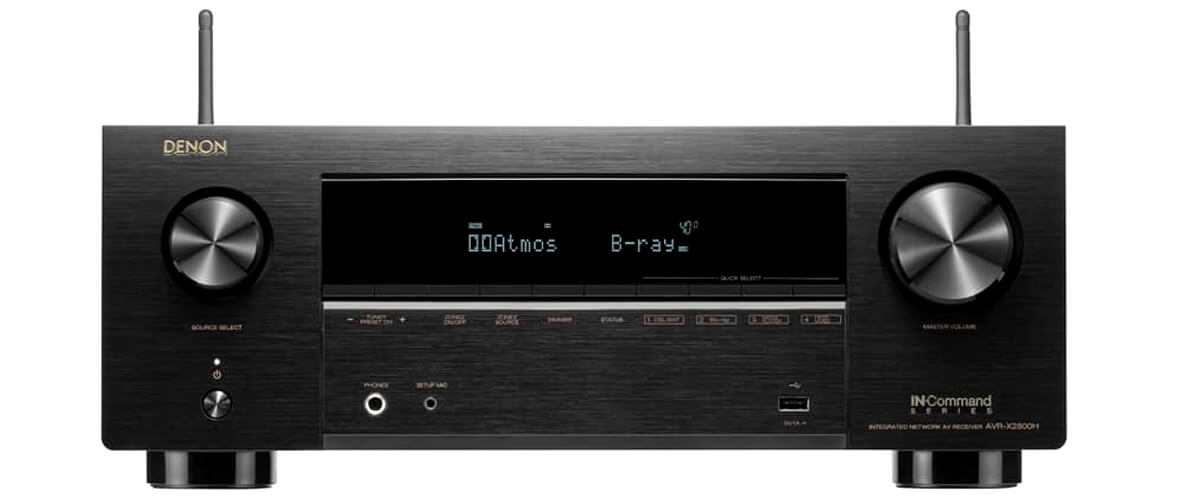 A more inexpensive alternative to the Denon AVR-X3800H is the AVR-X2800H, also released in 2022. Here, you and I will find some limitations in relation to the leader of the selection. Actually, we will stop on them.
To begin with – you get 7 channels of amplification without any possibilities of system expansion. But for most users, this is enough, so you should think about whether you want to pay money for more channels and not use them. Next, we have a lower-powered system at 95 watts (8 ohms, 20 Hz – 20 kHz, 0.08%, 2ch), but that's more than enough for a 5.2.2 system and a small room of about 400 square feet. The receiver sounds loud and clear, which is the most important thing.
Relative to the previous model in my selection, the AVR-X2800H has an almost identical number of HDMI 2.1 ports (6/2) with exactly the same functionality for 3 of the inputs. You also can't stream video to zone 2, only audio. There aren't as many other types of connectors, but for a 7.2 system, this number is quite acceptable.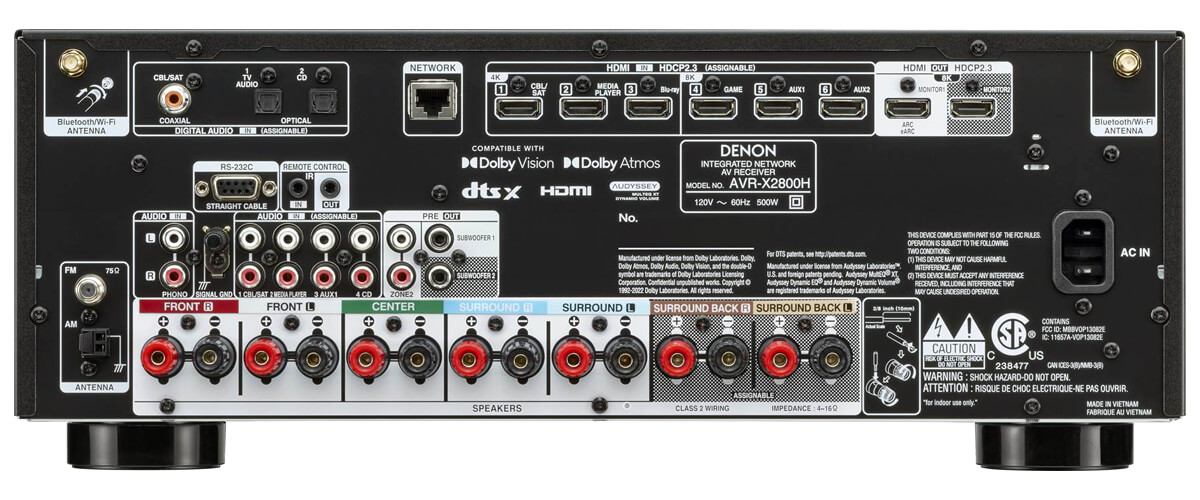 Also, in wireless connectivity, the Denon AVR-X2800H receiver is not much inferior to more expensive models. You have built-in Wi-Fi, Bluetooth, and HEOS, so you won't be limited in access to all the resources you're interested in (it also works with different kinds of voice assistants).
Surround sound is limited to supported formats, but the standard 7-channel set contains the most popular ones, Dolby Atmos and DTS:X, with various variations. And with support for DTS Virtual:X and Dolby Atmos Height Virtualization, you don't have to chisel the ceiling for high-rise speakers. The 5.2.2 configuration doesn't offer the same top-down sound experience as wider systems, and I didn't notice much difference between the sound of Atmos and its virtualized version, to be honest.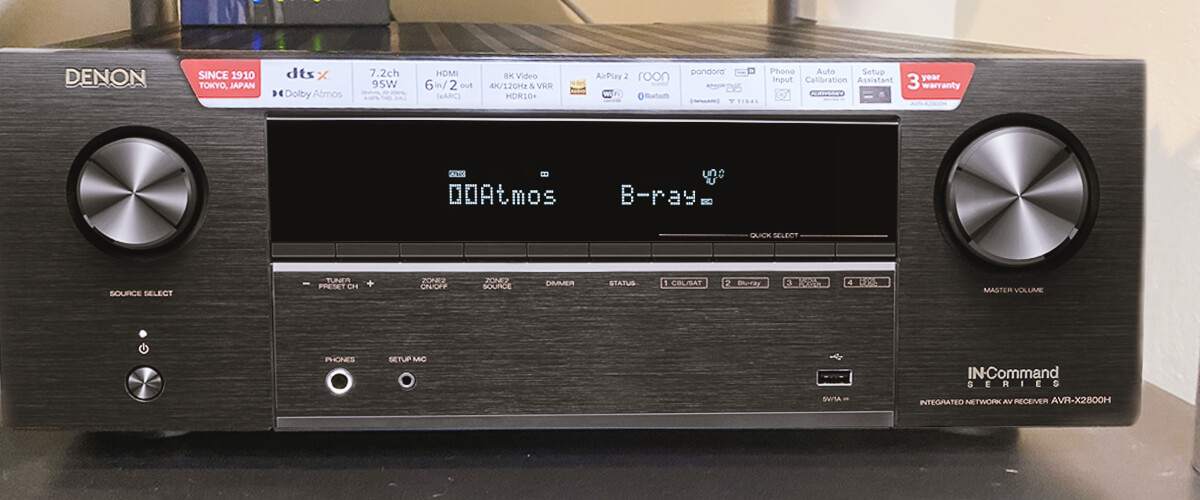 Testing revealed another compromise. The Audyssey room correction system, which provided me with a simple and quick setup, does not see 2 subwoofers in the system. This is a small "joint", as small spaces usually use one subwoofer, but the manufacturer should have written, "Denon AVR-X2800H is a 7.1 receiver". There is nothing wrong here, except that you can get disappointed. So, forewarned. Other than that, it's fine. Denon never surprises me unpleasantly. The sound is balanced and rich, and even movies full of action scenes (like Die Hard) sound great with it. There is a bi-amping function, and the high-quality 384 kHz/32-bit DAC provides top-notch results in movies and music. What's more, if you have a deaf or hard-of-hearing person in your family, you can connect headphones for them to enjoy watching a movie simultaneously.
The AVR-X2800H is a great foundation for creating a Denon home theater that is perfect for a small home or apartment. In terms of sound quality, it is not inferior to more expensive models, offering minor limitations in the number of supported technologies.
Key specs
Channels: 7.2.
Power output: 95W/8 Ohm, 125W/6 Ohm.
HDMI inputs/outputs: 6/2.
Video functions: 8K/60Hz, 4K/60Hz, 4K/120Hz, upscaling to 8K.
Bluetooth/Wi-Fi: yes/yes.
Streaming services: AirPlay 2, Spotify, TuneIn, Deezer, Tidal, Netflix, Amazon Prime.
Supports: HDMI ARC, HDMI eARC, HDMI CEC, HDCP2.3, HDR10+, HLG, Dolby Vision.
Surround sound: DTS:X, DTS Neural:X, DTS Virtual:X, Dolby Atmos, Dolby Atmos Height Virtualization, DTS HD Master, Dolby TrueHD, Multichannel Stereo.
Pros
Wireless connectivity capabilities are on par with more expensive models.
Support for immersive virtual formats frees you from embedding the speakers in the ceiling. And the sound quality is virtually unaffected.
Easy and fast installation and setup.
Audio can be listened to simultaneously from speakers and headphones.
Cons
Transmits only audio to zone 2.
The Audyssey calibration system treats the 2 subwoofers as a single unit, so the Denon AVR-X2800H is more like a 7.1 receiver.
Denon AVR-X6700H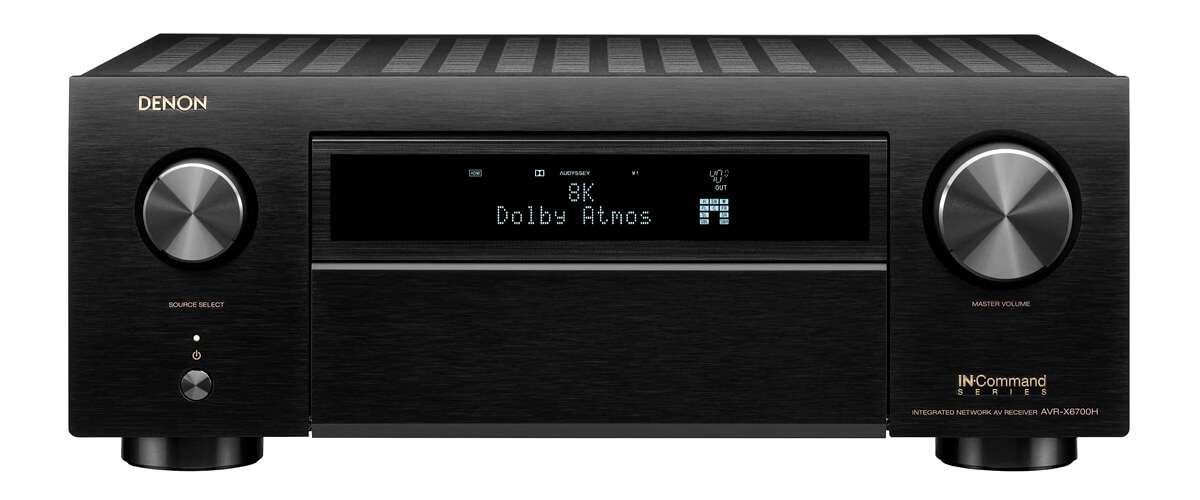 The next model, AVR-X6700H, will appeal to those not used to saving space, money, and features. This premium Denon AV receiver is designed for surround sound, for Dolby Atmos in particular, because with its 11 channels, you can build configurations to suit any taste: 5.2.2, 5.2.4, 5.2.6, 7.2.2, 7.2.4, or 9.2.2. Moreover, adding an external 2-channel amplifier gives you 7.2.6 or 9.2.4 configurations of 13 channels. Its 140 watts per channel (8 ohms, 20Hz – 20kHz, 0.05%, 2ch) will blow your house up with rich, bright, detailed, and clean (look at the THD) sound that goes with any movie.
Quite naturally, it supports Dolby Atmos, DTS:X (including Pro), DTS Neural:X, IMAX Enhanced, and Auro-3D surround sound formats. With high-end technologies such as D.D.S.C. (Dynamic Discrete Surround Circuit), which enhances signal processing performance, and ALPHA Processing, which processes more information without signal loss, you'll hear every soundtrack the filmmakers intended. All the praised unique subtleties of Denon surround sound with AVR-X6700H will be fully realized.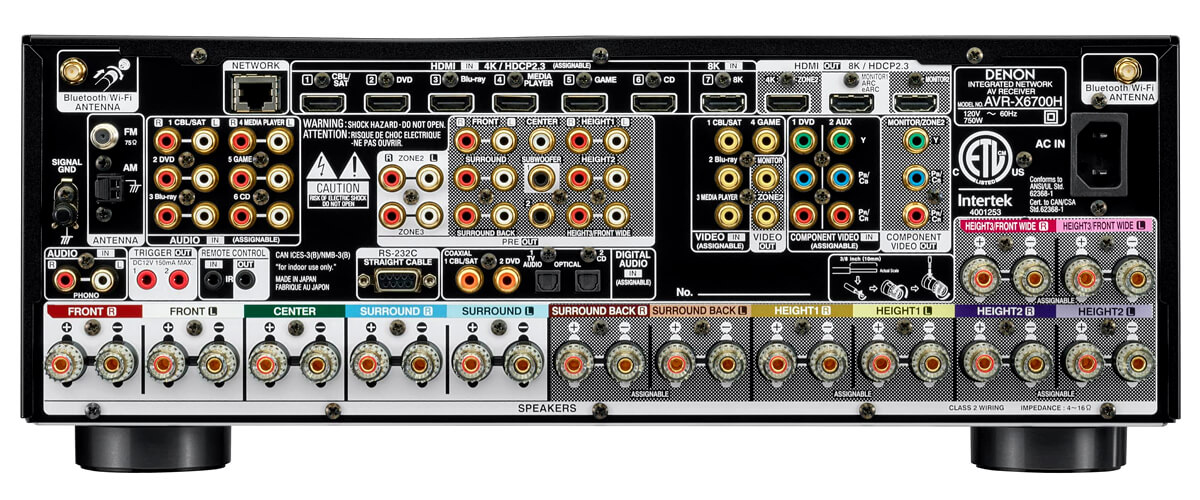 The only drawback of the model is that it was released in 2020, which means that only 1 HDMI input supports 8K video transmission (out of 8). But 2 outputs transmit this resolution for the main zone, and another 1 for the 2nd zone, but only in 4K resolution. This means you can stream video to the projector and TV in the main room and stream video from the source to zone 2, for example. By the way, when using two monitors, I noticed how easy and lag-free the AVR-X6700H makes port changes. The same goes for resolution changes, which are much better than simpler AVRs.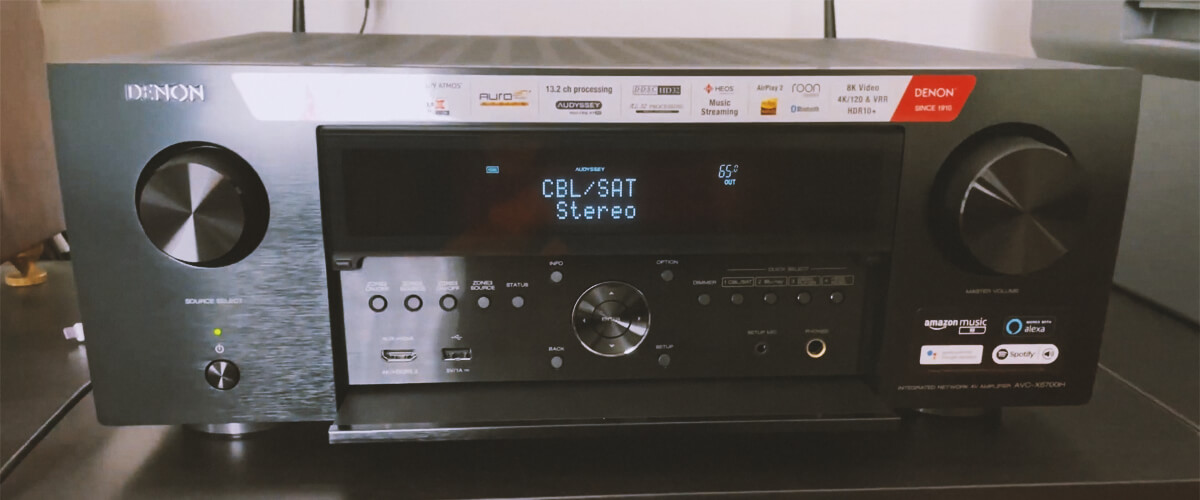 I won't go over the receiver's wireless capabilities again. You will have everything I described in the previous models and even a little more. But everything works flawlessly; it's worth noting, except for the app. It's terrible, and I hope Denon works on it because everything is so slow you want to smash your smartphone against the wall. They even have an Odyssey app for sound calibration, which impresses me, as it's very convenient to customize the system from anywhere in the room.
The Denon AVR-X6700H is a fantastic choice for those who want a complete surround sound system for years to come. The receiver's minor shortcomings are offset by its superbly detailed sound and also account for its understated price relative to receivers of identical rank in other brands.
Key specs
Channels: 11.2.
Power output: 140W/8 Ohm, 175W/6 Ohm.
HDMI inputs/outputs: 8/3.
Video functions: 8K/60Hz, 4K/60Hz, 4K/120Hz, upscaling to 8K.
Bluetooth/Wi-Fi: yes/yes.
Streaming services: AirPlay 2, Spotify, TuneIn, Deezer, Tidal, Netflix, Amazon Prime.
Supports: HDMI ARC, HDMI eARC, HDMI CEC, HDCP2.3, HDR10+, Dolby Vision.
Surround sound: DTS:X, DTS Neural:X, DTS:X Pro, DTS HD Master, Dolby Atmos, Dolby TrueHD, Dolby Atmos Height Virtualization, Dolby Surround, Auro 3D.
Pros
The highest power of the receiver from the selection.
The widest choice of configuration for 13 channels from the selection.
Sounds great in surround sound, allowing you to hear all the details the movie's author intended.
The use of high-end technology enhances the listening experience.
Switching between source and video resolution is virtually lag-free.
Audio calibration can be done using the Odyssey app.
Cons
Only 1 HDMI input with support for 8K video.
The Denon app is slow.
Denon AVR-S570BT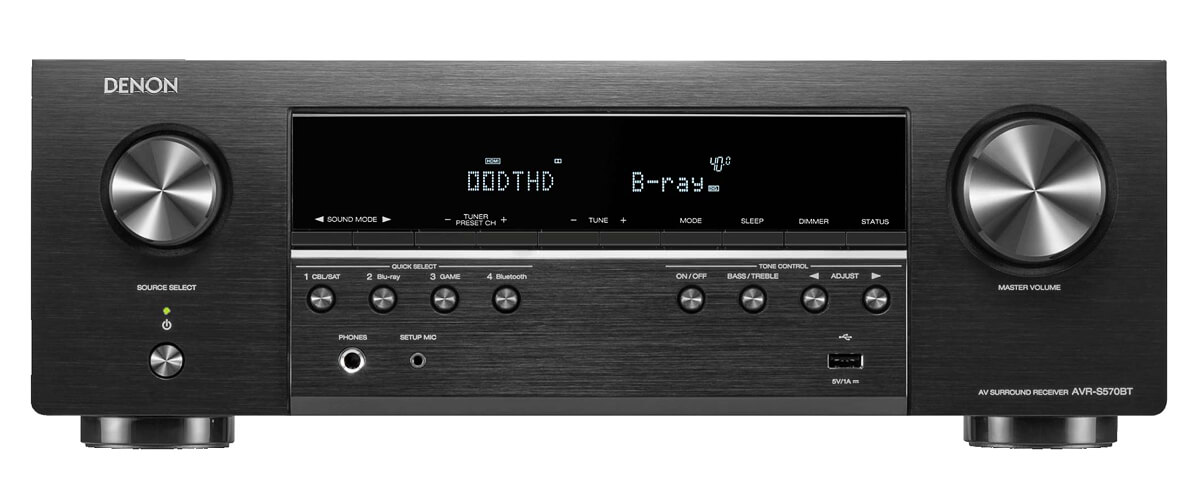 If you are looking for the best Denon AVR for the money, I suggest my favorite – AVR-S570BT. This baby has a price of up to $500 and has a set of basic functions that will make your leisure time brighter, more interesting, more diverse, and all this at home.
So, the model under consideration is a 5.2 channel receiver with 70 W (8 Ohm, 20 Hz – 20 kHz, 0.08%, 2ch), supporting Dolby Digital and DTS-HD Master Audio surround sound formats. It handles and delivers surround sound well, better than some of its competitors in other brands, but if you make it run at high volume for a long time, it will start to overheat. This drawback is within the acceptable norms for budget AVRs, plus the AVR-S570BT shuts down if it reaches high temperatures.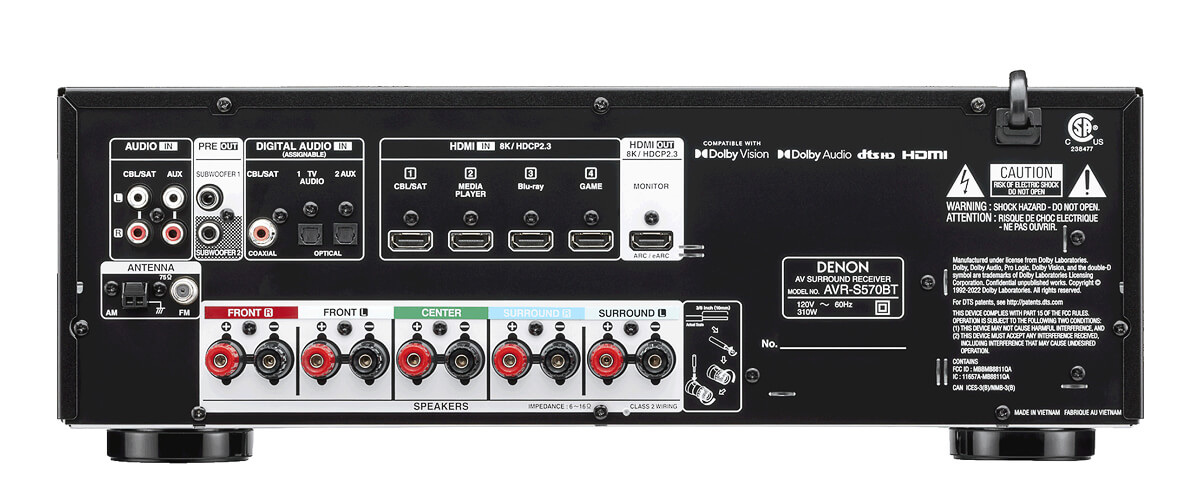 When reviewing the initial line of Denon, you expect to meet a 4K receiver, but not here. This handsome guy has 4/1 HDMI ports with support for 8K video, upscaling to 8K, and all the other benefits of the 2.1 connector version. No, it won't make the picture perfect when upscaled like more expensive models, but the quality is greatly improved relative to the source.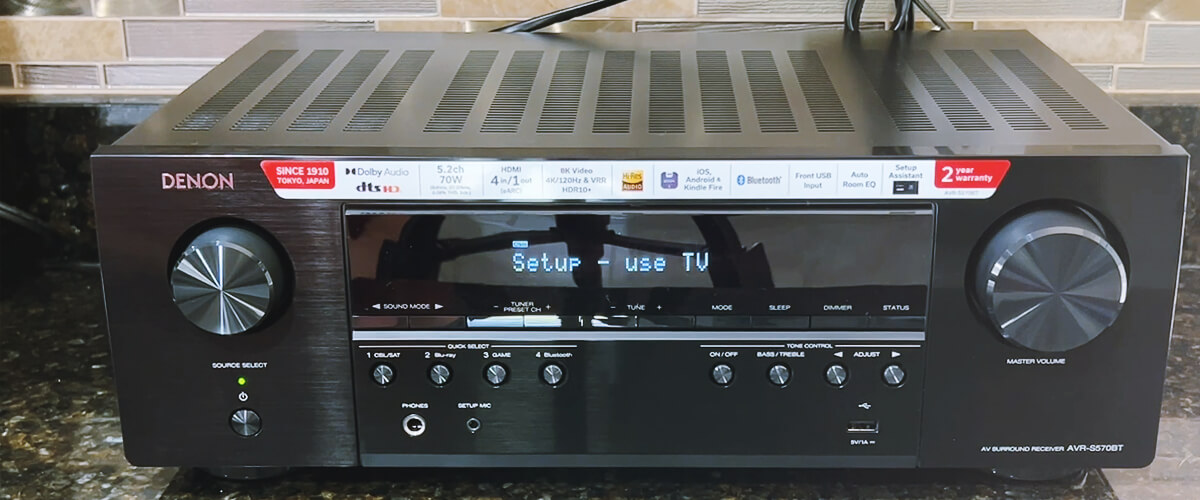 Limitations await you in the area of wireless capabilities. Not without reason, the abbreviation BT is added to the name. Have you guessed it already? Yes, AVR-S570BT doesn't have built-in Wi-Fi. But Denon is good, and they made the only source of wireless connection excellent. The Bluetooth 4.2 version, with support for SBC and AAC codecs, handles audio streaming very well, and I was satisfied listening to music from Spotify, Deezer, and Pandora.
The Denon AVR-S570BT is the best budget Denon AVR, offering you basic multichannel and stereo audio options and advanced video for an absolutely ridiculous price. Its features are limited, but everything it has works just fine. And if you asked me, my choice would be unequivocal.
Key specs
Channels: 5.2.
Power output: 70W/8 Ohm, 90W/6 Ohm.
HDMI inputs/outputs: 4/1.
Video functions: 8K/60Hz, 4K/60Hz, 4K/120Hz, upscaling to 8K.
Bluetooth/Wi-Fi: yes/no.
Streaming services: has not.
Supports: HDMI ARC, HDMI eARC, HDMI CEC, HDCP2.3, HDR10+, Dolby Vision.
Surround sound: DTS HD Master, Dolby TrueHD.
Pros
The AVR-S570BT supports 8K video and upscaling to 8K.
Good Bluetooth 4.2 performance.
Great, clear sound in movies and stereo.
Cons
The receiver overheats when used at maximum volume for extended periods.
No Wi-Fi.
Denon's unique technologies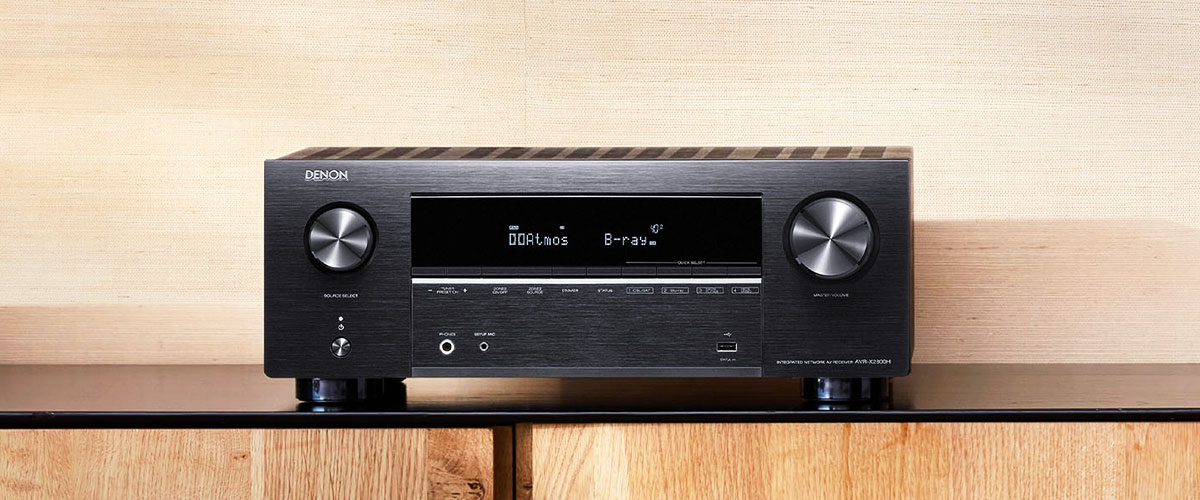 Denon is known for its commitment to excellence and innovation in audio technology, and its AV receivers feature several patented technologies that set it apart in home entertainment. These technologies enhance sound quality and improve the overall usability of Denon AV receivers.
AL32 Processing:
Denon's AL32 processing technology provides incredibly accurate sound reproduction. It uses high-precision digital interpolation algorithms to restore lost detail in compressed audio formats. The result is smoother and more natural sound with enhanced clarity and depth. This is also true for low-frequency audio signals.
Audyssey MultEQ:
Denon uses Audyssey MultEQ room calibration technology in many of its receivers. This technology optimizes the sound of the system to the unique acoustic characteristics of the room, meaning it considers the room's size and specifics. Audyssey MultEQ measures the room's acoustic characteristics during setup and then precisely adjusts the receiver's settings. This calibration process minimizes distortion and improves clarity, ensuring you hear the sound as the content creators intended.
HEOS (Home Entertainment Operating System):
HEOS is Denon's wireless multi-room audio system that allows you to connect and synchronize multiple HEOS-enabled Denon speakers and receivers throughout your home. This allows you to simultaneously listen to music in different rooms or play different content in each room at the same time. HEOS provides easy access to streaming services and your personal music library through a convenient app. Its simplicity, convenience, and expanded access to various content sets it apart from competitors. Even the most elite brand of receiver maker, Marantz, uses it in their receivers.
FAQ
Why should I consider a Denon AV receiver over other brands?
Denon builds their receivers with expertise, providing high quality at a reasonable price. You get a high-quality AVR different from the more basic brands, but don't pay much more. Know exactly what you're paying for. Denon receivers have some unique technologies (AL32 Processing – enhances the sound quality of music by filling in the "lost" areas during compression; Audyssey MultEQ – the room calibration system is recognized as the most adaptive; HEOS ecosystem also has many advantages) that enhance the listening experience are popular among users, and are recognized in the community as optimal compared to others.
You can find low-cost or high-end models in the company's assortment, equipped with enough necessary connectors and features. At the same time, Denon's unique dynamic, bright, and warm sound is quite famous, which is equally suitable for watching movies and listening to music. As you can see, Denon has quite a lot of advantages for which numerous users around the world choose it.
Can I use a Denon AV receiver for music, movies, and gaming?
Absolutely. That's exactly what these devices are designed to do. Denon AV receivers can be used in various entertainment scenarios. Whether listening to music, watching movies, or playing games, Denon receivers deliver exceptional sound quality. They provide the flexibility to connect devices such as
TVs
, game consoles, Blu-ray players, and music streaming devices.