What could be difficult about putting together a great home audio system? After all, there is a variety of models on the market today. But if you are lost in this flow of such uncomplicated but different devices, my review will help you not get lost and choose the best 2-channel receiver in a mid and budget range.
Designed exclusively for audiophiles, a stereo receiver does not provide surround sound but will make listening to music in your home an incredible adventure. To begin with, I will tell you what factors you should pay attention to when choosing this type of device, and then I will present you with my selection of absolutely different stereo receivers. So, this article will be useful if you're looking for high-end stereo equipment or want to spend the least money.
Our pick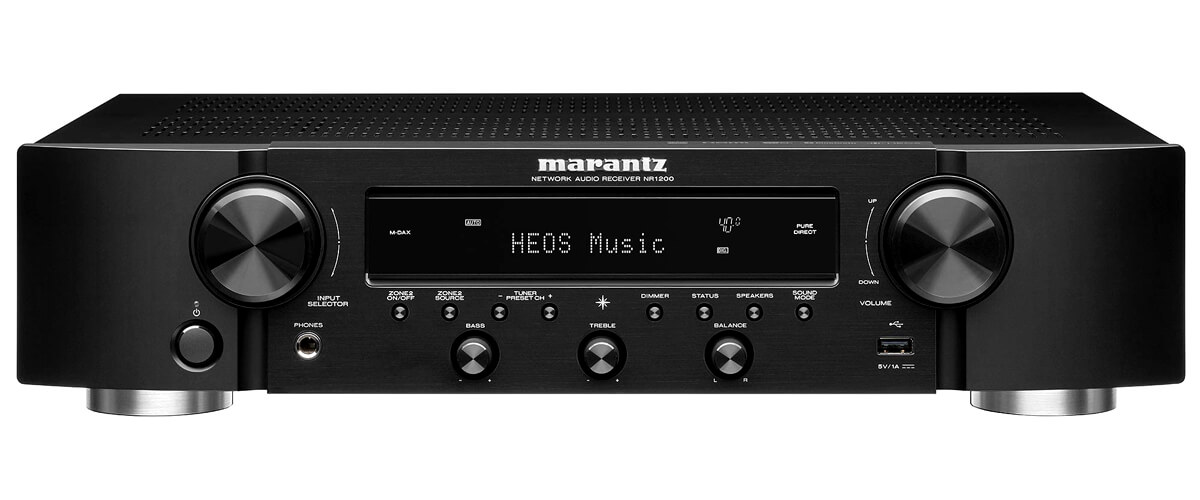 Marantz NR1200
Best stereo receiver
The NR1200 is a 2-channel stereo receiver with HEOS built-in featuring a separate 75W per channel L/R power amp circuit and power transformer in a slim profile.
Read the full review
.
Stereo receivers comparison table
Name
Channels
Power output
HDMI in/out
Bluetooth/Wi-Fi
Review
Marantz NR1200

best overall

2.1
75W/8 Ohm, 100W/6 Ohm
5/1
yes/yes
Review
Yamaha R-S202

budget

2.0
125W/8 Ohm
0/0
no/no
Review
Sony STR-DH190
2.0
100W/8 Ohm
0/0
no/no
Review
Key features to consider in stereo receivers
So, a modern home stereo system can be a versatile device or have no additional features. It all depends on your preferences. But there are a few key characteristics which, in my opinion, each of them should have. They are worth paying attention to when buying, based on the main purpose of any 2-channel stereo – to provide the highest quality sound: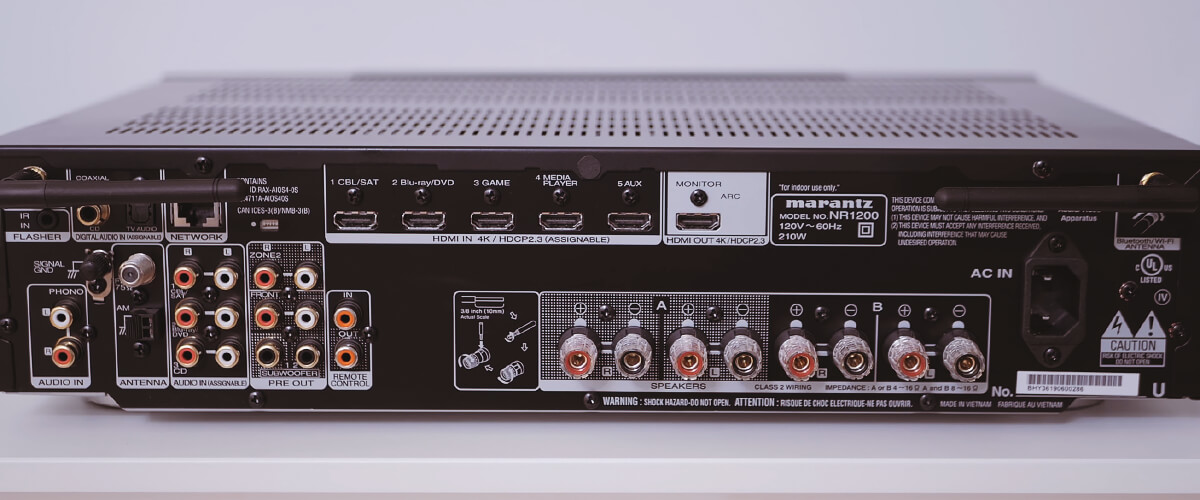 Power output
Remember the scene from Michael Jackson's Black or White video at the beginning? Macaulay Culkin is cranking up the volume of his system to the level of "Are you nuts?" You should look for a high-power stereo receiver if you want a similar effect. If you live in a small condo in an apartment building, I don't think it's a good idea. In any case, the main thing is compatibility with your speakers. After all, there's no point in a powerful receiver if you have fairly simple speakers, and vice versa. In addition to not getting the effect you expect, your stereo system might just not hold up.
Input options
It is probably the most important factor. After all, it means what kind of equipment you can connect to your stereo. Depending on your old or new equipment, you may need analog inputs (optical, coaxial, composite, and component), RCA (CD), a phono input for the record player, or USB and HDMI (for phones and video content). In my review, you will find the best stereo receivers, which are highly versatile due to the large number of different ports.
Audio formats
Stereo audio files can be of various types. The more your stereo receiver supports formats (MP3, MP4, FLAC, WAV, WMA, AAC), the better each will sound because they have differences in encoding and transfer sound to the right and left channels differently.
Built-in DAC
Well, this is an important component, but not all stereo DACs are of good quality. And built-in equipment is often inferior to external equipment. So if you're not picky and don't want the extra cost, pay attention to its availability.
Bluetooth and Wi-Fi connectivity
You may be surprised, but the more expensive a stereo receiver is, the fewer additional features it has. This is because the manufacturer focuses on sound quality; to improve it, they refuse to provide you with more options. However, suppose you are modern and want to use streaming services, eco-systems, and voice assistants without buying additional equipment. I recommend considering a universal stereo with Bluetooth and Wi-Fi in that case.
Best stereo receiver reviews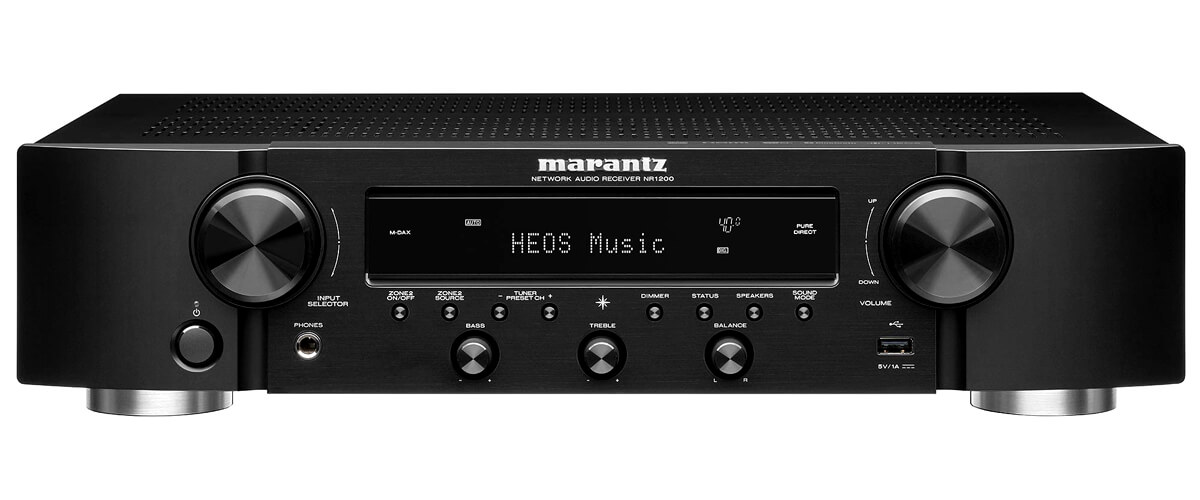 The first and most versatile stereo receiver on my list is the Marantz NR1200, released in 2019. It has a low power of 75W (8 Ohm, 20Hz – 20kHz, 0.08% 2ch), suitable for an apartment or a medium-sized room, especially since it is a slim design that will fit on any shelf.
Besides supporting Hi-Res Audio (lossy and lossless formats), the NR1200 can serve you not only to listen to music but also to enhance your video content experience. That's because it has 5 HDMI inputs (including 4K/60Hz and HDCP 2.3 support) and an HDMI output (ARC). In addition, it's the only stereo on my list that supports HDR10 and HLG video. It even has a 3D Signal Pass-Through feature. Isn't that cool?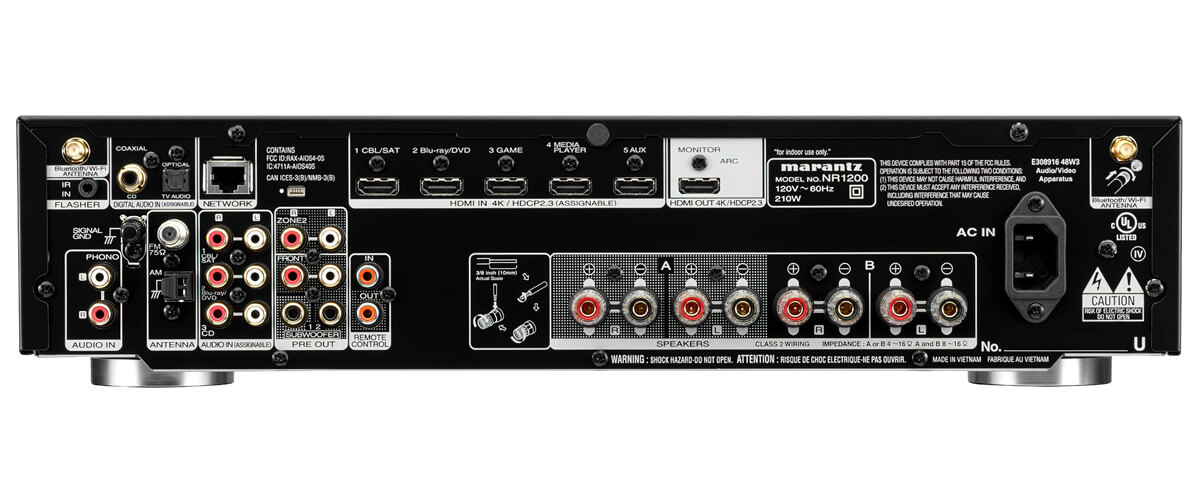 It also has a coaxial and digital optical input, Audio-In for CDs and Blu-ray DVDs, a phono input, a USB port, a headphone input, an Ethernet input, and two subwoofer outputs. I'm particularly excited about the latter because I love bass. Wireless connectivity (Wi-Fi, Bluetooth) includes built-in HEOS so you can listen to streaming services like Spotify, Deezer, or Pandora in any room with speakers. And the NR1200 also supports AirPlay 2 Audio Streaming and TuneIn Internet Radio. The disappointment with all this brilliance was that the stereo receiver had no AM/FM radio. I realize this may not be important to many people, but why isn't there one? I love the radio.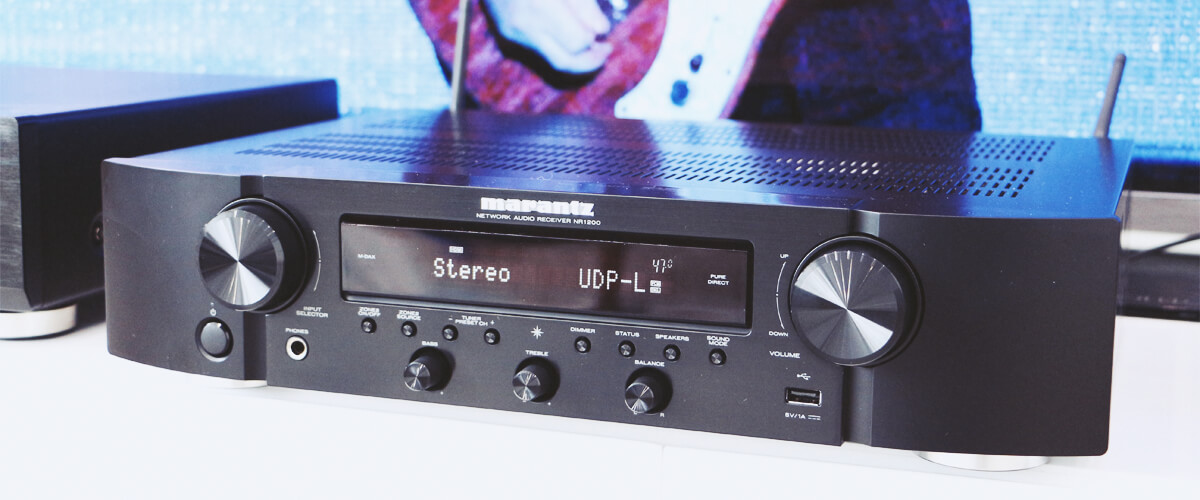 The sound of Marantz has never been in doubt for me. The brand has a reputation that doesn't need to be backed up by additional facts. And the Marantz NR1200 sounds just fine! AirPlay 2 has shown to work smoothly, but my main love is vinyl. Putting on a Garbage record, I heard a rich deep bass and precise middle frequency.
Is this a high-end stereo receiver? No. But the Marantz NR1200 is a versatile, mid-range stereo with support for high-quality formats that can provide an audio and video experience in your home at no extra cost. It's the best stereo receiver on my list, and it's designed for modern people who want to get the most for a sane amount of money.
Key specs
Channels: 2.1.
Power output: 75W/8 Ohm, 100W/6 Ohm.
HDMI inputs/outputs: 5/1.
Video functions: 4K/60Hz pass-through.
Bluetooth/Wi-Fi: yes/yes.
Streaming services: AirPlay 2, Spotify, TuneIn, Deezer, Tidal, Netflix, Amazon Prime.
Supports: HDMI ARC, HDMI eARC, HDMI CEC, HDCP2.3, 3D Signal Pass-Through.
Surround sound: no.
Pros
Versatility and a large number of connection ports.
Support for the latest audio formats.
Support for 4K video.
2 subwoofer outputs.
Cons
Small power compared to the competitors.
No AM/FM radio.
Yamaha R-S202 – budget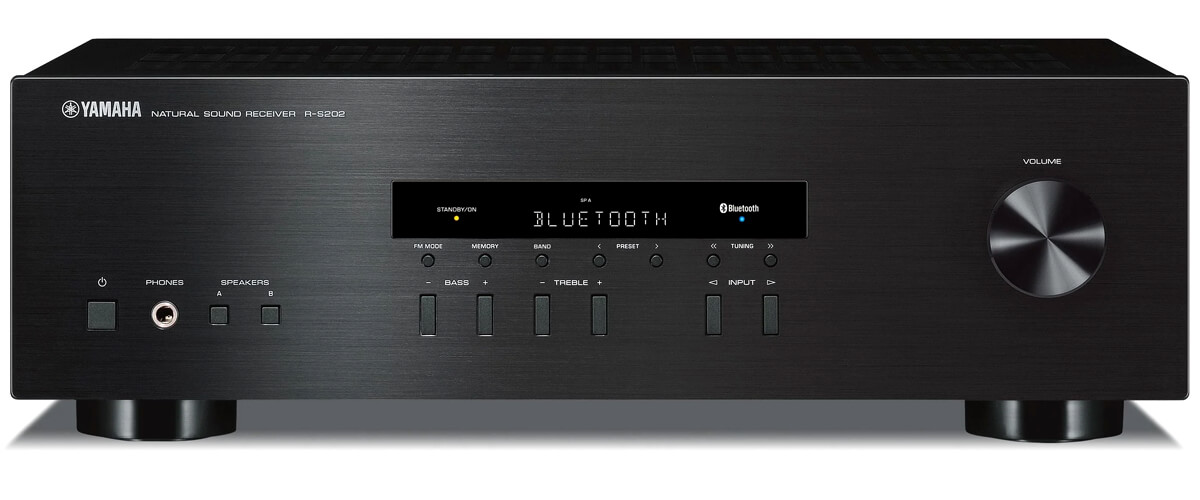 The 2016 Yamaha RS-202 model is a traditional stereo amplifier. What do I mean by that? First, it offers 100 watts (8 ohms, 40 Hz – 20 kHz, 0.2% THD). And that's more than the Marantz NR1200 does, even though this stereo costs literally pennies. Still, you can't expect it to fill a large room with quality sound at high volume for its price. I noticed a few distortion problems at maximum volume, and my system was just knocked out. So, keep yourself and the RS-202 within limits, and then it will give you a decent, unique, clean sound.
Second, a feature of the stereo receiver is that you can connect two pairs of speakers to it, as it has acoustic terminals. Honestly, I don't understand when a stereo receiver doesn't have a phono input (and there isn't one here), so that's a huge minus for me. After all, when it comes to music, I can't imagine it without using vinyl. So I connected my turntable with an external preamp through the line input.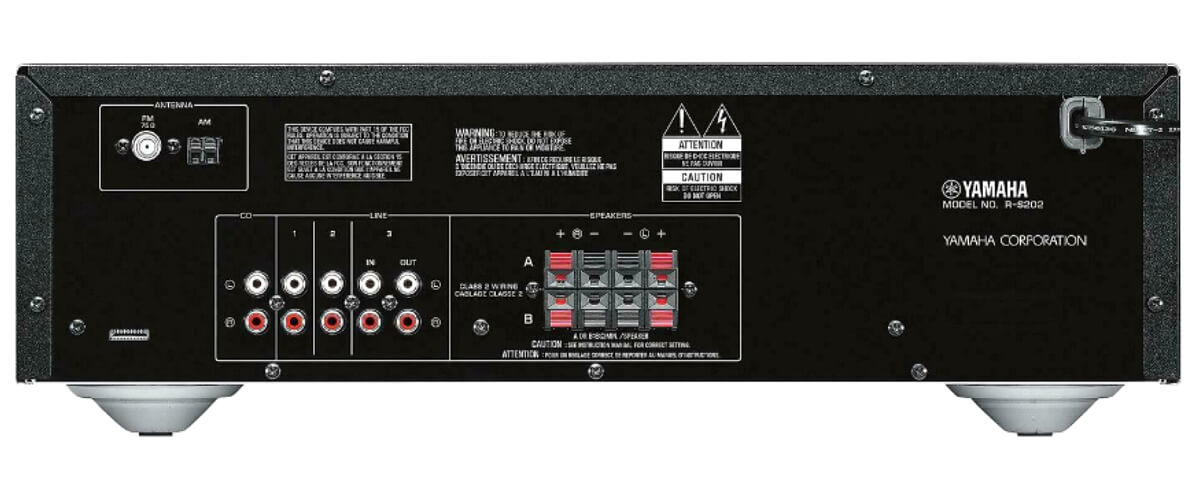 And third, of the extras, the RS-202 has Bluetooth for streaming music from a smartphone, an AM/FM tuner for 40 stations, and a headphone input. That's all, dear friend! This device has no more options. Everything is simple and straightforward, as it should be when discussing a budget device for a particular purpose.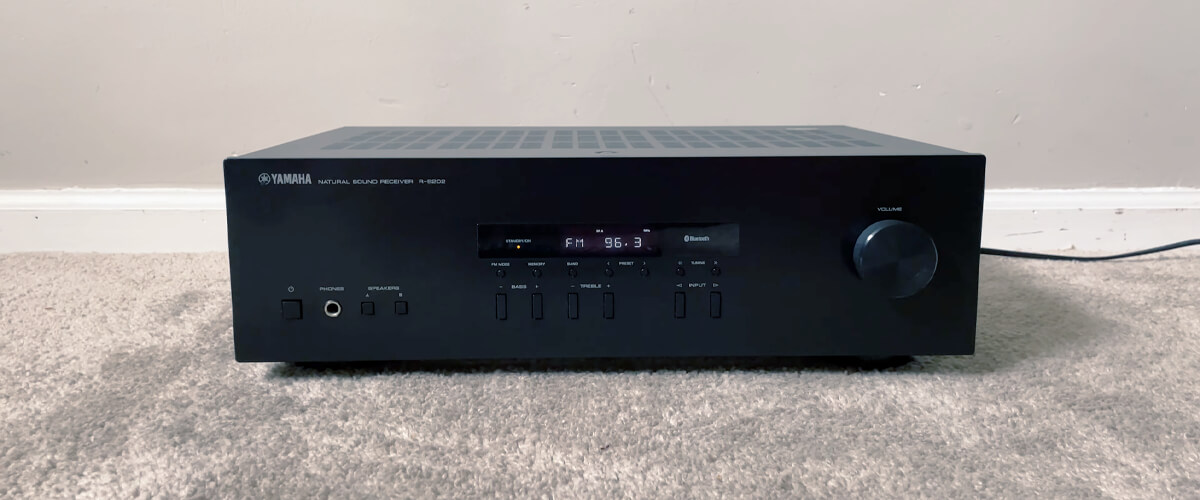 Great sound. Clean and transparent, a little cool, which is standard for Yamaha. I've plugged in a radio, Spotify via Bluetooth, and a vinyl player and found no glaring flaws in performance or sound. And while I prefer a warmer sound as I listen to rock and jazz, I like the RS-202.
I recommend the Yamaha RS-202 for users with a minimum of complaints and desires for versatility. That is, those who want amplified clear sound without much money and effort when installing and setting up a stereo system.
Key specs
Channels: 2.0.
Power output: 125W/8 Ohm.
HDMI inputs/outputs: 0/0.
Video functions: has not.
Bluetooth/Wi-Fi: yes/no.
Streaming services: has not.
Surround sound: has not.
Pros
The ability to connect two pairs of controllable speakers.
AM/FM tuner with 40 stations.
Bluetooth for streaming.
Decent clear sound with power for small rooms.
Cons
No Wi-Fi.
No phono input.
There are problems when using maximum volume.
Sony STR-DH190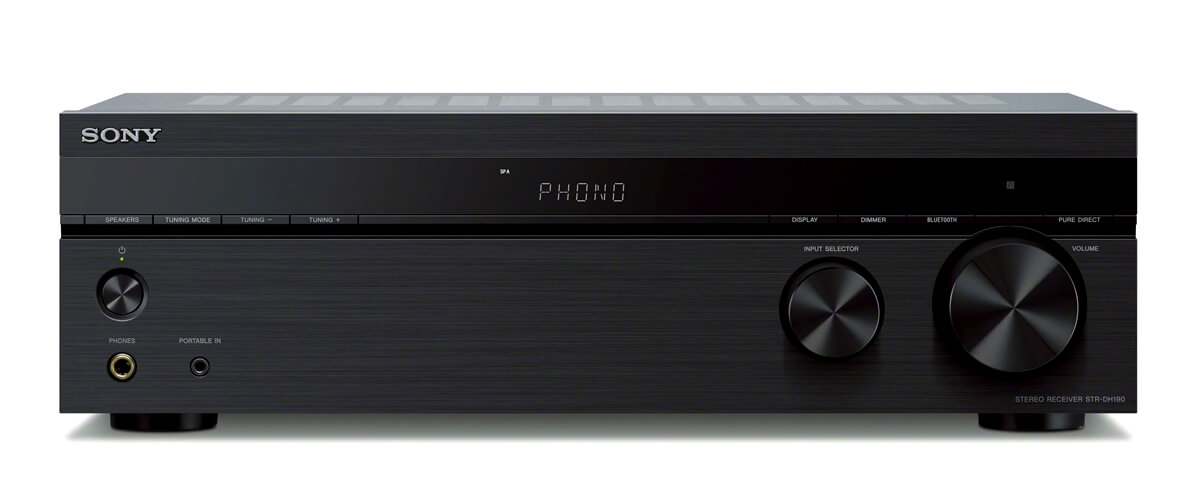 The next model on my list is the Sony STR-DH190, released in 2018. It is very similar to the Yamaha RS-202, so your choice between them will most likely come down to a preference for just the sound. And I'm not talking about quality in the sense of clarity, but structure. The Sony has a warmer enveloping sound overall. But there are a couple of other differences as well.
The STR-DH190 is a stereo receiver for music. It has the same power as the RS-202 and is 100 watts (8 ohms, 1 kHz, THD 1%), but it has a wider range of speaker compatibility from 6 to 16 ohms. The important point is that when you connect low-impedance speakers, the stereo receiver overheats! Be careful. Also, two pairs of speakers can be connected to the Sony.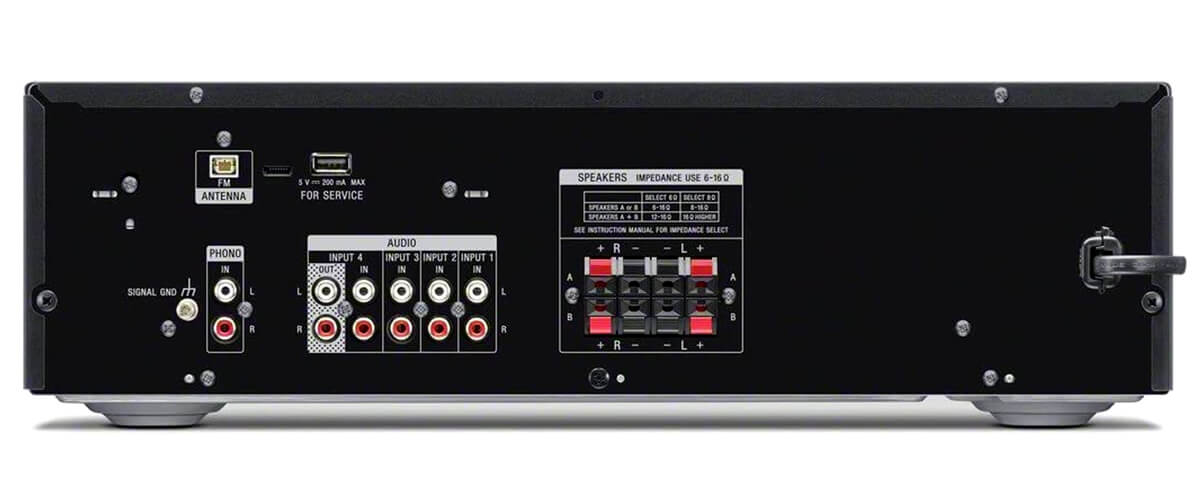 In terms of connectivity, everything is also plus or minus similar. But the Sony STR-DH190 has a phono input, thank goodness. You'll also find analog inputs, a USB and headphone output, Bluetooth wireless connectivity (with a Stand-by option), and an FM antenna. Unfortunately, like the Yamaha, there is no Wi-Fi.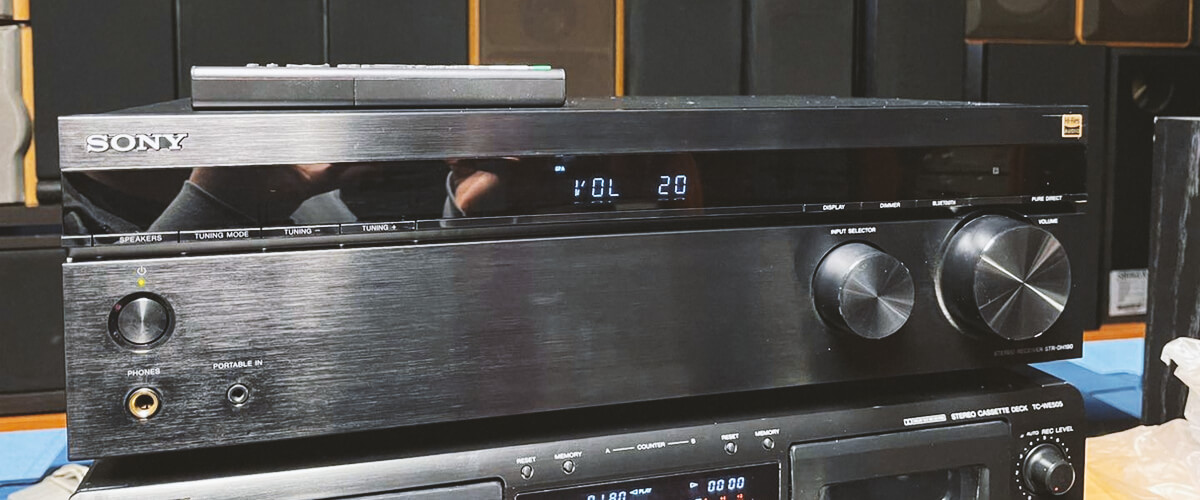 When I connected a CD player with Muse music, I heard great deep bass, pretty good mids, and treble, among which the vocals were audible. Sure, it's not high-end equipment, but it works great with all genres and sources. The stereo receiver made me forget about the time I was testing it. Although toward the end, I noted its overheating, but not critical. So it's best to set it up in a place with good ventilation.
The Sony STR-DH190 is a good budget choice with basic options for music connoisseurs without over-the-top pretensions. It is easy to operate, gives you a good experience, and is the backbone of your home audio system.
Key specs
Channels: 2.0.
Power output: 100W/8 Ohm.
HDMI inputs/outputs: 0/0.
Video functions: has not.
Bluetooth/Wi-Fi: yes/no.
Streaming services: has not.
Surround sound: has not.
Pros
Compatible with a wide range of speakers (6-16 ohms).
Presence of Bluetooth and FM radio.
Phono input for vinyl record player.
Good deep bass.
Cons
No Wi-Fi.
Overheats with prolonged use.
Onkyo TX-8220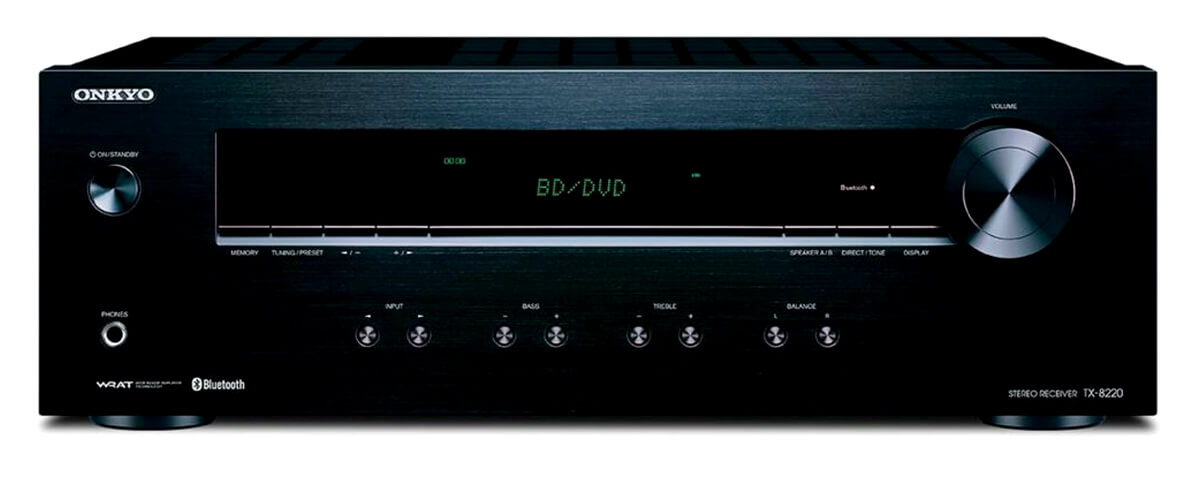 The Onkyo TX-8220 also falls into the category of traditional, simple, and inexpensive devices. This model, released in 2017, also has options similar to Yamaha and Sony and is a simple stereo receiver for reasonable money with 192K/24 Bit DACs (like the Marantz) for listening to high-quality formats.
You can connect two pairs of speakers, BD/DVD players, a turntable (MM), analog inputs, and optical and coaxial inputs. I also connected my PC through Bluetooth, and you can do it from your phone. Yes, there is no Wi-Fi. How did you guess? And there's also no USB. But there is FM radio.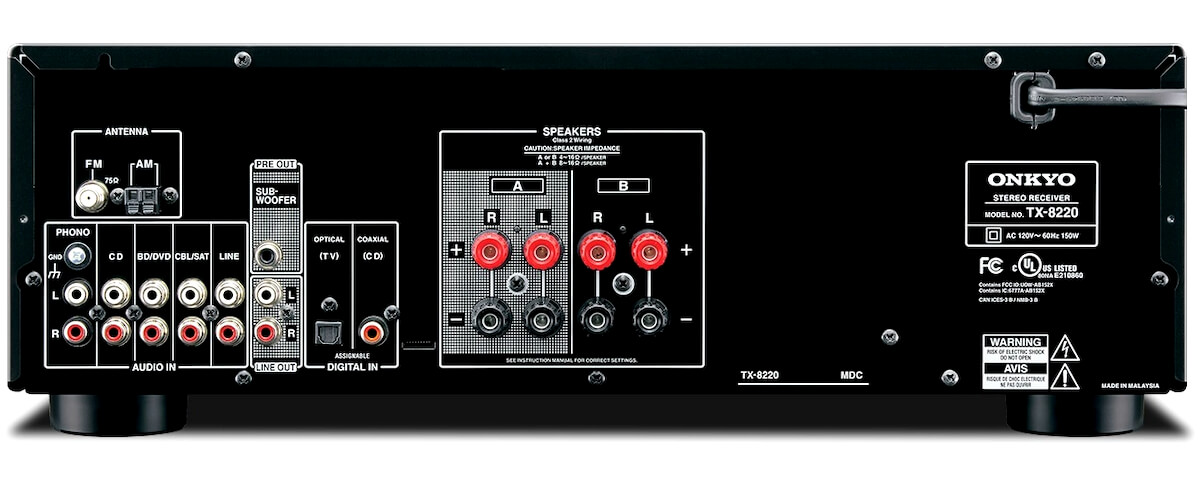 The TX-8220 is inferior to the Yamaha RS-202 and Sony STR-DH190's claimed power, offering 80W (8 Ohms 20-20kHz, 0.08%, 2 Ch). But I wouldn't make that a disadvantage, as those models can't be listened to at maximum volume; they give off interference. Onkyo, on the other hand, is honest about the capabilities of their product. And I'm all for honesty.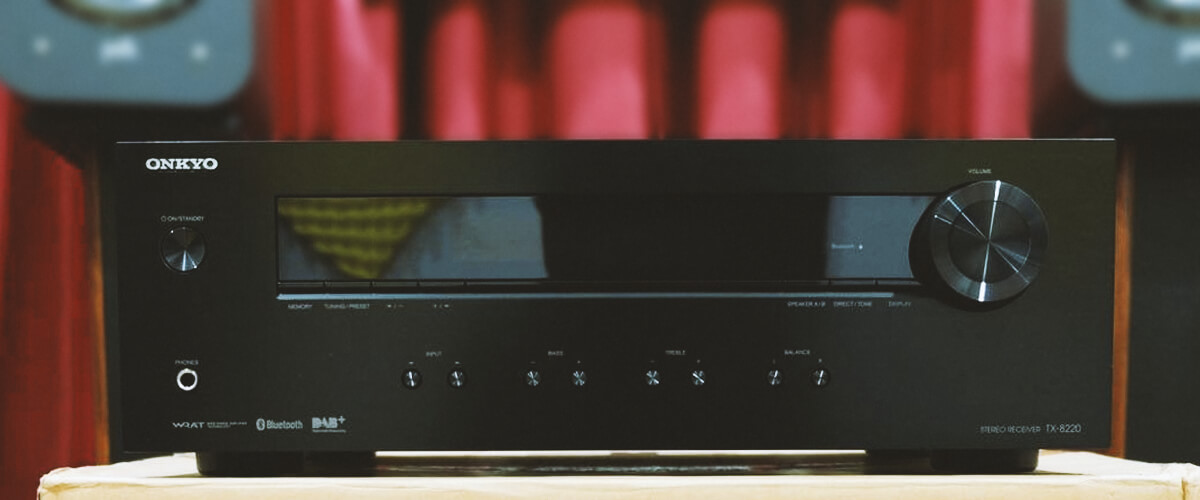 The Onkyo is a bit more expensive than its mates, but I understood why when I hooked it up to the turntable. I liked the analog sound better than the Yamaha or Sony. It's warm, realistic, and as clean as it should be with vinyl. My old Eurythmics record made me reflect on my youth, and I sang along for an hour. The Bluetooth version 4.1 also performed beautifully, and I listened via PC to YouTube Music for a very long time as well.
The Onkyo TX-8220 is the best two-channel receiver among the traditional inexpensive models. It has a high level of analog and digital sound, fairly extensive technology connectivity options, and wireless connectivity, which means it can be a worthy foundation for your home audio system.
Key specs
Channels: 2.1.
Power output: 45W/8 Ohm, 100W/6 Ohm.
HDMI inputs/outputs: 0/0.
Video functions: has not.
Bluetooth/Wi-Fi: yes/no.
Streaming services: has not.
Surround sound: has not.
Pros
Pretty extensive source connectivity options.
Built-in 192K/24 Bit DACs like the expensive Marantz.
Bluetooth version 4.1 works very well.
Great analog vinyl sound.
Cons
No USB.
No Wi-Fi.
Less power than competitors.
Cambridge Audio AXR85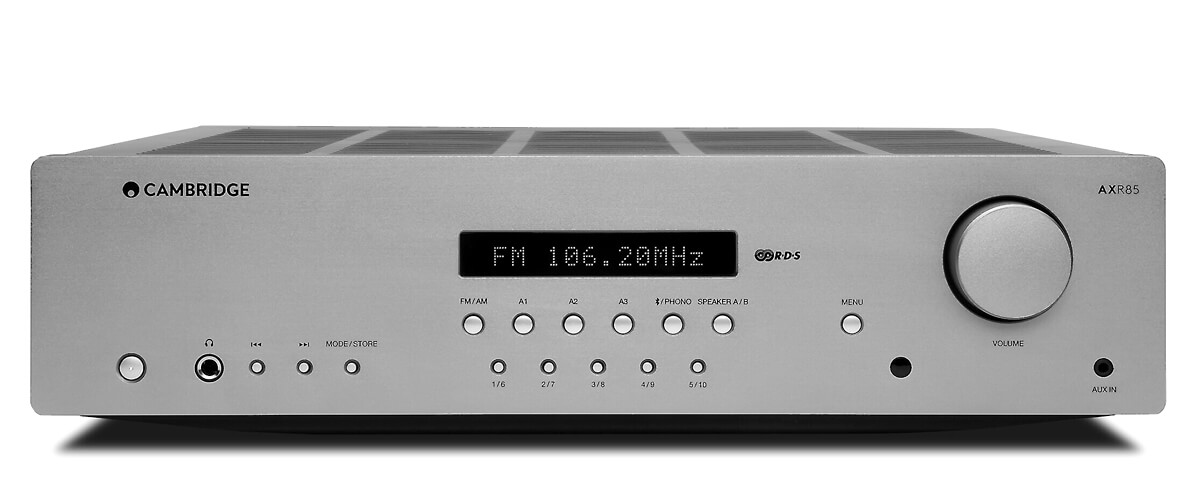 Last, I present the Cambridge Audio AXR85 entry-level audiophile stereo receiver in my review. I could compare it to the Marantz NR1200, but they are only similar in that they were released in 2019. This model is not universal and is not for video content, but it is a Hi-Fi receiver exclusively for music.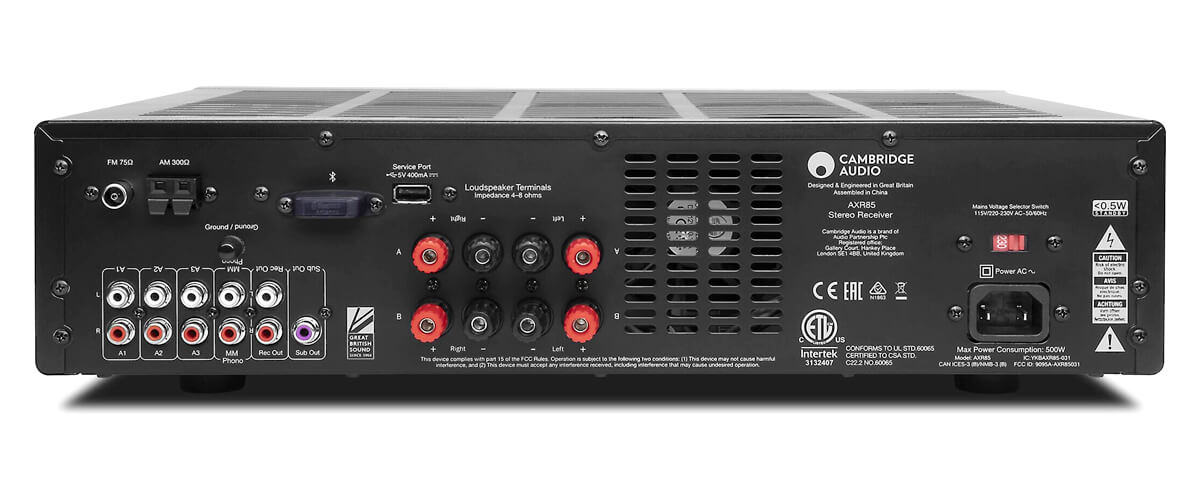 And although it is more like Yamaha, Sony, or Onkyo, because it can connect two pairs of speakers (as well as a separate subwoofer), it has fewer connections, but each is of higher quality. The brand is famous for producing high-quality equipment and has established itself on the market with the slogan "pure English sound". You'll find three analog inputs, a phono preamplifier for MM turntables, a 5V USB, a headphone output, a full-fledged Aux jack, a recording output, and Bluetooth 5.0. And, of course, it supports Hi-Res audio formats with 192k/24-bit and has an AM/FM radio. But it also doesn't have Wi-Fi.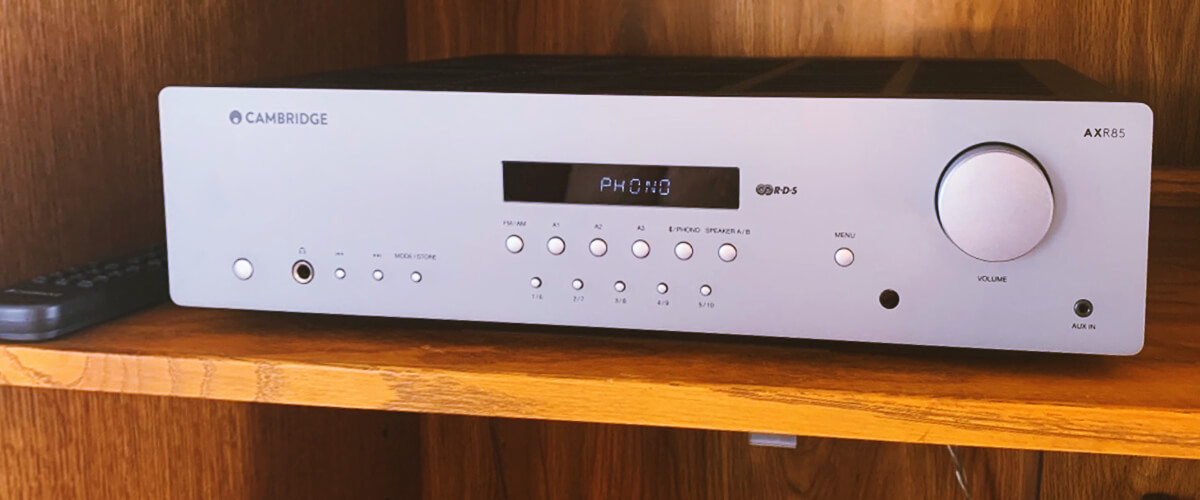 The power of the Cambridge Audio AXR85 is also like the Onkyo – not very high and is 85W (0.15%, 20Hz – 20kHz, 2 ch). And its overall frequency range is 5Hz – 50kHz. Since the model assumes the so-called English sound, it was logical to choose the music legend The Beatles, which I did. Let me tell you honestly; this is really another level of audio equipment. For its rather low price, the stereo receiver provides concert sound with clear and distinct frequency separation, as if you could hear each instrument separately. But the bass was not satisfactory to me; it was poor, and I was a little disappointed by this fact. I like a more powerful response, but that's a matter of taste.
The Cambridge Audio AXR85 is the entry-level Hi-Fi and the best 2.1 receiver on my list, providing great high-end concert sound at an affordable price. For those who care about realism, liveliness and are at the beginning of the audiophile's journey to becoming an audiophile, this is an excellent choice at a reasonable price.
Key specs
Channels: 2.1.
Power output: 85W/8 Ohm, 100W/6 Ohm.
HDMI inputs/outputs: 0/0.
Video functions: has not.
Bluetooth/Wi-Fi: yes/no.
Streaming services: has not.
Surround sound: has not.
Pros
Built-in preamp for vinyl turntables.
Separate subwoofer output and 2 speaker pairs are available.
Bluetooth function for streaming services.
Built-in FM/AM tuner.
Cons
No built-in Wi-Fi.
Poor bass.
FAQ
What is the difference between a stereo receiver and a home theater receiver?
The difference between a stereo receiver and a home theater receiver is that the former is intended exclusively for audio. The second includes video capabilities and can provide surround sound when watching content, as well as additional functions (voice control, multi-room, etc.).
Can I use a stereo receiver with different types of speakers, such as bookshelf, floor-standing, or in-wall speakers?
My answer to such questions is always, "Yes, you can". Because there are inputs and outputs, your hands can put the cable in the connector. But most importantly, will it work? Rear and in-wall speakers are usually for additional surround sound channels, and the main ones are fed to the front or floor speakers. So, since the stereo receiver only works with two channels, the right and left main channels, use the ones through which you will hear the sound.
What is the typical lifespan of a stereo receiver?
The typical lifespan of a stereo receiver is between 5 and 50 years. You may ask, "How is that? And I'll answer, "It's very simple. It all depends on how you treat it". With proper care and timely replacement of parts, your equipment can last a very long. You've probably heard of vintage or retro stereos, right?