In this Yamaha RX-V4A review, I want to tell you about my test experiences with one of this famous brand's most inexpensive AV receivers. Of course, it doesn't come to replace any existing model, although it does resemble the RX-V485 in many ways. Therefore, it is easiest to compare the device to the next, more expensive RX-V6A. But is it worth the overpayment? In fact, most of us will be satisfied with what the V4A offers. Let's make sure of that.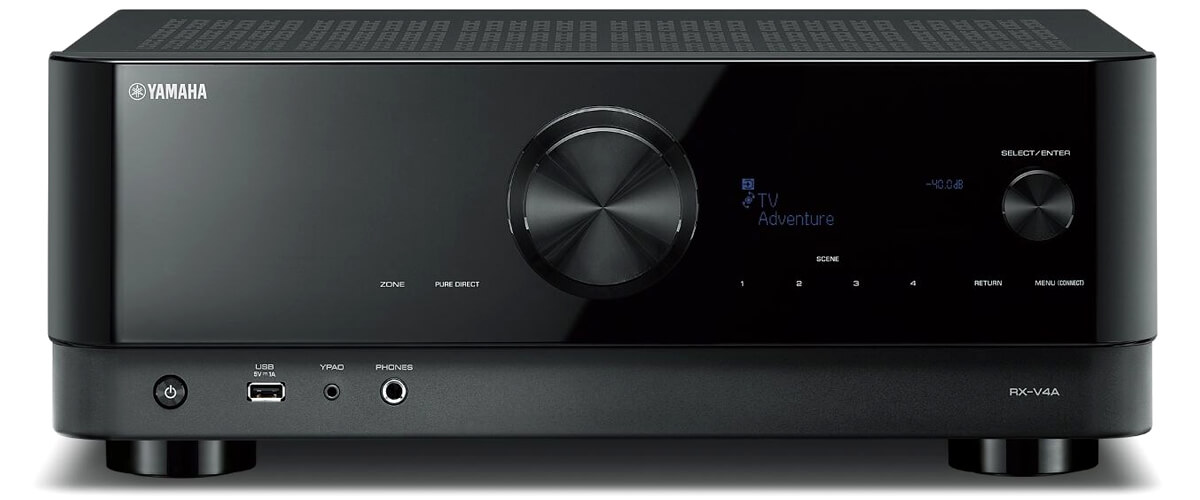 I love the way it looks. RX-V4A is minimalist and stylish. The rounded edges make it look delicate and very modern. The glossy front panel has two round controls, and… that's it! The Master Volume is in the center, and Select/Enter, which is smaller, is on the right. And only below the LCD you will find the USB, YPAO, and Phones jacks. Really, why do you need all these buttons when you have a remote control? Only to slap on all that shiny gloss.
The dimensions are also different from previous models, including the RX-V485. The new model is slightly larger. They are 17-1/8″ x 14-7/8″ x 9-5/8″. By stacking the antennas horizontally, the height can be adjusted to 6-3/4″. So if you've had time to freak out, relax.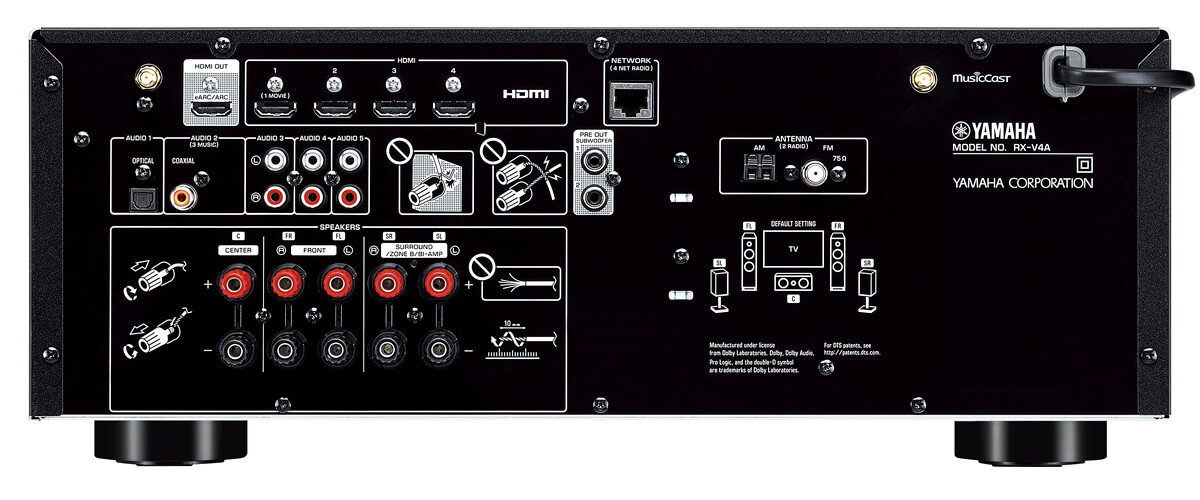 Yamaha RX-V4A features are rather good, although initially, it is clear that it is a rather simple standard receiver. Yes, it is not a 7-channel like the RX-V6A. This unit has 5 channels with 145 watts (6 ohms, 1 kHz, 0.9% THD, 1 ch) or 80 watts (6 ohms, 20 Hz-20 kHz, 0.09% THD, 2 ch) of output power.
It does not support Dolby Atmos or DTS:X, unlike the Yamaha RX-V6A. So think about whether Dolby TrueHD and DTS-HD Master Audio are enough for you. For me, it is certainly not enough, but on the other hand, there is no need to bother with additional speakers and keep in mind the level and price of this device.
The video properties are almost identical to the V6A. The RX-V4A has the Cinema DSP 3D system, which according to the manufacturer, can provide theatrical sound. It is also compatible with modern formats, including HLG, HDR10, Dolby Vision, and HDR10+. Agree that this is not so bad.
The four HDMI inputs are capable of accepting 8K resolution signals as well as 4K / 120Hz, and they support HDCP 2.3. A fifth HDMI connector provides a direct ARC/eARC connection to a similar TV. There's VRR, ALLM, and QFT for smooth, dynamic play. This is standard but still more than enough for any modern user.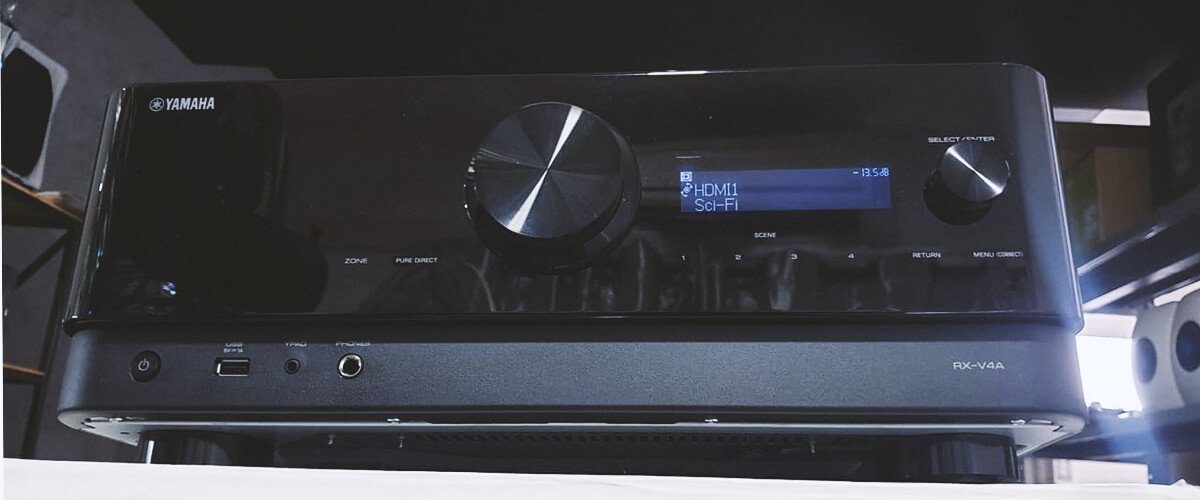 The RX-V4A specifications include the Yamaha Compressed Music Enhancer system. It literally takes MP3 files to a level close to High-Resolution Audio. The system also works via Bluetooth. In addition to conventional low-end audio formats, the receiver can play FLAC (192/24 bit), ALAC (96/24 bit), WAV/AIFF (192/32 bit), and stream DSD (up to 11.2 MHz).
Yamaha MusicCast saves you from unnecessary wires, as pairing is done through the wireless rear speaker feature. The same audio system controls Google Assistant or Amazon Alexa, and with AirPlay 2 you can stream music from your Apple device using Siri. And, of course, there's Wi-Fi and AM/FM Tuner.
The YPAO calibration is easy to handle, so it didn't take much effort or time to calibrate. And to try out the surround sound, I chose Arrival because it's a great demonstration of the unhurried soundtrack, with the changes from quiet to loud, the stretching sounds, the "vacuum" shooting (as if in a bottle), and the humming of the "voices" of the aliens. Overall, I was left pleased. There was a complete sense of realism to what was going on. When the volume changed, I did not notice any distortion, wheezing, or grinding. Good bass, but of course, it is inferior to more expensive models. If this bothers you, you can simply plug in a subwoofer.
Key specs
Channels: 5.2.
Power output: 80W/6 Ohm.
HDMI inputs/outputs: 4/1.
Video functions: 8K/60Hz, 4K/60Hz, 4K/120Hz, upscaling to 4K.
Bluetooth/Wi-Fi: yes/yes.
Streaming services: AirPlay 2, Spotify, TuneIn, Deezer, Tidal, Netflix, Amazon Prime.
Suppots: HDMI ARC, HDMI eARC, HDMI CEC, HDCP2.3, HDR10, HDR10+, Dolby Vision.
Surround sound: DTS HD Master, Dolby TrueHD, Dolby Digital Plus, Cinema DSP.