I proudly introduce to you the Yamaha RX-A8A review. It is the flagship and, therefore, the most expensive and advanced receiver from the company, as well as a representative of the RX line. There are four models in total in this series, and as the number in the model name increases, so do its channels and features. For example, the RX-A6A has 9.2 channels, while the present RX-A8A has 11.2. It means that all the Dolby Atmos surround sound delights are available to you. And you'll also need a bigger room to accommodate all those speakers. But the sound experience will be incredible! So let's take a closer look at this receiver.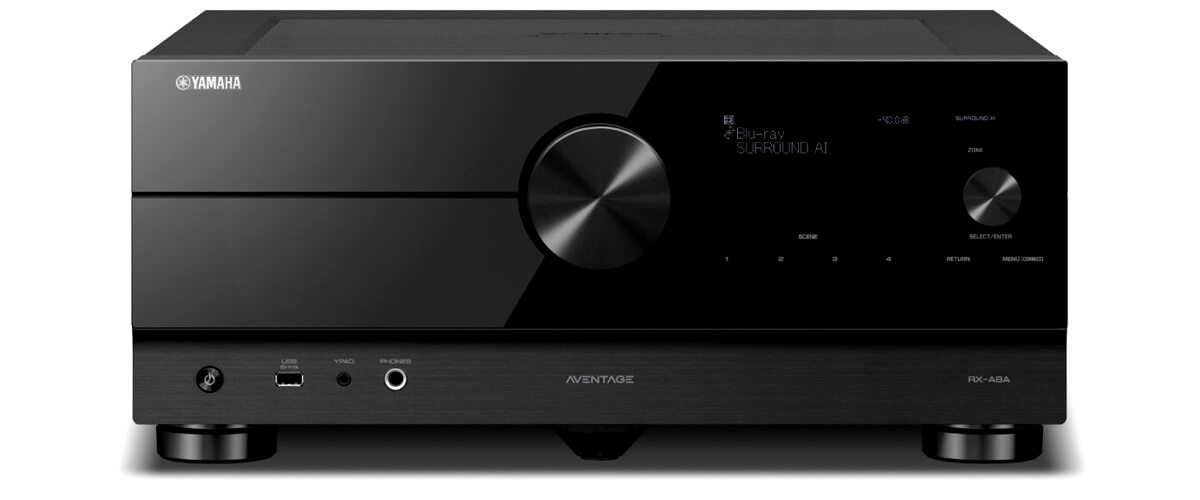 All four members of the RX line are similar and look simply stunning. The glossy front panel with the Volume control in the middle, the built-in LCD and the small Source Select control on the right side, and just a few touch functions look chic to my taste. The remote control does the rest. Anti-resonance is further ensured with a fifth foot in the center front on the bottom of the unit, so the Yamaha RX-A8A is not afraid of either internal or external vibrations. That said, the dimensions of the receiver are quite impressive (17-1/8″ x 7-1/2″ x 18-3/4″, and with the antenna up 17-1/8″ x 10-5/8″ x 18-3/4″), and it weighs 47.2 lbs. So be prepared for this to be a stylish design element in your living room.
When you're faced with choosing a premium receiver, you should expect a lot, or even everything, that's available today. And the RX-A8A specifications are certainly capable of impressing. For example, its THD value at 150W rated power (8 ohms, 20Hz-20kHz, 0.06% THD, 2ch). That's a very clean sound for such a system, and it usually distinguishes expensive receivers from budget ones. It's also capable of streaming audio to Zone 2/3/4.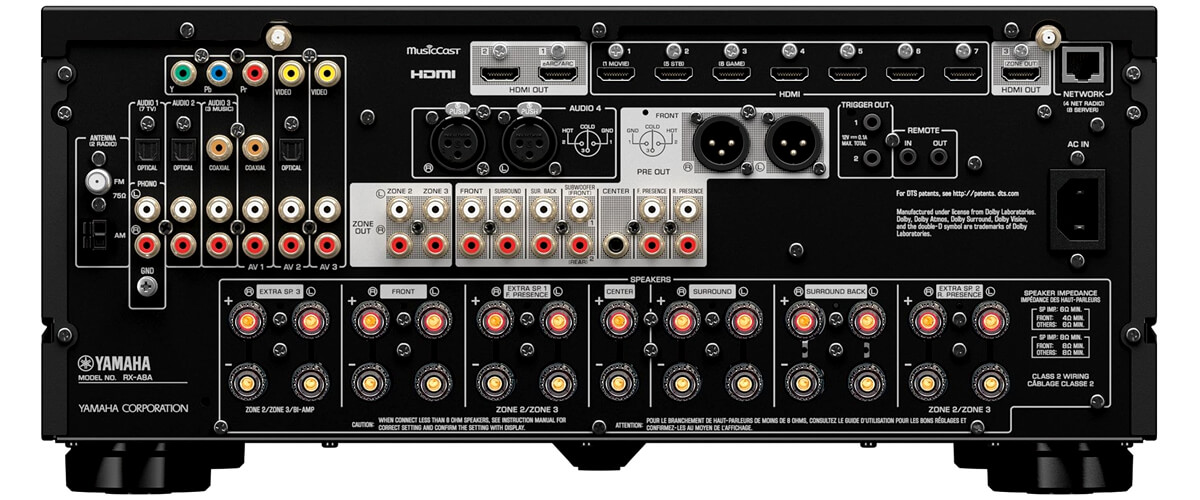 Key Yamaha RX-A8A features are compatibility, support, and handling of surround sound audio formats such as Dolby Atmos (with Dolby Atmos Height Virtualization) and DTS:X (with CINEMA DSP HD3), Auro 3D as well as many others (mostly older formats). That is, you can watch and listen to almost anything that exists today as content. However, the receiver, for example, does not have the option to support IMAX in case that's important to you. But support for so many modern (and not only) surround sound formats makes me confident that the receiver will last you for years.
Accordingly, the availability of Wi-Fi, Bluetooth, MusicCast multi-room audio, AirPlay 2, and Spotify Connect wireless connections provide streaming services, including Pandora, Spotify, Napster, SiriusXM, TIDAL, Deezer, Qobuz, Amazon Music HD, throughout the home for all users. The receiver also works with Amazon Alexa, Siri, and Google Assistant voice assistants.
Yamaha RX-A8A wired connections include the ability to connect older equipment (there are Composite, Coaxial, Optical, and Analog inputs), a vinyl player (Phono input), and an XLR Terminal. As for the main port of all HDMI receivers, we have 7 inputs (HDMI 2.1) and 3 outputs (HDCP 2.3, ARC/eARC, CEC). So you can play high-quality video games (with ALLM and VRR support) and enjoy HDR10+, Dolby Vision, and Hybrid-Log Gamma movies at 4K/120 and 8K/60 resolution. As of today, you couldn't wish for more.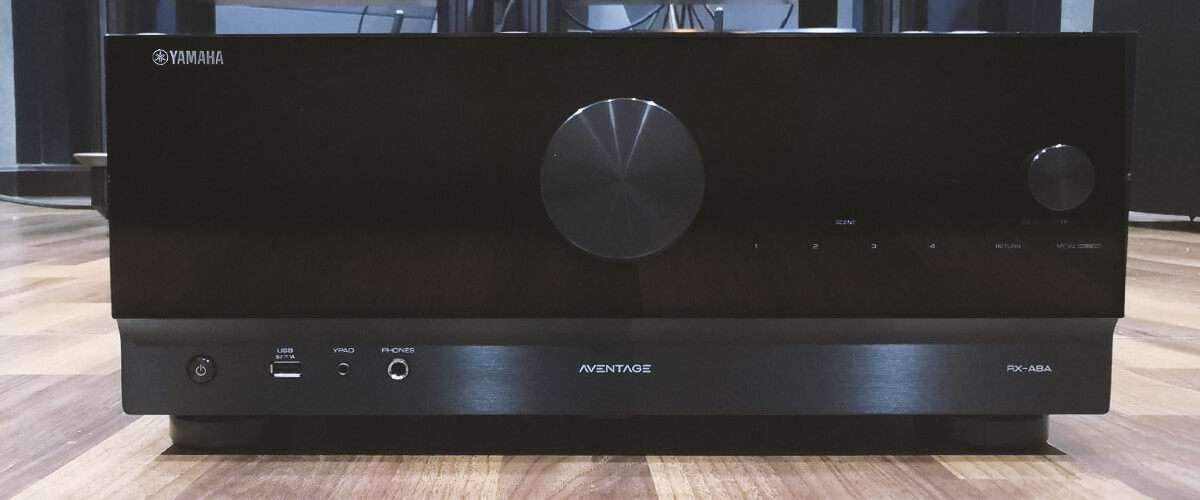 Yamaha has a YPAO – R.S.C. calibration system with 3D, multipoint measurement, precision E.Q., and low-frequency mode. I use it during testing with pleasure because it requires no effort. Everything works automatically.
For testing, I had to choose a film with a dynamic audio range and enough dialogues to test the claimed power, clarity, and definition on many audio tracks, so I opted for The Hobbit: The Desolation of Smaug. My choice paid off as I cringed in my chair at the sound of gold coins crumbling and the approaching silhouette of Smaug. It's a post-exciting clear, penetrating sound!
I also checked out the turntable, and it was great! But I think I'll leave the description of my dancing to ABBA offstage.
Key specs
Channels: 11.2.
Power output: 150W/8 Ohm.
HDMI inputs/outputs: 7/3.
Video functions: 8K/60Hz, 4K/60Hz, 4K/120Hz, upscaling to 8K.
Bluetooth/Wi-Fi: yes/yes.
Streaming services: AirPlay 2, Spotify, TuneIn, Deezer, Tidal, Netflix, Amazon Prime.
Supports: HDMI ARC, HDMI eARC, HDMI CEC, HDCP2.3, HDR10+, Dolby Vision.
Surround sound: DTS HD Master, DTS:X, DTS Virtual:X, Dolby Atmos, Dolby TrueHD, Dolby Digital Plus, Dolby Surround, Surround:AI, Cinema DSP, YPAO, Auro 3D.