In 2021, the company released its Aventage series led by the RX-A8A, but this Yamaha RX-A6A review will talk about the second model in the line, which is slightly, but still different from the flagship. It has a precise sound, is well-equipped, versatile, and forward-looking, and therefore competitive for its price category. I am confident that the RX-A6A will appeal to those who appreciate Yamaha's high quality. After all, the receiver is the backbone of your home system. Let's get started.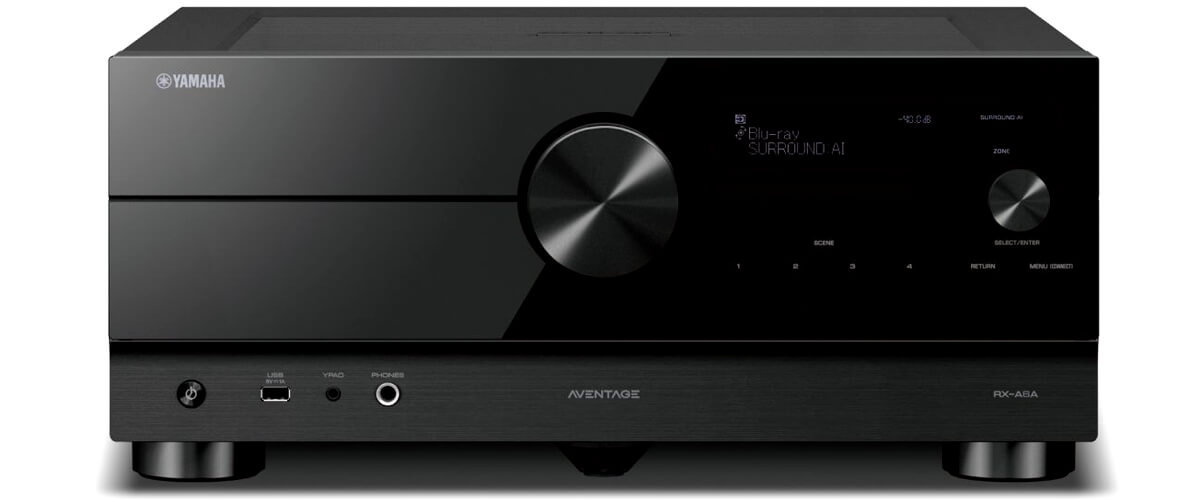 All models in this line look the same – a monolithic, glossy, elegant construction weighing 41.2 pounds and measuring 17-1/8″ x 10-5/8″ x 17-3/8″, which can be slightly reduced (in height to 7 1/2″) due to the ability to mount the antennas horizontally. Minimalism throughout; apparently, that's how they think at Yamaha because the front panel looks almost empty but beautiful. In the center, there is a large round Volume control, to the left of which you will find the Select/Enter control and a text LCD, which I found not as handy as, say, in Denon, where it is located in the center. But I guess it's a matter of taste and habit. On the right side of the bottom panel, you'll find a 6.3 mm headphone jack, a USB-A port with 5V charging, and a mini-jack for the Yamaha YPAO auto-calibration microphone.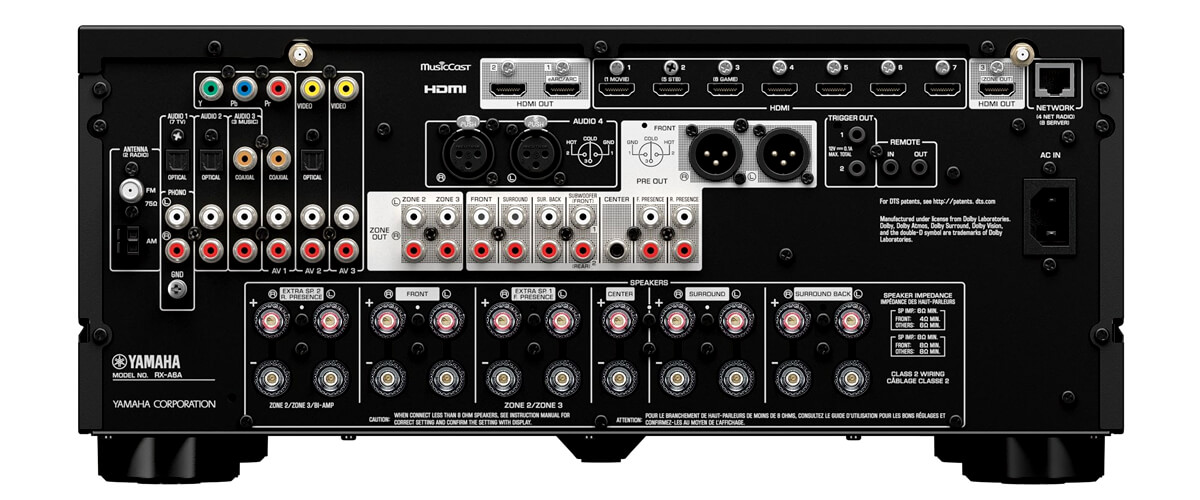 Yamaha RX-A6A features include 9-channel amplifiers at 150 watts per channel (8 ohms, 20Hz – 20kHz, 0.06% THD, 2ch driven), by the way, like the more advanced RX-A8A. But there are also terminals for two more. So if you want to build a 7.2.4 system, just use the line outputs.
You will surely appreciate the multi-room option. It allows you to add up to three additional rooms to the main zone. You can create configurations of 5.2 + zone 2 + zone 3 or 7.2 + zone 2 + zone 3 if you use an external amplifier.
Many system settings can also be accessed from an external device on the same network using the AVR's IP address or the Yamaha MusicCast app. It allows you to stream music in hi-res and lossless formats, including Apple Lossless (ALAC) up to 96 kHz, WAV, FLAC, and AIFF up to 192 kHz, as well as integrated playback from services including, Amazon Music, Spotify, Pandora, Napster, SiriusXM, Tidal, Deezer and Qobuz. The RX-A6A also supports AirPlay 2, Google Assistant, and Alexa voice control.
It has seven HDMI 2.1 inputs and three HDMI 2.1 outputs, with up to 40 Gbps with HDCP 2.3 and eARC support. Also, the receiver has Wi-Fi, a USB port, Bluetooth 4.2 (SBC / AAC), 2 subwoofer outputs, and a Phono (MM) input. As you can see, its connection options are quite extensive.
You'll appreciate the support for the latest Dolby Atmos, Auro-3D, and DTS:X surround sound formats with CINEMA DSP HD3 when watching movies and umpixing technology such as Dolby Surround and DTS Neural:X. Yamaha is clearly in step with the times, sometimes even ahead of them.
It's impossible to list all RX-A6A specifications in one short review. Exploring them in the Manual will take some time, but you will love it!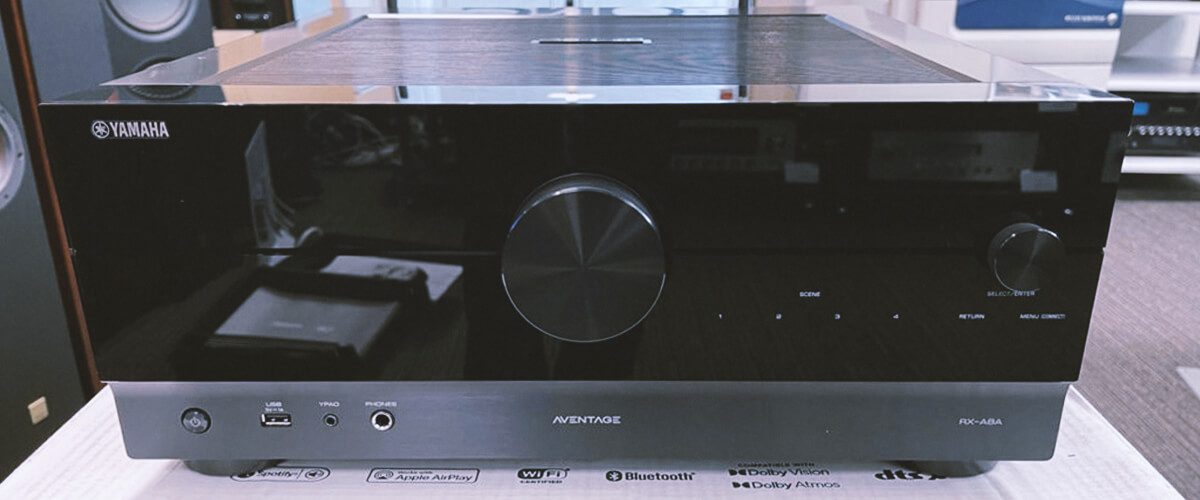 When talking about impressions of the receiver's sound, you always realize that they are individual and depend on the taste and other devices of the whole multimedia system. That's why the developers came up with a great solution – auto-calibration. And in the case of the Yamaha RX-A6A, its YPAO-R.S.C copes perfectly! So after spending a little time, I got the home theater surround sound I needed, which impressed me. Supreme! Clear, crisp, detailed, very realistic playback with no delays. Every word, every sound – all in its place. And I, by the way, watched Marvel.
Had a musical experience via Spotify listening to Fleetwood Mac and was left thrilled. Still, there's a reason Yamaha pays attention to the upper frequencies. I haven't been disappointed in its main function – sound. I am sure you will like its sound as well.
Key specs
Channels: 9.2.
Power output: 150W/8 Ohm.
HDMI inputs/outputs: 7/3.
Video functions: 8K/60Hz, 4K/120Hz, 4K/60Hz pass-through, upscaling to 8K.
Bluetooth/Wi-Fi: yes/yes.
Streaming services: AirPlay2, Deezer, Tidal, Pandora, SiriusXM, Napster, SoundCloud, Amazon Music, Amazon Music HD, Mood mix.
Supports: HDMI ARC, HDMI eARC, HDMI CEC, HDCP2.3, HDR10, HDR10+, Dolby Vision.
Surround sound: DTS HD Master, DTS Neural:X, Dolby TrueHD, Dolby Surround, Dolby Digital Plus, Dolby Atmos Height Virtualization, Dolby Atmos, Auro-3D.