My Yamaha RX-A2A receiver review is dedicated to the youngest device in the Aventage series. This is quite an interesting mid-range model, which has something to please a wide range of consumers. Let's not waste time and move on to the most interesting things.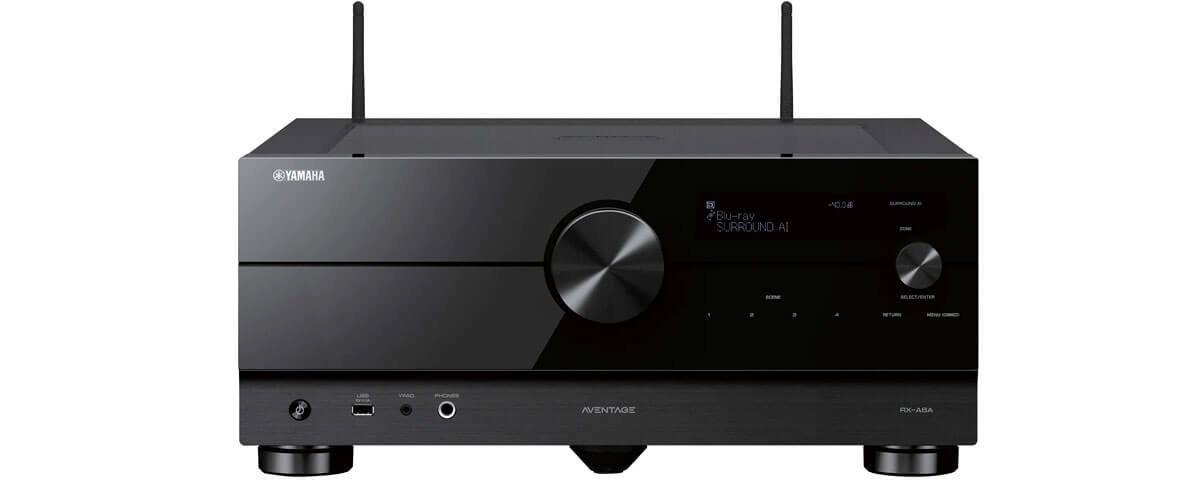 The Yamaha RX-A2A receiver is one of the smallest models of the Avantage series. It measures 17-1/8" x 9-5/8" x 14-5/8" and weighs 22.5 pounds. If you need to downsize the receiver a bit, you can rotate its antennas horizontally. Don't worry, it won't affect the receiver's connection signal.
As for the design of the device itself, it has an almost completely glossy front side. Unlike previous models, the volume knob is in the middle. On the right, you can find a slightly smaller knob that is used to navigate the display screen and select input sources. Above it, you can find small indicators for Zone and Pure Direct. On the right side, below the LCD, there are touch controls with four SCENE, Return, and Menu buttons.
At the bottom of the panel, you can find a round power button, as well as a USB port for external storage, a YPAO microphone input port, and a headphone jack. I can note that this receiver lacks a front analog stereo input.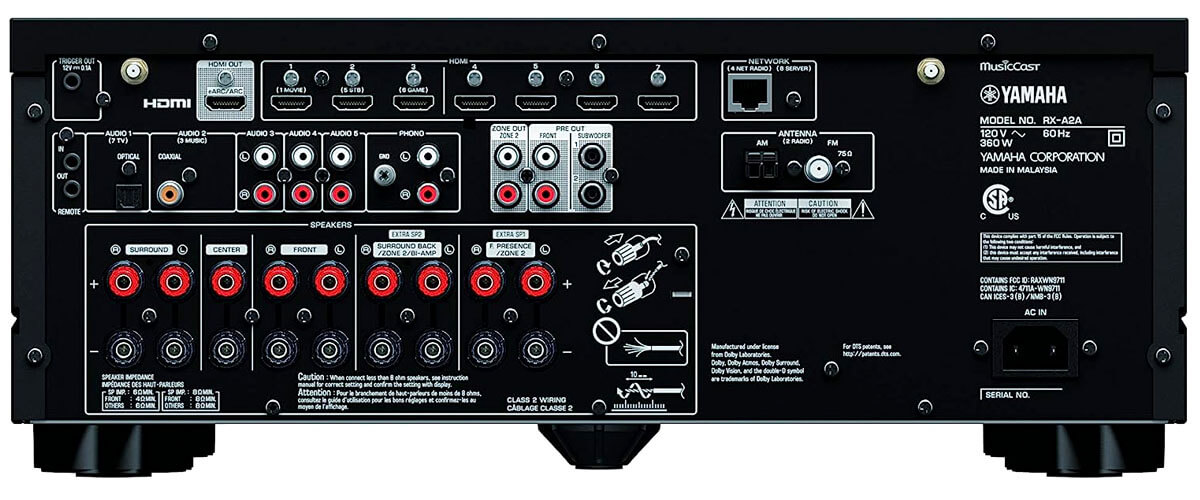 Let's continue talking about Yamaha RX-A2A specifications. It has 7.2 channel amplifiers, 100W (8 ohms, 20Hz – 20kHz, 0.06% 2ch drive).
To begin with, this receiver model supports MusicCast. With this, you can connect various MusicCast-enabled devices to the receiver. To do this, use the MusicCast Controller, which is available for both Android and iOS devices. In this variant, MusicCast and Airplay 2 not only create a multi-room environment but are also used to stream music online through various streaming services such as Amazon Music, Spotify, Pandora, Napster, SiriusXM, Tidal, Deezer, and Qobuz.
The device has seven HDMI 2.1 inputs and one HDMI 2.1 output with HDCP 2.3, eARC, and CEC. RX-A2A is equipped with built-in Wi-Fi that supports 2.4 and 5 GHz networks, as well as Bluetooth version 4.2. In principle, this is in most receivers, therefore, it cannot be called a change. It also has two subwoofer outputs and a rear Phono input.
The device supports Dolby Atmos and DTS:X surround sound formats with Cinema DSP ND3 technology. However, it may not be too good news for you that this receiver does not have Auro-3D.
These are just some of the main and most interesting Yamaha RX-2A2 features. And I turn to the most interesting part of the review, where I analyzed the sound of this model.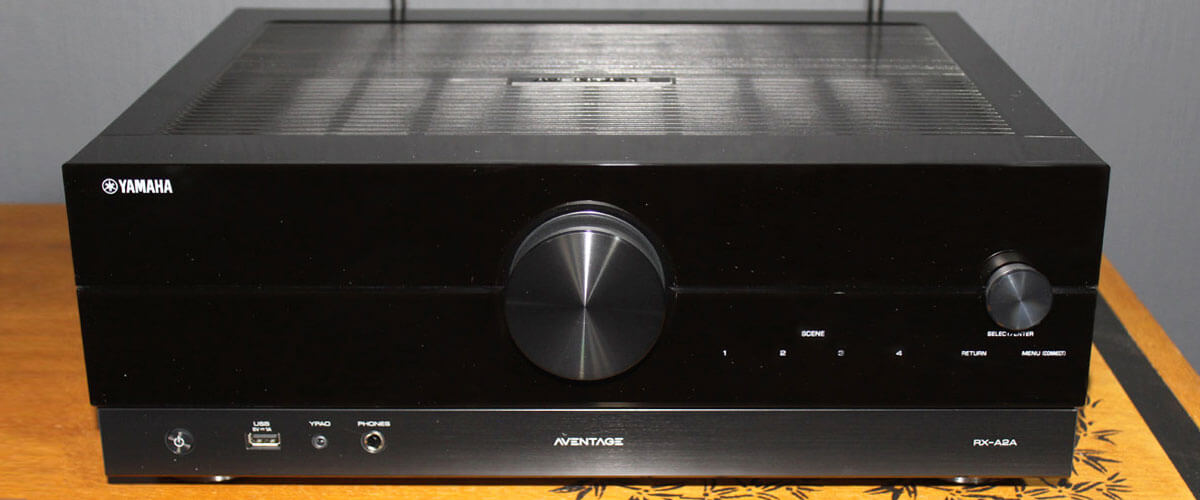 To check the receiver's sound while watching a movie, I used the movie "The Matrix". This is an ageless classic with lots of special effects and interesting dialogues. The sound experience was just amazing! The receiver has demonstrated the highest level of technical prowess, delivering superb sound quality and an immersive movie experience.
Thanks to the built-in automatic microphone calibration system, I got a perfectly balanced sound and optimal sound distribution in the room. Built-in amplifiers provide powerful, clear sound without distortion. This was especially important when playing fast-paced movie scenes such as fights or explosions. The receiver easily coped with transmitting energetic and detailed sound without losing any detail.
As far as music is concerned, this model performed perfectly in all my tests. I enjoyed every note, every instrument, and every vocal expression. The receiver reproduced music with superb dynamics and emotion, reproducing every sound with precision and clarity.
However, it is worth noting that in some cases, I noticed a slight brightness of high frequencies when listening to certain genres of music. However, with the help of the automatic calibration system and equalizer on the receiver, I was able to achieve a more balanced and pleasant sound.
Key specs
Channels: 7.2.
Power output: 100W/8 Ohm.
HDMI inputs/outputs: 7/1.
Video functions: 8K/60Hz, 4K/60Hz, 4K/120Hz, upscaling to 4K.
Bluetooth/Wi-Fi: yes/yes.
Streaming services: AirPlay 2, Spotify, TuneIn, Deezer, Tidal, Netflix, Amazon Prime.
Supports: HDMI ARC, HDMI eARC, HDMI CEC, HDCP2.3, HDR10+, Dolby Vision.
Surround sound: DTS:X, Dolby Atmos, DTS HD Master, Dolby TrueHD, Dolby Surround, Dolby Digital Plus, Dolby Atmos Height Virtualization.