In this Sony STR-DH590 review, I want to tell you about a budget receiver that left me with a good aftertaste. Sony tried their utmost and put their soul and everything you need to watch movies in good quality with surround sound at a simple, at first glance, device. I'm sure it will be interesting for those who are not looking for a receiver for a huge room and are not going to get ceiling speakers.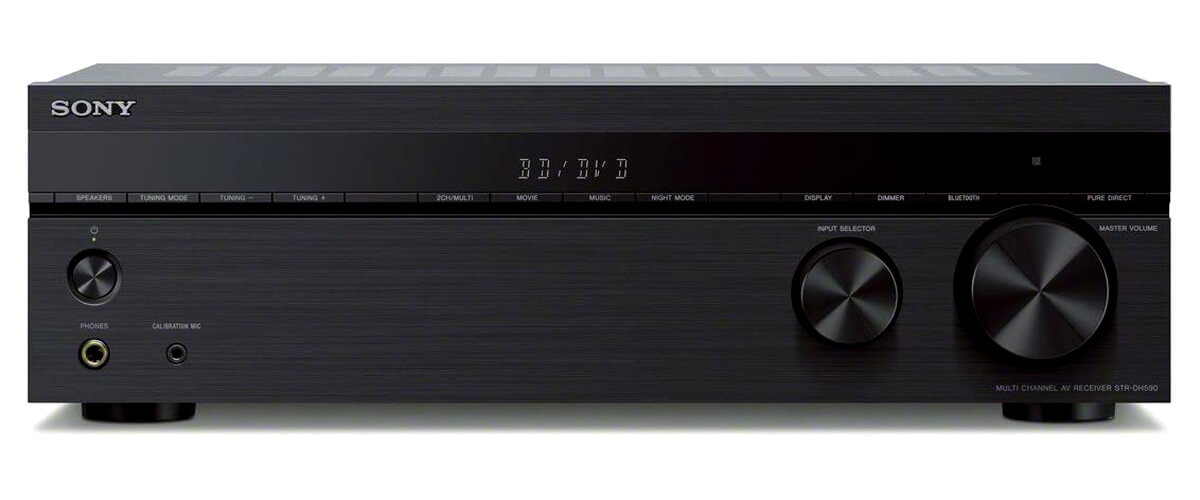 Sony has two basic designs for its AV receivers. The STR-DH590 represents the entry-level lineup, so it is not visually different from the STR-DH790, the next in the line. It has a minimalist design with very comfortable dimensions of 17″ x 5-1/4″ x 11-3/4″ and weighs 15.11 lbs. And if you, as well as I do, prefer your home theater to be in some sense portable, this is just a great size. The design is uncluttered, offering the usual Sony black metallic matte body with a small LCD screen in the middle, under which you can find the subtle oblong control buttons and the standard multi-sized round Volume and Input Selector controls on the right. And on the left is the Power button, two jacks for headphones, and a calibration microphone. Many will find it inconvenient that there are no other connectors on the front panel, including USB and HDMI, but I don't mind. It's simple, convenient, and not flashy in contrast to the impressive for its price Sony STR-DH590 features.
So, this is a simple 5.1-channel receiver. You will find the 5.2 in the name, which means that the unit has two subwoofer outputs, but they should be treated as one. In terms of power, the manufacturer claims 145 watts (6 ohms, 1 kHz, 0.9% THD, 1 ch) or 90 watts (6 ohms, 20 Hz – 20 kHz, 0.09% THD, 2 ch). For me, these are great specs because my home theater room is small, and my speakers are 6 ohms. If you have 4-Ohm speakers, don't rush to change them; by adjusting the volume, you can also use those.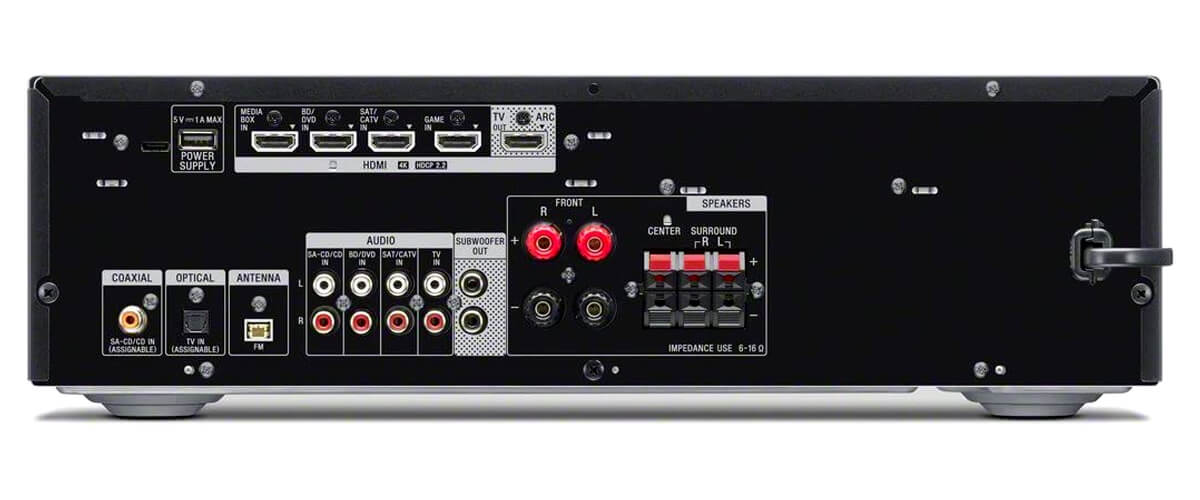 Everything is available for those who collect old equipment or have a vinyl player: one coaxial, one optical audio input, and four analog inputs. In addition, there is a standard USB Type-A port (only for charging).
Low price is always a bit of a compromise, so that you won't find built-in systems for wireless streaming in this receiver. However, your options are expanded with Bluetooth 4.2, so Spotify, Pandora, Chromecast, or AirPlay will be available through it.
Other connectivity options include four HDMI 2.0a inputs with HDCP 2.2 and one HDMI 2.0a output with ARC. Not much for a modern device, but excellent for a budget one. The DH590 decodes DSD, Dolby Digital, and DTS-HD Master Audio, and what else do you need for modern content? It's perfect for a system that doesn't support Dolby Atmos, which is still not an advantage among video enthusiasts.
Among its specifications, the STR-DH590 offers support for 3D, HDR10, HLG, and Dolby Vision and passes the 4K/60Hz 4:4:4 signal. All this combined is enough to enjoy almost all the latest formats among the available content. I don't know about you, but I'm thrilled with what I got for the ridiculous price.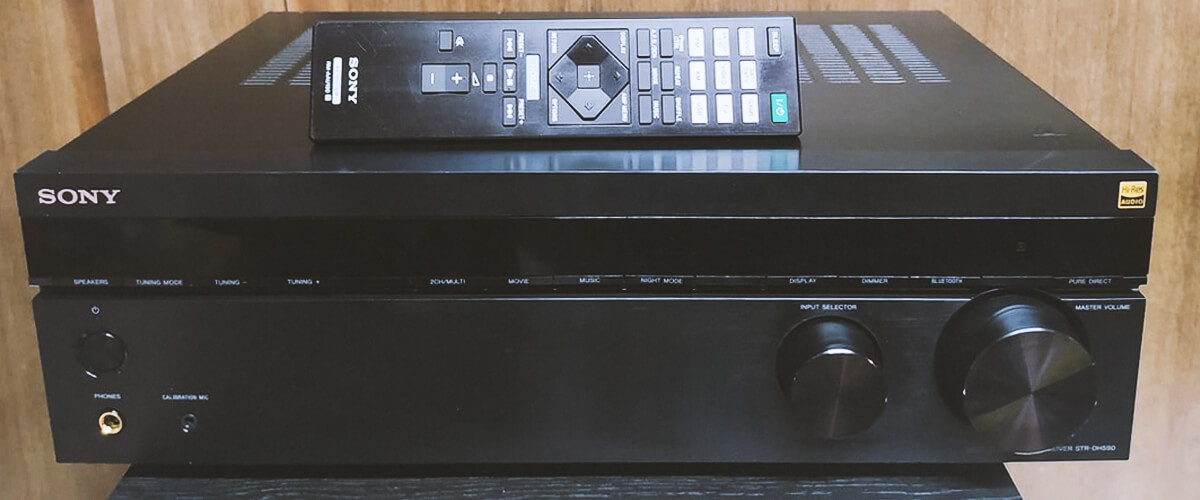 Despite some compromises, Sony has tried focusing on sound and video quality. I love Sony's sound, although I often hear and read that their technique does not convey enough warmth. It is true, but it doesn't embarrass me, as even with this budget receiver, I got the most out of listening to music, including using Bluetooth. I'm not a fan of having my smartphone involved in the process and having to be close to the receiver, but for the other benefits, it's a small sacrifice.
For the sound test, I chose the movie "Divergent". I like its atmosphere and dynamics, and in addition, it has a lot of special effects and different dialogues. A perfect candidate for the test. The sound is crisp and clear even at high volume, voluminous, moderately heavy, thick, and detailed. No delays, "jumps", smooth transitions, and excellent dynamics. The sound of pebbles flying from under the main character's shoes, the train running, the whispers – all the sounds were at a high level.
Key specs
Channels: 5.2
Power output: 145W/6 Ohm.
HDMI inputs/outputs: 4/1.
Video functions: 4K/60Hz.
Bluetooth/Wi-Fi: yes/no.
Streaming services: has not.
Supports: HDMI ARC, HDCP 2.2, HDR10, Dolby Vision.
Surround sound: DSD, Dolby Digital, DTS HD Master, Dolby TrueHD.