In this Sony STR-DH190 review, I will tell you that a quality device does not have to cost exorbitant money or look exclusive. It is one of the most popular inexpensive products from a brand that needs no introduction. And that means there's a lot that may surprise you pleasantly. This stereo receiver is your opportunity to get great quality sound when listening to your favorite music at home.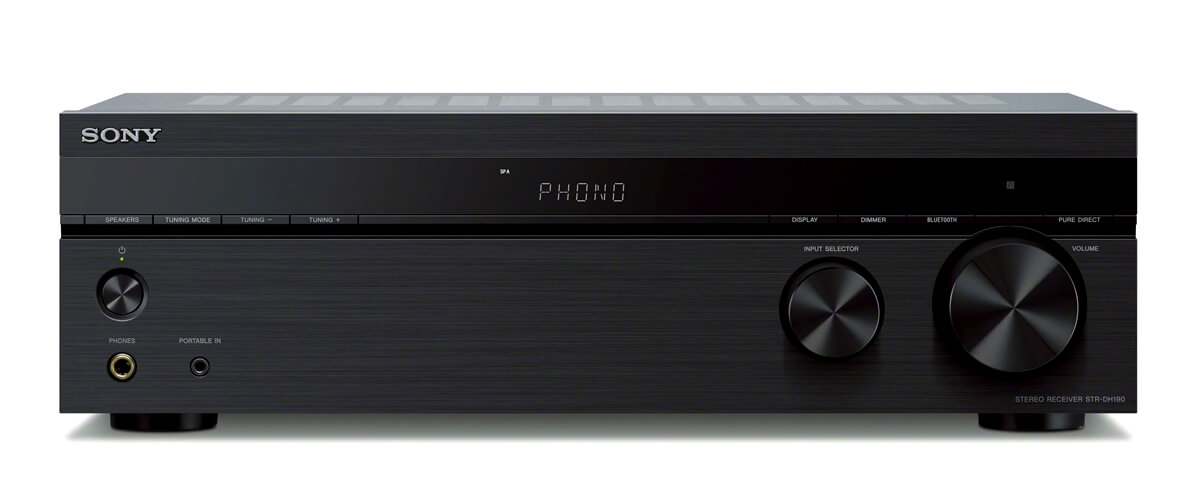 I am a fan of all kinds of technology that is easy to dust off. And in this sense, Sony did not fail – classic minimalism in everything but functionality. This design is their forte, which, by the way, contributes to elegance at a relatively low price. The STR-DH190 looks similar to the STR-DN1080 and STR-DH790, measuring 17″ x 5-1/4″ x 11-1/4″ and weighing just over 14 lb.
The black front panel has a small display with control buttons, and there are two different-sized round knobs on the right for volume control (pretty tight, in my opinion) and an input selector. On the left, you will find a 0.25″ headphone jack and a 0.125″ "portable in" port. The understated, solid metal construction reduces vibration and will last for many years – that's the impression the receiver makes on me.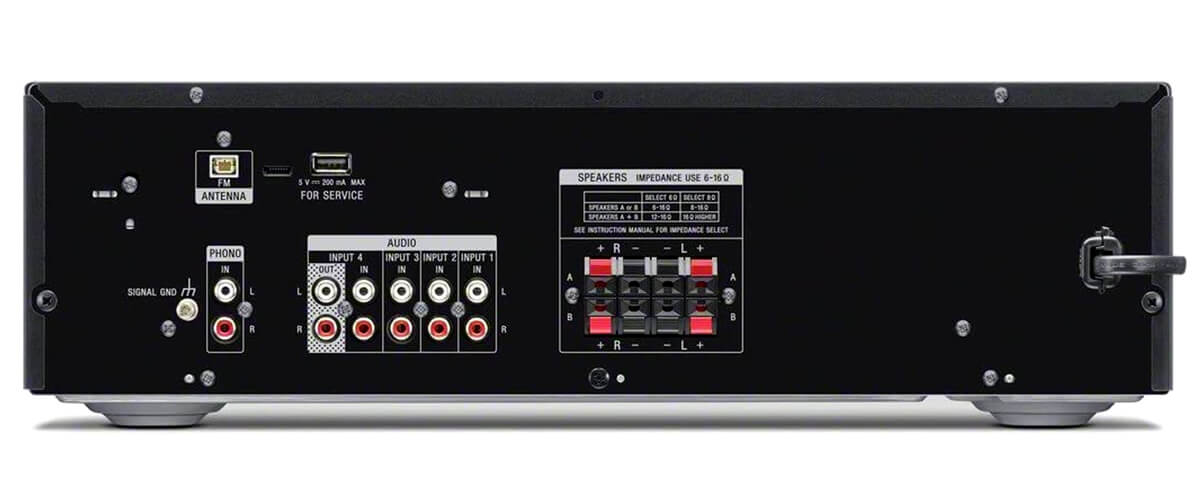 As for the STR-DH190 specifications, everything is relatively simple. It is an amplifier, preamplifier, and phono stage with a power of 100 watts per speaker channel (8 ohms, 1 kHz, THD 1%). Speaker impedance ranges from 6 to 16. But it can also be used well on a 4-ohm speaker. Note that the receiver heats up if you connect the wrong speakers! Studio sound is provided thanks to High-Resolution Audio, and it's really impressive.
You'll find analog and digital connectors here, so all your old or new devices like CD players, turntables, or even your TV (if it has red and white RCA outputs) connect easily and quickly. Speakers, too, are connected by wires that are not included.
The Bluetooth function enables you to transfer data wirelessly. And Bluetooth Standby, once paired with the device, keeps it paired and allows you to turn the receiver on with that device. You'll also find a built-in FM radio with 30 preset stations here.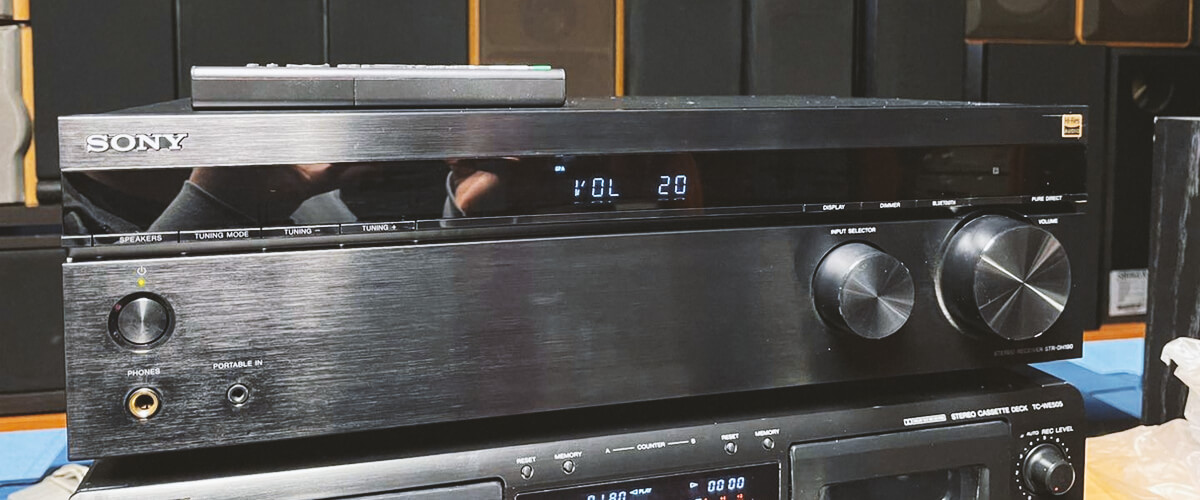 The Sony STR-DH190 features no HDMI input or output, and the connection is only possible through an adapter. That is, in fact, you can connect a game console or DVD / Blu-Ray player, although this was not provided initially. There is also no subwoofer input. You won't find Wi-Fi, Ethernet connectivity, Alexa, Siri, or Google. Think about how important this is to you personally. It didn't bother me, as I have enough of what's in it. After all, in this case, the sound is much more important than versatility.
Well, the sound was the thing that I immediately started testing. And my choice fell on Awesome Mix (Vol. 1) from Guardians of the Galaxy because I am a classic rock fan, and I genuinely believe it is the only way to test devices. Of course, you may think otherwise. Powerful! Voluminous and clear (well, ok, to some limits), with no distortion or extra noise. The cool option of connecting 2 different sets of speakers and playing them all together really appealed to me, and I will definitely use it. The listening experience with headphones was amazing. The sound literally came through me, and that's what I wanted from my gear. I was delighted with it!
Key specs
Channels: 2.0.
Power output: 100W/8 Ohm.
HDMI inputs/outputs: 0/0.
Video functions: has not.
Bluetooth/Wi-Fi: yes/no.
Streaming services: has not.
Supports: has not.
Surround sound: has not.