My Pioneer VSX-935 review will primarily appeal to those who want to create their own home theater but lack financial resources. The model differs from its predecessor, VSX-934, released 2 years earlier with some features, and I will tell you about these differences along the way. But what's most interesting is exactly what you can get from a mid-priced receiver. After all, this receiver will allow you to appreciate movies, music and other entertainment content in a new way, which means you should be interested.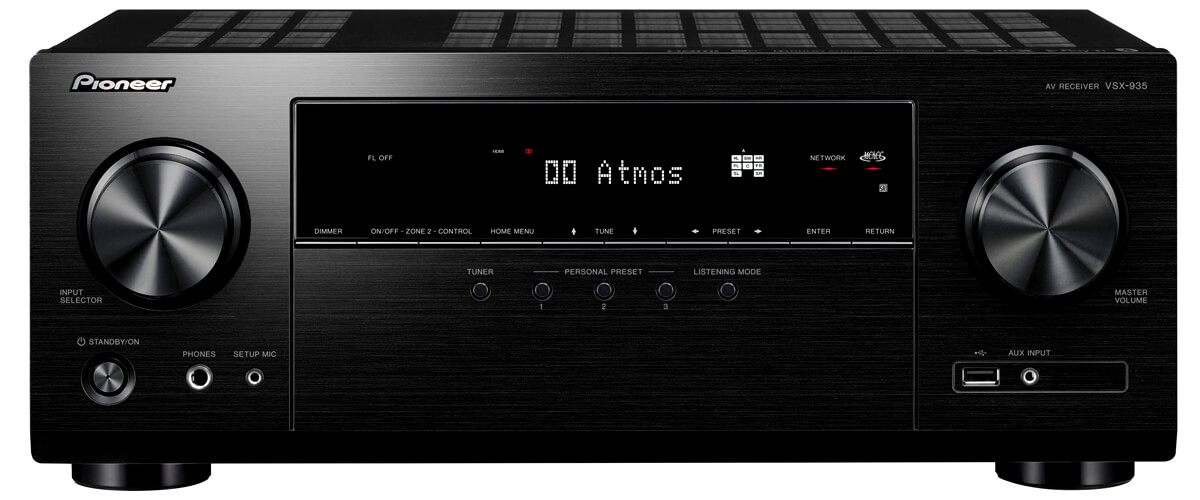 Pioneer receivers look more or less the same, and the VSX-935 is no exception. The model measures 17-1/8″ W x 6-13/16″ H x 14-9/16″ D and weighs 20.7 lbs, so run to measure space for it. Next, the black matte case is not equipped with anything extra. There's a neat control panel on the front panel below the LCD, as well as Tuner, Personal Preset, and Listening Mode buttons. It's flanked by two symmetrical round big Input Selector and Master Volume knobs. The frequently used Phones, Setup Mic, USB, and AUX Input jacks will also be found. Pioneer knows what you need first.
What you get from the receiver can be understood from the VSX-935 specifications. And they are impressive for its price. For starters, it offers seven channel outputs with 5.2.2 immersive sound capabilities. It can deliver 80 watts per channel (8 ohms, 20 Hz-20 kHz, THD 0.08%, 2ch Driven, FTC) and 170 watts per channel (6 ohms, 1 kHz, THD 10%, 1ch Driven).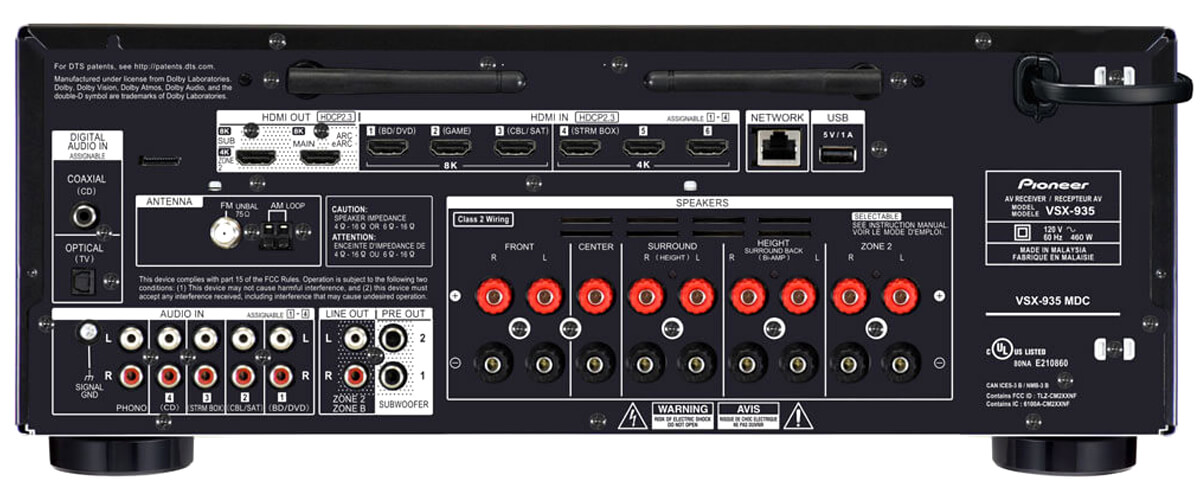 Now, as for the connectivity options, you'll find three independent HDMI 2.1 inputs (40Gbps 8K/60Hz, 4K/120Hz) and two HDMI 2.1 outputs (Main Out / Sub Out: 40Gbps, Zone 2 Out: 24Gbps). And there are three 18Gbps HDMI 2.0b inputs for 4K/60Hz playback. That's enough for 8K/60p signals at a 10-bit bit rate and 4:2:0 subsampling (or 4K/120p, 10-bit, 4:4:4). This is one of the main differences from the Pioneer VSX-934 version.
Gamers will be pleased with the presence of VRR, ALLM, and QFT. These Pioneer VSX-935 features were missing in the previous VSX-934 model. In addition to the standard Dolby Vision and HDR10+, the receiver supports high-bitrate audio formats, including Dolby Atmos, DTS-HD Master Audio, DTS:X, and Dolby TrueHD. And if high or surround speakers aren't enough for you, get 3D sound with the built-in Dolby Atmos height virtualizer and DTS Virtual:X processing. The unit supports Full HD formats, including FLAC/ALAC/AIFF/WAV 24-bit/192kHz, and even DSD. This is also a step up from the predecessors of this model.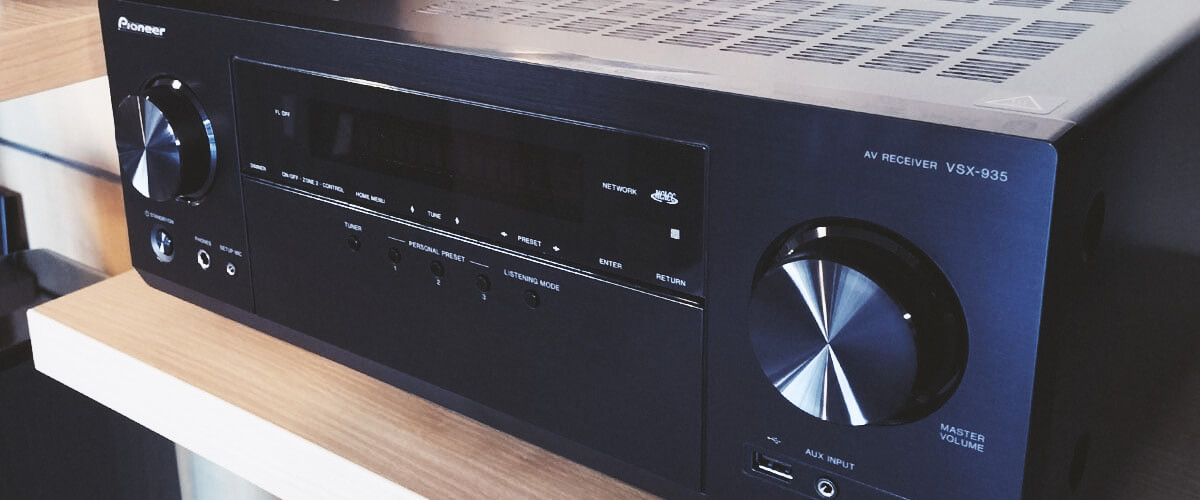 To complete the big picture, suffice it to mention that this receiver probably supports every streaming service existing today. The Pioneer Music Control App (available for Android and iOs) lets you control Spotify, TIDAL, Amazon Music, and more. And it is also compatible with TuneIn Internet Radio, Apple AirPlay2 with Siri, Google Chromecast, and Alexa.
Before sound testing, I did a thorough tuning of the receiver. There is no Dirac Live in this model, but Pioneer's MCACC room correction with phase control and subwoofer EQ is quite a substitute. I quickly figured it out. The VSX-935 is compatible with a wide range of speaker models, so I had no problems.
The movie I chose was a powerful one – Terminator Salvation. I think you have to test the receivers on something loud and dynamic, otherwise, how do you know what it's capable of? And in general, I can conclude that it does a great job! The sound is voluminous and clear, the dialogues are listened to in detail, and the feeling of being "in the cinema hall" is absolute. Of course, when I pushed the volume to maximum, I heard some sharp rattling, but with the device's price in mind, I quickly calmed down. Everything was fine with Spotify music streaming, so I was very pleased with the performance of this model.
Key specs
Channels: 7.2.
Power output: 80W/8 Ohm, 170W/6 Ohm.
HDMI inputs/outputs: 6/2.
Video functions: 8K/60Hz, 4K/60Hz, 4K/120Hz, upscaling to 8K.
Bluetooth/Wi-Fi: yes/yes.
Streaming services: AirPlay 2, Spotify, TuneIn, Deezer, Tidal, Netflix, Amazon Prime.
Supports: HDMI ARC, HDMI eARC, HDMI CEC, HDCP2.3, HDR10+, HLG, Dolby Vision.
Surround sound: DTS:X, DTS:Neural:X, DTS Virtual:X, Dolby Atmos, DTS HD Master, Dolby Digital Plus, Dolby TrueHD.