Pioneer has been one of the most popular receiver manufacturers for years. Although you will not find many models in its assortment on the official site today, the brand has the Elite series, representing the middle-price segment. And here is my Pioneer Elite VSX-LX505 review about the line's flagship model, where there are only three devices. It is the most expensive and the most advanced receiver from the brand, offering maximum functionality and modern features at a fairly affordable price. An interesting specimen to examine, and I'm ready to get started.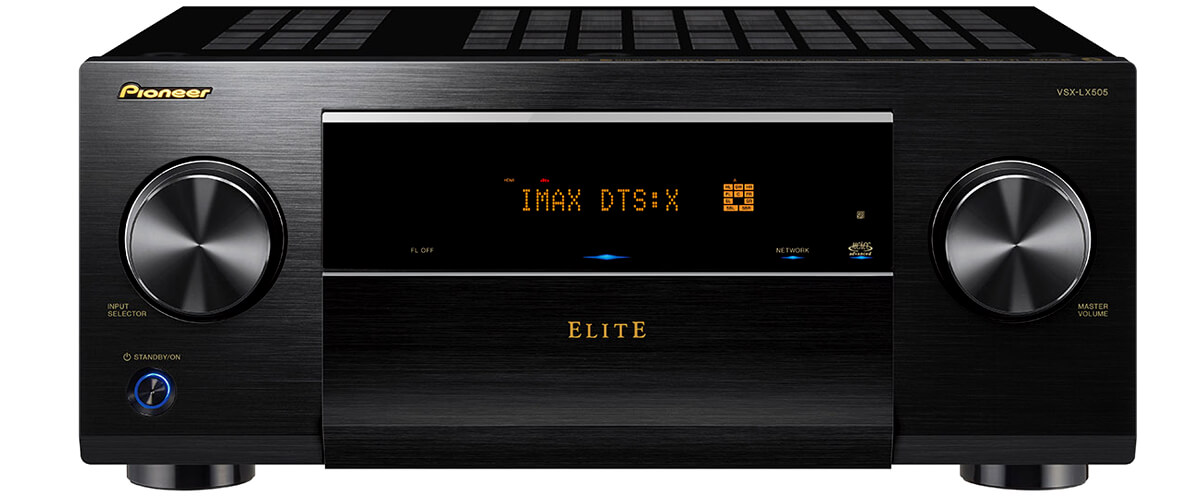 VSX-LX505 externally does not differ from other range models (VSX-LX305 and VSX-LX105) and generally keeps traditions of Pioneer exterior as well as build quality. Only the gold-plated Elite emblem tells us – this is the finest of the brand. It's a 17-1/8 x 7-5/16 x 15-3/16 inches metal case, weighing 28.7 lbs, with a large LCD in the center framed by symmetrical round Volume and Source Select controls and an illuminated Blue-light Stand by/On button. However, flipping the cover back under the LCD reveals the main function control panel, which also includes the most needed shortcut jacks: HDMI In, USB In, MCACC/Dirac Live Setup MIC In, and Phones Out (Gold-Plated). The rest of the beauty is hidden on the rear panel, but it's better to learn about it by reading the Elite VSX-LX505 specifications.
The Pioneer Elite VSX-LX505 features description should start with the fact that it is a 9.2-channel receiver, but it has additional channels and can increase the configuration to an 11.2 system. And that is exactly what sets it apart from other Elite series receivers. For example, the VSX-LX305 has a 9.2 channel, and the VSX-LX105 has a 7.2 configuration. And, of course, you would expect a good 120 wattage (8 ohms, 20 Hz-20 kHz, THD 0.08%, 2ch) from Pioneer. By the way, it has the widest speaker connection range from 4 to 16 ohms. But still be careful before you crank the full volume, try and adapt the system to your room, equipment, and hearing.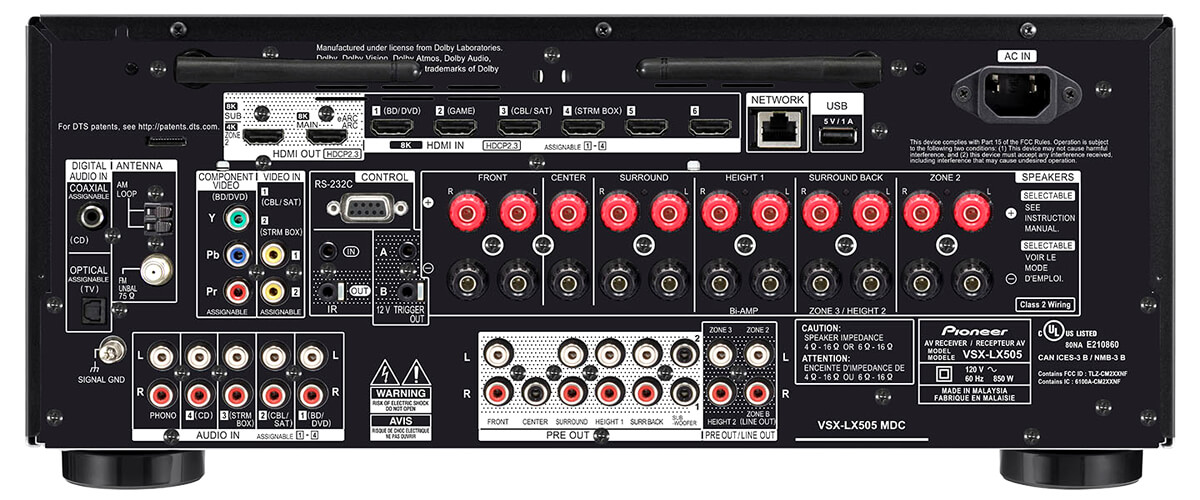 As you can see from the initial configuration, you can connect two subwoofers to the receiver. But it is also designed to broadcast audio to other zones (up to three). This is very handy for equipment for a large house or family with different preferences, isn't it? For wireless connectivity, the VSX-LX505 has Bluetooth and, most importantly, DTS Play-Fi, allowing each family member to use their device independently of the others, thus creating an ecosystem of Multiroom. Furthermore, the device is compatible and supports voice assistants (Alexa, Hey Google, and Chromecast built-in) and an impressive number of streaming services (can I not list them?). In addition, you can connect your Sonos wireless system to the receiver, but you'll have to purchase a special Sonos port to do so.
The wired connection capabilities of the Pioneer Elite VSX-LX505 allow you to connect a huge number of all sorts of equipment. On the rear panel, you will find: Component In (AV), two Composite In (AV), Digital Coaxial In and Digital Optical In to connect your obsolete equipment (why throw these things away when they still work fine); Phono (MM) In for turntables (audiophiles will not do without it); and USB port (in addition to the front).
It remains to mention the HDMI ports and their capabilities. So, the Elite VSX-LX505 has six HDMI inputs and two HDMI outputs (HDCP 2.3, ARC, eARC). Their modern modification allows you to watch videos in 8K/60p (4:2:0), 4K/120p (4:4:4), and BT.2020 color with support for HDR10/10+ and HLG (and more for gamers VRR, ALLM, QFT), and is also compatible with Dolby Vision. And Ultra HD Upscaling lets you enhance 4K to 8K, 1080p to 8K/4K video content. Still not impressed? Let's move on.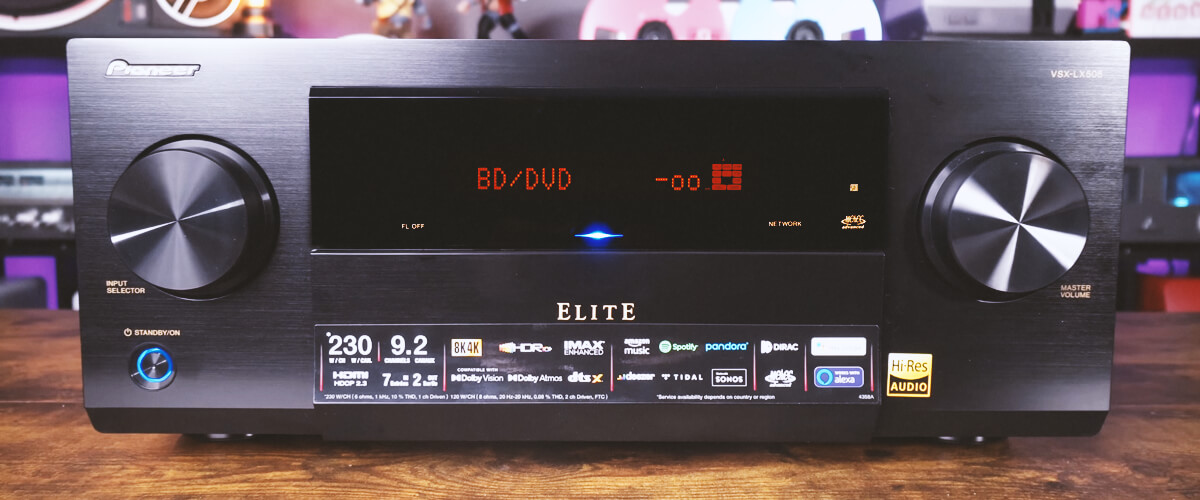 The receiver audio potential leaves no doubt that it's worth every penny you put into it. IMAX Enhanced, Dolby Atmos (other Dolby including older formats), and DTS:X (including DTS Neural:X and older formats) are available to you (I won't list them all, better read the manual). Needless to say, Hi-Res music is yours, too? Well, and the icing on the cake – you can listen to FM/AM radio with it.
And, of course, I have tested all of the above. But I will start with a small drawback: the MCACC calibration system. Despite the advanced Dirac Live, setting up the system gets a little complicated and causes many people to get impatient (I am not one of them, but frankly, I will say that it is really not easy). I won't describe the process, but it was ultimately worth it. Because when watching the movie, the sound was amazingly good. I choose movies with complex soundtracks for testing, at least regarding the potential described above. And this time, it was Oblivion, with a great bass humming soundtrack, a high-pitched music track, and a set of dialogues, including some pretty quiet ones. The clarity of the playback is audible in this way, and the Pioneer Elite VSX-LX505 was on point, a worthwhile receiver. The immersion into the picture was complete, making you empathize with the events literally physically, which is required from a system with Dolby Atmos sound.
Key specs
Channels: 9.2.
Power output: 120W/8 Ohm, 230W/6 Ohm.
HDMI inputs/outputs: 7/2.
Video functions: 8K/60Hz, 4K/60Hz, 4K/120Hz, upscaling to 8K.
Bluetooth/Wi-Fi: yes/yes.
Streaming services: AirPlay 2, Spotify, TuneIn, Deezer, Tidal, Netflix, Amazon Prime.
Supports: HDMI ARC, HDMI eARC, HDMI CEC, HDCP2.3, HGL, HDR10, HDR10+, Dolby Vision.
Surround sound: DTS:X, DTS Neural:X, Dolby Atmos, DTS HD Master, Dolby Atmos Height Virtualizer, Dolby TrueHD, Dolby Digital Plus, IMAX Enhanced, Dirac Live.