In today's Pioneer Elite VSX-LX305 review, I will introduce you to the flagship 11-channel receiver of the brand, which in terms of its features and price, can compete, perhaps, with the Onkyo TX-RZ50. It will definitely suit those who want to set up a Dolby Atmos-enabled system at home, but hurry up and get other rooms of your home ready too! We are coming.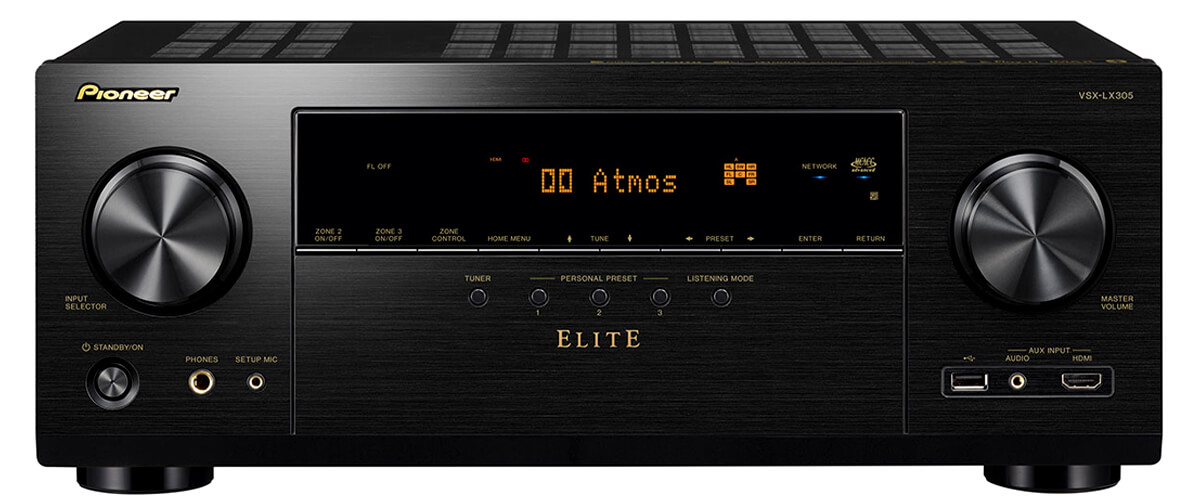 TThe VSX-LX305's ergonomic design is more or less the same as the other two members of the Elite line, with a metal cabinet measuring 17-1/8 x 7-5/16 x 15-3/16 inches and weighing 28.7 lbs, with only two large round Volume and Source Select controls symmetrically flanking the large LCD on the front panel. But don't be discouraged because you only have to operate the remote. The hinged cover under the screen offers all the basic control options and jacks for the calibration microphone, headphones, USB, and HDMI ports.
The Onkyo TX-RZ50 has a USB port on the back, and the source selection control is in the form of numerous buttons. So for me, the winner in this category is Pioneer because I don't particularly appreciate wiping the dust off all these small details, which get clogged with dirt even if you use gloves.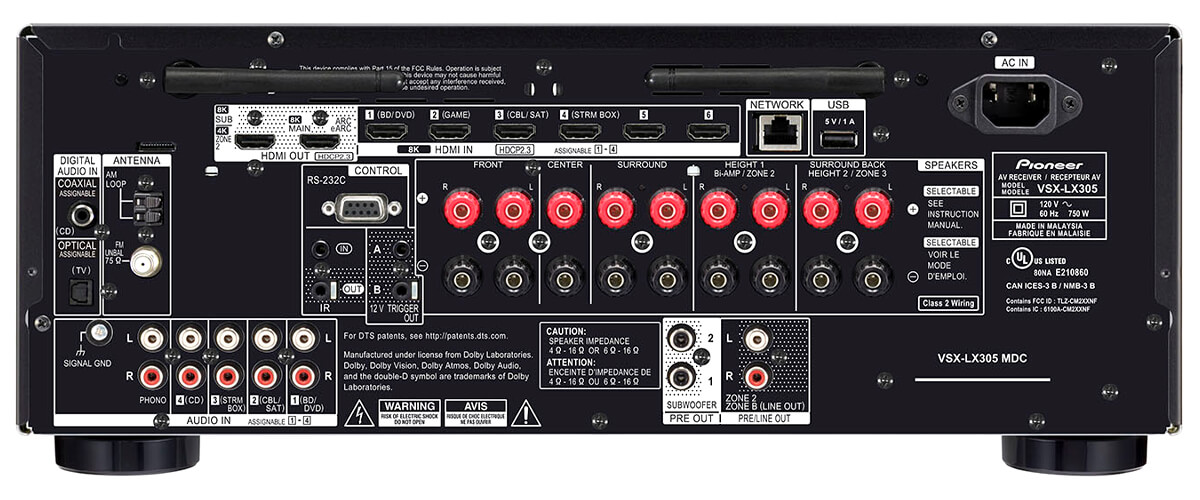 The difference between the LX305 and its smaller brother in the Elite lineup is that the VSX-LX305 specifications offer a 9.2 system configuration. So I will continue the comparison with the Onkyo TX-RZ50 and beyond. And in this, the receivers are similar, as you can build a 7.2.4 system. The powers are also close in value, and that is 230 W (6 ohms, 1 kHz, THD 10%, 1ch) or 120 W (8 ohms, 20 Hz-20 kHz, THD 0.08%, 2ch). In my opinion, this is excellent data for a large room.
Among other features, the receiver we are reviewing offers bi-amping. If you own the appropriate speaker system, you can expect an increase in the already excellent sound quality by dividing the frequencies. Onkyo does not have this option. And, of course, such configurations allow you to have zone separation of two videos and three audio. Besides, you can integrate the VSX-LX305 into a Sonos or DTS Play-Fi home wireless system. Thanks to the built-in options, use multi-zone streaming and voice control (Apple Airplay, Alexa, Google apps) or music streaming services (Spotify, Deezer, Pandora, etc.).
There's Wi-Fi, Bluetooth, 2 USB ports, Component, Coaxial (digital) and Optical (digital), and Audio In (including CD and Phono). All in all, the tech lover will love it. You can connect everything you have simultaneously (unless, of course, your collection occupies a separate room).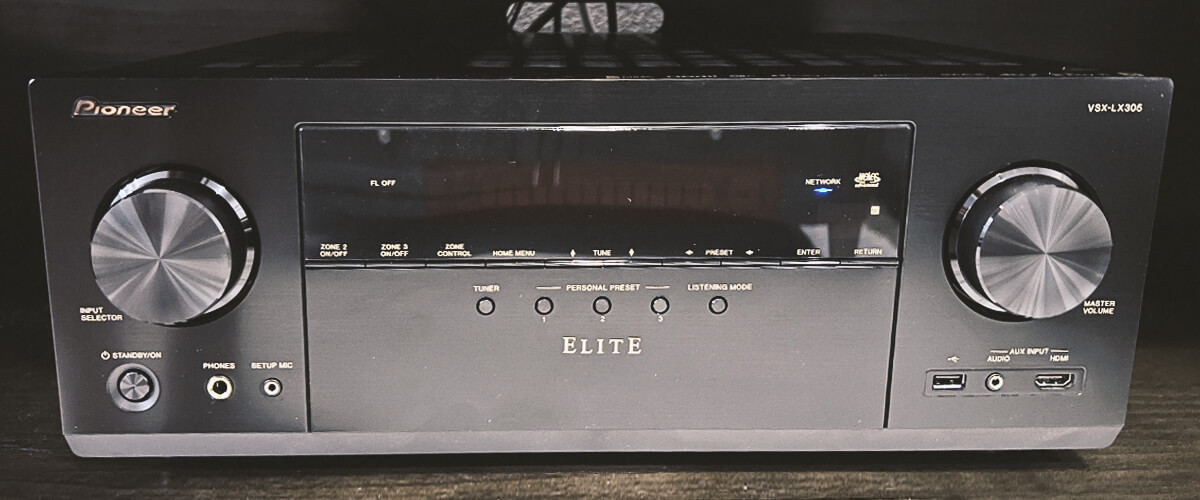 But separately, it is worth dwelling on HDMI ports. In fact, everything is the same as in Onkyo TX-RZ50: there are nine of them, of which seven inputs and two outputs. The input ports meet the needs of video gamers and high-quality video content by supporting 4K/120Hz passthrough, up to 8K/60Hz 4:2:0/10-bit video, and reconfiguring video to a higher quality with upscaling (1080p to 4K/8K and 4K to 8K).
If you thought the Pioneer Elite VSX-LX305 features ended there, I sincerely advise you to check out the detailed list on the manufacturer's website. And I'm a little tired. So it remains to mention that with all of the above, the receiver allows you to enjoy content in HDR formats (HDR10+ and Dolby Vision) and, of course, build surround sound systems using Dolby Atmos, DTS Neural:X, Dolby TrueHD, DTS-HD Master Audio, IMAX Enhanced, and others, which is excellent for its quite possible price.
Any testing should begin with calibration. In the Pioneer Elite VSX-LX305, this can be done by Dirac Live Room Correction, which is very controversial. I don't think I've encountered more doubts about any calibrator than this one. But I've concluded it's worth spending a little more time with it and getting great results. For example, start calibrating the center part of the main room. Next, I watched my favorite part of the Pirates of the Caribbean franchise, At World's End. Excellent emotions in Dolby Atmos! The clink of the sabers is so tinkling and crisp, like you're about to get a piece of sparks in your forehead, and the ships are furrowing the seas on screen, immersing you in their element. I wanted to lurch along with the movie characters standing on deck the whole time. Each voice was very well nuanced, giving it a touch of warm realism.
Key specs
Channels: 9.2.
Power output: 100W/8 Ohm, 225W/6 Ohm.
HDMI inputs/outputs: 6/2.
Video functions: 8K/60Hz, 4K/60Hz, 4K/120Hz, upscaling to 8K.
Bluetooth/Wi-Fi: yes/yes.
Streaming services: AirPlay 2, Spotify, TuneIn, Deezer, Tidal, Netflix, Amazon Prime.
Supports: HDMI ARC, HDMI eARC, HDMI CEC, HDCP2.3, HDR10+, Dolby Vision.
Surround sound: DTS:X, DTS Virtual:X, DTS HD Master, Dolby Atmos, Dolby TrueHD, Dolby Digital Plus, Dolby Atmos Height Virtualizer, IMAX Enhanced, Dirac Live.