When looking for a decent base for your home theater, it's worth figuring out initially what you'll need to enjoy quality for years. And this Onkyo TX-RZ50 review is for those willing to spend a little more but get a premium receiver at a mid-range price.This 9-channel model is the flagship of the brand's AV receiver lineup, and I expect from this device not only quality sound but also a lot of modern features. So let's take a closer look at it and figure out what it really has to offer.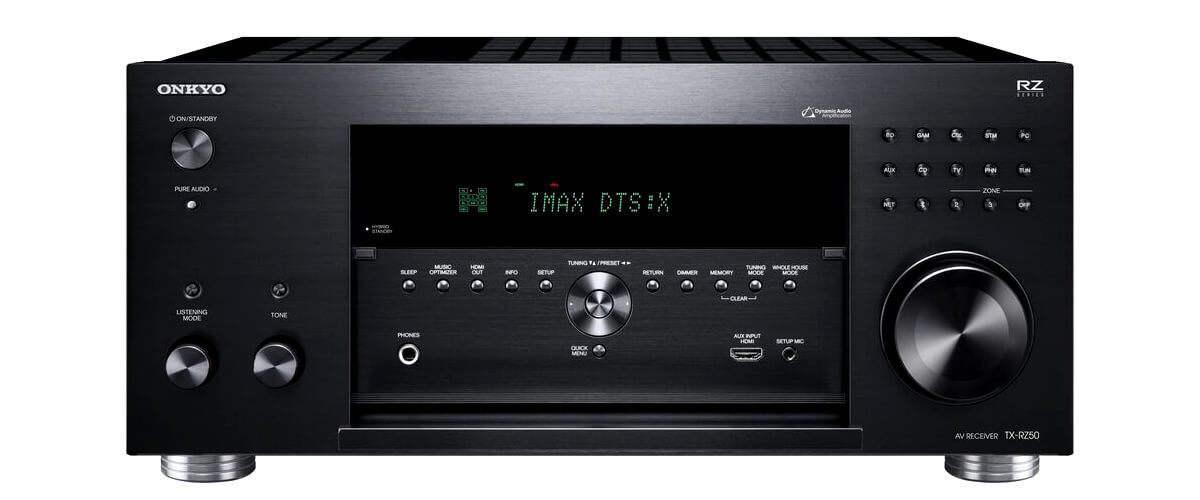 Onkyo sticks to a consistent style in the design of its models, that's why the 17-1/8″ × 7-15/16″ × 15-11/16″ size and 30.9 pounds shouldn't surprise you. So prepare more space, or put it on a massive open shelf because the TX-RZ50 is handsome enough to show off to guests. Otherwise, the front panel controls of the receiver are pretty standard, except that you'll have to press the little buttons to the right of the LCD to select a source rather than twist the knob like most such devices. Underneath them, you will find the standard Master Volume knob. To the left of the LCD are the Listening Mode and Tone controls. All these buttons already tell you in advance what features you can get when you buy this device, but we'll talk about them later.
Under the rather large LCD is a hinged cover, which opens additional options: the standard control buttons and connectors for the calibration microphone, headphones, and HDMI. I like this solution because, firstly, the connectors are not covered with dust, and secondly, it is always easier and more convenient to work with the front panel than with the back.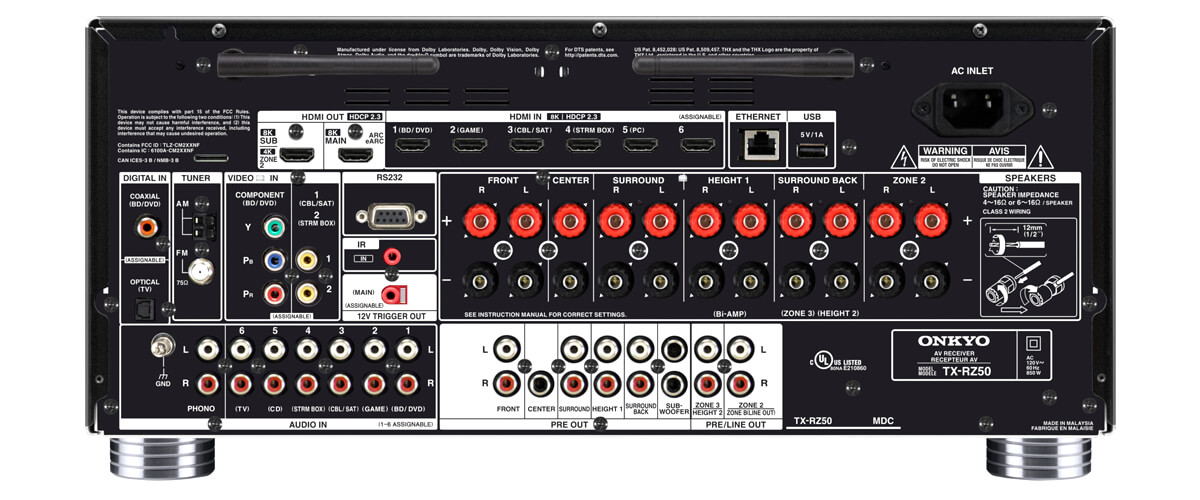 Speaking about the TX-RZ50 specifications, first of all, I should say that despite the claimed nine channels, the receiver can be configured in the 11.2 or 7.2.4 system, thanks to the presence of pre-inputs (for this, you will need an external amplifier). Great, don't you think? Also, ensure your speakers are ready for this power. The manufacturer claims to give you 250 W/Ch (6 ohms, 1 kHz, 10% THD, 1 ch) or 120 W/Ch (8 ohms, 20 Hz-20 kHz, 0.08% THD, 2 ch). Of course, it would be better if you had a big room and strong eardrums, no different.
You also get simultaneous video and audio in a Multi-room system (two video zones and three audio zones) and wireless streaming in multiple options. In addition to the quite expected Wi-Fi and Bluetooth, Onkyo TX-RZ50 features include compatibility with Sonos, Chromecast built-in, AirPlay 2, and DTS Play-Fi. Streaming services like Spotify, Amazon Music HD, Pandora, TIDAL, Deezer, and TuneIn are easy! And it also works with Hey Google or Alexa assistants.
As for wired connectivity, this AVR has seven HDMI input ports (one on the front supporting 4K/60Hz, as I mentioned earlier), including HDCP 2.3 and VRR, ALLM, and QFT. The three HDMI outputs (with eARC on the main output) support 8K/60Hz (available only for Zone 1) and 4K/120Hz (for Zone 2 if you connect two HDMIs). It provides decoding of modern HDR10+ and Dolby Vision video formats. But don't rush to throw away your old equipment!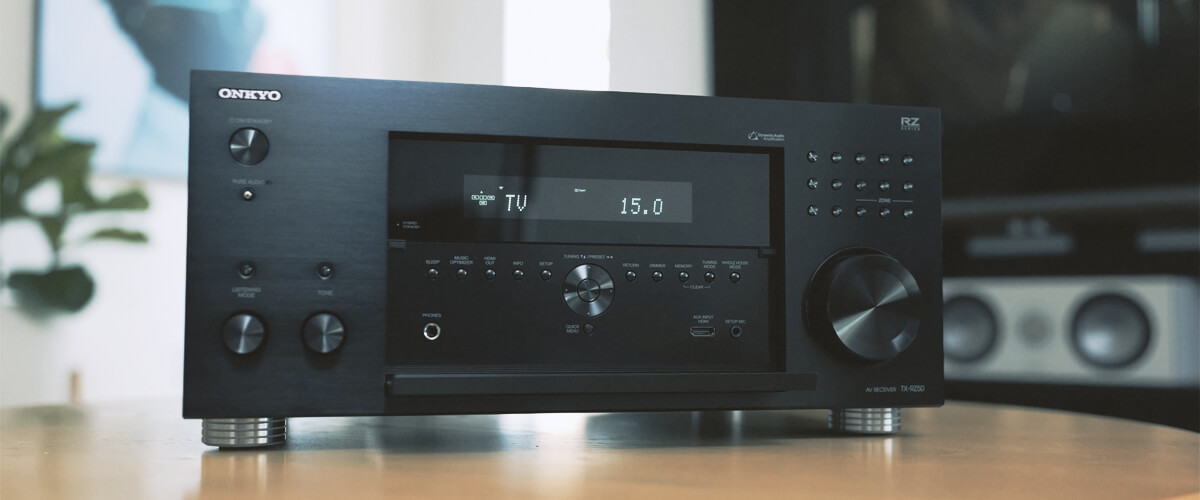 There are Component and Coaxial digital inputs. And, of course, a phono input to connect your vinyl player. Looks like you can connect everything to everything (USB is there, too, in case you were worried). The connectivity of this model is really impressive.
Considering the above, one should have expected that the receiver supports almost all modern audio formats (all sorts of DTS:X and Dolby Atmos). Still, IMAX Enhanced and listening to music in Hi-Res formats are especially worth mentioning. In general, not to rant too much – you get to watch and listen to almost all content on the market today, which means this device will serve you well for a long time.
In conclusion, it's worth saying a few words about my listening experience. This process always starts with sound calibration, and on the Onkyo TX-RZ50, you can do this with AccuEQ or Dirac Live. I opted for the automatic wireless Dirac through the app, and it took seconds, but there was a loss of bass the first time. Perhaps there's a reason the manufacturer offers different calibration options. In the end, it all worked out. I tried to choose a movie to appreciate the sound in the action scenes and dialogues, so this time, it was Marvel's Ant-Man and the Wasp in the 7.2.4 configuration. It was impressive! The dialogues are clear, clean, and detailed, and that's what I want to hear when I use my system.
Key specs
Channels: 9.2.
Power output: 120W/8 Ohm, 250W/6 Ohm.
HDMI inputs/outputs: 6/2.
Video functions: 8K/60Hz, 4K/60Hz, 4K/120Hz, upscaling to 8K.
Bluetooth/Wi-Fi: yes/yes.
Streaming services: AirPlay 2, Spotify, TuneIn, Deezer, Tidal, Netflix, Amazon Prime.
Supports: HDMI ARC, HDMI eARC, HDMI CEC, HDCP2.3, HDR10+, Dolby Vision.
Surround sound: DTS:X, DTS HD Master, Dolby Atmos, Dolby TrueHD, Dolby Atmos Height Virtualizer, IMAX Enhanced, Dirac Live.