Onkyo has been a prominent player in the audio equipment industry for over 70 years, with a reputation for producing high-quality audio products for both consumers and professionals. Today's Onkyo TX-8220 review covers the mid-range stereo receiver released in 2018.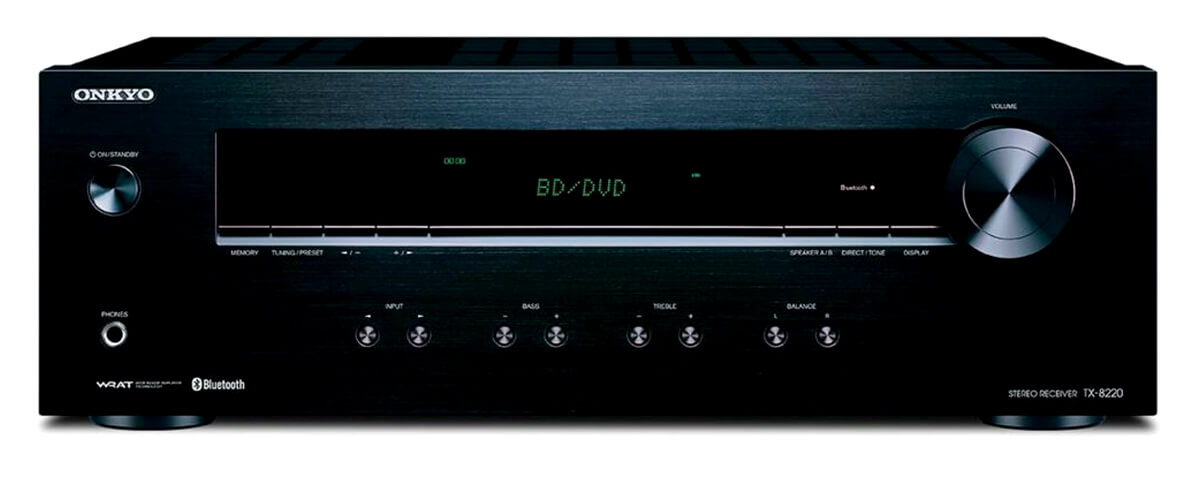 The company managed to design a model that would cater to a wide range of users looking for an affordable yet high-quality audio system. In addition, Onkyo claims that the receiver offers powerful performance with versatile features, making it a popular choice among consumers. So stay tuned to see if the TX-8220 matches all the fuss around it.
Onkyo decided to stick to classic design patterns. Even the classic black brushed aluminum front panel is here. Typically, for all receivers, the control surfaces are conveniently located on the front of the unit and include a large volume knob, input selection buttons, and a headphone jack. At the same time, it has a well-sized and highly readable display which other brands sometimes omit. The dimensions of the Onkyo TX-8220 are 17.1 x 5.9 x 12.9 inches, and it weighs approximately 15.2 pounds. Compared to its closest competitors, the Onkyo TX-8220 is slightly larger but compact enough to fit on a bookshelf or small entertainment center.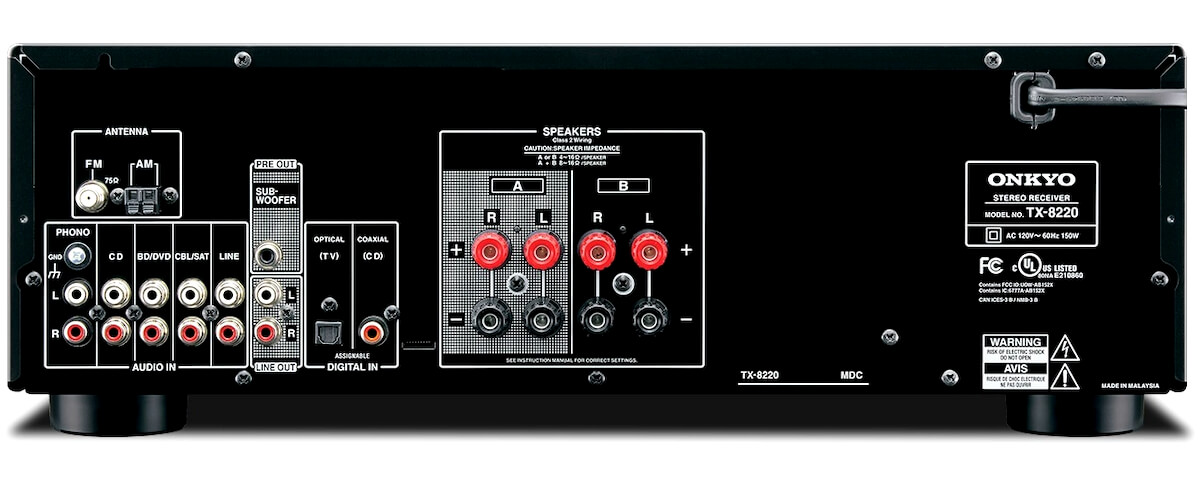 The Onkyo TX-8220 has two channels and delivers 100 watts per channel at 6 ohms (1khz, 1% THD). The unit works with speakers with impedance from 4 to 16 ohms, but the finest sound quality can only be achieved with 6-ohm and 8-ohm speakers. It has enough power to power the bookshelf or small tower speakers. The receiver features a discrete amplifier design and a high-quality digital-to-analog converter (DAC) for improved audio performance. The frequency response of the Onkyo TX-8220 is 10 Hz to 100 kHz with a total harmonic distortion (THD) of 0.08%.
Following the TX-8220 specifications, it offers a range of connectivity options, including two digital audio inputs (one optical and one coaxial), four analog RCA inputs, and one line output. It also features a phono input with an MM equalizer, a subwoofer pre-out, and two pairs of speaker posts with screw knobs. Additionally, it includes a 6.35 mm headphone jack for private listening.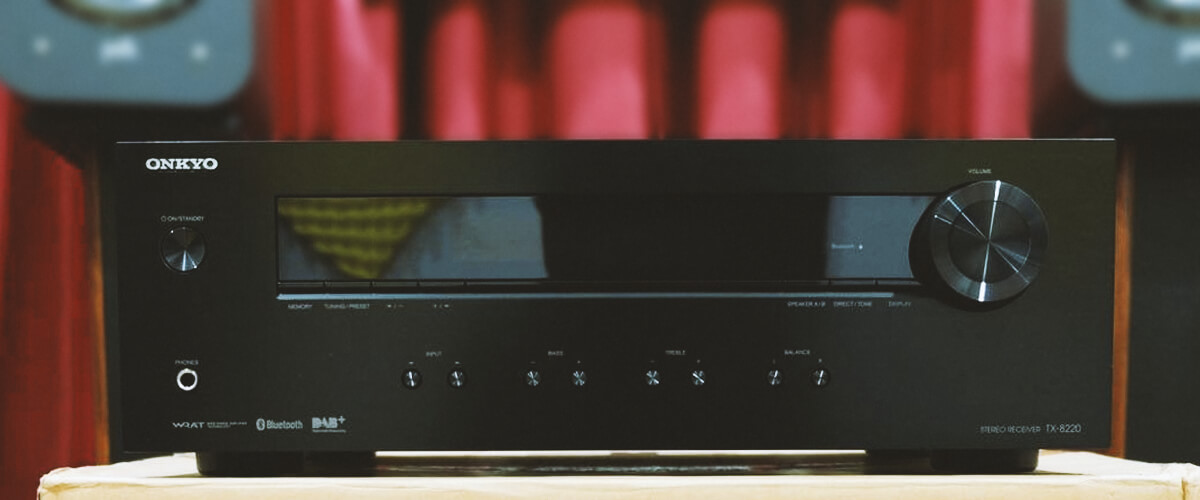 The Onkyo TX-8220 features Bluetooth for streaming music from a laptop, smartphone, or tablet. It can also work with DAB+ and FM/RDS Radio Tuners. The unit also supports the following lossless audio formats: FLAC (up to 192 kHz/24-bit), WAV (up to 192 kHz/24-bit), and ALAC (up to 96 kHz/24-bit).
I also tested the Onkyo TX-8220 with the Onkyo Controller app. This proprietary software allows control of the receiver settings, including streaming and playback. Considering my experience, it was easy to use, but even the less experienced will still find it simple to use and navigate. At the same time, I also encountered several occasional connection losses when I tried to connect to Tidal. Sometimes it takes several attempts to connect to streaming services.
During my test, all Onkyo TX-8220 features worked well. The receiver offered a clear and detailed sound in music with a warm and balanced tone. I tried the unit with many different tracks, and it reproduced a wide range of genres with accuracy and clarity. I also noticed that the built-in phono provides stunning quality. When I connected my vinyl turntable to the unit, I initially didn't expect anything special, but the TX-8220 performed very well and reminded me of the TX-8250.
Key specs
Channels: 2.1.
Power output: 45W/8 Ohm, 100W/6 Ohm.
HDMI inputs/outputs: 0/0.
Video functions: has not.
Bluetooth/Wi-Fi: yes/no.
Streaming services: has not.
Surround sound: has not.