Today my Marantz SR8015 review is about a premium representative at an appropriate price point. This 11.2-channel receiver can provide surround sound when watching movies in a large room, so that it will suit those with a large home. The brand released this model in 2020, so in terms of functionality, it's a modern device. Prepare for something awesome! And I'm getting started.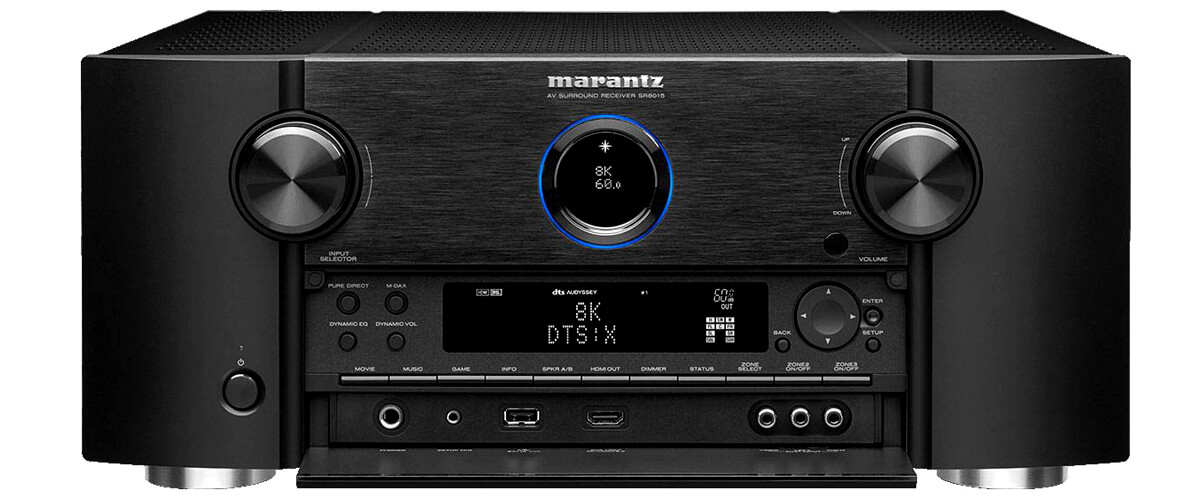 I'm going to begin my analysis with the appearance of the receiver. After all, while almost all receivers look alike, Marantz has done the most for its premium lineup. So the SR8015, at 17.3 x 18.1 x 7.3 and weighing in at 38.4 lbs, looks handsome and minimalistic with its round, blue-lit LCD framed by big round Volume and Source Select controls. You won't see much else on the front panel until you open the hinged lid, under which is the receiver control panel. The larger, more informative rectangular LCD and quick access ports for HDMI, USB, headphones, and calibration microphone are also located there. But since the main fascination of the receiver is what you can find inside the case, let me quickly proceed to the description of Marantz SR8015 features.
A very important feature of the model is the ability to expand the system up to 13 channels, which means you can build 5.2.6 or 7.2.4 home theater configurations for optimal Dolby Atmos performance. With a rating of 140 watts (8 Ohms, 20 Hz – 20 kHz, 0.05% 2ch Drive) or 175 watts (6 Ohms, 1 kHz, 0.7% 2ch Drive), you really get a high-quality, powerful system. Pay special attention to the THD value. Budget and mid-priced devices do not give such purity. Also, the multi-channel capability of the Marantz SR8015 gives you the ability to broadcast audio to 3 Zones. So if you have a big house and a big family, you need exactly this receiver.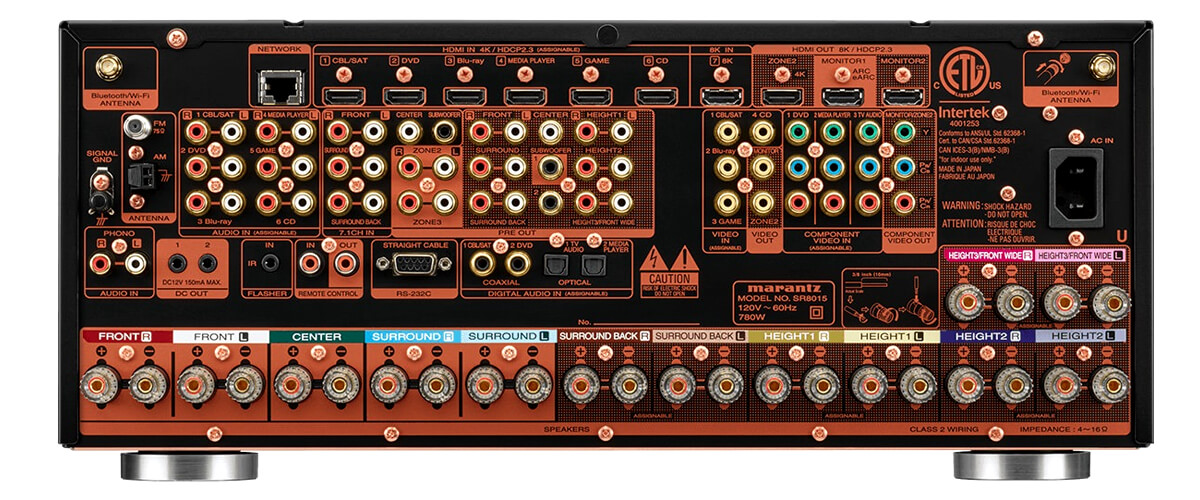 The connections of this model are also quite all right. On the rear panel, you'll find Composite (5 inputs and 2 outputs), Component (3 inputs and 1 output), 7 analog inputs, 2 optical and coaxial digital inputs, phono (MM), and 2 subwoofer outputs. Those who used to buy and store equipment for decades, and listen to music at an audiophile level, will find this to be of maximum interest.
I'll also note the receiver's wireless capabilities. But, of course, its price in advance speaks volumes, and the SR8015 has AirPlay2, TuneIn, and HEOS system built-in, as well as using Spotify Connect, Pandora, SiriusXM, and many other streaming services. It seems as if, thanks to this level of technology, you and I won't have to get out of our chairs at all anytime soon. After all, you have Alexa voice assistants, Google Voice Assistant, and Apple HomePod.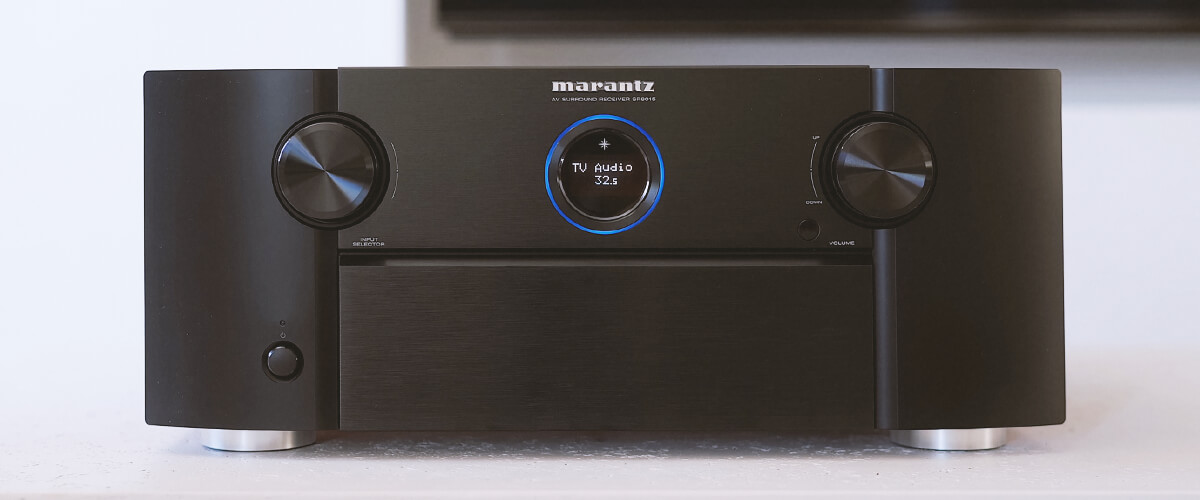 Against all this background, mentioning the presence of Wi-Fi, Bluetooth, and AM/FM tuner is strange. It is clear as it is.
As for the Marantz SR8015 specifications regarding the support of modern video and audio formats, thanks to 8 HDMI inputs (up to 8K/60 Hz scaling, 3D signal pass-through) and 3 HDMI outputs (CEC, eARC), you can enjoy all the content existing today. 8K/60Hz or 4K/120Hz video; ALLM Pass-through, VRR for gamers; and access to HDR, Dolby Vision, HDR10+, Dynamic HDR and HLG content.
Legitimately, audio content in the most advanced formats is also available. For example, the Marantz SR8015 features DTS:X Pro decoding (including DTS HD Master, DTS Neural:X, and DTS Virtual:X), Dolby Atmos (including Dolby TrueHD), IMAX Enhanced and Auro 3D.
The Audyssey MultEQ XT32 calibration system should be noted, and I'll say – it works perfectly. But the main thing is to test the Marantz SR8015 surround sound. First, I chose the cartoon WALL-E because of the idea I mentioned in my review of replacing people with technology. And secondly, because there's a terrific soundtrack, including lots of electronics, powerful space rumblings, human voices, fine details, and great music. The SR8015 experience is superb, with a terrific immersive effect, great power, and purity of detail. Total thrill and goosebumps!
Key specs
Channels: 11.2.
Power output: 140W/8 Ohm, 175W/6 Ohm.
HDMI inputs/outputs: 8/3.
Video functions: 8K/60Hz, 4K/60Hz, 4K/120Hz, video conversion analog to HDMI, upscaling to 8K.
Bluetooth/Wi-Fi: yes/yes.
Streaming services: AirPlay 2, Spotify, TuneIn, Deezer, Tidal, Netflix, Amazon Prime.
Supports: GUI overlay on HDMI, HDMI eARC, HDMI CEC, HGL, HDCP2.3, HDR10+, Dynamic HDR, Dolby Vision.
Surround sound: DTS:X, DTS:X Pro, DTS Virtual:X, DTS Neural:X, DTS HD Master, Dolby Atmos, Dolby Atmos Height Virtualization, Dolby TrueHD, Dolby Surround, IMAX Enhanced, Auro 3D, HEOS.