If you already know the SR5014 model, then my Marantz SR5015 review may sound familiar. There aren't many differences between them. I won't be able to describe all the features and benefits of this receiver, so I will tell you about its main qualities that will definitely be of interest to you and help you decide on your choice. It's a modern, medium-priced receiver with a quality construction you can trust. That's where we start.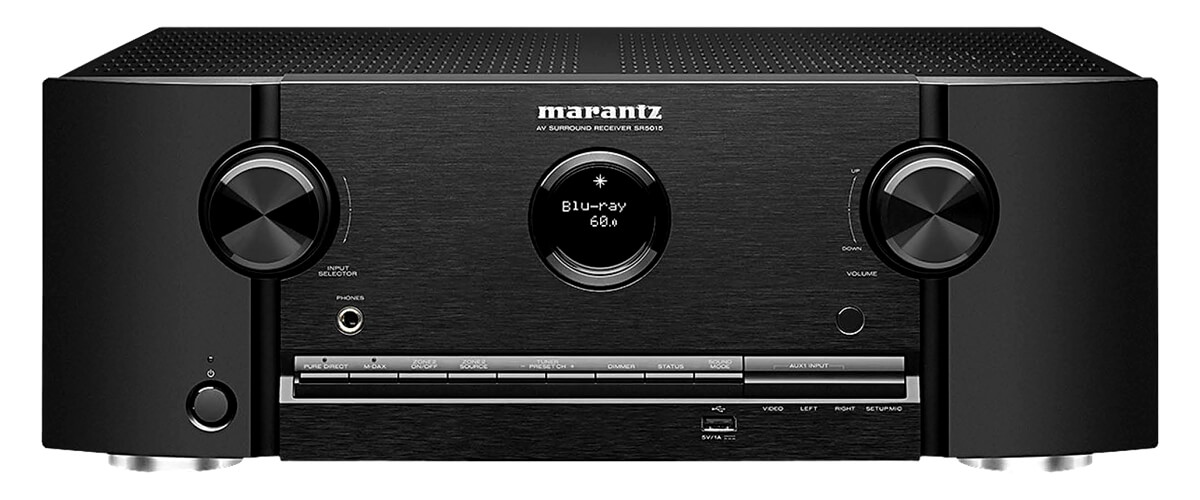 The massive 22.3 lbs enclosure has the same dimensions as its Marantz SR5014 predecessor: 17.3″ x 13.7″ x 9.1″. The height is listed with the antennas mounted vertically, so you can reduce it to 6.3″ if you mount them horizontally.
The appearance of the receiver is modern. The rounded sides make it look more attractive than its square analogs. On either side of the round LCD, by which the Marantz can be recognized from afar, are symmetrical controls for Input Selection and Volume. The SR5015 is like a robot head looking at you. The control buttons are small and barely noticeable on the panel (not all users will like that). As for the jacks, you'll find Phones and USB. Unusually for a brand, but they removed the HDMI input from the front panel. A lot of people didn't like it, but I loved it. I can't stand wires in plain sight.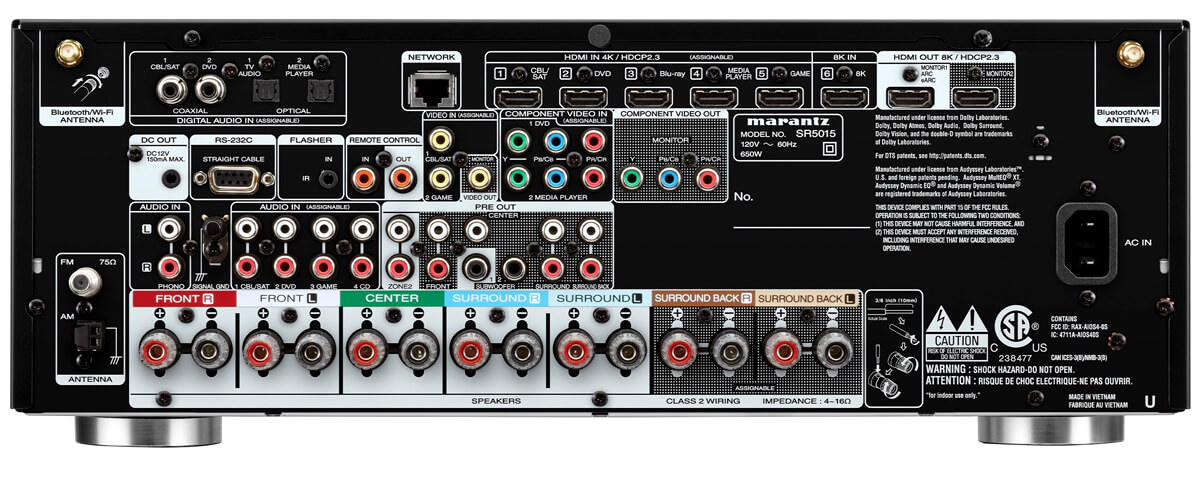 This receiver has 7 channels with 100 watts of power per channel (8 ohms, 20Hz-20kHz, THD: 0.08%, 2ch. drive). By the way, you can adjust the output power to the speakers depending on the volume level and screen eco-meter readings with Auto Eco Mode. In addition, it features a low-impedance driver and provides stability with a wide range of speakers for balanced qualitative sound.
The SR5015 specifications include 6 HDMI inputs and 2 outputs. One dedicated 8K input supports 8K/60Hz and 4K/120Hz pass-through, 4:4:4 Pure Color subsampling, Dolby Vision, HLG, HDR10, 21:9 video, 3D transfer, and BT.2020. In addition, the latest HDCP 2.3 copy protection standard is supported on all HDMI ports. This model also has HDR10+, Dynamic HDR, ALLM, VRR, QMS, and QFT. The video processor supports scaling source video sources to 8K quality. HDMI eARC supports 3D audio formats such as Dolby Atmos and DTS: X.
The receiver supports Dolby Atmos with a 5.1.2 speaker setup. Moreover, there is Dolby Atmos Height Virtualization technology for those who do not have overhead speakers. There's also DTS: X, and the built-in DTS Neural: X spatial reassignment engine offers enhanced immersion and advanced realism for all your favorite movies. DTS Virtual: X provides immersive sound without height channels, creating virtual height effects in 7.1, 5.1, or 2.1 speaker configurations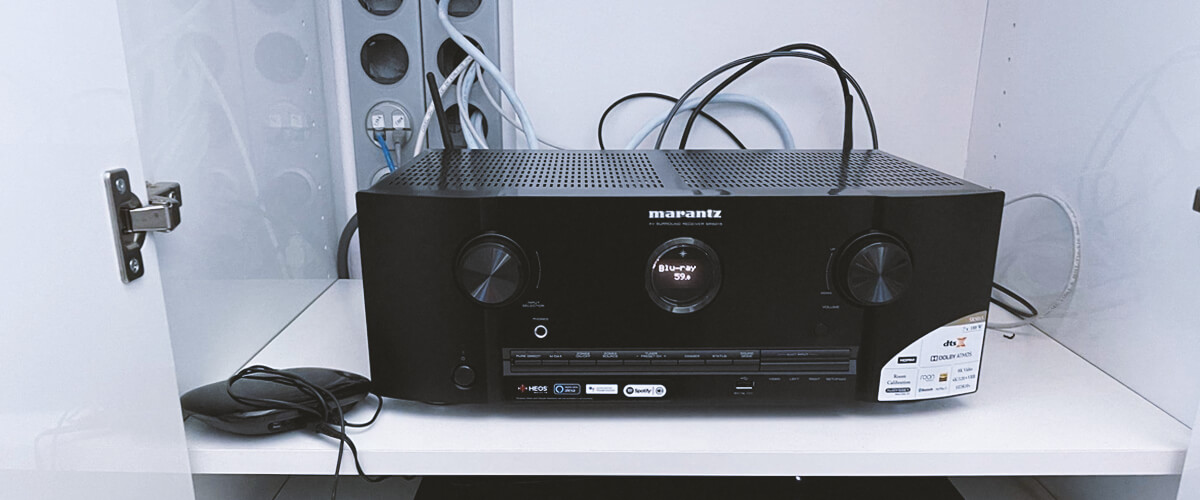 Marantz SR5015 features are quite standard for its price. The device supports almost all modern streaming services like Spotify, Pandora, and TIDAL. There is also Ethernet, Wi-Fi, Bluetooth, and AirPlay 2. The latter is used to interact with Amazon Alexa, Google Assistant, Apple Siri, and Josh.ai voice agents. Well, there is also an option to play stereo in another room from the same source or use another source via the Zone 2 output. That is typical for receivers of this rank.
You'll also find dual subwoofer outputs here. This takes bass listening at low frequencies to a new level, no matter where the subwoofer is located. But all of Marantz's past achievements in music are also available. Support for low-quality audio formats MP3, WMA (up to 192 kbps), and AAC, along with high-resolution FLAC, ALAC, and WAV with up to 192 kHz / 24-bit quality. All in all, you don't have to worry about your music source.
Based on its features, the SR5015 is quite capable of competing with more expensive models from other manufacturers, so I gave it a challenge in the form of A Quiet Place. In this movie, every sound is important, every breath in or out, the slightest hint of a whisper, every little detail. The music lineup is heavy and dynamic in places. And I was immersed. The detailing exceeded my expectations. I just walked there with the main characters, stepping on dry leaves, startled by every crackle. The voluminosity of the sound envelops me and penetrates me. It's a thrill. This is the way it should be.
As for music, I specifically checked with Marantz MDAX2 technology. My regular MP-3 recordings actually sound better! Lord Huron and The Vast via Spotify is top-notch! I expected a lot from the receiver, but the result really pleasantly surprised me.
Key specs
Channels: 7.2.
Power output: 100W/8 Ohm, 140W/6Ohm.
HDMI inputs/outputs: 6/2.
Video functions: 8K/60Hz, 4K/60Hz, 4K/120Hz, upscaling to 8K.
Bluetooth/Wi-Fi: yes/yes.
Streaming services: AirPlay 2, Spotify, TuneIn, Deezer, Tidal, Netflix, Amazon Prime.
Supports: HDMI ARC, HDMI eARC, HDMI CEC, HDCP2.3, HDR10+, Dolby Vision.
Surround sound: DTS:X, DTS Virtual:X, Dolby Atmos, DTS HD Master, Dolby TrueHD.