In this Marantz NR1510 review, I present you with the company's most budget-friendly receiver, which is also the entry-level in its NR lineup. Despite its low price, it can offer great features for those who do not want to spend a lot but want to get modern equipment to provide surround sound in a small room and watch the latest formats of the content offered in today's services. Reliability, versatility, and convenience are Marantz's mottos, so it will be interesting. Let's go!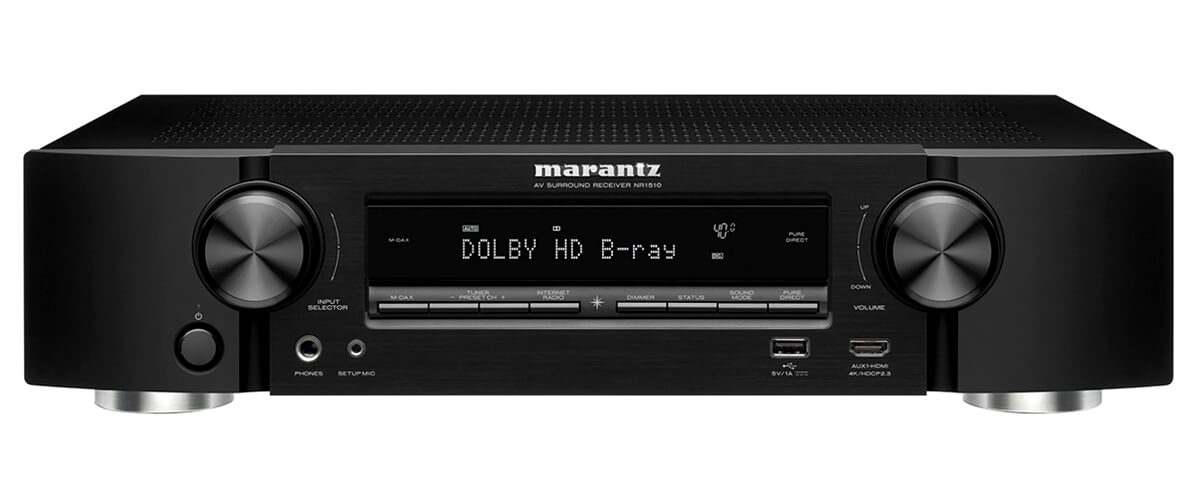 So, I should probably start with the design. Marantz has some basic, very excellent designs in their range, and the NR line differs from other company members, but as a twin, the NR1510 is similar only to the NR1711. The design is light, elegant, and ergonomic, but it has all the essentials on the front metal panel. I like its small LCD; I'm not a fan of large screen devices lighting up half the room in the dark. On the sides of the screen are identical round Volume and Input controls. Below you will find small buttons for the main controls, and further below, there's the Power button and four jacks: Headphone, Calibration Microphone, USB, and HDMI. Another plus is its compact size of 17.3 x 14.9 x 4.1 inches (with the antennas upright, the height goes up to 6.9 inches), and its weight of 18.1 lbs makes it easy to put it wherever you want.
As for the NR1510 specifications, the manufacturer claims 60 watts (6 Ohms, 1 kHz, 0.7% 2ch Drive) or 50 watts (8 Ohms, 20 Hz – 20 kHz, 0.08% 2ch Drive), or with a THD of 100 watts (6 Ohms, 1 kHz, 10% 1ch Drive) for this 5.2-channel AV receiver. And I would say that's enough. The fact is, when you're counting on a small room, which is what this receiver is designed for, 50-60 watts of power is more than enough to get you in the middle of the qualitative sound. Don't forget to check your speakers against their stated impedances.
There is no full Multi Room here for those who like to be separated by room while watching different content in the evening. But don't despair, because Marantz has taken care of you by equipping its receiver with HEOS wireless capability, which will also allow for music streaming services (Apple Music, Spotify, Pandora, etc.) and voice control (Alexa, Apple Airplay2, etc.). Of course, there's dual-antenna Wi-Fi (2.4 GHz/5 GHz) and Bluetooth. As a result, you're keeping up with the times with this device.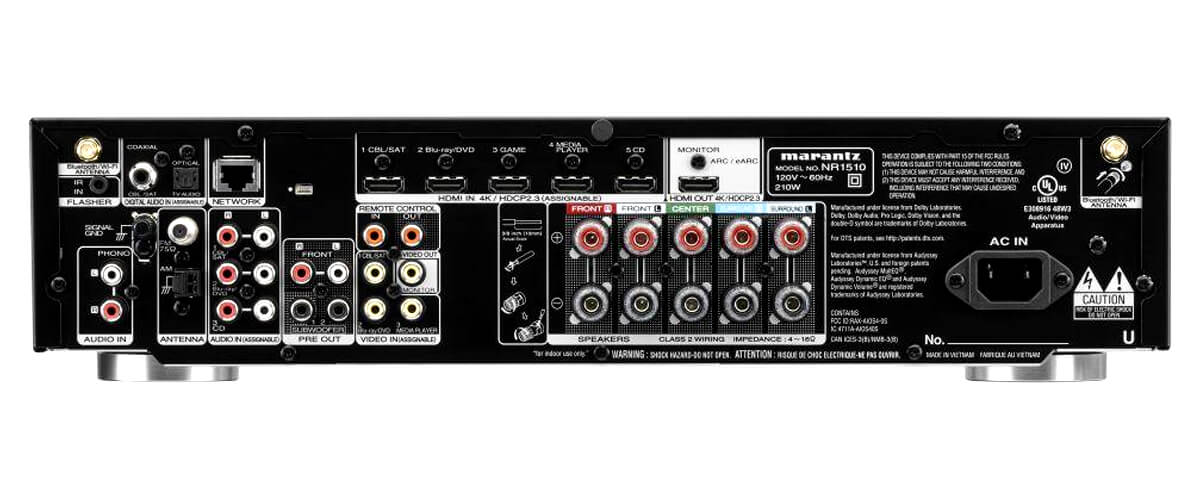 The connectivity options of the NR1510 offer us an optimal set, in my opinion. For those who, like me, have old equipment you don't want to give up, there are three composite inputs, one composite output, and one optical and one coaxial digital input. There is no component input if you need it.
But there are six HDMI inputs (I mentioned one on the front panel in the design description) and one output. So there will be no problems with the connection between video players, game consoles, and TV. In addition, two USB audio inputs allow you to connect and play content from your devices or smartphones, and two outputs for a subwoofer. Finally, for vinyl lovers, there is an option to connect a turntable through the phono input. More than enough options for me.
Marantz NR1510 features support for the latest video formats. With the support of 4K/60 Hz, 4:4:4, you can use such formats as HDR10, Dolby Vision, and HLG, which is the optimal data on the market today. And thanks to the 3D Signal Pass-Through function, also 3D movies.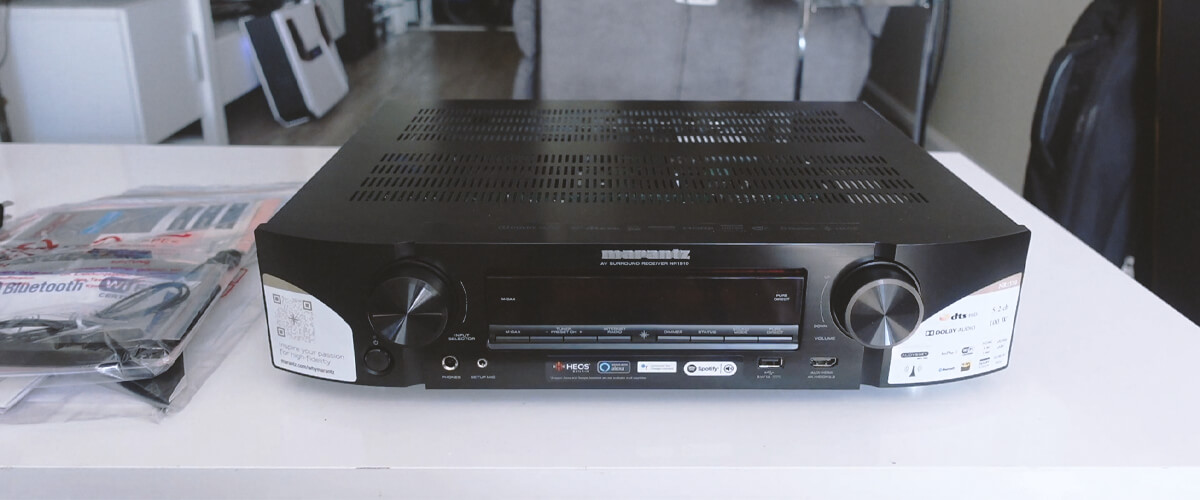 The receiver can decode Dolby TrueHD and DTS-HD Master Audio surround sound formats. Music formats are MP3 / WMA / AAC (lossy) and FLAC / ALAC / WAV (lossless). This is a set of options that will meet the needs of most users.
My listening experience began with a calibration with Audyssey MultEQ, which was quick and easy, as always with Marantz. And I chose "Greenland" for testing, which has enough dialogue and action scenes to get a sense of how well the system sounds. I have very good speakers and cables, and I got almost a 4D effect in a small room because the floor was shaking with the power of the sound (I connected two subwoofers). Again, the clear, crisp, and detailed dialogues; in fact, I expected this from the Marantz NR1510, despite its simplicity (but keeping in mind its price). All the streaming services I connected worked very well, with high deep data quality.
Key specs
Channels: 5.2.
Power output: 50W/8 Ohm, 60W/6 Ohm.
HDMI inputs/outputs: 6/1.
Video functions: 4K/60Hz.
Bluetooth/Wi-Fi: yes/yes.
Streaming services: AirPlay 2, Spotify, TuneIn, Deezer, Tidal, Netflix, Amazon Prime.
Supports: HDMI ARC, HDMI eARC, HDMI CEC, HDCP2.3, HDR10, Dolby Vision.
Surround sound: DTS HD Master, Audyssey.