There are quite a few home theater receivers on the market right now. But today, we will talk about a special device that music fans will appreciate the most. That's why I've prepared a Marantz NR1200 review for you.
A Japanese company released this model in 2019. The NR1200 is more suitable for those who want to have a universal system in their home but, for some reason, do not want to buy a multichannel receiver.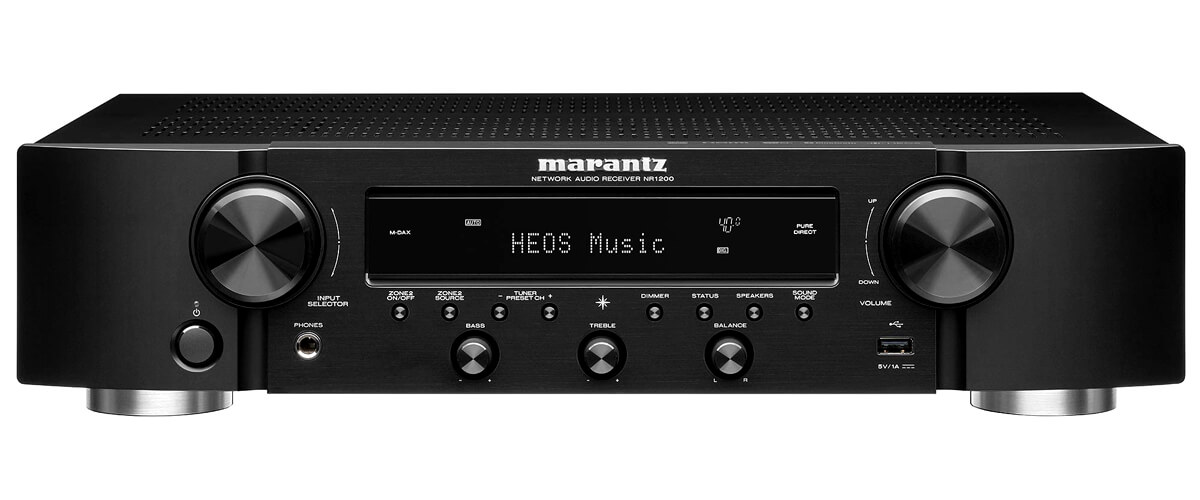 In terms of design, this model is almost twice thinner than other Marantz AV receivers (17.3 x 14.5 x 4.1 inches). In addition to the fact that the company was able to save the brand look of the device, they also managed to create a design with sufficiently high reliability. It's stylish and ergonomic!
The receiver's case consists of matte curved sides and a central metal part. There are input selection and audio control knobs on the left and right case sides, respectively. In the center, you will find a well-readable screen, unlike the standard round display in other Marantz devices. Everything is okay, but in my opinion, the front panel is a little overloaded with various buttons (e.g., brightness control, sound mode, and power button).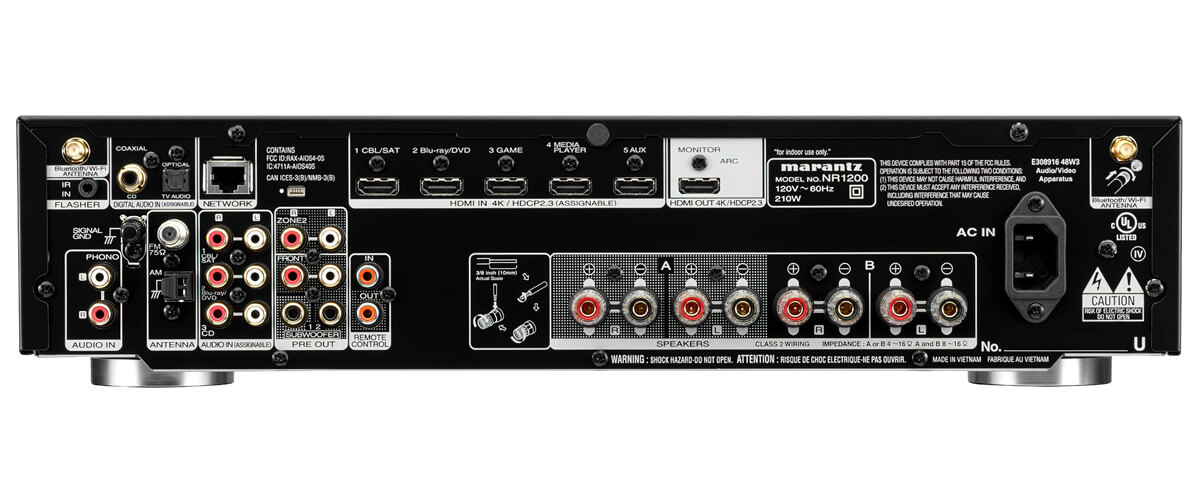 As for the NR1200 specifications, the receiver has 5 HDMI inputs (2.0) and 1 HDMI output, with HDCP 2.3 and eARC support. For the sake of truth, it's worth saying that not all HDMI ports work as they should. During testing, I sometimes had to switch the source to a different HDMI connector in order for it to boot up and start working correctly. And I was a little disappointed with HEOS, as the receiver, for reasons I do not understand, several times disconnected itself from it. Available connectivity options include 2 subwoofer outs, Ethernet Ports, Bluetooth, and Wi-Fi. And, of course, this model has a Phono (MM) input for vinyl connoisseurs.
The Marantz NR1200 features are quite extensive, but I will highlight only the most important and significant.
This stereo receiver has a 2-channel amplifier with 75W per channel (8 ohms, 20 Hz – 20 kHz, 0.08%). In addition, the device is equipped with an AKM AK4458VN 8-channel microcircuit in differential switching. In other words, two DACs are used in each channel of the stereo receiver, reducing noise, distortion and extending the dynamic range of the sound.
Although the model mostly focuses on high-quality music playback, it also provides its users with decent picture quality. So, when you buy this product, you get 4K resolution (60Hz) with technologies such as HDR10, Dolby Vision, etc.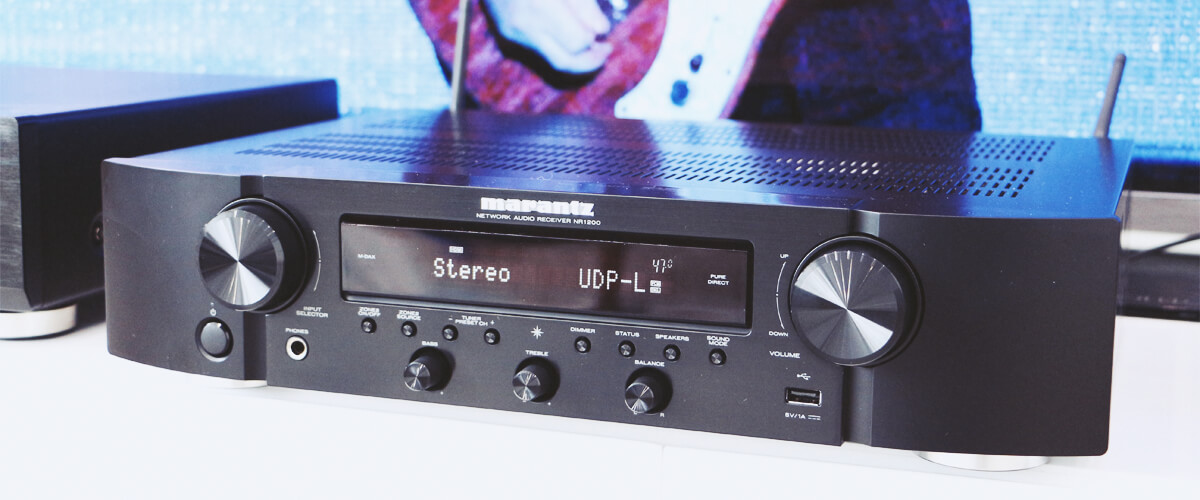 Next, let's talk about the sound itself. Marantz NR1200 supports high-resolution audio formats, playing PCM music up to 24 bits / 192 kHz and DSD 5.6 MHz. Before I started testing, I calibrated the receiver, and the sound became clearer as I adjusted it better to my room parameters. Unfortunately, this model comes without Audyssey technology, which would help inexperienced users to calibrate the bass or choose the correct speaker spacing.
You experience a powerful sound with a sufficiently large dynamic range when listening to music. Music pieces sound clear and detailed. I heard sensuality, romance, or bold tones depending on the composition.
Key specs
Channels: 2.1.
Power output: 75W/8 Ohm, 100W/6 Ohm.
HDMI inputs/outputs: 5/1.
Video functions: 4K/60Hz.
Bluetooth/Wi-Fi: yes/yes.
Streaming services: AirPlay 2, Spotify, TuneIn, Deezer, Tidal, Netflix, Amazon Prime.
Supports: HDMI ARC, HDMI eARC, HDMI CEC, HDCP2.3, 3D Signal Pass-Through.
Surround sound: no.