In my Denon AVR-X6700H review, you can notice a somewhat enthusiastic tone because, frankly speaking, I am a fan of the brand, especially when it comes to a representative of the premium class (and the middle one for Denon), which this model is. This excellent 11.1 channel receiver offers great functionality and modern options on par with Denon quality. And you can compare it with the model AVR-X4800H, another representative of the line of X, close in price and features. Well, let's proceed (rubbing my hands).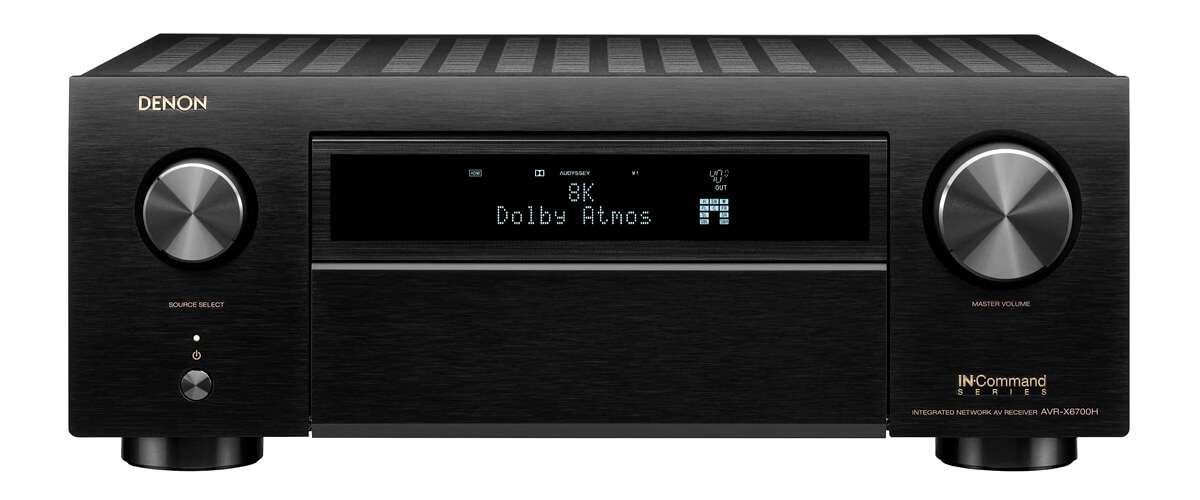 As usual in my reviews, I will start with the receiver's appearance. Although Denon doesn't have enough design variety to be able to recognize a model by this or that, the AVR-X6700H is really "heavyweight" (32 pounds) with its quite normal size of 17.1 x 15.3 x 6.6 inches. There are two asymmetrical Volume and Source selection controls on the front panel on each side of the LCD, and the main controls are hidden under a hinged cover under the screen. The button set is standard but very handy. The connectors have an input for Headphones, a Calibration microphone, and a USB port. And the presence of an HDMI port makes this receiver stand out from the X4800H, at least for those who like to have quick access to it.
If you are interested in a home theater for a spacious room, the AVR-X6700H specifications allow you to build configurations of 5.2.6 or 7.2.4 (in contrast to the capabilities of X4800H). Moreover, connecting an additional stereo receiver will increase the number of channels up to 13! The manufacturer promises 140W (8 Ohm, 20 Hz – 20 kHz, 0.05% 2ch Drive) or 175W (6 Ohm, 1 kHz, 0.7% 2ch Drive) power, and I want to draw your attention to the THD. Usually, so much power (at least in many other models) is sacrificed by this parameter. And here everything is great!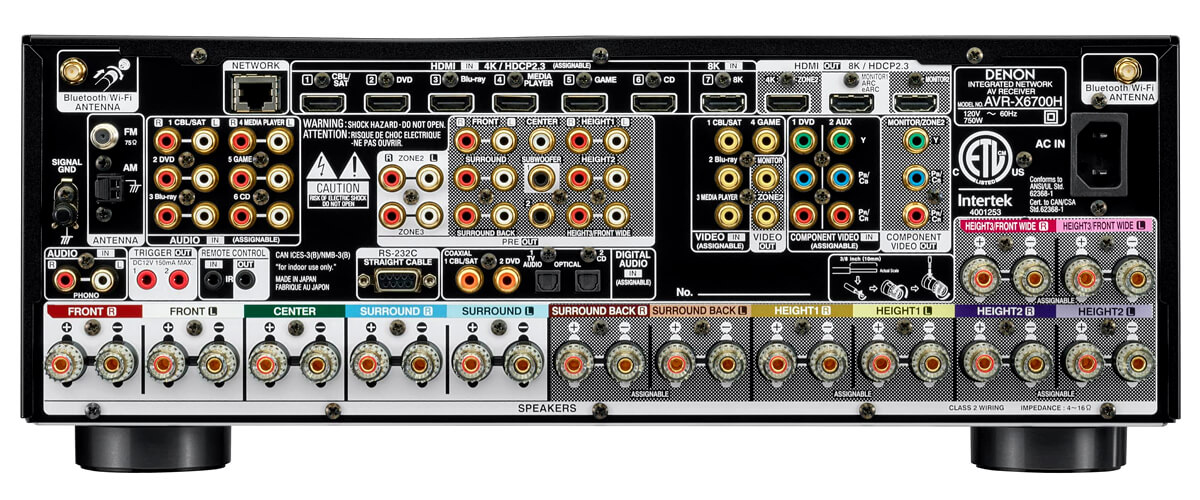 Of course, you can use the Multiroom option for 3 Zones. So if you have a large motley family and are disputing every night about what to watch, this is your perfect solution (for quite reasonable money for this class). Like many other Denon models, this one has HEOS Built-in for those who don't like wires. It would be surprising for manufacturers not to use their own development, especially in high-end devices.
Of course, the AVR-X6700H has more connectivity than the X4800H, but I won't dwell on that in detail; otherwise, I would have to turn my review into a little brochure. I don't think it's worth it. I will say that you can connect to the X6700H old equipment (Component and Coaxial Inputs), a vinyl player (Phono Input), CD player, Blu-ray DVD, video console (Xbox, PS, Nintendo), and many, many more. It also has Ethernet ports, Wi-Fi and Bluetooth. More importantly, the receiver has eight HDMI inputs (including HDCP2.3 support) and three HDMI outputs (including CEC and ARC/eArc). By the way, there are slightly more than in X4800H. The Signal Pass-through and Scaling options allow you to enjoy 8K 60Hz or 4K 120Hz video quality and 3D (without scaling). Well, all in all, I'm sure you get the idea.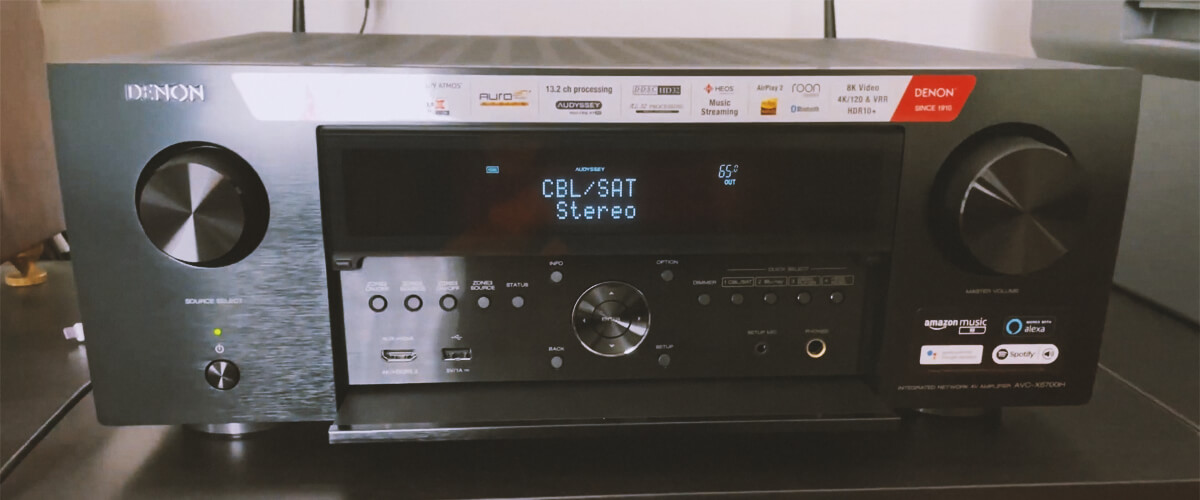 Thus, the Denon AVR-X6700H features allow you to enjoy video content in Dolby Vision and DTS:X (incl Pro) formats. Correspondingly, Dolby Atmos, DTS:X, DTS Virtual:X, IMAX Enhanced, and Auro-3D audio formats are supported. In addition, of course, you can listen to music in Hi-Res formats and use the streaming services Spotify, Deezer, Apple Air2, and others, as well as voice assistants. With features like these, it will last you for decades! Be sure.
I have tested many Denon models and will not dwell on the Audyssey MultEQ XT32 calibration system. But the choice of film for quality testing is extremely important. I focus on the dialogues to check the details, action scenes to check the bass or the clang of the weapon (important not to cut your ears), and preferably an interesting variety of soundtrack. This time my choice fell on Oblivion because there are enough nuanced scenes where every little sound is important, dialogues, battles, and the soundtrack – beautiful. So at times, it felt like the ground was trembling underfoot, and all the time, I wanted to dodge the flying drone! I don't have a single comment on sound quality, pitch, or bass. It was exactly what I expected from Denon!
Key specs
Channels: 11.2.
Power output: 140W/8 Ohm, 175W/6 Ohm.
HDMI inputs/outputs: 8/3.
Video functions: 8K/60Hz, 4K/60Hz, 4K/120Hz, upscaling to 8K.
Bluetooth/Wi-Fi: yes/yes.
Streaming services: AirPlay 2, Spotify, TuneIn, Deezer, Tidal, Netflix, Amazon Prime.
Supports: HDMI ARC, HDMI eARC, HDMI CEC, HDCP2.3, HDR10+, Dolby Vision.
Surround sound: DTS:X, DTS Neural:X, DTS:X Pro, DTS HD Master, Dolby Atmos, Dolby TrueHD, Dolby Atmos Height Virtualization, Dolby Surround, Auro 3D.