This Denon AVR-X3800H review is about an interesting model that is an improved version of the AVR-X3700H, already winning sympathies among AV receiver admirers. It is a part of the Denon Soundmaster line. Even though the X3800H still occupies the middle price segment, let's examine whether it is really superior to its predecessor. Anticipating events, I will say that the manufacturer has made an effort, and here you will find a couple of pleasant surprises.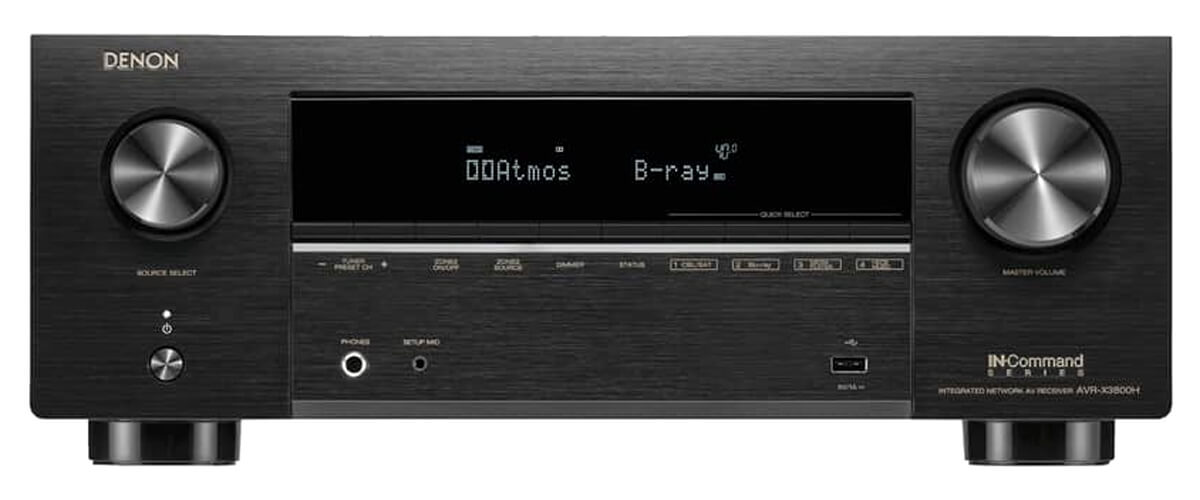 The traditional 21-pound black metal case looks as elegant and minimalistic as ever and differs little from the AVR-X3700H design. The front panel is adorned with a large 1080p display, which is very comfortable when operating the device, under which there are ten quick access buttons. On the sides of it, there are large round Source and Volume controls and the Power button. Under the display, you'll find a panel with connectors for headphones, microphone settings, and a USB port.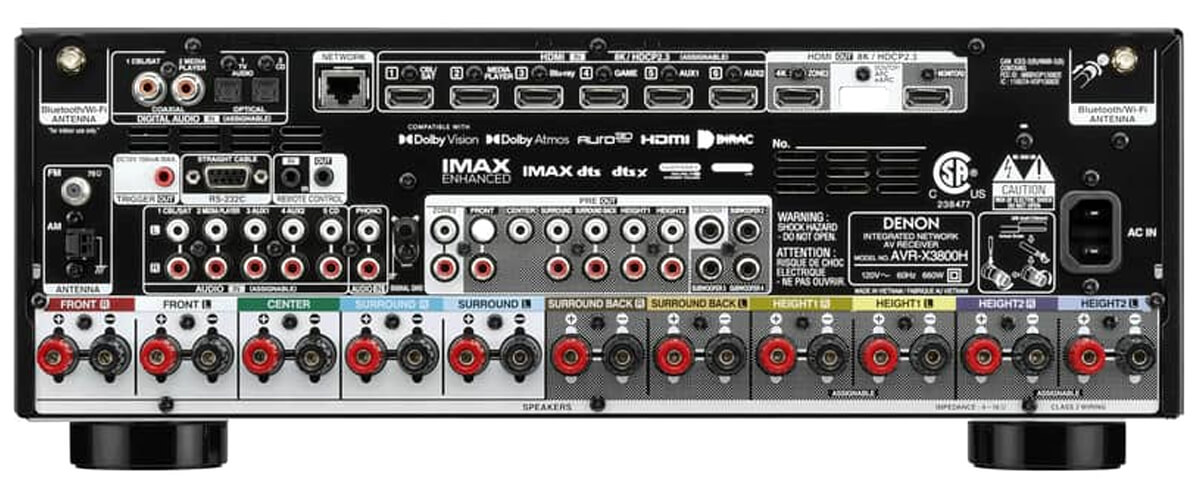 Describing the AVR-X3800H specifications, I can say that it has 9 amplification channels with a power rating of 215 watts per channel. But these are available when one channel operates at 1kHz, at 6 ohms, and THD <10%. At 8 ohms, 20-20 kHz, 0.08% THD, you get 105 watts. You can get the same power with two channels in 8 ohms, at 20Hz - 20kHz, and THD <0.08%. That's enough for any speakers you want to connect with.
The video capabilities of the X3800H are impressive. The receiver has six HDMI 2.1 inputs and two HDMI 2.1 outputs up to 8K/60Hz, and the third HDMI output is 4K/120Hz. It offers HDR formats (HLG, Dolby Vision, HDR10, and HDR10+) and is compatible with 8K UHD resolution. The end-to-end 8K transmission, Dynamic HDR, and QMS features eliminate latency. In addition, Dolby Vision color, contrast, and brightness take watching movies and playing video games to the next level.
Among the Denon AVR-X3800H features, you'll also find a dual antenna transceiver system and built-in Wi-Fi and Bluetooth adapters, so wireless music listening is assured. You can also listen to music using the USB-A port with up to 24-bit/192 kHz resolution or DSD 2.8/5.6 MHz files. The receiver also supports ALAC, MP3, WAV, and WMA files, and even FLAC and MPEG-4/AAC. All in all, for any user. There's support for Siri, Alexa, Josh.ai, AirPlay2, and Google Assistant home automation, too.
As for surround sound, it supports the latest DTS formats (including DTS Virtual:X, Neural:X, and HD Master Audio). Dolby compatibility in this home theater receiver includes Dolby Atmos, TrueHD, Surround, Pro Logic IIz, and pitch virtualization. And the "icing on the cake" is Auro 3D support.
As for control, it is possible with a handy but quite ordinary remote control or with the downloadable Denon AVR control application.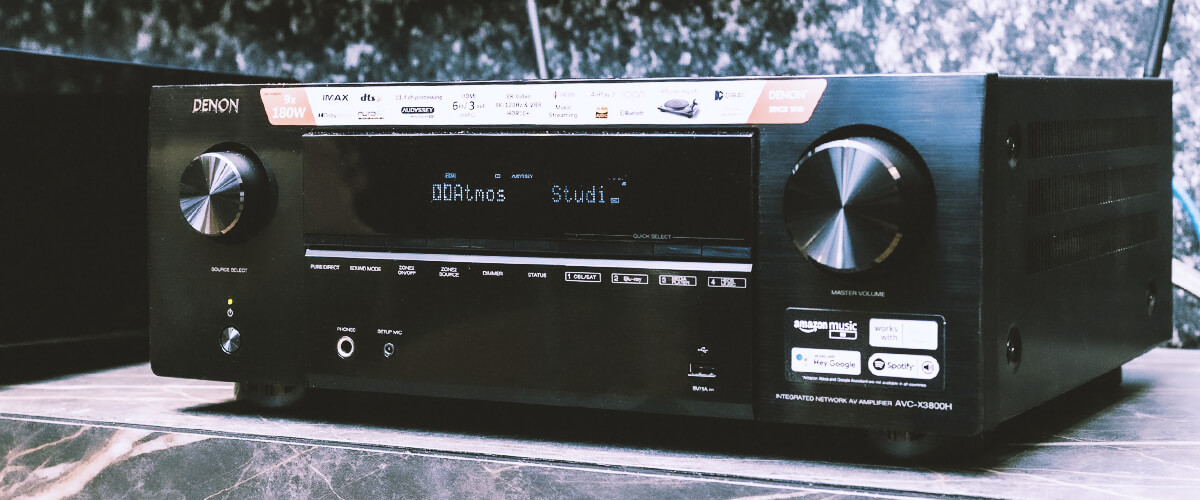 Well, with such a set of modern technologies, you would expect excellent sound quality. So I started my testing with calibration. And it's fantastic! Denon switched to advanced Dirac Live in its Audyssey MultiEQ XT32 Editor automatic calibration with a measurement microphone.
To test the 11.4-channel processing using all nine channels in 7.1.2 or 5.1.4 DTS:X or Dolby Atmos formats in a spacious room, I turned on Avatar. And it just blew my mind! Every whisper, crackle, all dialogue was so realistic, so accurate. And the battle scenes made me squeeze into my chair. Total immersion in the surround sound. I felt like I was not in a movie theater but literally in a movie. If you compare it with previous Denon models – much, much better. Considering its price – an unequivocal recommendation from me.
Key specs
Channels: 9.4.
Power output: 105W/8 Ohm, 135W/6 Ohm.
HDMI inputs/outputs: 6/3.
Video functions: 8K/60Hz, 4K/60Hz, 4K/120Hz, upscaling to 8K.
Bluetooth/Wi-Fi: yes/yes.
Streaming services: AirPlay 2, Spotify, TuneIn, Deezer, Tidal, Netflix, Amazon Prime.
Supports: HDMI ARC, HDMI eARC, HDMI CEC, HDCP2.3, HDR10+, Dolby Vision, 3D Signal Pass-through.
Surround sound: DTS:X, DTS Neural:X, DTS Virtual:X, Dolby Atmos, DTS HD Master, Dolby TrueHD, Dolby Atmos Height Virtualization, IMAX Enhanced.