Denon confidently keeps up the tradition and moves with the times, which makes its products some of the most popular. My Denon AVR-X2800H review is about a receiver that is not much different from its predecessor X2700H, one of the most versatile for gamers and movie buffs today among receivers in its price range. So let's take a look at what has changed for the better in an already well-known device, and see if it sounds different.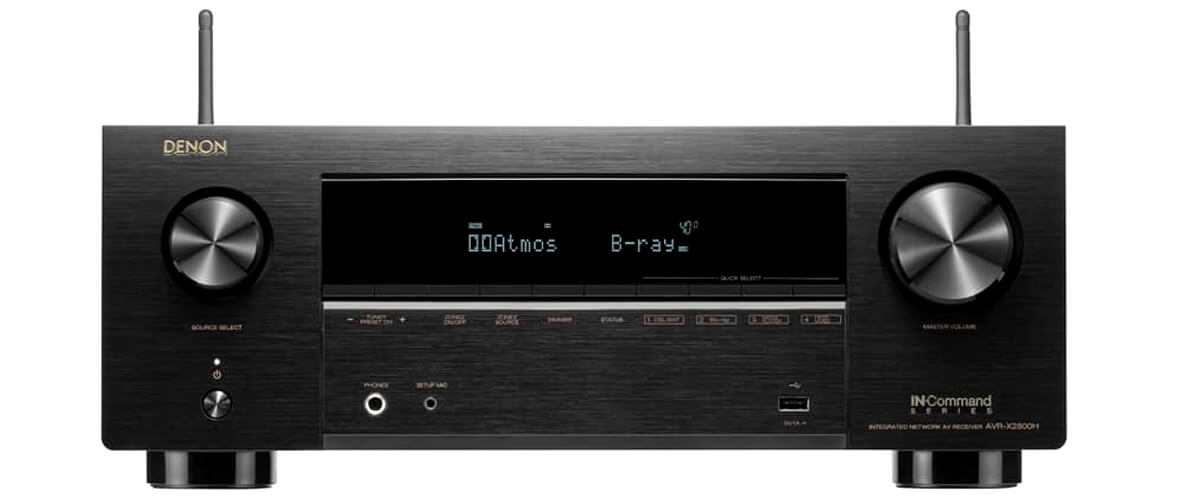 Well, as for the design, there's nothing new. Everything is the same as in other Denon models, with a matte black finish and a large monochrome 1080p display. And it is still very comfortable to operate the device. There are also shortcut buttons below the display, large round Source Select and Volume controls on the sides of the display, and a Power button. Under the display, you'll find a panel with connectors for headphones, microphone settings, and a USB port. In general, if you decide to change your Denon for a more advanced one, you will not have to get used to the controls and change your habits. In my opinion, this is great. However, if this is your first receiver, look for space for this 21-pound "goody-goody." It measures 17.1 x 13.4 x 6.6 inches but remember to leave enough slack for the antennas so that they can be mounted vertically.
We get to the most interesting part, the AVR-X2800H specifications. So, it is a 7.2 channel device with 95 W of built-in gain per channel (8 ohm, 20 Hz – 20 kHz, 0.08% 2ch Drive), which gives the possibility to configure a 5.1.2 Dolby Atmos or DTS:X system. In addition, DTS Virtual:X and Dolby Atmos Height Virtualization with 3D sound for 7.1, 5.1, or 2.1 speakers are available for those without vertical channels.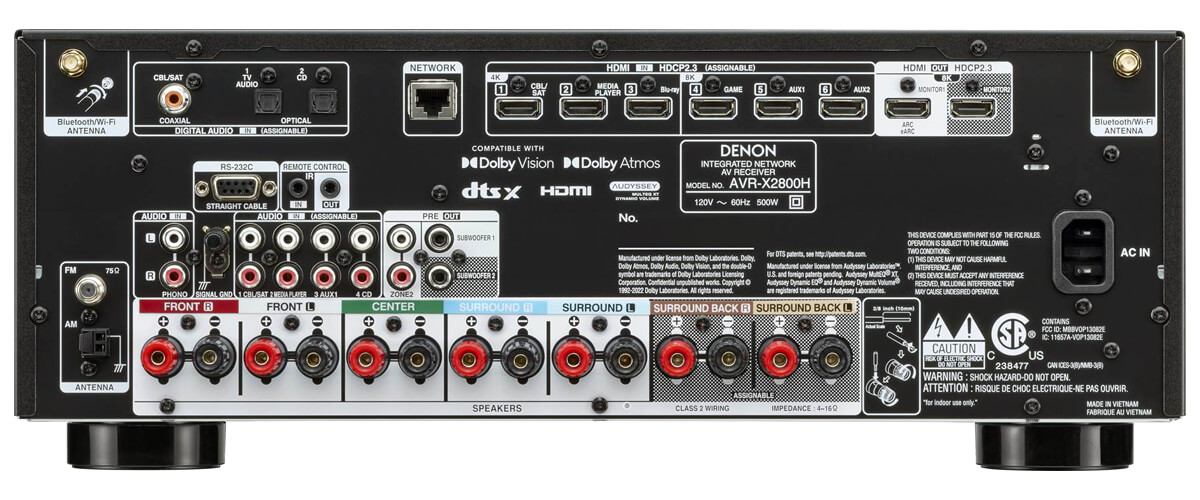 The multi-room audio is brought to you by the built-in HEOS feature, customizable via dual-band Wi-Fi. It allows you to connect up to 32 devices! So the size of your home isn't an issue at all. The bi-amp capabilities in one room play the source in 5.1 format, while it uses a 2-channel stereo in the second room.
Next, I will tell you about the ports and connectivity options. This is important because, in the previous model, there were some problems, but in this receiver, they were eliminated. And there are more inputs here than in the X2700H. There are 6 inputs and 2 outputs, with three HDMI 2.1 ports capable of 8K/60Hz or 4K/120Hz video at up to 40Gbps (including VRR, ALLM) and 2 HDMI outputs (including eARC).
It's not new in the world of receivers today. Still, for this price segment, the 4:4:4 color sub-sampling and compatibility with various HDR codecs, including HDR10, HDR10+, Dolby Vision, and Hybrid Log-Gamma (HLG), is a decent achievement.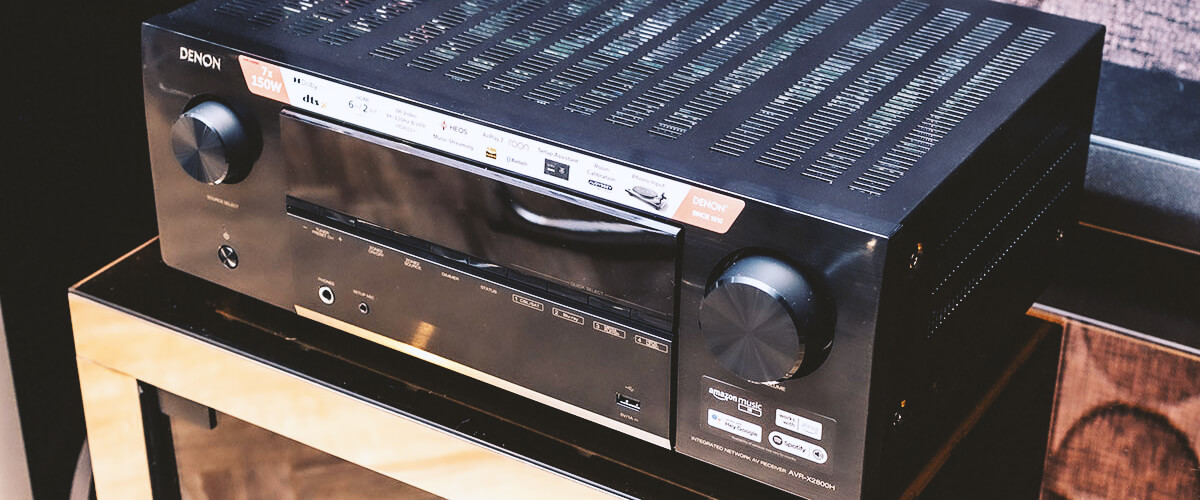 Denon AVR-X2800H features are compatible with Android and Apple and include support for Deezer, Spotify, SiriusXM, Napster, Pandora, Amazon Music HD, and Tidal music streaming. And if you decide to dive into the world of music or movies without disturbing anyone, just connect your headphones via Bluetooth. And guess what? You can use your headphones at the same time you use your speaker system. This will appeal to those who have hearing-impaired members in the family.
I'm not a big Denon enthusiast, including its Denon Setup Assistant manual. However, the X2800H pleasantly surprised me. Some receivers have a complicated setup process, but here it's simple and turns into a nice, easy, and understandable process.
Any listening experience is worth starting with calibration, adjusting the sound to suit you. The AVR-X2800H, like many Denon models, uses the Audyssey MultEQ XT automatic calibration system, and it has never disappointed me. First, I simultaneously calibrated the sound for different rooms via a measurement microphone. Then I turned on Tarantino's "Reservoir Dogs" (love his movies, particularly for the music lineup). What can I say? Excellent clarity, no delays or jarring. The surround sound is really taken to a new level compared to 2700. The sound is less dependent on low frequencies, it's open and enveloping, and the dialogues – of which the film is abundant – are detailed, and you can feel every breath. I was delighted!
Key specs
Channels: 7.2.
Power output: 95W/8 Ohm, 125W/6 Ohm.
HDMI inputs/outputs: 6/2.
Video functions: 8K/60Hz, 4K/60Hz, 4K/120Hz, upscaling to 8K.
Bluetooth/Wi-Fi: yes/yes.
Streaming services: AirPlay 2, Spotify, TuneIn, Deezer, Tidal, Netflix, Amazon Prime.
Supports: HDMI ARC, HDMI eARC, HDMI CEC, HDCP2.3, HDR10+, HLG, Dolby Vision.
Surround sound: DTS:X, DTS Neural:X, DTS Virtual:X, Dolby Atmos, Dolby Atmos Height Virtualization, DTS HD Master, Dolby TrueHD, Multichannel Stereo.