Today I bring to your attention a Denon AVR-S970H review. The good thing about it is that it will tell you about a representative of the initial class of AV receivers, which, nevertheless, surpasses models of its price rank in functionality, offering a wide range of possibilities even for demanding users. It is not the most inexpensive representative of Denon's range, which is rich in devices of various types and configurations, so that it will be interesting.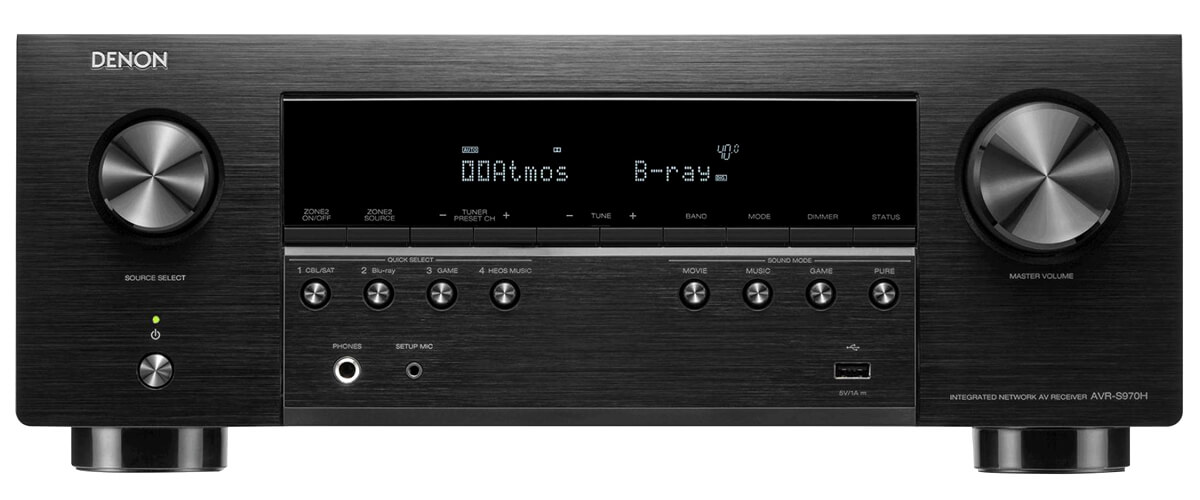 All Denon receivers are plus or minus similar and offer us a solid rectangular metal construction. In this case, its compact size of 17.1 x 13.4 x 6.6 inches (and 17.1 x 13.4 x 9.3 with antennas mounted vertically) and weight of 21.0 pounds make it easy to place the unit on a shelf, in a cabinet, or on a special stand that you have prepared for the "heart" of your home theater.
The front panel controls are pretty standard for any brand of receiver. Besides the Power button and the LCD, there are small buttons for the main functions, two different-sized controls for Volume and Source selection, and jacks for Headphones, Calibration microphone, and USB input. It is worth noting that there is no HDMI input on the front panel. I want to mention the screen separately because I'm not too fond of bright ones. And in this model, it is not the biggest, but not small, and very bright, but with the option to dim the light. I am delighted!
So let's get down to the AVR-S970H specifications. First, it's a 7.1 configuration receiver (the manufacturer says 7.2 because there is an option to connect two subwoofers), which means that you can add overhead speakers and get a 5.1.2 system (or 5.2.2 if you want to). The description for the receiver specifies 185W (6 ohms, 1 kHz, 10% 1ch Drive), 125W (6 ohms, 1 kHz, 0.7% 2ch Drive), or 90W (8 ohms, 20 Hz – 20 kHz, 0.08% 2ch Drive), so make sure your speaker system can handle that. I can't imagine who would need that much power, but it's thought that such parameters make for a stunning unit, although the THD is not perfect. I recommend less power and more sound quality, so play around with the volume.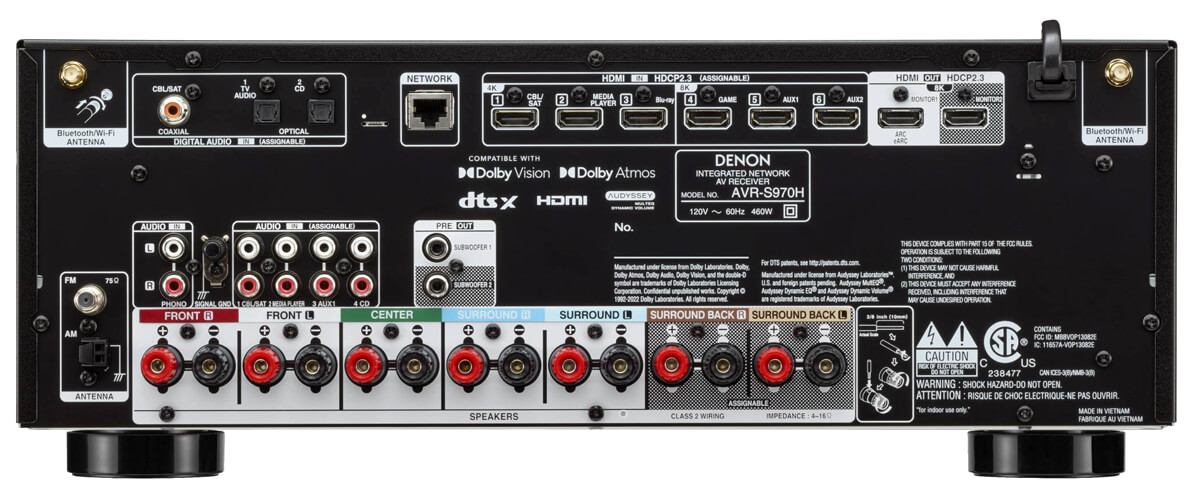 This model offers 2 Zones Multi-Room, so you can always get away from the housemates watching another soap show and enjoy more serious content (or kick them out; that's up to you). Don't want to go through the hassle of drilling holes in the walls? Then take advantage of HEOS Wireless Multi-Room Technology. The AVR-S970H is also compatible with Alexa, Google Voice Assistant, Apple HomePod, and Roon voice assistants (subscription only). Wi-Fi and Bluetooth support AirPlay 2, TuneIn, Spotify, and Pandora.
Despite its small size, the AVR-S970H offers a wealth of connectivity options. And if I start listing them all, I'll never finish. A joke, of course, but close to the truth. In addition to connecting vintage gear, you'll find 6 HDMI inputs and 2 HDMI outputs, including HDCP2.3, ARC and eARC, ALLM Pass-through for gaming, and more. There are also phono inputs for fans of vinyl players.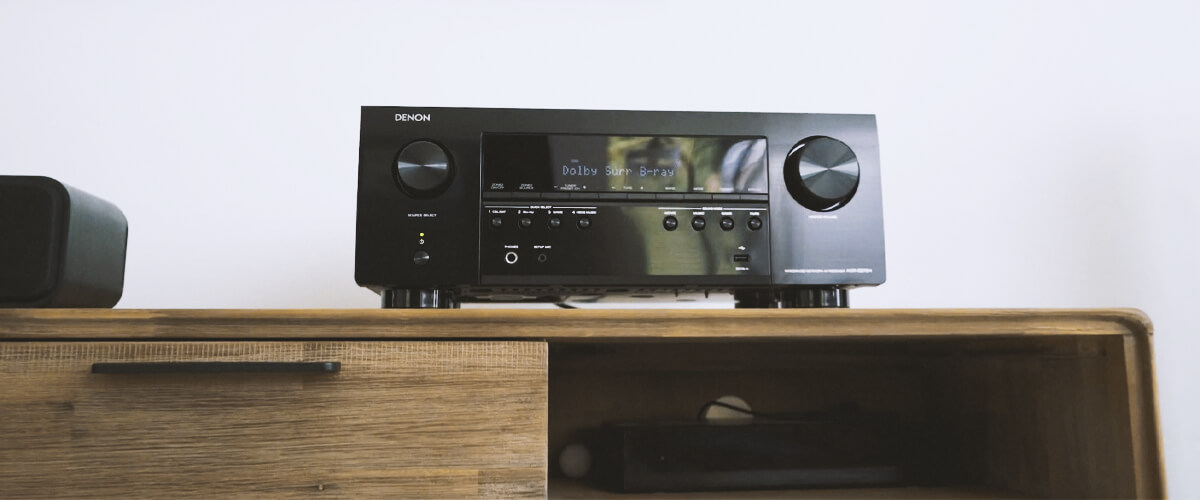 If you're still not impressed with the Denon AVR-S970H features, I should tell you that it supports 3D Signal Pass-through and Scaling, which allows you to watch lossless content in 8K/60Hz AB, 4K/120Hz AB quality. Moreover, the receiver also supports HDR, HDR10+, Dolby Vision, HLG, and Dynamic HDR video formats.
The audio formats supported by this device are DTS HD Master, DTS:X, DTS Neural:X, and DTS Virtual:X. In addition, Dolby TrueHD, Dolby Atmos, Dolby Atmos Height Virtualization, and Dolby Atmos Music technologies are available on the AVR-S970H. In my opinion, that's enough for decades to come, considering there isn't even enough content for some technologies today.
After calibrating the sound with the Audyssey MultEQ system, which was easy, I started looking for a movie to watch. Of course, for such a monster, you need a great movie to test, and I settled on "The Fifth Element". A great example to test how the dialogue (especially played by Bruce Willis with his low, lazy voice and Chris Tucker with his squeak), the action scenes, and the dynamic music. In general, what can I say? I was impressed:
The bass was thick and powerful.
The tops were clean and clear at any volume (by the way, the interaction with my system was no problem at all).
The surround sound was realistic (I did not use overhead speakers).
Spotify worked without problems. Denon knows its business!
Key specs
Channels: 7.2.
Power output: 90W/8 Ohm, 125W/6 Ohm.
HDMI inputs/outputs: 6/2.
Video functions: 8K/60Hz, 4K/60Hz, 4K/120Hz, upscaling to 8K.
Bluetooth/Wi-Fi: yes/yes.
Streaming services: AirPlay 2, Spotify, TuneIn, Deezer, Tidal, Netflix, Amazon Prime.
Supports: HDMI ARC, HDMI eARC, HDMI CEC, HDCP2.3, HDR10+, Dolby Vision.
Surround sound: DTS:X, DTS Neural:X, DTS Virtual:X, DTS HD Master, Dolby Atmos, Dolby TrueHD, Dolby Atmos Height Virtualization.