I believe that the quality of a receiver is not always determined by its high cost. After all, your budget is one of the main criteria for choosing equipment, and the receiver is the heart of your home theater. This model differs from the more advanced AVR-S760H of the same line. It's simpler in fundamental features and cheaper, but it might be just what you need. My Denon AVR-S660H review will help you decide if this model is right for you.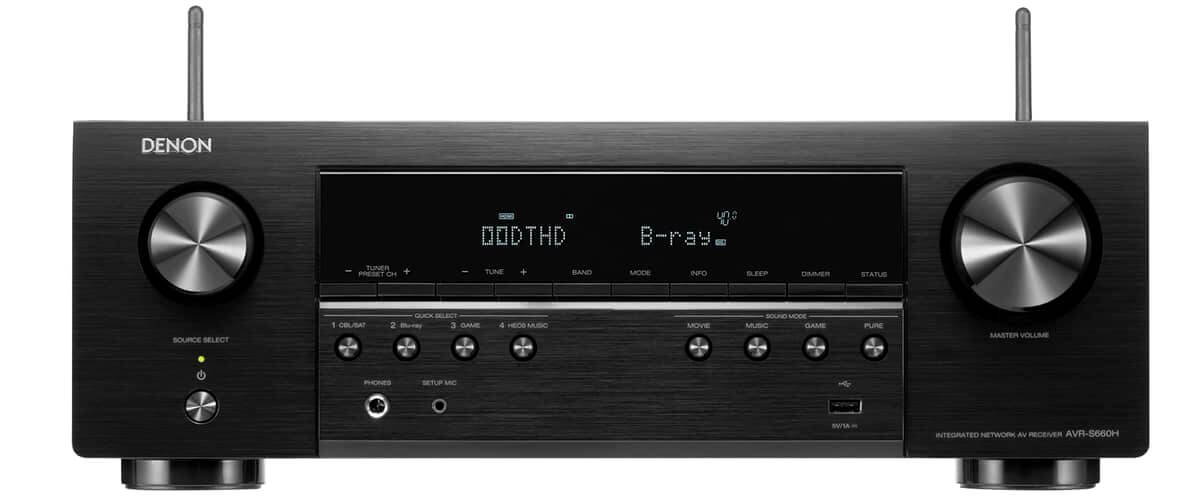 Let's start with the exterior. First of all, the AVR-S660H looks exactly like the AVR-S760H. The black case, with antennas that can be placed horizontally or vertically, measures 17-3/16 "W x 6 "H x 13-7/16 "D (8-1/2 "H with antennas up) and weighs 17.2 lbs. And on its front panel, you'll find everything you need: an LCD screen with control buttons; two round Source Select and Master Volume knobs; two sets of 4 Quick Select and Sound Mode buttons; Phones, Setup Mic, and USB (5V, 1A) jacks. Everything is standard, but for me it is overloaded. I prefer more minimalistic exteriors. In my opinion, they add to the tech feeling expensive.
Of course, the main thing is the Denon AVR-S660H features. It is a 5-channel receiver that uses a high-current discrete power amplifier for each of them. So the claimed power of 75 watts (8 ohms, 20-20,000 Hz at 0.08% THD, with 2 channels driven) can actually provide enough power for medium-sized speakers. For me, this is quite enough because I don't have powerful speakers or a vast room.
You'll find six HDMI inputs in terms of connectivity, three of which support 8K/60Hz clear video or 4K/120Hz (HDMI 2.1), which is great for high-quality sources. And they are all suitable for 4K/60Hz video content. In addition, ARC and eARC support are available through the HDMI connection.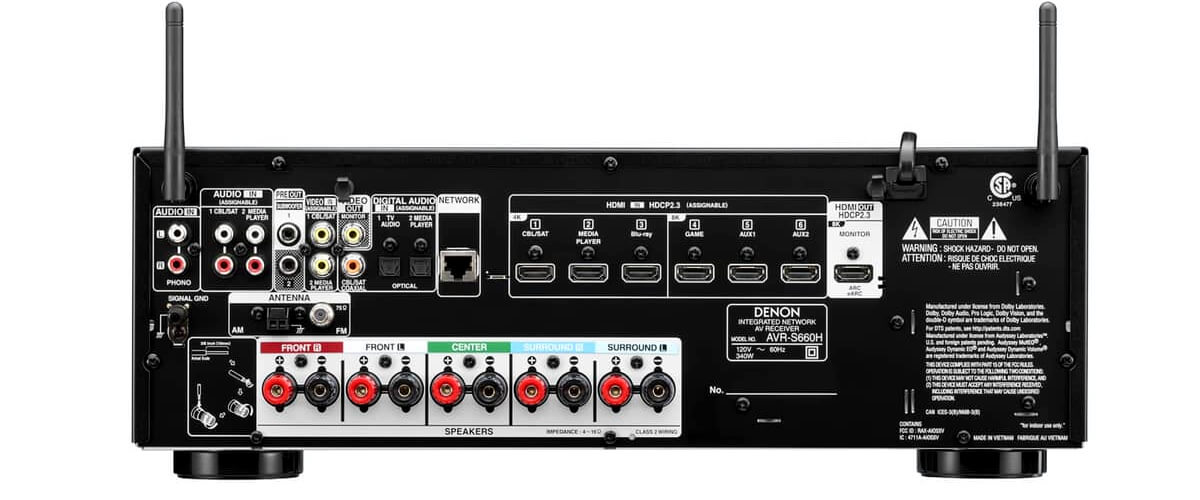 The receiver supports HDR10, HDR10+, Dolby Vision, and HLG. And for gamers, VRR, ALLM, and QFT are optimized to reduce or eliminate latency and frame gaps. These features are more than enough for the latest generation of gaming consoles.
The AVR-S660H specifications include fairly standard streaming capabilities. Tracks can be listened to via Bluetooth or Wi-Fi. The receiver also supports HEOS, so you can create a multi-room system and Airplay 2. So Spotify, Pandora, Amazon Music HD, TuneIn, SoundCloud, SiriusXM, and TIDAL streaming services are available.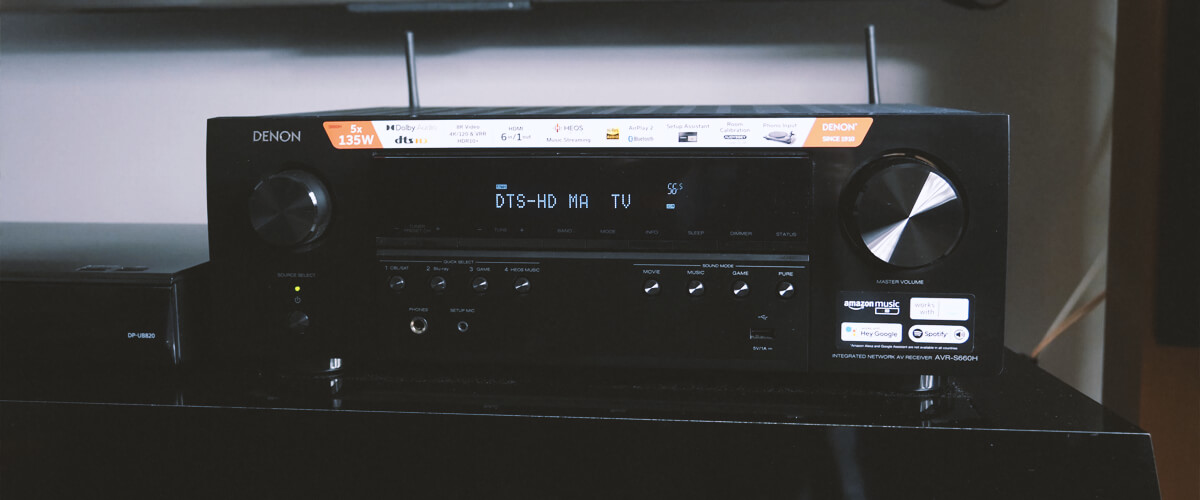 Last but not least, the receiver works as a Roon Player (with a Roon Core subscription). Pay special attention to the specification because here it is Roon Tested.
Well, what kind of sound can Denon provide? First, I took care of the calibration. The receiver has a built-in automatic calibration system Audyssey MultEQ, but it doesn't support the App.
For testing, I rarely like action movies, so I chose Edge of Tomorrow. There are enough explosions, dialogue, and music to make me feel like I'm in a movie theater. The result was pretty decent. The surround sound is provided, and the detail is great for a device of this rank. I didn't hear any delays or overlaps, so I was very satisfied.
Key specs
Channels: 5.2.
Power output: 75W/8 Ohm, 100W/6 Ohm.
HDMI inputs/outputs: 6/1.
Video functions: 8K/60Hz, 4K/60Hz, 4K/120Hz, upscaling to 8K.
Bluetooth/Wi-Fi: yes/yes.
Streaming services: AirPlay 2, Spotify, TuneIn, Deezer, Tidal, Netflix, Amazon Prime.
Supports: HDMI ARC, HDMI eARC, HDMI CEC, HDCP2.3, HDR10, HDR10+, HLG, Dolby Vision.
Surround sound: DTS HD Master, Dolby TrueHD, Dolby ProLogic II, Multichannel Stereo, Dialog Enhancer.